Keane
of
Kilnamona
Br Thomas Munchin Keane/T.M. Ó Catháin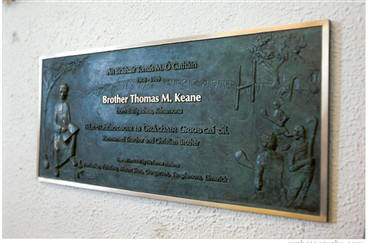 Centenary Celebrations 1908 - 2008 On Thursday July 17th 2008, the hundredth anniversary of the birth of the late Brother Thomas Munchin Keane (An Bráthair Ó Catháin), former students met to unveil a sculpted bronze plaque to his memory in his native parish Church of Kilnamona, County Clare, Ireland (see more here).
While renowned in many secondary schools for his unique teaching skills and dedication to hurling, Brother Thomas never lost touch with his native parish. For many years, he was an honoured guest at the annual dinner of the Kilnamona hurling Club.

Above: Plaque erected to the memory of Br Thomas Keane in his native parish church, St Joseph's, Kilnamona

The Kilnamona function was the culmination of a year's organizational work by a special Committee set up to pay tribute to his memory. The Committee was mainly composed of past pupils of Br Keane drawn from the main Chirstian Brothers Secondary Schools in which he taught with distinction and produced many notable graduates, namely in Portlaoise, St Joseph's, Fairview, Dublin, Mount Sion, Waterford, Dungarvan, Templemore and Árd Scoil Rís, Limerick.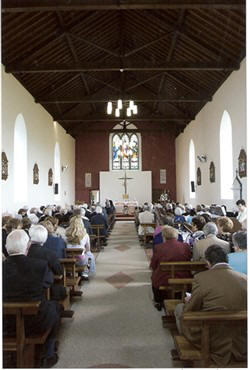 Far Left: Assembly in Kilnamona Church for Celebration;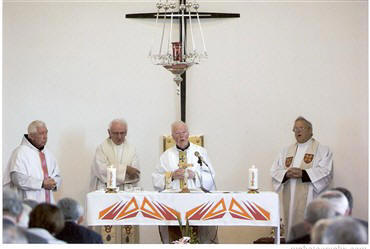 Right: Memorial Mass Concelebrants -
-
-
Paddy Buggy, President of the GAA 1982-84, a student of Br Keane in Mount Sion in the 1940's, delivered the Eulogy and Annraoí Ó Beolláin (Harry Boland), of St Joseph's CBS, Dublin unveiled the plaque. Paying tribute to Br Keane, Paddy Buggy reflected: 'Isn't it extraordinary that almost twenty years after his death in this centenary year of his birth the former pupils of Brother Thomas Munchin Keane would organize and fund this day of celebration and tribute to an Irish Christian Brother with a remarkableteaching talent… When it came to scholarship and teaching, Thomas was a man ahead of his time and never was known to resort to corporal punishment; his way was a quizzical look indicating you are not meeting his expectations and are you going to let me down?… His love of Irish culture and native games also saw him take a very active role promoting hurling in his schools.' The skills of hurling, particularly ground hurling - ar an dtalamh – were not to be neglected!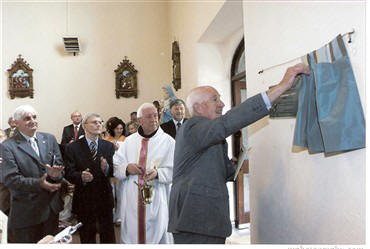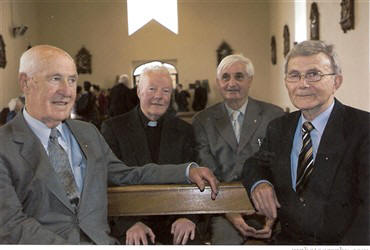 -

-

-

-

------------------------------------------------------------------------------

Left: Annraoí Ó Beolláin (St Joseph's, Fairview) unveiling of Plaque to Br Keane. Looking on in foreground are Paddy Buggy (former pupil in Mount Sion), Tom Keane (nephew), Fr Iain Duggan OFM, Cork (in Dungarvan), and Noel Coonan TD (member of Irish Parliament for North Tipperary) (in Templemore); Right: Annraoí Ó Beolláin, Fr Eoin Haughey, Paddy Buggy and Tom Keane.

A Lasting impact at 'Joey's'

Upon graduating in 1938, Bráthair Tomás became Principal of St Joseph's all-Irish secondary school (Scoil Iósaif) in Fairview, Dublin where he left his own unique mark. Up to then a Junior Certificate school, and feeder school for the other nearby Secondary Schools at the higher certificate grades, on his initiative the first Leaving Certificate was inaugurated there in 1942. Its graduates excelled academically, some destined to become notable in the professions and in politics such as Charles Haughey and George Colley. The school also excelled in hurling providing many Dublin senior footballers. Although finishing there in 1944, An Bráthair Ó Catháin remained a special guest at the Joey's annual reunion dinner over many decades to his death in 1989.

Br Keane the Teacher
Br Keane was more than a man of knowledge; he had the ability to impart that knowledge to his pupils. His teaching method was pupil centred long before that system became the norm. He engendered with them an atmosphere of genuine and mutual respect. The apparent organised 'chaos' in his classroom was in fact one of discovery learning for students.

Above all, Br Keane was a Christian teacher. Fr Eoin Haughey said of him at the time of his death: 'with his razor sharp intellect and immense talents, he could have scaled the heights of success in the secular world; instead he choose to remain with the Christian Brothers and in the footsteps of his founder Br. Ignatius Rice he devoted his life to bringing out the best in others and making them a success. He was one of the greats in my life. Great men are humble'.

Unique input to the world of Meteorology:
In addition to pupils entering business, church and state, Brother Keane rendered his own unique input to the world of meteorology in that over thirty of his pupils joined the Irish Meteorological Service. 'I think you should have a shot at the mets' he was known to say. Many took up that advice. The vast majority of entries to the Irish Meteorological Service were graduates of Mount Sion Christian Brothers School, Waterford where Br Keane spent seventeen years over three terms. For example, more than half of the sixteen Meteorological Assistant grade entrants in 1961 came from Mount Sion. Interestingly, of the twenty (Junior) Meteorological Assistant posts to be filled in the fledgling Meteorological Service in 1944, candidates from Joey's, Fairview are reported to have won eleven of the places, four taking up the offer.

Br Keane the Man
Pádraig Ó Beacháin (Paddy Vaughan) writing through the medium of Irish in the 1987 Kilnamona hurling centenary publication 'Céad bliain ag fás', described him as a 'fine, gentle, humble, modest man, unpretentious with apparent great charm and highly esteemed. If he has a fault it is an over intense love of country, the Gaelic language and of the Clare hurling team.'

Br Keane was also a man of clay. He liked a whiskey or two in the company of friends and relatives. Never a good driver, he was known to acquire Bishop Russell's car to travel hither and thither in Clare. In fact he rose to getting an old Baby Ford himself which in the 1950's would have been frowned upon by Headquarters - it had to be discretely hidden during Visitation. Wherever past students gather, stories quickly turn to some legendary roguish ways of his, often exaggerated of course. He took up shooting but due to wearing glasses was never a great shot. Folklore has it he never shot anything!

The annual holiday in Kilkee in July was a must where he liked his daily swims in the well known sea shore pollock holes. He also liked visiting Kilnamona as often the Order allowed in those strict pre-Vatican II years but quite frequently in later years. The death in fairly quick succession of his brothers Martin in New York in the late 1940's and Andrew and Pat in Kilnamona in the early 1950's in the prime of his vocational career challenged greatly his reserves of strength.

To his Memory

At the time of his death in 1989 a past pupil of his, Pilip Ó Dugáin, penned a poem of appreciation in Irish which was published in the Dungarvan Leader.

A t

ranslation

of the tribute by Iain Duggan was published in 'Beautiful Country', The Ariel Press, 1999. Also, Our Lady's School, Templemore, inaugurated in his memory Corn Uí Chatháin (Keane Cup) and Scíath Uí Chatháin (Keane Shield) in the millennium year of 2000 for inter second level Munster school hurling leagues. In addition to the Kilnamona, another plaque has been erected in St Joseph's School, Fairveiw, Dublin , recalling his unique contribution to that establishment.

-

The Ceremony as recalled by John Costigan,

Chairperson Tipperary GAA County Board

The excellently prepared mass commenced shortly after 1.00 pm with Fr. Eoin Haughey being the chief celebrant. From my point of view, I was delighted that Fr. Tony Lambe P.P. Drangan/Cloneen was there to represent the Templemore past pupils and it gave me great pleasure to see current Vice-Principal Willie Butler in attendance as it was an indicator of the great contribution that our late friend made to the educational scene in Templemore in the sixties and seventies.

The mass itself was the high point of the day and the thought put into it was a tribute to nephew Tom Keane whose finger prints was on every step. A sincere well done.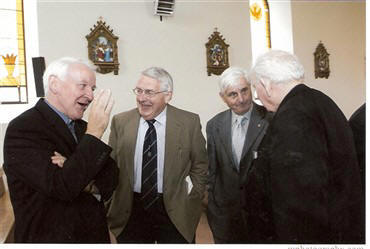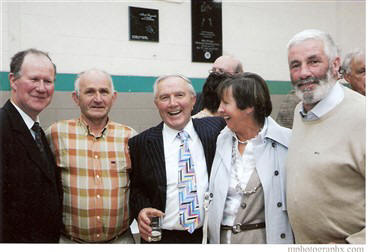 -
-
-
-
-
-
-
-
-
--
-
-
Enjoying the conversation: Fr Seán Sexton, P.P. Inagh and Kilnamona, John Costigan, Chairperson Tipperary GAA County Board, Paddy Buggy, Past President GAA, and Fr. Hogan, Inagh
. Below: Br. , Milo Keane, Brendan Keane, Stacia Keane and Michael Hegarty.

Fr. Eoin Haughey's sermon captured the essence of T. M. Ó Catháin and the simple and sincere mass sermon was befitting the occasion. One had to be impressed by the singing of the psalms by the venerable Harry Boland, the mass reflection by Fr. Duggan and above all the eulogy by past president of the GAA, Paddy Buggy who did the occasion proud. The final piece of the Church celebration was the unveiling of the plaque on the Church wall and that beautiful masterpiece was given the light of day by Harry Boland.
F
ollowing the Church ceremony, we all moved to the local Hall for refreshments, chat, music and song and it developed into a day never to be forgotten.
We got to know more and more of the highly thought of the Kilnamona people as the day progressed. Their roots are firmly entrenched in this very scenic part of West Clare bordering on the famous Burren. They are a people of the soil whose prodigy have moved into the various professions like most other ordinary families of twentieth century Ireland.
The thing that made this possible more than anything else was education, something that
became available to the children of post treaty Ireland as a result of the unselfish contribution of the Christian Brother and Nuns and the lay educators of that era.
In the Ireland
of today, it is deemed fashionable to ignore the contribution of the religious in the creation of what we enjoy today in the twenty first century. That beautiful celebration in Kilnamona and the tribute to one of their educators vindicated to me what we owe to those great and often maligned group of people. The religious made it possible in twentieth century Ireland for the sons and daughters of the ordinary people to get an education and enable themselves play a part and make a contribution to a developing Ireland for whose freedom we are indebted to our forefathers.
At the reception Stacia Keane sang the well known and well loved Patrick Kavanagh song entitled:'Raglan Road'.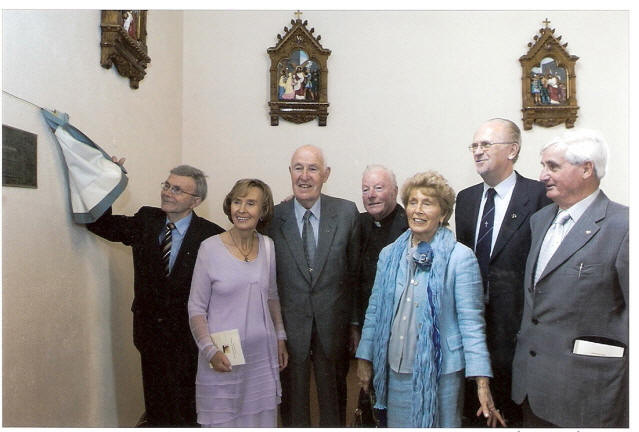 Tom and Maureen Keane,
Annraoí Ó Beolláin,
Fr Eoin Haughey (Oblate Fathers, Angela Conlon (Keane), Br Kevin Mullan, Province Leader, Irish Christian Brothers, and Paddy Buggy.
---
-------------
-
-
--
-
-
-
-
-
-
Below received from Br. J.K. Mullan,
Province Leader, Congregation of Christian Brothers, European Province
Well done to you and the Organising Committee of the Centenary Celebration for An Br Tomás M. Ó Catháin in Cíll na Mona last month. I was delighted to be present in Cíll na Mona for the occasion and to participate in the prayerful Eucharistic liturgy with Fr Eoin Haughey as chief celebrant. His homily and the eulogy of Mr. Paddy Buggy were fitting tributes to the life and influence of An Br Tomás and also acknowledged the contribution of the Congregation of Christian Brothers to the lives of so many people in Ireland over past years. It was wonderful to see such a large gathering, including so many past-pupils and people who knew An Br Tomás, in attendance in the church and at the community centre afterwards. Indeed the whole celebration was inspirational and you can rightly feel a sense of satisfaction about how well organised and attended it was and how smoothly it moved along on the day. Congratulations on the beautiful plaque honouring an Br. Tomás that was unveiled by Annraoí Ó Beolláin inside the church. It is there as a reminder to present and future generations in Cíll na Mona of a member of their local community who as a Christian Brother gave outstanding service to the Church. I must also mention the Mass booklet which was so well designed and presented in both Irish and English and the musicians and singers who added so much to the celebration of the liturgy. Please do convey my appreciation to all who helped to make the Centenary Celebration such a memorable occasion.
return
updated March 2014