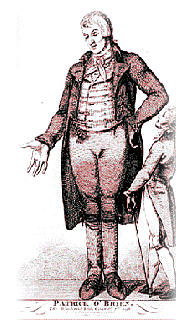 Patrick Cotter O'Brien (1760-1806), standing at eight foot and three inches was the tallest man in the world at the time. When he was 18, a travelling showman discovered him working as a bricklayer and brought him to England to star in his "freak of nature" show. He added the stage name "O'Brien" to his own to connect him with the legendary Celtic giants. For nearly a quarter of a century, O'Brien toured the country and in 1785 it was advertised that he was to be "seen by the quality" in a room in James Street, London for the sum of two shillings.
Cotter's "act" was dependent on the element of surprise and so during daylight hours when not performing, he would confine himself to his cramped quarters.It is widely believed that this contributed to the health problems which plagued him throughout his short life. He was known to have frequented Epping Forest by night and their are tales of highwaymen fleeing in terror, having mistaken him in the darkness.
The remainder of his life was spent in Bristol and he is there still referred to as the "Bristol Giant". When he died, he instructed that his body be protected from bodysnatchers and the knives of curious surgeons. His coffin, therefore, born by 14 pallbearers, was lowered into a vault cut 12 feet deep into solid rock and heavy iron bars were cemented into the walls.
His giant boots are on diplay at the museum.