EDWARD LAW
ARMS, CRESTS & MONOGRAMS
MASONIC: FOREIGN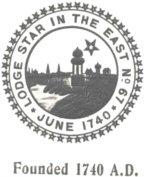 We have noted elsewhere (MASONIC) that the masonic movement had been established overseas by 1736, less than twenty years after the founding of the first Grand Lodge in London.
Among the early overseas lodges was that of Lodge No. 67, Star in the East, based in Calcutta, India, which was founded in 1740, as its crest proudly notes.


Those overseas lodges which fell under the control of the English Grand Lodge were administered at a local level by one of 37 District Grand Lodges. The overseas movement was strongest in South Africa, India and Pakistan but lodges were located throughout the world with some less obvious locations such as Malta, Fiji and Newfoundland.
| | |
| --- | --- |
| | This letterheading is reproduced from a printer's sample sheet: the number of the lodge, 956, was subsequently allocated to Prince Alfred Lodge in Pietermaritzburg, Natal, South Africa. |
Light in the Himalayas Lodge was at Rawalpindi in Western Pakistan. Cawnpore or Kanpur is in Uttar Pradesh, India, under the District Grand Lodge of Bengal. Lodge 1746 was at Benares, India and was defunct by 1961 when it was removed from the roll.
| | | | |
| --- | --- | --- | --- |
| | | | |
| Rawalpindi, Western Pakistan. | Penang, Malaysia. | Calcutta, India. | Lahore, Pakistan. |
Other aspects of crests of the masonic movement are dealt with on the following separate pages:
GENERAL; LONDON LODGES; PROVINCIAL LODGES; OTHER.
Return to HOME PAGE
or to TOPICS PAGE to view further pages.
Page created 21 June 2001