EDWARD LAW
ARMS, CRESTS & MONOGRAMS

MASONIC
ROSE CROIX, ROYAL ARCH AND MARK MASTER MASONS
There are several branches of freemasonry, and crests are found for Royal Arch chapters, for lodges of Mark Master Masons and for Rose Croix chapters.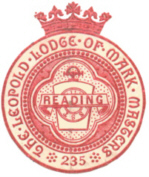 Mark Masonry is the third largest order in English freemasonry, and had its formal origins with the foundation of the Grand Mark Lodge in 1856, though mark masonry had been in existence from the second half of the eighteenth century. Their crests often incorporate a keystone on which are engraved letters which have a significance to the members.

As with the main masonic movement there is an organisational structure with grand lodge, provincial grand lodges etc., and there are overseas lodges, with an example here from Madras, India.

The arms displayed on the letter-heading of this lodge of Mark Master Masons is that of Herschel, baronets. Depicted is an astronomical telescope in reference to the outstanding astronomical achievements of the first baronet and his father. Probably the lodge was conducted in Slough with which town the Herschels were strongly connected.
The ceremony of Royal Arch is conducted in separate chapters which have the same identifying number as the craft lodge. The Lewis Chapter was based in Tottenham Court Road; the Studholme is another London chapter based in St James's.
There are a total of 33 degrees in masonic ceremonies, corresponding to Christ's age: Rose Croix is the 18th degree.
It will be noted that all the crests incorporate a pelican in piety, that is feeding its young with its own blood. It is probably significant also that most of the crests are executed in red. The exception on the left below is Ye Canterbury Chapter -the symbols on this crest suggest an ecclesiastical connection and purple may have been selected as the colour of Bishops.
Other aspects of crests of the masonic movement are dealt with on the following separate pages:
GENERAL; LONDON LODGES; PROVINCIAL LODGES; FOREIGN.
Return to HOME PAGE
or to TOPICS PAGE to view further pages.
Page created 21 June 2001