THE SEASON 1993/94
HISTORY
1993-94

This seasons home games had to be played at our temporary home which was Ellis's field.
Work is still ongoing at Leeside Park.
It Didn't seem to matter where we played , because we won the County Cup.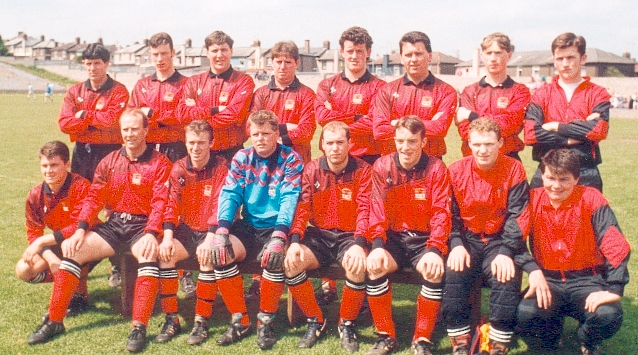 Team that won the County Cup
We beat Kinsale 1 - 0 at Turners Cross. Thomas Lyons got the winner in the 22nd minute.
Gerry Holland Captained Leeside .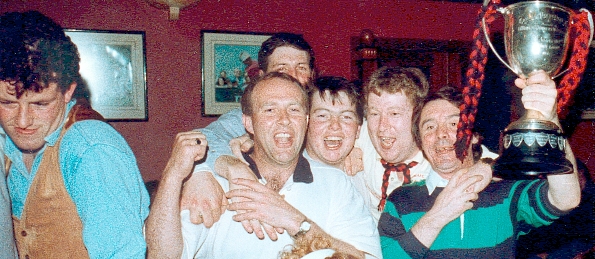 Jubilent Leeside Players and supporters.
Match Report :
LEESIDE win the Murphys Stout County Cup for the second time when they pipped Kinsale 1-0 at Turner's Cross on Sunday.

Their matchwinner was winger Tomas Lyons. He was in sparkling form in the opening quarter and scored in the 22nd minute after a great ball over the top by John Corcoran had set him free. His first shot was blocked by keeper Gerry Rice but Lyons quickly recovered the loose ball and hammered it low into the net.
Kinsale, with Peter Jones switched upfront from his normal centreback role, did most of the second half attacking. But Jones and company were allowed very little by a backline which was manned by two teens and two vets.
Sweeper Tony 0'Keeffe was brilliant all through and was seen to great effect in the 76th minute when he halted Jones at the edge of box. Left back Paddy Ward also did well as did the promising youngsters Steve Walsh and Liam Twohig.
---
---