About Us
The wall would have been nearly a metre thick.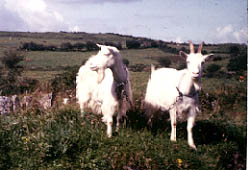 One of the sights to be seen, on the banks high above Lough Gur.
The Spectacles are the foundation of a small farmstead which was built on a natural platform overlooking the Lough.
Originally given its name because on the ordnance survey map, they were shown as two circular structures side-by-side.However, further investigation uncovered three huts, an animal shelter and some ancient fields. It dates back to 900AD when farmers did their work at some distance from their houses.
These small fields would have been used as vegetable gardens or as place to tend young or sick animals. Bones of pigs, sheep, cattle and dogs have been excavated. A rough pathway and steps - called locally the Staighri.