Mellifont Abbey was the first and most influential Cistercian monastery in Medieval Ireland. The abbey was initially founded in 1142 by a group of French and Irish monks after which it was taken over by the Cistercian order. By the time of Mellifont's dissolution in 1539, its valuation made Mellifont Abbey the second most wealthy Cistercian house in Ireland. The abbey then became a fortified residence before being abandoned and falling into ruin in the 18th century. By the 20th century only three structures from the abbey remained relatively intact above ground level, the gatehouse, the 12th century octagonal lavabo, a ceremonial wash house, and the 13th century chapter house which would have functioned as the administrative centre of the monastery.
The first excavations under archaeological supervision at Mellifont took place in the early 1950s when the OPW was carrying out conservation work on the site. The excavation work revealed the foundations of the church and cloister. Finds included medieval pottery and tiles, a hoard of silver pennies from the crypt and the silver chalice and paten from the chancel. Evidence was also found of a destructive fire, dated to the beginning of the fourteenth century. Parts of the church nave were rebuilt later in that century.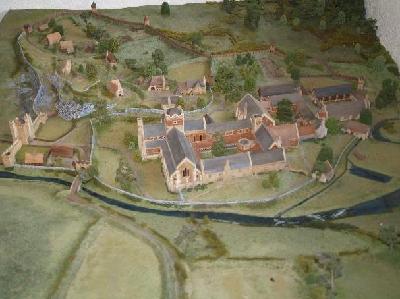 The excavations also confirmed that Mellifont conformed to the standard layout of Cistercian abbeys. This consists of a cruciform church on the north, with an aisled nave, transepts with eastern chapels and a chancel without aisles ; a cloister on the south, surrounded by ranges of buildings including the chapter house with the dormitory over on the east, calefactory, refectory and kitchen on the south, while cellarage and a lay dormitory filled the west range.
Bibliography
Leask, H.G. 1945. Mellifont Abbey. Journal of the County Louth Archaeological Society, Vol. 11, No. 1, pp. 28-33
De Paor, L, Hunt,J. Plenderleith, H.J, Dolley,M. 1969. Excavations at Mellifont Abbey, Co. Louth. Proceedings of the Royal Irish Academy. Section C: Archaeology, Celtic Studies,History, Linguistics, Literature, Vol. 68, pp. 109-164
Stalley, R.D. 1980. Mellifont Abbey: A Study of Its Architectural History. Source: Proceedings of the Royal Irish Academy. Section C: Archaeology, Celtic Studies,History, Linguistics, Literature, Vol. 80C pp. 263-354
Moss, R. 2007. Mellifont: From Monastery to Mansion. Irish Arts Review, Vol. 24, No. 3 (Autumn, 2007), pp. 85-87