Sample 7 & 10 Day Tours



Over the years we have developed a unique relationship with customers.  We have a strong philosophy of maintaining close contact with you, our customer in developing tours of Ireland based upon your interests and hobbies. This allows us to develop our itineraries so that you can see as much of Ireland as possible during your visit, focusing on where your particular interests lie. This helps ensure you maximise both your enjoyment and what you get to see and do on your visit to Ireland.  As a result, each itinerary is different and custom designed for each client.  We have included 2 sample itineraries below over seven and ten days respectively that have been used in the past by customers and these have been mapped out so you can see exactly how much of Ireland is covered.
You may click on the link to the right (7 & 10 Day Tours) to open and print these sample itineraries in Microsoft Word.

Sample 7 Day Tour
Day One
Arrive at Shannon.
This morning, tour Bunratty Castle & Folk Park. Bunratty Castle was built in the early 14th Century and at one stage was occupied by the 0'Brien clan whose ancestors live locally. Tour the Folk Park which contains some late 19th and early 20th Century thatched cottages, an authentic 19th Century street with school, shops, pubs, hotel etc. located here. To Limerick city, where Frank McCourt, author of Angles Ashes, was reared. Tour the city, view and tour King John's Castle and, if time permits, maybe tour the Hunt Museum. Stay in the Limerick region tonight.
Duration of Tour: 7/8 hrs
Day Two
Destination today is Galway city.
First tour the ruined Quin Abbey, this is an excellent example of 12th Century Gothic and Romanesque architecture. Onto West Clare, tour the Cliffs of Moher, drive through Lisdoonvarna, spa town also famous for its matchmaking festivals in the 19th and early 20th Century. Then tour the Burren National Park, a barren Karstic landscape left intact since the ice age (if time permits visit the Poulnabron dolman, an ancient burial chamber). Then enroute to Galway stop in Ballyvaughan and Kinvara two very scenic villages by the Atlantic Ocean. At Kinvara visit and tour Dunguire Castle. Into Galway city, tour the Spanish Arch and stay in Galway city tonight.
Duration of Tour: 7/8 hrs

Day Three
Destination Westport.
Tour Connemara.this morning. Drive by the ocean through the villages of Barna and Spiddal, then into Connemara proper near Rossaveel. This is purely a scenic drive over a barren region between the 12 Pin mountain ranges with splendid views also known as Joyce country, numerous lakes and rolling hills. Drive to Clifden, the capital of Connemara, stop here and walk around this old town. Onto Kylemore Abbey, tour this 150 year old Abbey, then onto Leenane, enroute maybe take a cruise in Killary Fjord with some splendid views of the Maamturk mountains. Drive into Westport via Croagh Patrick. An annual pilgrimage to the summit takes places here at the end of July. Stay in Westport tonight.
Duration of Tour: 7/8 hrs

Day four
Your destination this date is Donegal Town.
Leave Westport this Morning. Drive first to Sligo, enroute should you desire visit the Marian shrine at Knock, Co Mayo. To Sligo, visit W.B. Yeats burial site at Drumcliffe cemetery, onto Lisadell house, (Ringfort of the Blind man) Constance Gore-Booth, the Countess Markievicz, one of the leaders of the 1916 Insurrection was born and spent her early years at this location, house is 19th Century and a guided tour is provided. To Belleck in Co Fermanagh, enroute take in some spectacular views of the Dartry Mountains. With Ben Bulbin outstanding, tour the Belleck pottery in the late afternoon. Stay tonight at Donegal town.
Duration of Tour: 7/8 hrs

Day five
Today is a very scenic drive of the West Coast of Donegal.
Through the towns of Ardara, Dungloe, through the Rosses. To Gweedore, then to Dunfanaghy, enroute tour Glenveagh National Park, tour to Milford and experience some spectacular scenery on this route. Drive to Rathmullen, tour the Heritage centre here which gives an excellent insight into The Flight of the Earls. Stay tonight at Rathmullen.
Duration of Tour: 7/8 hrs

Day 6
This morning, tour Grianan of Aileach.
This is a 3000 yr old fort, reputed to be the Seat of the Mediaeval Kings. Splendid views from atop An Grianan, you can see seven counties from here on a fine day. Onto Derry city. Your driver will take you on a guided tour of the city walls which are one kilometre long and have been fully restored. Onto Bushmills, tour the Giants Causeway in the afternoon and if time permits tour the Old Bushmills distillery. Included in this tour will be a tasting of Bushmills whiskey. Stay in Bushmills tonight.
Duration of Tour: 7/8 hrs

Day 7
Drive to Dublin city.
Enroute visit and tour Brugh Na Boinne. These are the most famous concentration of prehistoric monuments in Ireland. The largest and most impressive of these monuments are Newgrange, Dowth and Knowth. Newgrange is the most famous Cairn here. Built over 5000 years ago by Stone Age farmers, these passage tombs are truly remarkable remnants of a highly evolved society. At dawn on the morning of the Winter Solstice, and a number of days before and after, a shaft of sunlight penetrates the passage creeping slowly to the back of the passage. Drive into Dublin city where you will stay tonight.
Duration of Tour: 7/8hrs.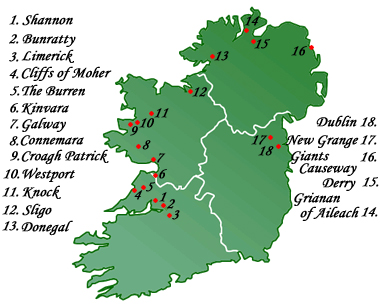 These tours can be changed, adjusted or added to in order to suit your needs and interests.

Sample Ten Day Tour

Day one
Tour Dublin city.
Tour Trinity College, 16th Century, view the Book of Kells (an ancient manuscript) and tour the Library. Onto Temple Bar, the oldest part of Dublin and then tour Dublin Castle. All that remains is a Round Tower, the adjacent buildings are all Government owned and some Government Departments function from here. Visit and tour Christchurch Cathedral. To the Guinness Hop Store, take a self-guided tour here. Onto Kilmainham Goal, 18th Century jail, you will have a guided tour here also. This tour will give you an excellent insight into Irelands history from the 17th Century to early 20th Century, indeed many Irish Patriots were imprisoned here including Michael Collins and Eamon DeValera. Stay in Dublin tonight.
Duration of Tour: 7/8 hrs

Day Two
Destination is Waterford.
Enroute visit Powerscourt House (18th Century) together with its Italian and Japanese Gardens. These are situated adjacent to the scenic village of Enniskerry which is itself situated at the foothills of the Wicklow mountains. Tour Glendalough, this was a Monastic settlement founded by St. Kevin. Tour the ruins of a 12th Century Castle in Ferns, Co. Wexford. Onto Enniscorthy where the 1798 rebellion was formed. Tour Waterford city which was founded by the Norseman Regonald in the 7th Century and view the Ruined Walls. To the Waterford Crystal plant, have a guided tour here and visit the showrooms. Stay in Waterford tonight.
Duration of Tour: 7/8 hrs

Day Three
Tour to Kilkenny city.
Enroute visit Jerpoint Abbey. This dates back to the 11th Century and has some important Gothic and Romanesque features. Onto Kilkenny city, a large town with narrow streets and some lovely shop fronts. Visit and tour the castle here, while the Kilkenny design centre is also worth a visit. Visit and tour the Black Abbey, this is a must do. Stay in Kilkenny tonight.
Duration of Tour: 7/8 hrs

Day Four
Destination Cork.
First this morning, view and tour the Rock of Cashel, this was the principle stronghold of the Kings of Munster in Mediaeval times, but after a visit by St. Patrick, it acquired a religious significance thereafter. Enroute visit Cobh (pronounced Cove and formerly known as Queenstown), beautiful scenic town nestling by the River Lee as it joins the ocean. Visit the Heritage centre and tour the trials and tribulations of the Irish as they made their hazardous journeys to the New World. Tour St. Colmans Cathedral, maybe have lunch at the Titanic restaurant. Onto Blarney, visit the Castle here and kiss the Blarney Stone and make your wish. Stop at the Woollen Mills in the afternoon for some shopping. Stay at Blarney tonight.
Duration of Tour: 7/8 hrs

Day Five
Destination is Kenmare.
Leave Blarney this morning. First stop will be Kinsale. Tour this very scenic town, then tour Charles Fort built by the British to strengthen the defences to Kinsale harbour and see some splendid views from here. Then tour West Cork along the southern coast of Ireland to Bantry, then into Kenmare through Glengarrif and over the Caha mountain range. This is a very scenic tour. Stops also along this route include Bantry and Glengarrif. Tour the lovely and scenic town of Kenmare where you will spend the night.
Duration of Tour: 7/8 hrs

Day 6
Tour to Killarney.
Tour the Ring of Kerry this date. This is purely a scenic drive over Mountain ranges and by the ocean. Reach Killarney in the afternoon, tour the town, then visit and tour Muckross house & gardens. If time permits maybe take a ride in a Jaunting car. Stay tonight in Killarney.
Duration of Tour: 7/8 hrs

Day Seven
Tour to Dingle.
This is a very old and scenic town. Tour the town on foot and in the afternoon tour the Dingle peninsula, again this is a very scenic drive. Through Ventry, Dunquin and Ballyferriter, tour the Gallarus, this is an ancient stone church dating back hundreds of years. At sunset be available to take photographs by the harbour for some spectacular views. Dine in one of Dingles many fine restaurants. Attend a pub tonight and enjoy some traditional music and song. Stay in Dingle tonight.
Duration of Tour: 7/8 hrs

Day Eight
Tour to Limerick city.
Enroute you will drive over the Connor Pass on Brandon Mountain to Tralee (famous for its annual Rose festival). Stop here and walk around the town centre. Visit Listowel (famous for its Poets and Playwrights) and onto Tarbert. Then you will take a very scenic drive to Limerick by the River Shannon estuary. Enroute visit the Abbey ruins at Askeaton and tour the very scenic town of Adare. Then into the city where you will visit the Hunt Museum which holds the largest collection of International antiquities and art. Onto King John's Castle, 7th Century, tour same. Visit Durty Nellies Pub tonight (located beside Bunratty Castle). Stay in the Limerick region.
Duration of Tour: 7/8 hrs

Day Nine
Destination is Galway city.
Guided tour of Bunratty Castle & Folk Park this morning. The castle dating back to the 13th Century is completely restored to its original self and is furnished with period furniture of that era. See some 19th Century cottages and houses, visit the 19th Century Street with its authentic shops, post offices, dispensory and schoolhouse. It has also got its own farm with a range of animals. Enroute to Galway city, tour Connemara via Barna, Spiddal and then to Oughterard. Connemara is a very barren and sparsely populated area with numerous lakes and mountains in the background. Stop on occasion along this route for photographs which include some of Irelands most spectacular scenery. Continue onto Galway city and stay here tonight.
Duration of Tour: 7/8 hrs

Day 10
Destination is Shannon.
Have a guided tour of Galway city this morning taking in the Cathedral, Spanish Arch and should you be interested Galway Crystal. Then onto West Clare. Enroute tour Dunguire Castle in Kinvara, stop in the very scenic towns of Kinvara and Ballyvaughan with harbours by the ocean. Tour the Burren National Park today and visit the world renowned Cliffs of Moher (dramatic 770 feet of sheer drop), then tour Dysart O'Dea Castle in Corofin. Onto Ennis, the county town of Clare. Drive through this historic town with its narrow streets. Stay tonight in either Ennis or near Shannon Airport for your flight home next morning.
Duration of Tour: 7/8 hrs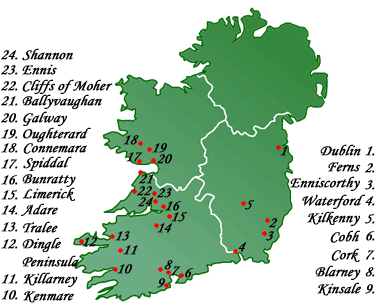 These tours can be adjusted, changed or added to in order to suit your needs.

You may print these sample itineraries from the right hand column above by clicking on (7 & 10 Day Tours).