West Cork Table Tennis Assoc.
NEWS 2007-2008
2006-2007 / 2004-2006 / 2003-2004 / 2002-2003 / 2001-2002
2000-2001 / 1999-2000
Final West Cork Table Tennis Ranking.
The final West Cork Ranking of the season was held in Dunmanway for the first time this season. With a smaller entry than usual that didn't seem to dampen the enthusiasm of those who entered. 8 Clubs and schools were represented within 4 divisions. The well known Beech Hill Club from Cork City were also invited to send some debutants for this event, the West Cork TTA were delighted to extend this invitation after Beech Hill hosted a successful social event earlier in the season.
Local Dunmanway players Anoshi Ghoul and Megan Healy lined up with Beech Hill visitors Ciara McKeone and Ashling Conroy in the girls division. There were some close matches with Anoshi taking sets from both Ciara and Ashling but it was the two Beech Hill girls who eventually battled it out for the top spot with Ciara taking the 4th and final set 11/9 to win the division and the U12 girls' trophy.
The third division matched up Ciara's younger brother Neil McKeone with Skibbereen's Ruari Harnedy and Sean Fin Gallagher along side Bantry's Cormac O'Mahony. The opening matches saw wins for both Cormac and Neil with 7 year old Sean Fin taking Cormac to deuce in the first and loosing 11/7 in the final set. With Cormac and Neil both winning their second matches it brought the group to the stage where they played each other for the top spot. The match was very close but it was Cormac and Bantry TTC who finally claimed the victory 11/9, 11/9. Ruari Harnedy went on to beat Skibbereen club mate Sean Fin for 3rd place.
The second division was a very evenly matched group. Paddy Watkins and Aonghus Harnedy from Skibbereen were joined by James Kelly from Goleen and Tolly Franklin from Gael Scoil Bheanntrai. James Kelly got off to a good start beating Aonghus and Paddy Watkins went on to beat Tolly Franklin. Paddy Watkins has had an excellent first season and finished it off in even more style when he managed straight set wins against both James and Aonghus to win the group. The match against Tolly and James became the U10 Final with Tolly currently U9 and James an U7, with both players often training together it was a close match but it was James Kelly who eventually came out on top to take 2nd in the group and the overall under 10 Title.
The first division saw 5 players from 5 clubs represented. Ben O'Donnell playing for the Goleen TTC was always the favourite ranked No.2 in West Cork but with No.4 Brian Crowley Bantry TTC within the division this was likely to prove the key match. Kinneigh TTC players are never to be ruled out and Thomas Crowley represented them well in the top division. Mark Lynch from Ardscoil Phobal Bheanntrai also took his place in the first division along side Ruaidhri Gallagher from Skibbereen.
Ben O'Donnell went on to win his match against Brian Crowley to take first place with Brian Crowley finishing second. Under 12 Ruaidhri Gallagher had some good matches to finish a very good third and the match between Mark Lynch and Thomas Crowley proved to be the closest of them all with Mark winning out 13-11 in the fifth and final set.
Ben O'Donnell was presented with the Under 12 Trophy with Brian Crowley finishing the best of the Under 14s. Congratulations to Ben O'Donnell who wins enough points to become the West Cork No.1 for Season 2007-2008.
St. Patrick's Hall in Dunmanway proved to be a popular venue and it is hoped that the new Dunmanway club will gradually grow back into the centre of table tennis it once was. A special thanks to Vicky Ridgeway for organising the event as well as robin Smiles and Iain O'Neill for all their help including moving all the tables. The West Cork TTA would also like to thank their special guest Munster Vice Chairman Rory O'Connor for presenting the prizes. Look out for details of up coming training camps in both Dunmanway and Goleen.
Lissagriffin NS Take West Cork Table Tennis Title (Goleen TTC News)
Three students from Lissagriffin National School pulled off a major surprise when they defeated all comers at the 2008 West Cork Schools Championships held at Maria Immaculata Community College (MICC) in Dunmanway. The Schools Cup is the largest schools event in the country with over 40 entries this year and schools from all over the region taking part in 14 events throughout the day.
The combined talents of Eoghan Sheehan, Mairéad Supple and James Kelly only dropped one point in the competition to take the Primary School Mixed Title after Coppeen NS had won the title an amazing 5 years in a row as well as collecting a number of Munster titles in that time. That one point was against Gaelscoil Bheanntrai's Tolly Franklin who is a regular member of the Goleen Club himself. What made the victory even more remarkable was that all the team members are categorised under 10 and will have at least two more years to compete at this level of competition.
Lissagriffin NS had entered this event before back in 2001 and 2002 when they managed a 3rd and a 2nd place finish but the players were delighted to go one better and put their small school firmly on the West Cork Table Tennis map. Many of the 30 students from the school have taken advantage of the excellent new facilities provided by the Goleen & District Community Council at the Goleen Hall alongside players from further afield.
Schull Community College was also well represented at U13 and U15 Boys standard with players from both teams regularly training at the Goleen Club. Adam Collins was part of the Schull Team that won Silver in the U13 and Josh Lenzlipich, Connor Miller and Oisin O'Driscoll came within a hare's whisker of winning the U15 Boys title. That was eventually won by Ardscoil Phobal Bheanntrai, with both Brian Crowley and Jack McCarthy also having trained within the Goleen Club. St. Finbarr's Boys National School in Bantry took both the National School Boys Division 1 and Division 2 titles and a number of those players have regularly made the trip from Bantry to attend training at Goleen TTC.
Goleen TTC is open to all ages and abilities on Fridays 7pm-9pm and Sundays 5pm-7pm with 10 tables and 2 robots available, both adults and kids can train and have fun together. Coaching is always available upon request from qualified ITTA Coaches Owen Kelly and Richard Gostyn.
Congratulation once again to all those who took part.
Awards for Bantry Secondary Players
A number of students from Ardscoil Phobal Bheanntrai passed their ITTA Awards. Zoha Ahmed, Helena Downey and Isaac Daunt who all started playing table tennis for the first time in the after school club this season all passed their ITTA 1 Star Award. Eileen O'Donovan and Liam Kelleher who started last season passed their ITTA 2 Star Awards. The school will be well represented at the up-coming West Cork Schools Cup with 8 teams in 6 events. In 2007 Ardscoil Phobal won the U13 Boys, U13 Mixed and the U19 Girls Titles.

West Cork Table Tennis Schools Cup 2008
The Schools Cup is main event for the vast majority of schools in West Cork and is eagerly awaited. The event will be hosted once again by the Maria Immaculata Community College in Dunmanway. 18 schools entered this event in 2007 and a similar entry is expected this year. There are events for Boys, Girls and Mixed teams of three at Primary School level, U13, U15 and U19, with over 50 teams there are a lot of games to be played.

Last year saw a number of Divisions within the various age groups in the Primary event Tarelton won the Boys, Gaelscoil Bheanntraí the Girls and Coppeen NS the Mixed. The U13 was won by Bantry Secondary School and they will be challenged by Schull Community College and MICC to try and retain this title.

Macroom De La Salle won two title at U15 Boys and U19 Boys and will be hard pressed by Bantry Secondary and Schull Community College. Bandon Grammar holds two of the mixed titles at U15 and U19. A number of new schools are expected to enter this year including Rossa College from Skibbereen and Lissagriffin NS from the Goleen area.

The event will kick off at 9.30am on Wednesday 23rd April and entry forms need to be in by Friday April 18th. Good luck to all the teams.

St. Finbarr's join in All Ireland Schools Challenge
St. Finbarr's Boys National School in Bantry entered their first ever All Ireland qualifier when they took on Scoil Eoin from Ballincollig. The 6 man team played very well with Ben O'Donnell, Cathal McCarthy and Darren Cronin all winning their singles match. Daithi Murphy came very close to securing a 4th point but lost out 18-20 in the fifth set of his match. With the score 3 all it was down to the last three doubles matches to decide the score. With Scoil Eoin winning two out of the three the final result saw the Ballincollig School triumphant.

Bantry Coach Owen Kelly was delighted with his charges on their first outing and complimented all the players on their performances. Two of the squad Anthony Hanley and Stephen Hanley will both be eligible for the school team next year and with a growing interest from within the school the future looks very bright for this small West Cork School.

St. Finbarr's Team: Ben O'Donnell, Cathal McCarthy, Darren Cronin, Daithi Murphy, Anthony Hanley and Stephen Hanley.

<![if !vml]>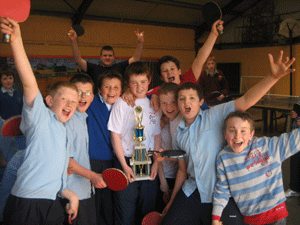 <![endif]>Bantry Player of the Month
The popular Toys Unlimited Player of the Month Trophy was presented to one of Bantry fast improving under 12 squad this month. Tim Cronin joined the club during the season and has played his way into the Bantry Top 10 and will represent his school St. Finbarr's in the upcoming Munster Schools Cup.

West Cork Coach Awarded Highest Irish Coaching Level
<![if !vml]>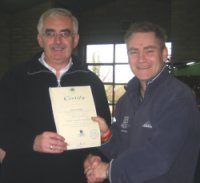 <![endif]>Owen Kelly is celebrating 25 years of coaching this year. He first qualified as an ETTA Club coach when he was 18 years old and has been an ITTA Tutor for the last number of years he was recently presented with his ITTA Level 3 Certificate by ITTA PRO Michael Healy. Owen has been involved at all levels of table tennis in this country as an Irish Schools Non Playing Captain and as a player Owen has been the Senior Munster Captain. However it is within the field of coaching and administration that Owen has built a formidable reputation as one of the country's top coach educators, delivering the ITTA Level 1 and designing the Level 2 coaching courses. Owen has also been the Head Coach for Munster Special Olympics as well as the Irish Head Coach for the last World Games. Owen currently delivers coaching sessions for all levels of ability at Skibbereen, Bantry, Goleen and at a number of schools around the region.

West Coaching Schemes Club Rankings The March Rankings are now available from the Coaching Schemes under the instruction of Coach Owen Kelly. The Snr Goleen Rankings are not included at this time but will be updated. Click Here...

<![if !vml]>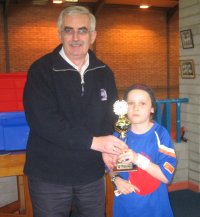 <![endif]>Skibbereen Player of the Month Award
Paddy Watkins received the John Keohane Motors Player of the Month award from ITTA PRO Michael Healy at last weeks training. Paddy from the local Gael Scoil only took up the sport in September and has shown tremendous improvement and enthusiasm for the sport. He won the Division 4 Gold Medal at the last West Cork Rankings and reached the last 16 in the Over 10 Primary School Championships.

ITTA Awards
James Kelly from the Goleen TTC was presented with his ITTA 2 Star Award. At 7 years of age James is one of the youngest players to achieve this level in West Cork.

<![if !vml]>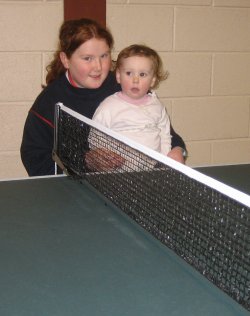 <![endif]>INDIVIDUAL PRIMARY SCHOOL CHAMPIONSIPS 2008
The West Cork Primary Schools Individual Table Tennis Championship 2008 was held in the Goleen Community Sports Hall on February 25th. The event saw representatives from 8 different primary schools from throughout the West Cork Region. The West Cork Table Tennis Association (WCTTA) was delighted with over 60 competitors making this one of the largest primary school events in the country.

<![if !vml]>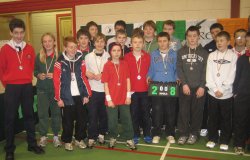 <![endif]>The largest of the 4 events was over 10 boys with 24 entries. St. Finbarr's Boys National School have a strong tradition in table tennis with regular school coaching sessions and the school regularly competes at the West Cork Schools Cup. All 6 of their squad made it to the ¼ final stages along with Eoin Murray (Togher NS) and Patrick McCaffrey (Gael Scoil, Skibbereen). Eoin Murray knocked out Tim Cronin to reach the semi final stages where he was eventually defeated by Anthony Hanley. In the second semi final Cathal McCarthy beat Darren Cronin to take his place in the final which he eventually won to take the West Cork Over 10 Primary School title.

Eoin Barclay (Gael Scoil Skibbereen) beat Ciaran Nunan (Togher) in the Over 10 Plate Final.

<![if !vml]>
<![endif]>The Under 10 Boys also saw a large entry with 21 players and again St. Finbarr's Boys School showed their strength. However only one made it through to the ¼ final stages with players from Model School Dunmanway, Gael Scoil Bantry, Gael Scoil Skibbereen, Togher NS and 2 local Lissagriffin players all being represented. 7 year old James Kelly (Lissagriffin NS) beat Togher's Finn Pyatt to claim his place against top seed Kieran Hanley (St. Finbarr's) in the semi final where he was eventually beaten while U9 Tolly Franklin (Gael Scoil, Bantry) beat Eoghan Sheehan (Lissagriffin NS) to meet surprise semi finalist Nicholas Bryan (Model School). Nicholas had upset the early seeding by beating top seed Kieran Hanley and once again showed his talent to reach the final. With a repeat of the early group stages between Nicholas and Kieran it was Kieran who used his experience to redress his earlier loss and to take the title at the end of a very close competition.

St. Finbarr's and Model School also battled it out in the plate final with Keith Collins (St. Finbarr's) defeating Ray Jennings (Model School).

<![if !vml]>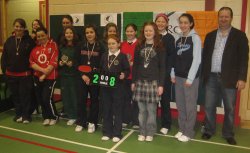 <![endif]>Two schools also dominated the Over 10 girls' event with Togher NS and Gael Scoil Skibbereen players reaching the semi finals when all three of the Gael Scoil Bantry girls were knocked out of the ¼ final stages. It was Gael Scoil Skibbereen who saw off the strong challenge of Togher when Charli Williams beat Ciara Glenn and Luighsighe Carey beat Lisa Cotter in the semi finals setting up an all Gael Scoil final. Luighsighe Carey made a welcome return to the West Cork scene after finishing No.1 Under 10 in Munster last year and showed this experience over tournament debutante Charli Williams in the final to lift the first West Cork Over 12 Girls title. Togher went on to claim the Over 10 Plate title when Eileen Crowley saw of the challenge of local girl Michelle O'Leary (Lissagriffin) in the final.

<![if !vml]>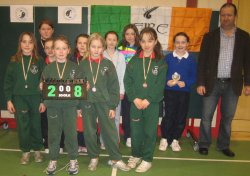 <![endif]>5 schools were represented in the under 10 Girls competition with all 5 being represented at the ¼ stages and 4 at the semi final stage. The West Cork No.1 position is currently shared between two girls. Both reached the final with Sinead McKennedy (Castlehaven NS) beating Deidre O'Sullivan from Bantry Gael Scoil and Mairéad Supple (Lissagriffin beating Sorcha Browning. In a closely fought and tense final it was Sinead McKennedy who took the first West Cork Primary Schools Under 10 Girls Title back home to Castlehaven NS.

The new local Goleen Club were delighted with the overall results from the event and were also able to celebrate their first title when Aisling O'Driscoll overcame the challenge from Orláith Keating (Gael Scoil Skibbereen) in the final of the Under 10 Girls Plate competition.

WCTTA Chairman thanked everyone for the tremendous support shown by schools, parents and the local Goleen & District Community Council who provided the superb facility as well as organising the café and refreshments for all the spectators. The next major West Cork event will be the West Cork Schools Cup to be held after Easter in Dunmanway.

<![if !vml]>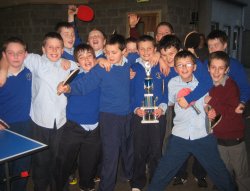 <![endif]>Darren Cronin wins Bantry TTC Player of The Month
Darren was a popular choice with the Bantry members. 11 year old Darren has shown great improvement both in technique, attitude and all round behaviour He was presented with the Toys Unlimited Trophy by Coach Owen Kelly.

<![if !vml]>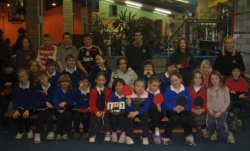 <![endif]>Skibbereen Player of The Month
Ruaidhri Gallagher was presented with the John Keohane Motors Skibbereen Player of The Month Award by Munster Chairman Ivan Shorten. Ruaidhri Gallagher has been playing less than a year and has shown huge improvement in that time, recently won Gold at the West Cork Rankings and has moved into the Elite Squad.

There was a festive mood at the Skibbereen Table Tennis Club as this was the last session of 2007. The Year has been a good one for the Skibbereen Club, the club currently has 40 members with players at all ages.

West Cork National Schools Challenge
<![if !vml]>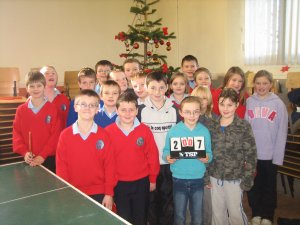 <![endif]>Another in the series of inter-school challenge matches was held in Dunmanway and brought together three National Schools. St. Finbarr's Boys School in Bantry travelled along with Togher National School to the Model School who served as hosts for the day.

The Model School first entered the West Cork Schools Cup earlier this year and are under the instruction of Coach Vicky Ridgeway who has also been the coach of Togher for a number of years and is developing a coaching strong scheme within the two schools. Both schools act as feeder schools for the nearby Maria Immaculata Community College.

The three schools were well represented and a number of matches were held. Model School Girls took on a combined Togher selection with some very close matches. Georgina Murray beat Belinda Stout to set Togher ahead by one. Hazel Roycroft took back a point with a win against Mae Byrne to level the scores. The third singles went to the home side with Linda Kingston beating Damien Chambers. However Togher showed their experience when it came to doubles taking both available points to win 3-2.

Model School and Togher also combined to take on St. Finbarr's and again there were some close matches which belied the 4-0 score line. Keith Collins beat Jack Burgoyne (Model), Kieran Hanley beat Finn Pyatt (Togher) and David Murnane beat Niall Roycroft (Model). Keith and Kieran combined to beat Finn and Jack in the doubles.

The third match was the Bantry A Team against a combined Togher and Model School selection. Eoin Lynch was first off for the Bantry side against Nicholas Brian (Model) and he took Bantry to an early lead. With Bantry's No.1 Anthony Hanley in fine form playing in the second match against Model's Sam Kingston, Bantry went to an early 2-0 lead.

<![if !vml]>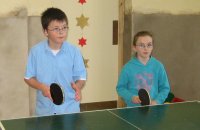 <![endif]>It was Eoin Murray who restored some of the balance when he overturned Stephen Hanley in the third match. Eoin Lynch was selected to play the fourth singles against Ray Jennings from Model. Eoin took the first set and looked like taking an easy victory but Ray Jennings fought back in the second to level the scores. However it was Eoin Lynch's day and he recorded another singles win to take the Bantry team beyond the 3 point barrier. Eoin Murray and Nicholas Brian combined for the first time in the doubles were unable to hold back the Hanley cousins Stephen and Anthony who went on to make the final score 4-1 to the Bantry side.

<![if !vml]>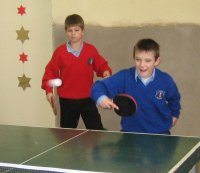 <![endif]>The West Cork Inter-school challenges are not all about which school wins and losses and after a break all the players were back at the tables playing a doubles challenge with players from different schools selected to play with rather than against each other.

The combination of Sam Kingston (Model) and Kieran Hanley (St. Finbarr's) managed to work their way through to the final against the combination of Stephen Hanley (St. Finbarr's) and Georgina Murray (Togher), with all three schools represented in the final there was great support from all the other players, teachers and families watching. It was Sam and Kieran who finally took the win in an exciting match. The Plate Final between Eoin Murray (Togher)/ Linda Kingston (Model) and Keith Collins (St. Finbarr's)/ Finn Pyatt (Togher) went to Keith and Finn.

This was a great day with loads of matches for the kids as well as a chance to meet, compete and have fun playing table tennis. Plans are already in motion to involve even more schools and hold another event at the Gael Scoil Beanntrai early in the New Year.

2 Star Award for Darren
Darren Cronin became the latest receipient of the ITTA 2 Star Award. Darren is from St. Finbarr's Boys School and the Bantry TTC.

Bantry Girls are Allowed
Sophie Curran and Aisling O'Connor from Bantry Secondary School were presented with their ITTA 1 Star Awards by School Coach Owen Kelly. The girls are part of a coaching scheme targeting girls from U15-U17 and it has been designed to introduce table tennis as a recreational sport. There are currently 7 students on the scheme.

Awards for Bantry Boys
Anthony Hanley and Killian Andrews joined the growing ranks of ITTA 2 Star Award winners. Both players have been attending the Bantry TTC Training Scheme over the last year. 7 Players were also awarded their ITTA 1 Star by Owen Kelly: Under 11's Brian Murphy, Jon Allen O'Donovan, Stephen Hanley, Daniel Murphy, Liam Downey and Tim Cronin and Under 13 Henry Deane.

<![if !vml]>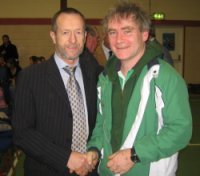 <![endif]>Sean Kelly opens Goleen Community Sports Centre by Owen Kelly
The Goleen Community Sports Centre was officially opened by Sean Kelly Director of the Irish Institute of Sport but probably better known in his former role as GAA President. In Goleen he was opening the new sports centre and pitch to whole community for all sports, not as historic as opening up the home of the GAA to soccer and rugby but as significant to this small community holding the backline of the country.

The sport centre is state of the art with an imported seamless polymer floor from Poland and as mentioned once or twice on this website it has 10 brand new tables, training robots and is already alive and buzzing to the sound of table tennis.

This was a special evening for me as I was one of the original Goleen Community Councillors that put forward the idea and laid some of the foundations for this project back when it seemed almost impossible. I want to take my small piece of credit only so that I can share in the pride that so many of our local community feel in what we have achieved.

We have already begun to develop our local club and it is a joy to me that my own small village can contribute so much to the already established clubs in the area. We have held a number of local tournaments and recently put on a West Cork Ranking and the training program has already expanded to attract players from miles around.

<![if !vml]>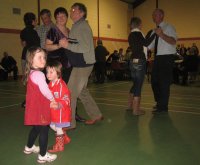 <![endif]>On the night of the opening I was invited along with representatives from County Soccer and the GAA County Board to address the 400 members of the community who turned out in a howling gale for the opening. It was a huge honour for me to be able to thank all those who have so willingly contributed to the project. I have been recently re-elected to the Community Council after I stepped down a couple of years ago to concentrate on my family.

I am looking forward to getting back and helping move this and other projects on even further. I am confident that the table tennis club will continue to grow as more and more people discover what we have to offer. As some of you may know I am also a qualified cricket, GAA, soccer and athletics coach and I am delighted that I will be able to use all these aspects of my coaching in the new sports centre. I think I will have a very busy 2008!

Bantry and Dunmanway Schools Meet for the First Time
Bantry Secondary School hosted a West Cork Inter-School Friendly against Maria Immaculata Community College from Dunmanway. This was the first visit by any school to the Bantry school who started their coaching scheme less than a year ago.

The Bantry 6 player team was made up of 2nd Years with only 2 players having played in their previous school. One of these Brian Crowley was selected as the Bantry Captain and he put in a captain's performance beating both the top MICC players Shane Connerly and Sinead Hennessey. This was a good win for Brian who had previously lost to Sinead who is currently ranked three places above Brian in the West Cork Rankings. Ronan Lorden also put in a good performance to also beat Shane Connerly but she proved too strong for Ronan.

MICC's No.3 & 4, Danieal O'Driscoll and Brian Daly beat both Daniel and Mark Lynch with the toughest match between the two Daniels. Bantry's No.4 & 5, Eoin Burke and Eileen O'Donovan but in a very good performance winning two and losing two with Eileen beating Erin Ingles and Eoin beating Aileen Murphy, 3 of the 4 matches going to the final set.

With the score on 5-7 to MICC, Bantry needed to win all the doubles and when Brian Crowley and Ronan Lorden combined to take the first in the pairings it still looked possible. The match between Mark & Daniel Lynch and Brian Daly and Daniel O'Driscoll was a one sided affair with MICC taking the win and the victory. One doubles was still to be played and this was another very close match with Erin and Aileen taking the first set 13/11, the second was also close but with a couple of fierce forehand drives Erin wrapped up the final set and a 9-7 victory for the visitors.

MICC recently took on the new coaching scheme at Rossa College, Skibbereen and came away with a draw. With more matches planned between these schools and with St. Fachnas' De La Salle ready to join the action after Christmas things are already heating up for the final showdown at the West Cork Schools Cup.

<![if !vml]>

<![endif]>
Goleen Top of the Table
The West Cork Junior Table Tennis Rankings provided thrilling action in a superb venue with top class facilities provided by the Goleen Community Sports Centre. There was no clash of ash but there were thrills and spills as the soft "pok pok" of bat on ball and spin, speed and power took centre stage.

The 2nd West Cork Junior Table Tennis Rankings were played out on ten new tables, including a brand new wheelchair table provided by the Local Cork Sports Partnership funding. The event attracted players from far afield with clubs from Bantry, Skibbereen and Dunmanway attending.

<![if !vml]>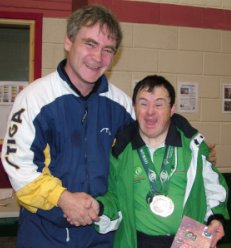 <![endif]>The organisers also welcomed a visit from their very Special guest Double World Games Bronze Medallist Pat Dorgan, who travelled down especially with his family from Cork City. As well as presenting the athletes with their medals he knocked up with some of the coaches, parents and players.

Entries were Divisioned into 5 groups all matched on ability giving many new players the opportunity to play in a competition for the first time under the guidance of four qualified ITTA Coaches, thanks to Owen and Kate Kelly, Richard Gostyn and Vicky Ridgeway.

Division 5 saw entries from five West Cork clubs and with four tournament debutants. The top places were finally decided between two under 10 players Eoghan Sheehan (Goleen TTC) and Thomas O'Grady (Bantry TTC). Eoghan Sheehan went on to win a very close match 2-1. Cormac O'Mahony (U10, Bantry TTC) came third. 4th Declan Kilbride (U10, Togher NS), 5th Jacob Clancey Adams (U9, Bantry Gael Scoil) and 6th Sean Finn Gallagher (U7, Skibbereen TTC).

<![if !vml]>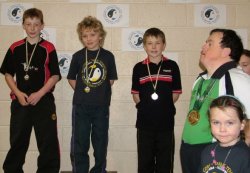 <![endif]>
Division 4 also had a 6 player group with three clubs represented. Goleen players proved to have the strength in this division with all the top 3 places going to the hosts. There was a remarkable division win for the youngest competitor in the day 7yrs old James Kelly who kept a clean sheet with 2nd Aaron Barry (U12, Goleen TTC), 3rd Darryl Connor (U12, Goleen TTC), 4th Sinead McKennedy (U10, Skibbereen TTC), 5th Mairéad Supple (U10 Goleen TTC) and 6th Thomas Black (U9, Bantry Gael Scoil).

Division 3 was dominated by the Skibbereen Club, the longest running of the three major coaching schemes in the area. Ruaibhri Gallagher is an up and coming Under 11 and has shown some significant improvement in the last couple of months. He took the gold in some style only losing one set overall to club mate Joe Moore. Joe Moore also took a set off Bantry's top Under 10 Kieran Hanley who finished 2nd place with Joe taking 3rd. 4th Dominic Samson (U11, Skibbereen TTC), 5th Declan Gallagher (U12, Skibbereen TTC).

Both the two top divisions were very closely fought out affairs with many matches going to the fifth set. Division 2 had a number of interesting clashes of style with the consistency and defensive style of under 11 Cathal McCarthy finally coming out on top. A good performance from pen holder Connor Miller (U14, Goleen TTC) saw him reach 2nd place while a welcome return from Killian Andrews rewarded him with third. U11 Anthony Hanley also from Bantry TTC fended off the challenge from Robin Smiles (U17, MICC) by winning their match 3-2.

Division 1 displayed some of the best table tennis of the year with so many tight and entertaining matches being played to an appreciative crowd of parents and interested parents. Under 17 Sebastian Kaehler (Goleen TTC) started as clear favourite for the event and almost managed a clean sweep without dropping a set but new Goleen recruit Ben O'Donnell fresh from his Munster U12 Final from the previous day managed to take one set against the hard hitting long pimpled, long haired German! But it was not enough to secure second place for Ben O'Donnell who again lost out 3-1 to former club mate Jack McCarthy (U13). Jack had to settle for second place, he had also played the previous day in the Munster U14s finishing 6th. 4th place went to another Goleen TTC import Josh Lenz Lipitch (U14) who is showing tremendous improvement and is one of a number of Goleen players who attend Schull Community College. 5th place went to Brian Crowley (U14, Bantry TTC), Brian was the U14 Plate winner at the Munster Rankings played in Kinneigh on the previous day.

<![if !vml]>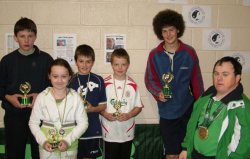 <![endif]>At West Cork Rankings medals are presented to division winners and trophies are awarded to age group winners. There were five age group winners at this event with Sebastian Kaehler at Under 17 Boys, U14 Boys Jack McCarthy, U12 Boys Ben O'Donnell, U10 Boys Kieran Hanley, U10 Girls Sinead McKennedy.

The organisers would also like to thank the Lissagriffin PTA for supplying the cafe and all the assistance from the Goleen and District Community Council. The next West Cork Rankings are once again in Goleen on 2nd February 2008.

Munster Junior Ranking, Kinneigh
<![if !vml]>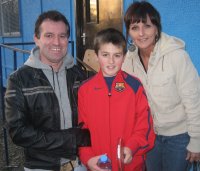 <![endif]><![if !vml]>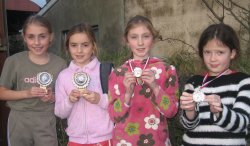 <![endif]>West Cork Players at the Munster Junior Rankings.
Only two Bantry players entered the latest Munster Junior Ranking, this time being held at the Kinneigh TTC. Brian Crowley and Jack McCarthy are students of the Bantry Secondary School and attend the Bantry Table Tennis Club. Brian had a close encounter in the first round but was unable to move through to the next round of the competition, he managed to recover well however and went on to win the Plate without dropping another match. Jack had better luck in the first round and moved through the competition till the ¼ Finals. He recorded a fine win against Brian Kelleher of Kinneigh in the 5-8 play offs and finally finished a very creditable 6th.

Ben O'Donnell recently changed clubs and went to the Munster Junior Rankings representing the Goleen Club where he now trains twice a week. Ben has put in some fine performances this season both at Munster and Irish levels at U12. He had his best ever performance over the weekend when he beat Peter Kelleher in the Semi Finals to met fellow West Cork player Brian Kelleher in the final. Brian proved too consistent on this occasion for Ben but he was well pleased with his second place finish. The next Munster Rankings are in Ballincollig on the 8th December.

ITTA Awards
Three more members of the Goleen Table Tennis Club passed their ITTA 1 Star Award. The Goleen TTC recently started a series "proficiency" session for players interested in passing their ITTA Awards and 5 club members have already passed their first stage. It is hoped that after this 8 week series that some players will reach 2 Star standard. Congratulations to Mairéad Supple, Eimear and Eoghan Sheehan.

<![if !vml]>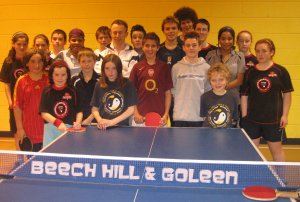 <![endif]>An Inter-Club Friendly
Goleen Table Tennis Club and Beech Hill Table Tennis Club organised an evening of fun games and matches for their members on Friday night. The West Cork Club travelled up with 9 junior players ranging from 7yrs to 17yrs while Beech Hill provided eight juniors of their own.

This was the first trip up to the city for the new Goleen TTC and all expressed their thanks and enjoyment on a good night out. The Beech Hill Club is well known for its high standard and players certainly showed their class and the facilities were excellent. Goleen Club Coaches Owen Kelly and Richard Gostyn were delighted with the way the evening worked out.

<![if !vml]>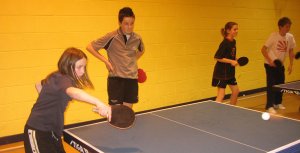 <![endif]>"There are far too few opportunities for us to socialise with players from other clubs. We nearly always meet at competitions and that is not always the best environment to get to know each other. We all share a common interest in the sport and sometimes we need opportunities to play this game just for fun and an evening like this is an ideal way of getting to know each other. Our thanks to Rory O'Connor and everyone at Beech Hill for inviting us up and showing us such great hospitality."

A number of the players took the opportunity to watch Top Irish International Brian Fitzgerald as he trained in the hall next door. This was the first time many of the players would have seen a player of this standard training and it was an eye opener for all of them!

Goleen TTC is part of the Mizen Triangle of clubs including Skibbereen and Bantry. Ruairi Gallagher from Skibbereen TTC also travelled up with the Goleen players and it is hoped that other players from Skibbereen and Bantry will also get a similar opportunity in the future.

The Goleen Club is building up to host its first ever West Cork Rankings in their new facility next Sunday (25th Nov). Over 30 players took part in the first event held at Kinneigh and it is expected that this number will rise as more players from Bantry, Skibbereen and Dunmanway are expected to travel. Goleen TTC boasts one of the best facilities in the country with 11 new tables in one hall. Entries can be taken on the day and Divisioning starts at 10am sharp.

A Very Special Guest to Visit Goleen
Goleen TTC is delighted to announce that World Games Double Bronze Medallist Pat Dorgan will present the Medals and Trophies for the club's up-coming West Cork Table Tennis Junior Ranking on November 25th. As reported previously on the Table Tennis Ireland website (www.ttireland.com) Pat Dorgan is from Cork City and was one of the eight members of Team Ireland Special Olympic Team that recently returned from a very successful Championship in China.

Kinneigh host First West Cork Ranking<![if !vml]>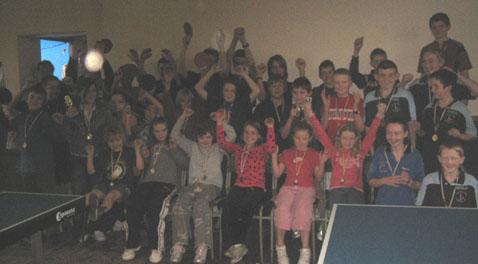 <![endif]>
Full Results
The 1st West Cork Junior Ranking of the 2007-08 Season was held at the Kinneigh TTC. The organisers were delighted with the entry of over 30 with the event being played over the school half term. 6 Clubs were represented on the day including Goleen, Bantry TTC, Bantry Gael Scoil, Skibbereen TTC, Togher NS and the hosts Kinneigh TTC.

The event was the first of its kind in West Cork with groups being divided by ability, age and gender, with the emphasis on ability. The event had a novice division, two girls divisions as well as 5 other Divisioned groups. This enabled players to compete against players of similar ability allowing for some very close games throughout the event.

The novice division had 6 players ranged from 7yrs to 12yrs old from 4 different clubs. Kinneigh players Loran Reidmuller and Cathal Foley finished with the top two places with the youngest player in the event James Kelly (Goleen) finishing equal third with Leo Reidmuller. Finn Pyatt (Togher NS) and Jacob Adams (Bantry Gael Scoil) finished 5th and 6th respectively in their first ever event. <![if !vml]>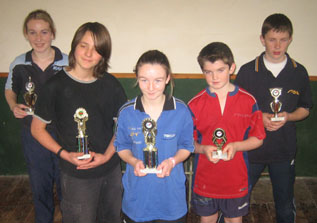 <![endif]>

The girls had two divisions with eight players between 7yrs and 12yrs old, the winner of group 1 was 12 yrs old Ciara Glenn (Togher NS), with the winner of group 2 being Mairéad Supple from the new Goleen TTC. The rest of the places were made up from the strong U10 girls of the Skibbereen TTC.

There were 4 more divisions within the event, with the performance of the day from Roisin Kelleher who won her top division beating both Sinead Hennessey and Shane Foley in the final play offs for seeding. This event being the first in a series of 4 was played out to enable a more accurate seeding for the next ranking in Goleen on Sunday 25th November.


Age groups winners saw wins at Under 10 for Cathal Foley (Kinneigh) and Mairéad O'Driscoll (Skibbereen).
Under 12 Trophies went to Shane Foley (Kinneigh) and Ciara Glenn (Togher).
Under 14 Trophies were presented to Jack McCarthy (Bantry TTC) and Roisin Kelleher (Kinneigh).
Under 17 Trophies went to Jonatan Reidmuller (Kinneigh) and Sinead Hennessey (Kinneigh).

Goleen Summer Festival Tournament 2007
<![if !vml]>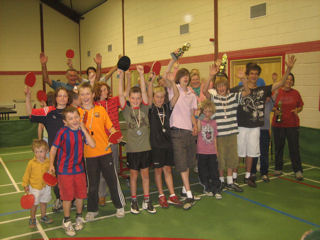 <![endif]>Sunday 12th August Goleen Table Tennis Club held their first annual Open Summer tournament at the new Goleen Sports Complex. 37 players entered with players from Hungary, Australia, England, Dublin, Cork, Dunmanway, Skibbereen, Bantry joining the local players in a fun filled afternoon. Players were divisioned on ability rather than age or gender with players from 7 years old and upward playing against each other. Many of the matches were very close. The 1st Division final captured the uniqueness of the event with Csillag Moosz a Hungarian woman visiting the area against local Bantry U12 Ben O'Donnell. The 3rd/4th Final saw a father and son match with Mike Williams (father) against Tadgh Williams (son) going head to head, it was father who won this time, Julie Williams (mother) finished 6th.

There was another young Bantry player made the final of the Division 2 when Anthony Hanley came up against Rolly Delmaistro. Rolly and brother Matty Delmaistro are regular visitors to Goleen from the UK with their family. It was Rolly who took the final. Anthony had put Matty Delmaistro out in the Semi-Final in one of the best matches of the day. Matty went on to beat another regular Summer visitor Barry O'Connor from Dublin. Barry's son Finbar reached the Division 4 Final where he was beaten by the Goleen Coach's son James Kelly in the final. Another regular visitor Oscar Wolheim beat Matteo Fitzsimons from Ballydehob for 3rd place in Division 4.

Division 3 matched up visitor Caspar Harvey with local club member Brian O'Donovan with the visitor winning out. James O'Leary Hayes came out on top against local lad Daryl Connell.

Trophies and medals were presented by Owen Kelly who thanked all those who had travelled and helped out on the day especially local coach Richard Gostyn and hoped that everyone enjoyed the rest of the Goleen Festival.
| | | | | | | | |
| --- | --- | --- | --- | --- | --- | --- | --- |
| | Division 1 | | Division 2 | | Division 3 | | Division 4 |
| 1 | Csillig Moosz | 1 | Rolly Delmaistro | 1 | Caspar Harvey | 1 | James Kelly |
| 2 | Ben O'Donnell | 2 | Anthony Hanley | 2 | Brian O'Donovan | 2 | Finbar O'Connor |
| 3 | Mike Williams | 3 | Matty Delmaistro | 3 | James O'Leary Hayes | 3 | Oscar Wolheim |
| 4 | Tadgh Williams | 4 | Barry O'Connor | 4 | Daryl Connell | 4 | Matteo Fitzsimons |
| 5 | Robin Smiles | 5 | John Fitzsimons | 5 | Amy Dineen | 5 | Connor O'Driscoll |
| 6 | Julia Williams | 6 | Vicky Ridgeway | 6 | Aaron Barry | 6 | Maraid Supple |
| 7 | David Venus | 7 | Cormac Browning | 7 | John Barry | 7 | Alexandra Leib |
| 8 | Gabi Bailey | 8 | Daniel Moosz | 8 | Eimer Sheehan | 8 | Kevin O'Toole |
| | | 9 | Bernard O'Sullivan | 9 | Eoghan Sheehan | 9 | Sorcha Browning |
| | | 10 | Odette Fitzsimons | | | 10 | Sean O'Leary Hayes |


My Ping Pong Heaven
<![if !vml]>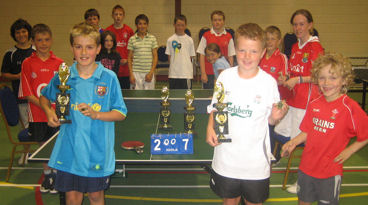 <![endif]>I can't help it, I just have to tell someone and it may as well be you guys out there in the table tennis world. After many years of coaching and trying to develop table tennis around my area I have finally found the club I was looking for. For a start it is only 10 minutes down the road, up till now I have an average journey of an hour to the other clubs I run in Skibbereen and Bantry and a bit further if I am coaching in Dunmanway and an hour and a half to get up to the Kinniegh Club.

So the new Goleen Club is only 10 minutes down the road! What a feeling that is to be able to "pop" down the road for a knock. The hall is brand new and could take at least 12 tables for a competition, fully facilitated with showers, toilets and changing rooms. The club has 8 brand new tables including a wheelchair table and an adaptive table that can be lowered to help the many "little ones" taking up the bat for the first time. Two robots pat away in the corners keeping both young and old occupied for hours. Special thanks to Ted at Celtic Table Tennis for all the help with the equipment.

<![if !vml]>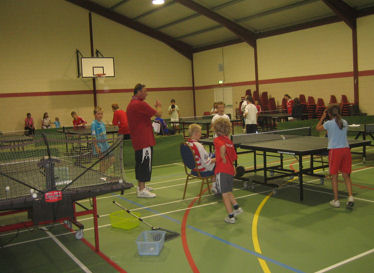 <![endif]>After our first three months the place is a hive of activity and as you know the summer is usually a bit quieter, not here, not so far. With over 30 under 12's and a good crowd of older players and adults, the club just continues to bring more and more players out of the wood work. Those trying it for the first time, those who played a bit when younger, mix with the mothers looking for a bit of exercise while their kids are kept occupied by the club coaches. There are also some older players dusting off the paddle that has lain dormant at the back of the cupboard for years.

The club has already seen a couple of local club challenge matches and recently finished the first Summer Camp. 18 players took part in the three day event under the guidance of three qualified coaches. The standard was great and we had kids between 7yrs -16yrs taking part from all over West Cork. The camp was finished off with an Open Tournament. Two Divisions of ability with loads of close matches (report and results on West Cork News).

<![if !vml]>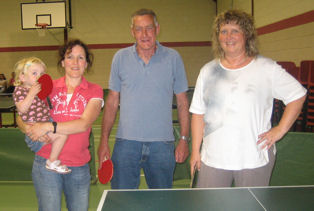 <![endif]>That was Friday, with the camp in the morning and the tournament in the afternoon I was exhausted and the last thing I wanted to do was go back for the Friday evening club session. Surely everyone had had enough of table tennis. Imagine my surprise when the hall was alive again to the sound of the ball popping and a whole new crowd of players had turned up to give the game another go. Seven to seventy years old and a buzz that revitalises and restores me every time I walk into the hall and see the tables laid out and full of players. The club was open six out of the seven days this week and regular summer coaching has started four days per week, ambitious I know but while there are enough players playing to cover cost of the hall and the coaches the doors will stay open.

Of course this didn't happen overnight, the plans for the development of this club started over 7 years ago with the West Cork Development Strategy and then with the development of a local Community Council, but step by step, slowly but surely this premier facility was built and equipped. The funding for the hall and equipment came out of the Capital Grant. Lottery Grant, Local Sports Partnership Grants and some amazing local fundraising.

The club has one huge advantage; it has two full time qualified coaches, with another two qualified volunteer coaches. Goleen is a small village that expands like some giant sponge in the summer with regular holiday homers and tourist staying at the camp site or various bed and breakfasts. Another strange advantage is that there are too few things for people to do if the weather is wet or you don't want to take the kids to the pub in the evening. Table tennis can supply a healthy, non-weather dependent activity.

We promote bringing the kids down for a couple of hours in the morning, "get them out of your hair," and there is still enough time to spend a great afternoon on the beach, playing golf, horse riding, fishing etc. Friday night club night gives everyone an opportunity to meet each other; both locals and holiday makers get together and chat as well as compete and have fun in a great club environment. Mum or Dad drops the kids off, but wait a minute they have decided to stay and we now have both generations playing together as well as playing with their own peers. We don't have to sell the sport just get them through the door, a bat in their hand and the spell of bashing a small white ball over the net works its magic every time.

<![if !vml]>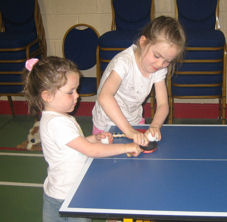 <![endif]>From a personal point of view yesterday during the tournament I had my one year old on my hip while I played "roller ball" with my 4 year old and took down the results. Mum was playing in the senior event (1st time back playing after 9 years of kids!), my seven year old was playing in the Division 2 event and my 8 year old was happy working away on one of the robots. I never believed I would see such a thing down here in the backwaters of the South West.

Every day I meet someone who says "It's great to see all that's going on down at the club, you're doing great work there." It is so good to feel as though you are appreciated and making a difference to your local community. I also get "Just wait till the winter, I'm too busy at the moment but I'll be down come the end of the summer."

So this is the end of my outburst. I am like a kid at Christmas and I just want to you to see what I got, cause it's great! I don't know about you out there in Irish Table Tennis world but my experiences at the end of this season with EGM's, phantom AGM's and a political quagmire on both a national as well as provincial level, it's all a bit much for me. I would really like someone to sort something out but it ain't gonna be me! I don't know if the ITTA could have, would have or even will help me with developing Goleen even further, maybe I'll get some help with the Bantry or Skibbereen Clubs I'm not going to hold my breath and I'm not going to wait around until they have sorted themselves out.

My Ping Pong heaven is located on the Mizen Head, deep in West Cork and you are invited to come visit us anytime. During the summer we are open every Sunday, Monday and Tuesday 10 till 12 and every Friday evening 7-9pm. 3 Euros/Session, coaching available, just ask. We also have a Summer Festival Tournament on August 12th, turn up on the day and groups will be divisioned, a good time guaranteed.

The First Goleen Summer Open
The first tournament to be held in the new Goleen Club saw an entry of 20 players. Most of the players had attended the Summer Camp held during the week and these were joined by a number of other players. Players were divided into three division based on ability rather than age.

<![if !vml]>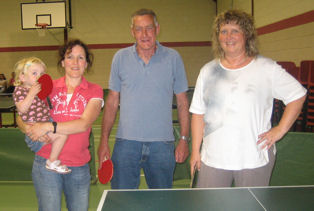 <![endif]>However the first group to play were all adults. Gabi Bailey, David Venus and Kate Kelly all from Goleen played in the inaugural event. When each of the players won one match and were level on count back it was decided by the organisers to award a Gold medal to each of the players. The matches were obviously close and this bodes well for future adult competitions.

The 1st Junior Division saw one group of 4 and another of 5 with a number of close encounters. No.1 Seed Jack McCarthy made easy work of his group only being pushed by No.4 Seed Damien Collins. Damien succeeded in taking one set using his left hand chopping style but found Jack's forehand attack just too hot to handle.

In the second group No.2 Seed Ben O'Donnell got off to a tough start as he met No.3 Seed Brian Crowley. The sets were very close going to deuce but it was Ben who finally won out. Ben also had another tough match as he faced Cathal McCarthy and again the defensive style put the higher seed into to trouble with some very long rallies as the players jostled for position. Ben finally took the final set and won his other two matches to top the group. Last year's top under 10's Darren Cronin and Anthony Hanley found the competition tough moving up to the first division.

The final between the two top seeds brought the best of the matches to the spectators, with some fast attacking down both wings from both players. These two players from the same Bantry club know each other's game inside out and continue to push them to greater and greater heights. Another nail bitter going to the final set. Jack certainly has had the upper hand over last season but it was Ben who took the upper hand in the latter stages of the set and took this lead to the end winning 11-9 in the final set.

Division 2
Most of these players would have only started playing regularly in the last few months and for many it was their first ever singles tournament. Two "wild card" holiday makers entered from Douglas in Cork. Again the players were divided into two groups with the winner of each group playing out the finals. Amy Dineen battled her was through her first match against club mate Darryl Connell and managed to take a victory. When she went on to beat the unknown Glen Stokes (Douglas) she looked like the most likely to go through from group 1. Glen Stokes took 2nd place with Darryl Connell in 3rd and Maraid Supple in 4th.

The second group also had an unknown in the shape of John Barry (Douglas) but it was 7yr-old James Kelly who nearly sprung the biggest surprise as he levelled his match against top seed Kieran Hanley. Kieran 3 years James' senior however managed to secure the victory 11-9 in the final set. James once again levelled the scores when playing John Barry but once again lost out to the older player. 9yr-old Anna Lenzipich put in some fine performances in her first ever tournament and finished 4th in the group.

The match-up between Amy Dineen and Kieran Hanley was another close match but it was Kieran Hanley who lifted the Division 2 Trophy. John Barry went on to beat his "best mate" Glen Stokes for 3rd and 4th, and James Kelly managed to beat Darryl Connell in a fin 5th/6th play-off. Anna and Maraid also had a fine game as they played off for 7th and 8th.

The rain had lashed down during the event and it was like a swimming pool outside when the players finally left the hall. Details of the Goleen Summer Festival Tournament were given out with promises from all players to return to battle once again on Sunday 12th August. This is an open event that anyone can enter on the day. Players will be "divisioned" by the organisers at their discretion.

<![if !vml]>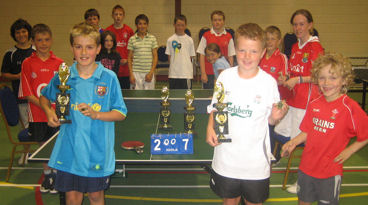 <![endif]>Division 1
1st: Ben O'Donnell (Bantry TTC)
2nd: Jack McCarthy (Bantry TTC)
3rd: Brian Crowley (Bantry TTC)
4th: Damien Collins (Bantry TTC)
5th: Cathal McCarthy (Bantry TTC)
6th: Josh Lenzipich (Schull)
7th: Darren Cronin (Bantry TTC)
8th: Anthony Hanley (Bantry TTC)
9th: Eddie O'Flaherty (Skibbereen TTC)

Division 2
1st: Kieran Hanley (Bantry TTC)
2nd: Amy Dineen (Goleen TTC)
3rd: John Barry (Douglas)
4th: Glen Stokes (Douglas)
5th: James Kelly (Goleen TTC)
6th: Darryl Connor (Goleen TTC)
7th: Anna Lenzipich (Schull)
8th: Maraid Supple (Goleen TTC) and 2nd 4.15 - 5.15 on Wednesdays. Both session are currently full but you can apply for the waiting list by contacting Skibbereen TTC on 028-35371.
Back To Top