! Judge McGruder 'Death of legend' #1009> <! Judge Child > <! Demarco P.I.>
Orlok
PERSONAL DATA
REAL NAME: Orlok
PLACE OF ORIGIN: East Meg One
OCCUPATION: Assassin
KNOWN RELATIONS: None
FIRST APPEARANCE: Prog 242
CURRENT STATUS: Dead
A rare case where a foe of Dredd's seems to last, without being undead or a mutant. He plays a signficant role in both Judge Dredd and Judge Anderson stories over the years. The East Meg Assassin first appeared in Block Mania (2000AD progs #242-244 Written by John Wagner/Alan Grant, Drawn by Steve Dillon/Brian Bolland ), where cripples the city and kills Judge Giant, he is captured and remains so while his city is destroyed.
(For the next 10 years Orlok appeared only in Anderson PSI stories, written by Alan Grant)
In 2109 (Hour of the wolf), he was released by Cold War sleepers after seven years and the same time becomes the #1 Villain in the PSI Anderson series, used Psionic warfare in Triad. Later turned up on Mars with a fast diddling group of supporters, after he and anderson met their maker they both went in search of fulfillment, with seems to find it.
Hour of the wolf : 2000AD progs #520-531  (1987)  Barry Kitson  [Orlok escapes Mega-City One]
Triad            : 2000AD progs #634-644              Arthur Ranson
Childhood's End  : Judge Dredd Megazine Vol 2, #27-33 Kevin Walker  [On Mars]
Postcards from the edge                 Vol 2, #54-56 Xuasus        [Orlok is now reformed]

John Wagner brings Orlok back into Judge Dredd the storyline, when he learns of a bounty to bring Dredd to Trial for destroying East Meg One. So Orlok is return from the quite life. And goes to Mega-City One capture Dredd and get Judge Anderson into the bargain. The story story arc is part of the Doomsday war ends with Orlok escaping the sinking of the New Kremlin with his former comades after his blood.
Orlok resurfaces 5 years on in New Kremlin getting another chance to strike at Mega City One via Sin City, he looks to have dies but escapes alive only to captured and put to trial and executed finally!
Orlok returns to Judge Dredd stories with...
Return of the Assassin: 2000AD progs #1041-1047  [by John Wagner and Cam Kennedy]
The Trial:              2000AD progs #1048-1050  [by John Wagner and S.B. Davis/Charlie Adlard]
Trial of Strenght       2000AD progs #1051-1053  [by John Wagner and Neil Googe/S. Baskerville/T. Hairsine]
Sin City (parts 6-11)   2000AD progs #1294-1299  [by John Wagner and Kevin Walker]
Trial of Orlok          2000AD prog  #1336-1337  [by John Wagner and Cam Kennedy & Chris Blythe]

---
Judge Giant
First appeared: Prog 651
Occupation: Mega-City One Judge
Time Period: 22nd century
Abilities: Leadership qualities
Real Name: John "Giant" Clay
KNOWN RELATIONS: Father and Grandfather both of same name, John "Giant" Clay,
Status: Active
HistoryJudge Giant Senior, who first appeared in Prog 27 as a Cadet in Training later helped Dredd recapture the city from the Judge Caligula but he was killed by Orlok during the Block Mania outbreak (prog 243).
The present Judge Giant is the illegitimate son of his of Judge Giant Senior, and was found after his father's death when he witnessed his mother's killed in a mugging. A genetic test found his true bloodline and he was inducted into the Academy of Law, and as a cadet he played a part in re-capturing of the city from the Dark Judges during 'Necropolis'. He was made a full judge by his assessor Judge Dredd in 2116. Recently he and Judge DeMarco find Dredd in "Missing"
Young Giant, progs 651-655 (11/4/89 to 12/2/89) by Wagner & Carlos Ezquerra
NecropolisNecropolis, progs 674-699 (4/14/90 to 10/6/90) by Wagner & Carlos Ezquerra
Giant Judge Dredd Megazine Vol II #50-51
Missing, progs 1078-1083 (1/20/98 to 2/24/98) by Wagner, art by Lee Sullivan & Alan Craddock
---
Mrs Gunderson
PERSONAL DATA
SOCIAL CATEGORY: Citizen
PLACE OF ORIGIN: Mega-City One
OCCUPATION: Landlady
KNOWN RELATIONS: None
FIRST APPEARANCE: Judge Dredd Megazine #1 Vol. I
CURRENT STATUS: Active
Mrs Gunderson is old, short-sighted and deaf as a post. She lives in Syliva Plath block and rents out her spare room to lodgers. Previous occupants include the alien superfiend Judge Death several of his victims. later she reappeared several times including the occasion when Judge Death declared her as the living being who is 'innocent'. Her apartment has been a macabre tourist attraction for the last few years.
Prog Check : Young Death JD Meg Vol I #1-12, Tea with Mrs. Gunderson JD Meg. Vol II #15, Terror with Mrs. Gunderson JD Meg. Vol II #80, Mrs Gunderson's little gunderson Prog. #1063-1065, Death Becomes him #1014-1015, A Night with Judge Death #1168
---
Judge Hershey
PERSONAL DATA
REAL NAME: Barbara Hershey

PLACE OF ORIGIN: Mega-City One
OCCUPATION: Chief Judge
KNOWN RELATIONS:
FIRST APPEARANCE: Prog 162
CURRENT STATUS: Active
Shorthly after her graduation from the Academy of Law, Judge Hershey was the surprise choice to join the crew of the Justice 1 for the dangerous deep space misson to find the Judge Child. Working closely with Judge Dredd every step of the way, she came through the mission with great credit and was highly commended in his personal log. Hershey returned to the streets of Mega-City one a tougher and infinitely more experienced judge, but she was ill-prepared for the attack of Fink Angel some months later, when he came seeking revenge on the Judges responsible for the deaths of his brothers and his Pa. The young Judge barely escaped, but she had already developed a knack for survival a knack which came in useful during the Apocalypse War when Hershey was called upon again by judge Dredd to join his Apocalypse Squad. After the war, Hershey was promoted to Senior
Judge and when Chief Judge Judge McGruder resigned her position four years later, Hershey became the youngest ever member of the Council of Five. Her meteoric rise up the Justice Department's 'greasy pole' saw her hotly tipped to become the next Chief Judge in due course, she denied any real ambitions in this direction. Even so, she soon experienced the power that goes with the office. since she was asked to sit in as acting Chief Judge when - McGruder - back for an unprecedented second term of office - attended a crisis meeting of judges from all over the world to find a way to defeat Sabbat the Necromagus. Hershey was later part of the delegation of Senior judges who tried to convince McGruder to reform the Council of Five - inactive Dark judges had controlled Mega-City one - but the Chief Judge refused to comply, as she suspected Hershey was after her job. McGruder's judgement had definitely become questionable but she insisted on remaining the only voice at the top of the Justice Department until one of the Mechanismo robots she was so enthusiastic about tried to kill her. Realising her error at last, McGruder wasted no time in tendering her resignation and she entrusted Judge Hershey - along with SJS Chief Niles and Psi Chief Shenker - with the job of running the justice Department until a new Chief judge could be selected. Hershey was the only one of those three who actually put their name forward for the post, expressing her desire for more open goverment. Her views did not go down terribly well with her colleagues, however, and she received only 13 votes in the ballot among Senior judges while the new Chief judge, Hadrian Volt, romped home with 208! Volt commited suicide after the Doomsday Robot war and Hershey became Chief Judge of Mega-City One, ironically without any vote. Since then her liberal attitudes have been diluted somewhat by Mega-City One's top job.
She also featured in the Judge Dredd Movie played by Diane lane
Created by John Wagner and Brian Bolland
2OOOAD Progs 162,164, 167-170, 172-177,181, 194-196,263-266, 269, 270, 284, 300-303, 337, 338, 395, 396, 447, 530, 573, 623-625, 662, 706, 734, 735.743-745, 754-756, 761, 789, 792, 796, 798, 806, 807, 826, 829, 845, 846, 848, 850-853, 866, 886-888, 891, 915-917
Judge Dredd Megazine Vol I #1, #7; Vol II
Hershey got solo series, Judge Hershey (index in JD Meg Vol III #71)
Downtime Dave Stone & Paul Peart #9 JD meg. Vol II
The Not So Merry Wives Robbie Morrison & Xuasus #12
Deathsquads Peter Cornwall & Yan Shimony #14-17
Asylum Robbie Morriso & Siku #25-26
A game of Dolls Igor Goldkind & Kevin Cullen #27-30
Hershey & Steel: Degenomancer Dave Stone & Charlie Adlard #35-36
Harlequin Dance Igor Goldkind & Kevin Cullen #37-40
Spider in the Web, Barbara Paul Neal & Marc Wigmore #9-10,11 JD meg. Vol III
The Enemy, The Shooting Paul Neal & Marc Wigmore #12,#13-14
Sacrifices Paul Neal & Marc Wigmore #18
I don't Believe in love Marc Wigmore #28
Text story in JD yearbook 95
---
REAL NAME: Charlie Joyce
SOCIAL CATEGORY: Judge-Sergeant
PLACE OF ORIGIN: Murphyville, Emerald Isle
Group affiliations: Judge Militia, Emerald Isle
KNOWN RELATIONS: Wife, Kathleen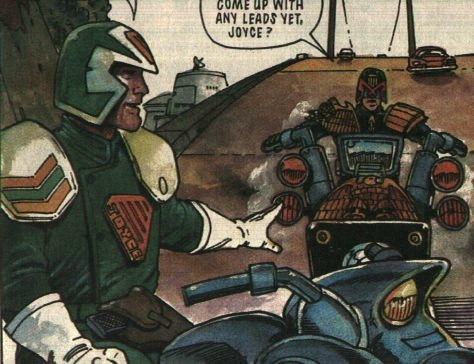 FIRST APPEARANCE: Prog. 728 (part 2 of Emerald Isle)
CURRENT STATUS: Active
Created by Garth Ennis and Steve Dillon - They came up with a vision of Ireland of Dredd's world with Joyce as the easy going Irishman
Emerald Isle Prog. 727-732, Judgement Day Prog 786-799 and Judge Dredd Meg Meg. Vol 3-9, Innocents Abroad, Prog. 804-807 (Artist: Greg staples), Judge Joyce: When Irish Pies are Smiling, Judge Dredd Yearbook 1993 (Ennis and Dillon)
Character History: Young Charlie Joyce wanted to be a judge ever since his parents were arrested for multiple vehicle theft and grievous assault on a traffic vision on a traffic warden. His dream was realised easier than expected on the Emerald Isle, where the Judge Militia more resembles an old resembles an old fashioned police force than an intensely trained corps of judges. Joyce quickly reached the rank of Judge-Sergeant and in 2110 married his sweetheart Kathleen. He combines an easy-going attitude with a sharp mind and determination to crack any case, as Judge Dredd discovered when they teamed up to fight the Sons of Erin uprising of 2113.
---
PERSONAL DATA
REAL NAME: Jake Sardini
SOCIAL CATEGORY: Citizen
PLACE OF ORIGIN: Mega-City One
OCCUPATION: Taxidermist
KNOWN RELATIONS: Wife, Lotte
FIRST APPEARANCE: 507
CURRENT STATUS: Dead
In Mega-city One, aged citizen Jake Sardini practices the delicate art of Taxidermy. But he doesn't stuff dead humans! Human taxidermy is a highly skilled craft and has been a sport in the Mega-Olympics for several decades.
Saradini used to compete internationally and even won a bronze medal in the 2082 Mega-Olympiad, but that was years ago, when he was younger. In 2116 the Mega-Olympics on in Katmandu, Nepal. All the typical sports of the 22nd century are represented : insulting, staring, housework, chezz, mountaineering, sex and of course Human Taxidemy.When he returns from Nepal he takes it easy, retires and falls victim to mega-city high one's crime rate. Dies and of course gets stuffed!
The Taxidermist : John Wagner & Cam Kennedy Prog. 507-510
Return of the Taxidermist : Wagner & Ian Gibson, Vol II #37-46
Revenge of the Taxidermist : Wagner & Trevor Hairsine/Alan Craddock #1087-1089
Return of The Tax Cover for the story set in the Mega-Olympics, 408x511xJPG
---
PERSONAL DATA
REAL NAME: Marlon Shakespeare
ALSO KNOWN AS: Chopper
SOCIAL CATEGORY: Citizen
PLACE OF ORIGIN: Mega-City One
OCCUPATION: Pro-skysurfer
KNOWN RELATIONS: Father, Bert and Mother, Ruby
FIRST APPEARANCE: Prog. 206
CURRENT STATUS: Active
He was a typical Mega-City One juve - bored, restless, with no future. His father and mother were some of the 90% of the unemployed in Mega-city one. So he broke out by becoming a wallscrawler, challenging authority with his own brand of graffiti, as the city's wall, floors and vehicles are adorned with illegal spray painted scrawling. Eventually he was caught by Judge Dredd, but not before making his mark on his city. This first story featured interesting insights into Mega-city life. While being rehabilitated, Chopper took up skysurfing, entered in illegal Supersurfs and became a very popular world champion.
Classic Chopper by Cliff Robinson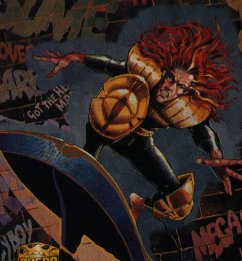 | | | | | |
| --- | --- | --- | --- | --- |
| Title | Creators | Original Print | Pages | Other Reprints |
| JD: Unamerican Graffiti | John Wagner and Ron Smith | 2000AD #206-207 | | |
| JD: Midnight Surfer | John Wagner and Cam Kennedy | 2000AD #424-429 | | |
| Judge Dredd: OZ | John Wagner and Brendan McCarthy | 2000AD #545-570 | | |
| Chopper: Soul on Fire | John Wagner and Colin MacNeil | 2000AD #594-597 | 27 | The Best of 2000AD special edition #1 |
| Chopper: Song of the Surfer | John Wagner/Colin MacNeil | 2000AD #654-665 | | Classic 2000AD #7, Graphic Novel |
| Chopper: Earth, Wind and Fire | Garth Ennis and John McCrea | Judge Dredd Mega Vol. I #1-6 (Sep. 1990 to Feb. 1991) | 62 | . |
| Chopper: Dead Man's Curve | Garth Ennis/Martin Edmond | Judge Dredd Mega Vol. II #36 | 8 | Best of 2000AD special edition #3 |
| JD: Flight of surfer | ( Nov 94 ) | Judge Dredd Poster Prog. 5 | 6 | on the back of the massive poster |
| Chopper: Supersurf 13 | Alan McKenzie & John Higgins/TCS | 2000AD #964-971 | . | . |
And the "Midnight Surfer Special"


---
PJ Maybe
First appeared: Prog 534
Occupation: ex-Juve Pysho
Time Period:22nd century
Abilities: Murder to achieve his goals
Status: Fugtive, in Banana City
Created by John Wagner and Alan Grant, Art by Liam Sharp
History Bug #534; PJ Maybe, Age 13 #592-594; The further adventures of PJ maybe, Age 14 #599; The Confesshuns of PJ Maybe #632-634, Wot I did during the Necropolis #674-699 ( Anthony Willams takes over as artist); Appearance in 'Dreddful Life', PJ & The mock-choc factory #820-822 (Garth Ennis writes, P.J. is now 18 so no long a Juve.).
The All New Adventures of P.J. Maybe #1204 (Wagner Returns as writer, Art by Peter Doherty); You're a better man I am Gunga Dinsale #1208; Bring me the heart of P.J. maybe #1209 (Art by Ben Oliver)
---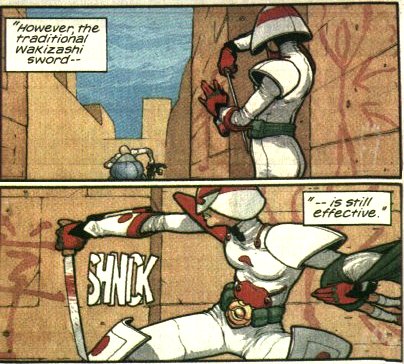 Shimura
Created by Robbie Morrison & Colin MacNeil
Frank Quietly painted a prologue story featuring shimura before he went 'Ronin' and Aiko Inaba made first female full Hondocity judge-inspectre in 2115 by shimura. <!JD Meg Vol III #21>
Series Index
All stories in Judge Dredd Megazine
Shimura
 Vol. II,  #37-39, Drawn by Frank Quietly
 Vol. II,  #50-55, Outcast, Drawn by Colin MacNeil
 Vol. II,  #72    Fearful Symmetry, Art by Duke Mighten & Simon Fraser.
           #73    Chambara, Art by Robert McCallum & Simon Fraser.
           #74    The Transcendental Assassin, Art by Simon Fraser.
           #75    Heavy Metal, Art by Duke Mighten & Simon Fraser.
           #76-77 Assassins, Art by Robert McCallum & Simon Fraser.
 Vol. III, #14-17 Dragronfire, Drawn by Simon Fraser
           #34 Ronin Breed, Art by Simon Fraser.
           #35 Scary Monsters, Art by "LOL."


Inaba
 Babes with big Bazookas,  Vol. III, #21 ( Art by Frank Quietly )
 Big Lix and Flying Kicks, Vol. III #37-38 (Jan. to Feb. 1998), art by Teague/Dini/Roach
Frank Quitely ==> Shimura,Inaba
Simon Fraser ==> Ronin,57kB JPG
---
Walter the Robot
ALSO KNOWN AS: Walter the 'Wobot'!
SOCIAL CATEGORY: Robot
PLACE OF ORIGIN: Mega-City One
OCCUPATION(S): Vending-Droid,Robo Servant,Robot Dealer
KNOWN RELATIONS: None
GROUP AFFLIATIONS: None
FIRST APPEARANCE: Prog 10
CURRENT STATUS: Imprisoned
BIOG
During the Robot Wars of 2099, Walter fought bravely on the side of the judges. He helped Judge Dredd to quell the rebellion, but developed his nervous mechanical lisp in the process. Walter the 'Wobot' was rewarded by being given his freedom in a special ceremony held after the war. Despite receiving this historic honour, he sought nothing more than total subservience to his new hero, Judge Dredd. Walter even foresore his 'free' status and filed ownership papers in Dredd's name instead. As the lawman's faithful robo-servant, he shared many dangerous adventures, often proving to be both a help and a hindrance. Poor Walter finally came to grief at the hands of Mean Machine Angel, who was seeking revenge on Dredd for the deaths of his brothers. But after nine years Walter reappeared as a saviour of ownerless robots. A run-in with destroyed his business, Walter later helped Dredd during the Grice takeover. Walter re-surfaced a couple of years later, plotting a robot revolution and trying to kill Dredd and he is currently imprisoned for a Thirty year sentence started in 2116.
Prog Check
10,13-18,25-26, 29,33-34, 42-44,46, 55-56,58-60, 86-87, 89-90, 93,96, 103-106, 114-115, 121,126, 191, 252, 256, 259, 262-263, 285-286, 2000AD Sci-Fi special 1978,1979, 2000AD Annual 1979, 1980, 1984, Judge Dredd Annual 1981, 1982, 1984, 1986, 2000AD Yearbook 1992, Judge Dredd Megazine 50-52
For more see => The Walter the Wobot Shrine