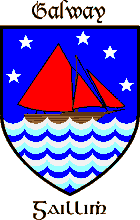 The heart of Gaelic Ireland
DRAWING SERIES
Page Two
---
The Skerret Family

The Skerret family haved been noted in the county since 1242, and were a well established member of the Tribes of Galway. They had seats at Ballinduff, Drungriffin, and Nutgrove, as well as properties in County Clare.
---
Castlekirk
Castlekirk as pictured in 1836. It was ruined even then.
---
Claddagh Castle
Claddagh castle near Dunmore, pictured intact in 1794. Only rubble now remains.
---
Lynches Castle
Lynches Castle in Galway, pictured in 1812. Now a bank building.
---
Menlo Castle
Menlo Castle on the river Corrib, as seen in 1850.
---
Mutton Island
Mutton Island castle protected the entrance to Galway bay before the lighthouse was built here.
---
Oranmore Castle
Oranmore Castle on the shores of Galway Bay, as seen in the 1790's.
---
Ballinsnave Castle
Ballinsnave Castle in County Galway, whose location is now a mystery.
---
Castletown Castle
Castletown Castle at Kiltartan, from 1794.
---
Tirellan Castle
Tirellan Castle on the river Corrib, pictured in 1859.
---
Lough Mask Castle
Lough Mask Castle as seen in the early 1800's.
---
All these photographs are copyright © Patrick Larkin March 2000.
---
Don't go away yet - there are more Galway Castles here...
---
Content by Patrick Larkin
---
Layout by Loralla Webdesign
---