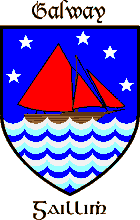 The heart of Gaelic Ireland
DRAWING SERIES
Page Three
---
The Bermingham Family
The Bermingham family were of Anglo Norman origin, and were responsible for the early castles of Athenry and Dunmore. Their presence here long pre-dates the Galway Tribes, having accompanied deBurgo into Connacht.
---
Lydacan Castle
A sketch of Lydacan Castle as viewed from the north.
---
Dunguaire Castle
Dunguaire Castle and bawn, on the shore of Galway Bay.
---
Cargin Castle
Cargin Castle in a ruined state in 1855, prior to its restoration.
---
Tullokyne Castle
Tullokyne Castle, near Moycullen, from a sketch in the 1830's.
---
Cross Castle
Cross Castle was part of the defences of a monastic settlement.
---
Ardrahan Castle
Ardrahan Castle, as depicted in a medieval sketch.
---
Castle of the Woods
Beyond the great cairn of Ballygibbons one can discern the ruined tower house of the Castle of the Woods.
---
Ballycurran
Ballycurran tower house is visible to the left of the mansion in this 1850's drawing.
---
Rath Durlisk Castle
Rath Durlisk Castle of the Hynes clan, used to be located on the shore of Kinvara bay.
---
Glinsk Castle
Glinsk Castle, the fortified mansion of Ulick Burke, shown intact.
---
All these photographs are copyright © Patrick Larkin March 2000.
---
Don't go away yet - there are more Galway Castles here...
---
Content by Patrick Larkin
---
Layout by Loralla Webdesign
---