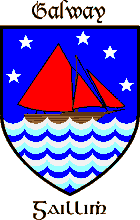 The heart of Gaelic Ireland
RUINS SERIES
Page One
---
The Donnellan Family

The Donnellan clan were another Gaelic aristocratic family, having been a branch of the O'Donnels before they established a base in East county Galway in the early 10th century.
---
Abbey Castle
Abbey was a Clanricard castle from the 14th century, close to Portumna.
---
Achrim Castle
Achrim Castle was a Blake stronghold from the 1th century, which later passed to the Lamberts.
---
Aughrim Castle
Aughrim castle near Ballinasloe was an early O'Kelly stronghold. In the background is the monument commemorating the fallen of the Battle of Aughrim in 1691, which ended the old Gaelic order.
---
Lough Avatia Castle
The castle at Lough Avatia on the Clare border is a 15th century tower house in a ruined state.
---
Ballinasloe
Ballinasloe was built by the O'Kelly clan in the 14th century - only the bawn now remains.
---
Ballisnihyny
Ballisnihyny was a 13th century Hall-house of the Normans, close to Lough Corrib.
---
Tooloobaun
Tooloobaun was a very early Norman keep, probably of the 12th century.
---
Ballindonagh
Ballindonagh was a 13th century deBurgo castle close to Clonbur, later passing to the Lynch family.
---
Ballinacourty Castle
Ballinacourty Court was a deBurgo Hall-House of the 12th century; an important manor of the first Ricard deBurgo; much altered in the 16th century
---
Cahergissaun
Cahergissaun was one of several castles damaged in the great earthquake of Lisbon in 1755. It was then about 300 years old.
---
All these photographs are copyright © Patrick Larkin March 2000.
---
Don't go away yet - there are more Galway Castles here...
---
Content by Patrick Larkin
---
Layout by Loralla Webdesign
---