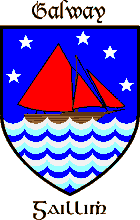 The heart of Gaelic Ireland
RUINS SERIES
Page Two
---
The Kelly Clan

The Kelly clan were a very powerful family descended from Niall of the Nine Hostages. They controlled large tracts of East Galway, and left a large number of castles from Ballinasloe to Tuam.
---
Cahervoley
Cahervoley bawn, with protective round towers at opposing corners, is all that's left of a fortified mansion of the 15th century near Tuam.
---
Carnaun Castle
Carnaun Castle was a 13th Norman outpost close to Bermingham Court at Athenry.
---
Carrowbrowne
Carrowbrowne was an early 14th century hall-house on the northern outskirts of the town of Galway.
---
Carrowmorrisey
Carrowmorrisey is a very ruined 13th century castle, close to Athenry.
---
Castlebrowne
Castlebrowne was built by the Browne family in the 14th century, and later passed to the Lamberts.
---
Clareaughrim
Clareaughrim was a 15th century tower house on the Clare border.
---
Cloondooan
Cloondooan was an O'Shaughnessy tower house on the Clare border. Its structure & layout is very visible.
---
Cummer
Cummer park was an early Norman castle close to Tuam, demolished by Cromwell's forces in the 1650's.
---
Dartfield
Dartfield, a 15th century Burke tower house close to Loughrea, is now reduced to rubble.
---
All these photographs are copyright © Patrick Larkin March 2000.
---
Don't go away yet - there are more Galway Castles here...
---
Content by Patrick Larkin
---
Layout by Loralla Webdesign
---