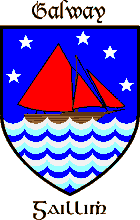 The heart of Gaelic Ireland
RUINS SERIES
Page Four
---
The O'Flaherty Family

The O'Flaherty family were a a Gaelic clan originally from east of the Corrib, who were given Lordship over west Galway by agreement with the Anglo-Normans. They left many fine castles, including their principle stronghold at Aughnanure.
---
Killaclogher Castle
Killaclogher Castle, near Monivea, was the 14th century centre of the O'Mannion clan. Their family crest still remains in the walls
---
Killimer
Killimer was a Daly tower house much altered by conversion to a smaller house. The left half of the building is the remains of the earlier castle.
---
Killora Castle
Killora Castle close to Craughwell, was a 14th century Burke keep.
---
Kilmacrah Castle
Kilmacrah castle close the Craughwell was a Burke castle from the 14th century.
---
Kiltullagh Castle
Kiltullagh Castle was a massive Blake castle, built in 1427, and lived in by them until 1780. Much of it collapsed in 1912.
---
Leitrim Castle
Leitrim Castle was a minor Burke fortress South-East of Loughrea. Now smothered in ivy.
---
Lismoyle
Lismoyle, also known as Castleconnel, was another O'Shaughnessy castle close to the Clare border.
---
Loughrea
Loughrea had extensive Clanricard fortifications, of which only this 15th century gateway remains.
---
Ballymacreg
Ballymacreg was an early hall house, now much demolished and home only to the rooks.
---
Milltown Castle
Milltown Castle north of Tuam was a Lally castle now in a sad state - every cut stone has been removed.
---
All these photographs are copyright © Patrick Larkin March 2000.
---
Don't go away yet - there are more Galway Castles here...
---
Content by Patrick Larkin
---
Layout by Loralla Webdesign
---