The Club's History
---

There was a rugby club in Roscrea during the second world war years.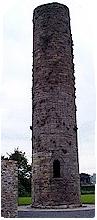 It was formed following a meeting in 1940. The President was Mr. A.C. Houlihan and Paddy Collins became the first captain. The club colours were all white, and all home games were played at Beechwalk.

The highlight was probably the defeat of Thurles in the Mansergh Cup. This was only the club's fourth match. This was probably the best performance of their existence. Travel was restricted during the war years, so the games were limited. The club seems to have faded by 1944. Subsequently there was the Rossory Rangers who had their pitch at Shanboe. This team only lasted a short time as well with some players switching to Rathdowney. Meanwhile some Roscrea lads played with Birr in subsequent years, and it was after Birr's exit from the PTC in 1949-50, when seven of the team were from Roscrea, that the idea was mooted of a club being formed in the town.

The first meeting was held in March 1950. H.M. Read(a local man who had won 13 caps for Ireland and who became President of the IRFU 6 years later) was elected president. The colours selected were to be blue and white. There was some difficulty in getting these registered, and eventually maroon and white seems to have been adopted. During the summer the club affilated to the Leinster branch.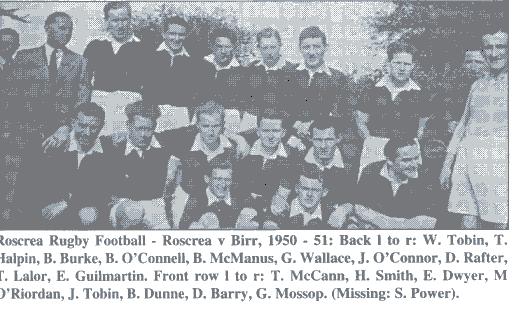 Photograph: The first Roscrea Rugby team.
As regards a ground, the club seems to have initially looked at acquiring a pitch at Benamore, a possible pitch on the Limerick road, with eventually a pitch being obtained at Mount Heaton courtesy of Tom Lalor.
The first official match was on October 1 1950, when Birr were the visitors to Roscrea for a friendly, and were beaten 12-0. Three of the tries were scored by Seamus Power, the other by Tom McCann. The Roscrea team was: Dwyer, McCann, Dunne, Tobin, Power, Rafter, Power, Mossop, O'Connor, Wallace, McManus, Burke, Smith, Reardon, Barry and O Connell.


---