Roscrea


---

Roscrea, Co. Tipperary, is nestled not far from the foothills of the Slieve Bloom Mountains.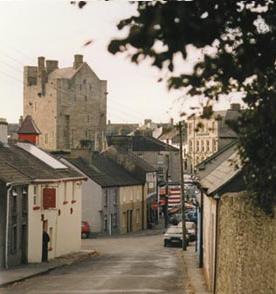 It is positioned where in ancient times, the five main routes in Ireland, or the Slighe Dhála, converged. A picturesque town with a wide main street, it has many buildings of historical note. The name Roscrea comes from the Irish Ros Cré, meaning ¨The Wood of Cré.¨

Roscrea grew around its ancient monastery. The Round Tower, on Church Street, has a doorway 15 feet from the ground and is the oldest surviving part of the ancient monastery. The usual conical cap is missing as it was destroyed by cannon fire in 1798. The 8th century Book of Dimma, which belonged to Roscrea monastery, is preserved in Trinity College, Dublin. It contains a copy of the Gospels and a Miissa Infirorum, and is enclosed in a shrine of bronze with silver plates ornamented with Celtic interlacing.

The Church of Ireland Parish Church is dedicated to St. Cronan and stands on the site of the ancient monastery, whose doorway forms the entrance to the grounds. There is a crude representation of the crucifixion on a monumental stone in the churchyard, which is known as the Shrine of St. Cronan and there is also a 12th century sculptured cross.

The Catholic Church is built on the site of the old Franciscan Friary, which was founded by the O'Carroll, Chieftain of the district, in 1490. Some portion of the walls of the old Friary has been retained in the modern church building. The altar portrays the crucifixion. Roscrea was the seat of a bishopric until the 12th century, when it was joined to Killaloe. Mona Incha Priory, to the east of the town, displays 12th century Romanesque features, especially the rich chancel arch.

King John is credited with having erected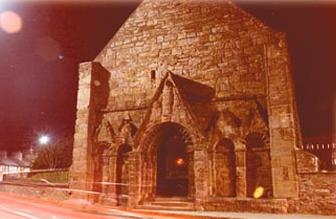 a Castle at Roscrea, of which a circular tower and some sections of wall are still in existence. The later rectangular keep, known as Ormonde Castle is still standing. To the south east of Roscrea, near the Laois border, are the Timoney Hills, where an area of over 100 acres contains more than 300 standing stones. Two miles south west is the ruined Ballinakilt Castle, built by Piers Butler of Paulstown in 1580. Mount St. Joseph's abbey which hosts the cisterian college is just two miles outside the town.
Roscrea has a population of 4,170 and it is located in the south midlands, 44 miles from Limerick City and 76 miles from Dublin City. Its main industries include meat processing and pharmaceuticals.



Roscrea Web Links

Roscrea Town
The Tower Hotel
Roscrea Credit Union
Grant's Hotel
Mount St. Joseph's College
Roscrea 2000
Roscrea Golf Club Info.
The weather in Roscrea!!
Streamstown Caravan park
Antigen Pharmaceuticals
New Road Books, Roscrea

<Email the "Music Store" in Roscrea
---