Please come and visit Charles Vivian Art & Antiques at The Book Shed Gallery. We are open by appointment - please call for directions and eircode.
We are located half way between the villages of Ballinspittle and Kilbrittain, Co. Cork, just one mile off the R.600 (Wild Atlantic Way). We are 20 minutes from Kinsale to the east and Clonakilty to the west.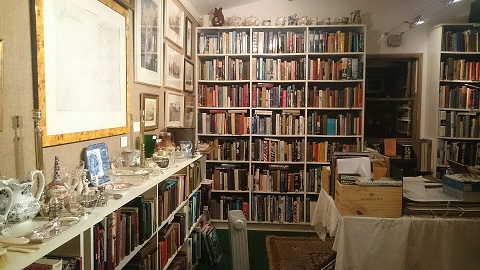 We stock second hand and rare books on the Arts, History, Biography, Militaria, Travel, Sport, Gardens and Horticulture, Poetry, Classics, Technical and Reference as well as some fiction. We also have a selection of maps and admiralty charts from Ireland and around the world.
The Gallery specialises in Irish, British and Australian 19th and 20th century paintings, drawings and prints and we have small antiques including silver, porcelain, coins and medals.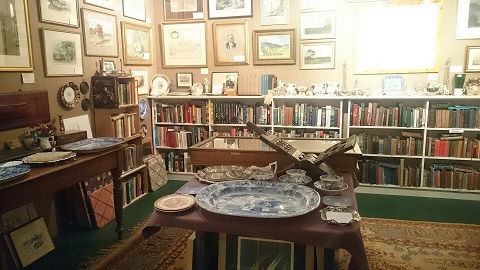 We also list many of our books on the bookselling websites Abebooks.co.uk and Biblio.com
Some of our books are listed below - this list will be updated periodically.
BOOK LIST March 2017 - ART
For enquiries about any of the following books please contact us on cgmvivian@eircom.net or on 086 376 8279. All prices are in euros and postage and packing will be added (at cost).
This is not an exhaustive list of all our books so please don't hestiate to ask if you are looking for a particular title - we may have it but just not listed it yet....
Adams, Eric, Francis Danby: Varieties of Poetic Landscape, Yale University Press, New Haven and London, 1973, first edition, hb in price clipped d.j., this a little grubby with minor tears, the interior with two private collector's stamps, text and plates clean, minor foxing to edges and endpapers. €32.00
Allen, Brian, Francis Hayman, Yale Centre for British Art, New Haven and London, 1987, hb in d.j.,spine slightly faded, minor foxing to top edge, otherwise in good condition. €13.50
Allthorpe-Guyton, Marjorie, with John Stevens, A Happy Eye, A School of Art in Norwich 1843-1982, Jarrold and Sons, Norwich, 1982, pb, slight fading to spine, in very good condition. €16.50
Antal, Frederick, Fuseli Studies, Routledge and Keegan Paul, London, 1956, first edition, hb without d.j., some light foxing to half title, top and foredges, otherwise crisp and clean, spine leans a tad. €14.50
Atkinson Grimshaw, 1836-1893, Exhibition of Paintings arranged by Richard Green and Christopher Wood, 7-23 November, 1990, with introduction by Christopher Wood, pb, in very good condition. €12.50
Ayres, James, British Folk Art, Barrie and Jenkins Ltd, London, 1977, first edition, hb in d.j., fading to spine and edge of cover, very minor foxing to top edge, otherwise in good condition. €9.50
Ayres, James, English Naive Painting, 1750-1900, Thames and Hudson, London, 1980, pb with slightly faded spine, in very good condition. €7.50
Barr, Alfred H., Jr., Matisse, His Art and His Public, The Museum of Modern Art, New York, 1974, first pb edition, crease to top corner, some mild foxing to foredge, otherwise clean. €12.00
Battcock, Gregory, The New Art, E.P. Dutton & Co. Inc., New York, 1973, revised edition, pb, good condition. €5.50
Berenson, Bernard, Italian Painters of the Renaissance, Vol I, Venetian and North Italian Schools, Vol II, Florentine and Central Italian Schools, Phaidon, London, 1968, pb, covers scuffed, spine of Vol II faded, a few marks on endpapers, otherwise a clean set. €15.00
Berthoud, Roger, Graham Sutherland, A Biography, Haber and Faber, London, 1982, first edition, hb with d.j., this with faded spine, some minor foxing to foredge, otherwise crisp interior. €14.00
Billcliffe, Roger, The Glasgow Boys, The Glasgow School of Painting 1875-1895, John Murray, London, 1985, first edition, hb with d.j., in very good condition. €100.00
Bindman, David, ed., John Flaxman R.A., Royal Academy of Arts, London, 1979, exhibition catalogue, pb, front cover creased, ink signature to ffep, top right corner bumped, contents largely clean, binding sound. €13.50
Binyon, Laurence, John Crome and John Sell Cotman, Seeley and Co. Ltd., London, 1897, hb, gilt lettering on red cloth, slightly rubbed, some foxing to prelim pages, otherwise in good condition. €21.50
Black, Robert, The Art of Jacob Epstein, The World Publishing Company, Cleveland, New York, 1942, hb with d.j., this missing top half of spine and with other tears and losses, book with some foxing and an ink presentation inscription to endpapers otherwise in good condition. €42.00
Boase, T.S.R., ed., English Art, 871-1100, Clarendon Press, Oxford, 1952, first edition, hb in chipped and torn d.j., contents clean. €12.00
Boase, T.S.R., English Art, 1100-1216, Clarendon Press, Oxford, 1953, first edition, hb, no d.j., contents clean. €10.00
Bonehill, John and Daniels, Stephen, Paul Sandby, Picturing Britain, Royal Academy of Arts, London, 2009, exhibition catalogue, hb in d.j., the slightest rubbing to the latter, otherwise as issued. €33.50
Booth, Stanley, Sir Alfred Munnings, 1878-1959, A Centenary Tribute, Sotheby Parke Bernet Publications, London, 1978, first edition, hb with d.j., in slip case, a little rubbed, the book virtually as new. €120.00
Brieger, Peter, English Art, 1216-1307, Clarendon Press, Oxford, 1957, first edition, hb, no d.j., spine faded, contents clean. €10.00
Butler, Martin, Luther, Mollie and Warrell, Ian, Turner at Petworth, Painter and Patron, The Tate Gallery, London, 1989, hb in d.j., the latter with very mild rubbing, interior as issued. €34.00
Butlin, Martin and Joll, Evelyn, The Paintings of J.M.W. Turner, Vol I Text, Vol II Plates, Yale University Press, New Haven and London, 1984, revised edition, pb in slipcase, in excellent condition. €75.00
Bόttner, Nils, The History of Gardens in Painting, Abbeville Press, New York, 2008, hb in d.j., in very good condition. €42.00
Causey, Andrew, Paul Nash, Clarendon Press, Oxford, 1980, hb, with d.j., this with spine faded and shelf worn, contents crisp and clean, binding tight .Scarce. €245.00
Causey, Andrew, Edward Burra, Complete Catalogue, Phaidon, Oxford, 1985, first edition, hb in d.j., this faded to spine and a little edge worn to base, mild foxing to prelims and on foredge where pages are beginning to yellow, otherwise bright. Now scarce. €165.00
Caw, James L., Portraits by Sir Henry Raeburn, Otto Schulze and Co., Edinburgh, 1909, hb quarter leather, linited edition, No. 62 of 350 copies, some rubbing to spine, foxing to foredge, otherwise in good condition. €80.00
Chiego, William J., Miles, H.A.D. And Brown, David B., Sir David Wilkie of Scotland, North Carolina Museum of Art, Raleigh, N.C., 1987, pb, spine faded, corners mildly bumped, contents in very good condition. €18.50
Clifford, Derek, Watercolours of the Norwich School, Cory, Adams and Mackay, London, 1965, first edition, hb with d.j., this with minor losses and tears, spine faded, contents clean apart from some minor foxing to foredge. €18.00
Clifford, Derek and Timothy, John Crome, Faber & Faber, London, 1968, first edition, hb in price-clipped d.j., very good condition. €16.50
Collins, Judith, Winifred Nicholson, The Tate Gallery, London, exhibition catalogue, 1987, pb, water stain on the edge of rear cover, otherwise in very good condition. €25.00
Collis, Maurice, Stanley Spencer, A Biography, Harvill Press, London, 1962, hb in d.j., this with small tears and rubbed, interior clean. €12.00
Compton, Susan, British Art in the 20th Century, The Modern Movement, Prestel, Munich, 1987, Royal Academy of the Arts, London exhibition catalogue, hb with d.j., this with faded spine and a little wrinkled, interior bright, very minor foxing to top and foredges, a single foxing mark to prelim pages, tight binding. €30.00
Constable, W.G. And Links, J.G., Canaletto, Giovanni Antonio Canal, 1697-1768, two volumes, Clarendon Press, Oxford, 1976, hb with d.j.s, these price clipped and a little ragged at top of spine, interiors with very minor foxing, mainly to prelim pages, otherwise crisp and clean. €275.00
Coombs, David, Sport and the Countryside in English Paintings, Watercolours and Prints,Phaidon, Oxford, 1978, first edition, hb in d.j. with faded spine, some minor foxing to prelim pages and on foredge, otherwise bright and with sound binding. €15.50
Cordingly, David, Nicholas Pocock, 1740-1821, Conway Maritime Press in association with The National Maritime Museum, London, 1986, hb with d..j., with faded spine, otherwise in very good condition. €12.00
Corn, Wanda, M., The Art of Andrew Wyeth, New Graphic Society Ltd, Greenwich, Conn. For The Fine Arts Museums of San Francisco, 1973, exhibition catalogue, hb in mylar protected d.j., foxing to edges otherwise clean. Scarce in hb. €32.00
Cox, Trenchard, David Cox, Phoenix House Limited, London, 1947, hb in mylar protected d.j., faded to spine, small loss to top edge, contents crisp. €13.50
Crookshank, Anne, Mildred A. Butler, 1858-1941, Lives of Irish Artists series, Town House, Dublin, 1992, hb, pictorial covers, good condition. €9.00
Crouan, Katharine,John Linnell, A Centenary Exhibition, Fitzwilliam Museum and The Yale Centre for British Art, New Haven, 1982, pb, the cover a little creased, spine faded, top and foredges with some foxing, pages beginning to yellow. €18.00
Cundall, H.M., The Life and Work of Birket Foster, Bracken Books, London, 1986, a reprint of the 1906 biography, hb with d.j., spine faded, some foxing to foredge. €22.50
Day, Harold, Suffolk School Painters, Including John Constable, R.A., Eastbourne Fine Art, 1971, second edition, hb in d.j., this rubbed, contents in very good condition, edges gently yellowed. €20.00
Day, Harold, The Norwich School of Painters, Eastbourne Fine Art, 1979, first edition, hb in d.j., this a little rubbed and creased on back cover, contents in very good condition. €22.00
Dean, Sonia, Master Drawings from the Collection of the National Gallery of Victoria [Australia], Robert Rayner Publications, 1986, pb, the covers a litle rubbed otherwise in very good condition. €19.50
Denison, Cara D. and Mules, Helen, B., European Drawings, 1375-1825, The Pierpont Morgan Library and Oxford University Press, New York and Oxford, hb with d.j. Spine fadedextremities rubbed, contents in very good condition. €28.00
Denkstein, Vladimir, Hollar Drawings, Orbis Publishing, London, 1979, hb in card slip case, virtually as new. €18.00
Dore, Ashton, About Rothko, Oxhord University Press, New York, 1983, first edition, hb in price-clipped d.j., very minor foxing to top and foredges, otherwise a very good copy. €20.00
Dorment, Richard, British Painting in the Philadelphia Museum of Art, From the Seventeenth through the Nineteenth Century, Weidenfeld and Nicholson, Ltd., London, 1986, first edition, hb in d.j., a few marks to jacket, otherwise virtually as issued. €25.00
Dube, Wolf-Dieter, The Expressionists, Thames and Hudson, London, 1977, pb, some tanning to page edges, otherwise in good condition. €6.00
Eagle, Mary, The Art of Rupert Bunny, Australian National Gallery, Canberra, 1991, pb, spine faded, minor disturbance to leading edge of front cover, in very good condition otherwise. €29.50
Easton, Malcolm and Holroyd, Michael, The Art of Augustus John, Secker and Warberg, London, 1974, first edition, hb in price-clipped d.j., this rubbed and with very small splits to top of spine, interior with some foxing to half title, otherwise in very good condition. €21.50
Egerton, Judy, English Sporting Paintings, The Paul Mellon Collection in the Virginia Museum of Fine Arts, Virginia Museum of Fine Arts, Richmond, 1985, pb, covers a little curled, some foxing evident in prelim pages and on top edge, otherwise in good condition. €24.00
Faigan, Julian, Paul Sandby Drawings, Australian Gallery Directors' Council, Sydney, 1981, pb, spine tanned, marks to cover, some foxing mainly to prelim pages and top and foredges. €14.50
Farrington, Jane, Wyndham Lewis, Lund Humphries, London, 1980, pb, indentation on cover that affects first half of book, some idiotic bookseller has put three price stickers on prelim pages. Otherwise a good copy! €7.50
Fisher, Stanley, W., English Water-colours, Ward Lock, London, 1970, hb with price clipped d.j., good condition. €5.00
Fleming-Williams, Ian, Constable and his Drawings, Philip Wilson Publishers Limited, London, 1990, first edition, hb with d.j., in very good condition. €45.00
Friedlaender, Walter, David to Delacroix, Harvard University Press, Cambridge, Mass., 1974, sixth edition, pb, creases to front and back covers. €3.00
Fussell, G.F., James Ward R.A., Animal Painter 1769-1859 and his England, Michael Joseph, London, 1974, first edition, hb in d.j. this with some fading, minor foxing to endpapers and edges, booksellers(!) price label on ffep. €9.00
Goldberg, Norman, L. John Crome the Elder, Volume I Text and a Critical Catalogue, Volume II Illustrations, Phaidon, Oxford, 1978, hb with d.j.s, these a little tanned on spines, some small lifting of lamination, some mild foxing to foredges and endpapers, otherwise crisp and clean. €32.50
Goodrich, Lloyd, Winslow Homer, Whitney Museum of American Art, New York, 1973, exhibition catalogue, pb, slightly faded spine, some small production faults evident on cover, edges dust-dulled, otherwise bright and good condition. €12.00
Gowing, Lawrence, Lucien Freud, Thames and Hudson, London, 1984, pb, spine faded, foredge beginning to yellow, otherwise in good condition. €22.00
Hanson, Lawrence and Elizabeth, The Noble Savage, The Life of Paul Gaugin, Chatto and Windus, London, 1954, hb, no d.j., spine slightly faded, a little cocked, some tanning to endpapers, ink owner's inscription to ffep, otherwise clean. €8.00
Hayes, John, The Art of Graham Sutherland, Phaidon, Oxford, 1980, first edition, hb with d.j., minor foxing on prelim pages, otherwise crisp and clean. €27.50
Hayes, John, The Drawings of Thomas Gainsborough, Vol I, Text, Vol II, Plates, A. Zwemmer Ltd., London, 1970, first edition, hb in d.js, lamination crazing and very minor loses to top and bottom to spines, some foxing on top and foredges, otherwise in good condition with tight bindings, a decent set. €110.00
Hayes, John, Rowlandson watercolours ad drawings, Phaidon, London, 1972, hb with d.j. mildly frayed at top of spine, contents in good condition. €16.00
Heath Robinson, William, My Line of Life, EP Publishing Ltd. Wakefield, Yorkshire, hb with d.j., this a little rubbed, interior clean. €12.50
Hemingway, Andrew, The Norwich School of Painters, 1803-1833, Phaidon, Oxford, 1979, hb with d.j., this with faded spine and minor foxing to internal flaps, contents clean. €9.50
Herkomer, Sir Hubert von, CVO, RA, The Herkomers, Macmillan and Co., London 1910, first edition, hb, no d.j., spine tanned, corners bumped, with bookplate, otherwise interior clean. €30.00
Heron, Roy, Cecil Aldin, The Story of a Sporting Artist, Webb & Bower, Exeter, 1981, first edition, hb in price-clipped d.j., faded spine, top and foredge foxing, otherwise clean and tightly bound. €15.00
Hermann, Luke, Paul and Thomas Sandby, B.T. Batsford Ltd in association with the Victoria and Albert Museum, London, 1986, hb with d.j., very faint fading to spine, very minor foxing confined to endpapers, otherwise in very good condition. €14.50
Hesketh Hubbard, E., On Making and Collecting Etchings, The Print Society, London, 1920, hb with no d..j., original grey boards worn to edges and corners bumped, interior with some foxing to prelim pages, inscriptions on ffep, pages uncut, otherwise in good condition. €15.00
Hill, Draper, intro. Fashionable Contrasts, Caricatures by James Gillray, Phaidon, London, hb with d.j. This with faded spine, splits and minor losses, contents with some foxing to endpapers, top and foredges, otherwise clean. €21.50
Holloway, Merlyn, A Bibliography of Nineteenth-Century Britsh Topographical Books with Steel Engravings, Holland Press Ltd., London, 1977, first edition, hb with d.j., this withslightly faded spine, a sticker eresidue on front, internally crisp and clean. €16.50
Holme, Charles, ed., The 'Old' Watercolour Society, 1804-1904, The Studio, London, 1905, bound in flexible green cloth applied with original card cover, some foxing to text pages, 40 colour illustrations in fine condition. €22.00
Holme, Charles, ed. Masters of English Landscape Painting, J.S. Cotman, David Cox, Peter de Wint, The Studio, London, 1903, Special Summer Number, bound in flexible green cloth applied with original card cover, en suite with the above, some foxing to text pages, illustrations in good order. €22.00
Hone, Joseph, The Life of Henry Tonks, Heinemann, London, 1939, hb without d.j., small piece missing from bottom of spine, ink inscription on ffep, some foxing internally and on foredge, tanning to endpapers, all due to poor quality stock. Apparently scarce. €30.00
Hughes, Robert, Frank Auerbach, Thames and Hudson, London, 1992, pb, faint fading to spine but otherwise in very good, crisp condition. Now scarce. €85.00
Hunnisett, Basil, An Illustrated Dictionary of British Steel Engravers, Scolar Press, Aldershot, Surrey, 1989, hb with mylar protected d.j., faintest hint of foxing to top and foredges, in good, crisp condition. €29.50
Hutcheon, Robin, Chinnery, FormAsia, Hong Kong, 1989, second edition, hb with d.j., this faded on spine and parts of covers, otherwise crisp and clean. €16.50
Hyman, Susan, comp. and edit., Edward Lear in the Levant, Travels in Albania, Greece and Turkey in Europe, 1848-1849, John Murray, London, 1988, hb in d.j., this with some fading to back cover, otherwise in very good condition. €36.00
Johnson, Jane, comp., The Royal Society of British Artists, 1824-1893 and the New English Arts Club, 1888-1917, Antique Collectors' Club, Woodbridge, Suffolk, 1993, hb in d.j., very good condition. €42.00
Knox, Rawle, ed., The Work of E.H. Shepard, Methuen, London, 1980, hb with d.j., this with faded spine and top of cover, the faintest of foxing to title page, otheriwse bright and with ight binding. €19.50
Langdale, Cecily, Gwen John, With a Catlogue Raisonnι, Yale University Press, New Haven and London,1988, second printing, pb, some wear and fading to spine and cover, foxing to prelim pages, minor foxing to edges, otherwise bright and with tight binding. €75.00
Langdale, Cecily and Fraser Jenkins, David, Gwen John, An Interior Life, Phaidon, Oxford, 1985, hb, with d.j., this with a substantial loss to rear, foredge just beginning to yellow, otherwise in very good condition. €12.50
Laughton, Bruce, Philip Wilson Steer, Oxford Studies in the History of Art and Architecture, Clarendon Press, Oxford, 1971, hb with d.j., this mildly tanned and with very minor tears, some minor foxing to top and foredges, otherwise clean and bright. €38.50
Lear, Edward, Edward Lear in Corsica, William Kimble, London, 1966, hb in mylar protected d.j., this a little worn at extremities and faded to spine, interior bright, foxing to foredge. €38.00
Leclerc, Andrι, Brueghel le Vieux, Ιditions Hypιrion, Paris, 1949, hb, good condition. €4.00
Lehmann, John, Edward Lear and His World, Thames and Hudson, 1977, hb with d.j., this with faded spine, some minor foxing to prelim pages and top and foredges, otherwise in good condition. €8.00
Lewis, Frank, Edward Ladell, 1821-1886, F. Lewis Publishers, Limited, Leigh-on-Sea, 1976, limited edition of 500 copies, slightly dust-dulled, the mildest of foxing to endpapers,otherwise contents bright and crisp. €25.00
Lewis, Ralph, Sir William Russell Flint, 1880-1969, Charles Skilton Ltd, Edinburgh and London. 1980, first edition, hb with d.j., fading to spine and portion of cover, small amount of foxing to foredge, bookplate to ffep, otherwise crisp. € 17.50
Lister, Raymond, Catalogue Raisonnι of the Works of Samuel Palmer, Cambridge University Press, 1988, hb with d.j., this with a few tears, rubbed anda very slightly faded spine, minor foxing to top and foredges, otherwise bright and with tight binding. Rare. €200.00
Lister, Raymond, ed., The Letters of Samuel Palmer, Two Volumes, Clarendon Press, Oxford, 1974, hb with price=clipped d.js, these with small tears and a rubbed, books with some minor foxing to top and foredges and endpapers, otherwise clean, bright and with tight bindings. €68.00
Lister, Raymond, Samuel Palmer, His Life and Art, Cambridge University Press, 1987, hb with d.j., this faded to spine and top of cover, faint foxing to top and foredges, otherwise in very good condition. €24.00
Lister, Raymond, The Paintings of Samuel Palmer, Cambridge University Press, 1985, first edition, pb, with faded spine, otherwise in very good condition. Lloyd, Christopher, The Queen's Pictures, Old Masters from the Royal Collection, Royal Collection Enterprises Limited, London, 1994, pb, spine faded otherwise in crisp, clean condition. €9.50
Loche, Renιe et al, Jacques-Laurent Agasse, 1767-1849, The Tate Gallery, London, 1988, pb, stiff card covers, very minor foxing to top edge, otherwise in very good condition. €18.50
Lochnan, Katherine A., The Etchings of James McNeill Whistler, Yale University Press, New Haven and London, 1984, in association with the Art Gallery of Ontario (bookplate), pb, spine faded, very minor foxing to top edge otherwise in very good condition. €30.00
Marx, Claude Roger, Vuillard, His Life and Work, Paul Elek, London, 1946, first UK edition, hb, no d.j., pages tanned. €8.00
McMullen, Roy, Victorian Outsider, A Biography of J.A.M. Whistler, Macmillan, London, 1974, first UK edition, hb with d.j., the latter a little rubbed and with minor splits, contents clean and binding sound. €7.50
Megaw, Ruth and Vincent, Celtic Art, From its Beginnings to the Book of Kells, Thames and Hudson, London, 2001, revised and expanded edition, pb, small crease to lower right corner of cover and spine, otherwise in good condition. €11.50
Meille, Giovanni E., Christ's Likeness in History and Art, Burns, Oates & Washbourne Ltd., London, 1924, hb without d.j., original blue cloth a little scuffed at edges, interior clean, the top edge dust-dulled, tight binding. €20.00
Mitchell, Sabrina, Medieval Manuscript Painting, Contact Books, London, 1965, pb, rear cover foredge creased, otherwise in good condition. €4.50
Muehsam, Gerd, comp. and edit., French Painters and Paintings from the 14th Century to Post-Impressionism, Frederick Ungar Publishing Co., New York, 1970, pb, spine faded, covers creased, mild foxing to top edge and back end paper, otherwise contents clean. €20.00
Needham, J. Studies of Trees, Vol I, In Pencil and in Watercolour, Vol II, In Pencil and Watercolour, Vere Foster's Drawing Books, Blackie & Son Publishers, Glasgow, Edinburgh and Dublin, 1880, hb with brown decorative boards, tipped in plates, some foxing in text and some rubbing to boards but generally in good condition. €60.00
Newall, Christopher, Victorian Watercolours, Phaidon, Oxford, 1987, hb with d.j., slightly faded spine, small amount of foxing to prelim pages and top edge only, otherwise crisp. €15.00
Newbolt, Frank, Etchings of William Strang, A.R.A., George Newnes Limited, London, undated (1907?), hb, covers rubbed, interior with foxing and staining but all plates clean, the frontipiece is loosening. €25.00
Newton, Eric, selected by, War Through Artists' Eyes, John Murray, London, 1945, hb without d.j., spine and extremities tanned, interior largely clean, some small creases at bottom of title page, hinge starting towards rear. €14.00
Nicholson, Benedict, Joseph Wright of Derby, two volumes, Paul Nellon Foundation, Routledge and Kegan Paul, London, 1968, hb, with d.j.s, the latter rubbed and with some splits, and minor losses, interiors clean with sound bindings. €85.00
Noakes, Aubrey, Charles Spencelayh and His Paintings, Jupiter Books, London, 1978, first edition, hb with d.j. Spine and tops of cover and rear faded, some foxing to prelim pages, otherwise contents clean. €19.50
Noakes, Aubrey, William Frith: Extraordinary Victorian Painter, Jupiter Books, London,1978, hb with d.j., this faded to spine, some minor foxing to top and foredges, otherwise clean and tightly bound. €10.00
Noakes, Vivien, Edward Lear, The Life of a Wanderer, Collins, London, 1968, first edition, hn with d.j., this with slightly faded spine, corners rubbed, top and foredge foxed, otherwise in good condition. €15.00
Parris, Leslie, Fleming-Williams, Ian and Shields, Conal, Constable, Paintings, Watercolours and Drawings, The Tate Gallery, London, 1976, 2nd edition, pb, in very good condition. €10.00
Peacock, Carlos, Richard Parkes Bonington, Taplinger Publishing Company, New York, 1980, first edition, hb with d.j., slightly faded spine and top of cover, otherwise in very good condition. €9.50
Piper, David, Enjoying Paintings, Penguin, London, 1964, first edition, pb, minor creases to cover otherwise in good condition. €3.50
Piper, David, The English Face, National Portrait Gallery, London, 1992, pb in very good condition. €13.50
Pope-Hennessy, John, Sienese Quattro-centro Painting, Phaidon, London, 1947, hb with d.j., this with a fewdigs on front foredge and a little ragged at the top, otherwise crisp internally. €9.50
Popham, A.E., The Drawings of Leonardo da Vinci, Reynal and Hitchcock, New York, 1945, hb, without d.j., some damp staining to cover, particularly the spine, not affecting the interior, mild foxing to end papers, otherwise clean. €25.00
Powell, Nicholas, Fuseli, The Nightmare, Allen Lane, The Penguin Pres, London, 1973, first edition, hb with d.j., this with minor tears, some foxing on opening and closing pages and the edges, a booksellers price label on ffep, address stamp on half title and inscription on title page. €7.00
Rajnai, Miklos, ed., John Sell Cotman, 1782-1842, The Herbert Press, London, 1982, first edition, hb in d.j., light fading and two very small puncture marks to spine, otherwise, bright and crisp. €28.00
Reynolds, Graham, Constable, the natural painter, Cory, Adams and Mackay, London, 1965, first edition, hb with d.j. this repaired, with losses and tears, some minor foxing to top and foredges otherwise internally clean. €20.00
Richardson, Marion, Art and the Child, University of London Press, 1964, fifth impression, hb with d.j., this with expert repairs and a little grubby, interior crisp. €7.00
Rothenstein, John, ed., Stanley Spencer, The Man: Correspondence and Reminiscences, Ohio University Press, Athens, Ohio, 1979, hb with d.j., this with a production crease to cover, faded spine, some minor foxing to foredge, otherwise bright and tightly bound. €7.50
Rothenstein, John, Brave Day, Hideous Night, The Tate Gallery Years, 1939-1965, Holt, Rinehart and Winston, New York, 1967, first US edition, hb with price clipped d.j., this faded to sppine, minor foxing to foredge, otherwise in good condition. €7.50
Rothenstein, Sir John, British Art since 1900, Phaidon, Oxford, 1962, hb with d.j., this with faded spine and some lifting of lamination, spine slightly cocked, some light foxing to top and foredges. €9.50
Rothenstein, William, Men and Memories, 1900-1922, Faber & Faber, London, 1934, hb without .d.j., some foxing sound binding, ink owner's signature to ffep. €12.50
Rothenstein, William, Since Fifty, Men and Memoirs, 1922-1938, Faber & Faber, London, 1939, first edition, hb with d.j., this a little ragged, interior with light foxing, pages uncut. €29.50
Russell, John, et al, John Piper, The Tate Gallery, London, 1983, exhibbition catalogue, pb, spine faded and rubbed, contents crisp and clean. €14.50
Rutherston, Albert, General Editor, Ambrose McEvoy, Ernest Benn, Ltd, London, 1924, hb without d.j., covers marked, corners and edges bumped, interior with foxing to text, plates clean. €34.00
Rutherston, Albert, General Editor, Augustus John, Ernest Benn, Ltd, London, 1923, hb without d.j., some wear to extremities, interior with tanned endpapers otherwise in very good condition. €25.00
Rutherston, Albert, General Editor, C.R.W. Nevinson, Ernest Benn, Ltd, London, 1925, hb without d.j., covers marked, corners and edges bumped, interior with foxing to text pages, hinge split at title page, plates clean, bookseller's stamp to ffep. Scarce. €30.00
Rutherston, Albert, General Editor, William Nicholson, Ernest Benn Ltd., London, 1923, hb without d.j., covers marked, corners and edges bumped, imterior with foxing to text, plates clean, missing tissue guard for drontispiece. €15.00
Saint Pierre, Isaure de, Richard Dadd, His Journals, Aidan Ellis, Hemley-on-Thames, Oxford, 1984, first UK edition, hb in d.j., spine faded, foxing on internal flaps, thence endpapers, some yellowing of stock, otherwise in good condition. €9.50
Scottish Art Review, The, Vol I, June 1888-May 1889, Vol II, June-Dec 1899, Walter Scott, London, 1889, hb, spines tanned, edges bumped and rubbed, covers marked, a.e.g., binding of both loose, some markings to pages and the back of Volume II has a damp horizontal stain which spreads into the last pages of the book, owner's ink stamp to title pages (that of a Catholic priest, hence the ink 'additions' of undergarments on illustrations of statues of nude young ladies on two occasions), the front endpaper of Vol. I with a vertical fold, the back endpaper with a diagonal cut, other faults noted. However, rare originals with all illustrations. ictorial boards a little scuffed and rubbed, interiors clean. The pair €125.00
Sheehy, Jeanne, Walter Osborne, 1859-1903, Lives of Irish Artists series, Town House, Dublin, 1991, hb, pictorial covers, good condition. €9.00
Skeaping, John, Drawn from Life, An Autobiography, Collins, London, 1977, first edition, hb in d.j., spine faded as is often found, minor foxing to top and foredge, otherwise in good condition. €11.50
Sloan, Kim, Alexander and John Cozens, The Poetry of Landscape, Yale University Press, New Haven and London, 1986, pb, fading to spine and top of fromt cover, some minor foxing to top and foredges, otherwise in good condition. €19.50
Solkin, David H. Richard Wilson, The Tate Gallery, London, 1982, exhibition catalogue, pb, tanned and creased spine, some lifting to top and bottom, otherwise in very good condition. €22.50
Sorensen, Colin, text by, Charles Brooking, 1723-1759, Paul Mellon Foundation for British Art, exhibition catalogue, 1966, pb, with errata slip, some staining to cover, small split at spine, contents in good condition. €12.00
Spalding, Frances, Whistler, Phaidon, Oxford, 1979, first edition, hb in price clipped d.j., fading to spine, foxing to internal flaps, thence to endpapers, otherwise in good condition. €8.00
Spender, Michael, The Glory of Watercolour, The Royal watercolour Society Diploma Collection, David and Charles, Newton Abbot, Devon, 1987, hb in d.j., small split to edge on rear, interior clean and bright. €12.50
Stainton, Lindsay and White, Christopher, Drawing in England from Hilliard to Hogarth, British Museum Publications, London, 1987, pb, slight fading to spine, otherwise in very good, crisp condition. €14.00
Supino, J.B., Fra Angelico, Alinari Brothers, Florence, 1902, hb in vellum covers with ribbon tie, some foxing to tissue guards and one illustration loose, otherwise in good condition. €16.00
Sutton, Denys, James McNeill Whistler, Phaidon, Oxford, 1966, first edition, hb in d.j. Top edge a little frayed, interior with owner's stamps, some minor foxing to foredge, otherwise in good condition. €22.50
Thomson, Duncan, The Life and Art of George Jamesone, Oxford Studies in the History of Art and ArchitectureClarendon Press, Oxford, 1974, first edition, hb in d.j., this a littlerubbed and tanned, top and foredges with minor foxing, otherwise bright and clean.. Scarce. €95.00
Tillotson, G.H.R., Fan Kwae Pictures, The Hongkong Bank Art Collection, Spink and Son Ltd., London, 1987, hb in d.j., this with faintly faded spine, otherwise in as issued condition. €50.00
Turnbaugh, Douglas Blair, Duncan Grant and The Bloomsbury Group, Lyle Stuart, New York, 1987, first edition, hb with d.j., faded to sine and part of front cover, interior largely clean, some minor foxing to foredge. €10.00
Turner, W.J. ed., Aspects of British Art, Collins, London, 1947, hb with d.j., this rubbed, contents clean, corners bumped, ink owner's inscription. €10.00
Twyman, Michael, Lithography, 1800-1850, Oxford University Press, London,1970, hb with price-clipped d.j. in mylar cover, some foxing to edges. Otherwise in good condition. Rare. €95.00
Voss, Hermann, Die Malerei des Barock in Rom, Propylδen-Verlag, Berlin, 1924, hb, red boards with vellum spine, split at base of rear, extremities shelf worn, interior very good condition. €65.00
Walton, Paul H., The Dtrawings of John Ruskin, Oxford University Press, London, 1972, first edition, hb without d.j., pictorial cloth boards, some foxing to endpapers, otherwise a crisp clean copy. €14.50
Waterhouse, Ellis, Painting in Britain, 1530-1790, Pelican, London, 1978, fourth (integrated) edition, pb, cover rubbed, comtents in good condition. €4.00
Watney, Simon, British Post-Impressionism, Studio Vista, London, 1980, first edition, hb with d.j., this with slightly faded spine, contents in very good condition. €25.00
Webster, Mary, Francis Wheatley, Paul Mellon Foundation for British Art, Routledge and Keegan Paul Limited, London, 1970, first edition, hb in d.j. Faded to spine and rear, rubbed and scratches to cover, interior clean. €15.00
Webster, Mary, Hogarth, Bay Books, Sydney, 1979, hb with d.j.,this faded to spine, interior with foxing to opening and closing pages, otherwise clean and with tight binding. €12.50
Wedgwood, Alexandra, A.W.N. Pugin and the Pugin Family, Catalogues of Architectural Drawings in the Victoria and Albert Museum, V&A Museum, London, 1985, first edition, hb ib d.j., in very good condition. €95.00
Wentworth, Michael, James Tissot, Clarendon Press, Oxford, 1984, first edition, hb in d.j., spine faded, some minor foxing to top and foredges, otherwise in very good condition. €98.00
White, James, et al, William Orpen, 1878-1931, A Centenary Exhibition Catalogue, National Gallery of Ireland, Dublin, 1978, pb, some discoloration to spine, a 1/2 inch split at base of spine, the cover with a few marks, internally good. €18.00
Whistler, Laurence, The Laughter and the Urn, The Life of Rex Whistler, Weidenfeld and Nicholson, London, 1985, pb, some tanning to cover, interior pages beginning to yellow, foxing to top and foredges. €11.50
Wilder, F.L., English Sporting Prints, Thamaes and Hudson, London, 1974, hb with d.j., spine slightly faded and a little lifting of lamination, very minor foxing to top and foredges otherwise in good condition. €14.50
Williams, Iolo, Early English Watercolours, Kingsmead Reprints, Bath, 1970, hb with d.j., the latter mildly creased, interior as almost as new. €15.00
Wilton, Andrew, The Life and Work of J.M.W. Turner, Academy Editions, London, 1979, first edition, hb, with d.j., this mylar protected, some tape residue on endpapers, ink owner's signature on ffep, contents largely crisp and clean, binding sound. €62.50
Wingfield, Mary Ann, A Dictionary of Sporting Artists, 1650-1990, Antique Collectors' Club, Woodbridge Suffolk, 1992, hb with d.j., almost as new. €25.00
Wood, Christopher, The Dictionary of Victorian Painters, Antique Collectors' Club, Woodbridge, Suffolk, 2nd edition, 1978, hb with d.j., spine faded and a little rubbed, otherwise in good condition. €8.50
Worman, Isabelle, Thomas Gainsborough, A Biography, 1727-1788, Terence Dalton Ltd., Lavenham, Suffolk, 1976, first edition, hb with d.j., this with faded spine, wear to extremities and three small digs on spine, interior bright and clean, small amount of foxing to edges. €8.00
Wortley, Laura, British Impressionism, A Garden of Bright Images, The Studio Fine Art Publications, 1988, hb with d.j. In very good condition. €35.00
Wragg, T.S., intro by, Old Master Drawings from Chatsworth, The Royal Academy of Arts exhibition catalogue, London, 1969, pb, slight foxing to top and foredges, otherwise in very good condition. €8.00
Wynn Jones, Michael, George Cruikshank, His Life and London, Macmillan, London, 1978, hb with d.j., this faded to spine, some minor foxing to top and foredges, otherwise in good condition. €11.50