Ships - The Ouzel Galley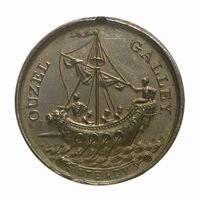 Medal of The Ouzel Galley

The Ouzel Galley was a ship that sailed from Ringsend in the autumn of 1695, for the company of Ferns, Twiggs and Cash on a trading journey to the near-eastern seas with cargo from Dublin merchants.

Captain Eoghan Massey from Waterford commanded a crew of 37, from whom nothing was heard of for three years, when the vessel was presumed lost at sea and insurance paid up for the apparent loss.

Two years later, five after she had left, the Ouzel galley sailed back into Dublin, causing consternation - not least amongst the wives of some of the crew who had presumed that they were widows and remarried!

To sort out the situation and the ownership of the ship and its cargo, Dublin merchants set up the Ouzel Galley Society in 1705 and it continued as a forum for business-related issues, changing its name in 1783 to the Dublin Chamber of Commerce.