Ronan Brownes Forum - air your views!>
---
Personal Details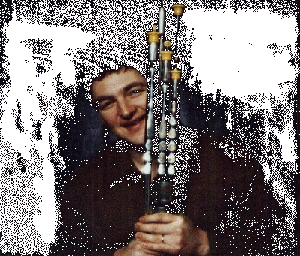 Ronan comes from a very strong musical background. His grandmother, Delia Murphy, was renowned for recording and popularising many Irish songs in the 1930's and 40's such as "If I Were A Blackbird", "The Spinning Wheel" and "Three Lovely Lassies From Bannion". Delia , the wife of Dr. Thomas J. Kiernan, Irish Ambassador to the Vatican, Australia, and the US, brought Irish musical culture to audiences throughout the world. Musicians such as Seamus Ennis, Willie Clancy and Denis Murphy were regular visitors to his family home over the years.
Ronan has played the the Uilleann pipes from a very early age. He took his first lessons at the age of seven, in the Pipers Club, Parnell Square, Dublin. His main influences have been pipers Willie Clancy, Johnny Doran and Seamus Ennis. Fiddle players Dennis Murphy and Tommy Potts have also played a strong role in forming his style.
Performances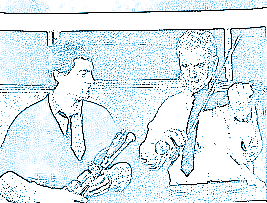 Not only is Ronan an excellent musician, but he is also a very good performer, and has a great rapport with his audience; this combination makes him a very popular artist. As a result he plays many prestigious concerts in Ireland and abroad as a solo musician and is also a guest member of a wide variety of groups.
Although Ronan is best known as a traditional musician, he is also keenly interested in exploring other musical genres.
Ronan has worked with a number of artists over the years; These include people such as Anuna, Donal Lunny, Peadar O'Riada, Alan Stivel, Phillip Donnelly, Finbarr Wright, The Indigo Girls, Elvis Costello, Andy M. Stewart and Manus Lunny, Bill Whelan, Tommy Halferty, Michael Kamen, Richie Buckley, Sinead O' Connor, Capercaille and Deep Forest.
At present Ronan is a member of the group Cran with Sean Corcoran and Dessie Wilkinson. He has established a fine tuned duet with Kevin Glackin; they perform frequently with singer and Mandocello player Sean Tyrell. Ronan plays with various bands around Europe, as a session musician, and is at present touring with the Afro Celt Sound System
Film, Television and Theatre
Ronan has recorded the music with Michael Kamen for a documentary film called "The Dolphin'sGift", directed by Kim Kindersley. More recently, Ronan and Michael collaborated on the score to "Circle Of Friends", a film dramatisation of Maeve Binchey's novel.
He has also worked on the film score for "Robin Of Loxley", and with Carter Burwell on the score for "Rob Roy". More recently he worked with John Du Prez on the theme music for "Fierce Creatures" (the sequel to "A Fish Called Wanda").
Ronan appears regularly on Irish music and magazine programs on National Television and Radio. He has also played for television advertisements.
He appeared in 1990 on ABC Network's "Good Morning America" playing the Uilleann pipes with Nollaig Casey, Artie McGlynn and Donal Lunny.
He played on the signature tune for a six part series "Bringing It All Back Home" - an independant television programme dealing with the influence of Irish Music on American Folk and Contemporary music.
Ronan is featured in "Rivers of Sound" a new series from Phillip King, which explores aspects of tradional Irish Music.
He has composed scores for several Irish language cartoons and in 1995/6 has, along with Tommy Hayes, written and performed music for the Abbey Theatre productions of "The Playboy Of The Western World" and "Macbeth".
Discography
Address:
Uisneach,
Baile an tSagairt,
An Spidéal,
Condae na Gaillimhe
Instruments Played:
Flat and Concert Pitch Uilleann Pipes
Wooden Concert Flute
Whistles
Indian Bansari
Mandolin

Garvan Browne,
Strawberry Beds
garvan.browne@ukonline.co.uk

The Virtual Strawberry Beds
Dublin Jazz
Other Irish Links
My Bookmarks


---
© Copyright 1995 Happy Norwog Publications. All rights reserved