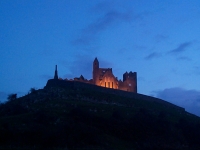 Download a Desktop

The Cashel and Emly Web-site is intended to provide information on the Archdiocese and to facilitate contact within its boundaries. Full-advantage is taken of the medium's facility and the site is updated often in response to suggestions and requests. Please add yours.

Courteous indication of misspelling or other failure will be welcome and acknowledged. Due to the limitations in its production, it is impossible to check the site on a variety of platforms. Your reaction in this regard will be welcome.

The Archdiocese of Cashel and Emly web-site contains links to web-sites which are operated by third parties. It takes no responsibility for the content of any such third-party web-sites.

Among the intended developments are pages for each parish listing mass times, activities, organisations etc.

Should you not find what you are looking for here, please let us know. Use the form here or accessible throughout the site to contact us. While the site is not professionally maintained, it is in continuous development in response to requests such as yours.

Plug-ins are enhancements to browsers offered by third-party companies. You can acquire such plug-ins as are availed of on this site free-of charge by using the links below.

Some pages on this site use Shockwave and Flash from Macromedia. These plug-ins allow better resolution and functionality which enhance the printed and viewed page. With Macromedia Shockwave Player, you can enjoy multimedia games, learning applications, and product demonstrations on the Web, using 3D technology. Macromedia Shockwave Player includes Macromedia Flash Player. Macromedia and Flash are trademarks of Macromedia, Inc.

PDF- Portable Document Format - is a format which can be read by most computers. The formatting intended by the originator is preserved. You may need to download a reader. Adobe ® Acrobat ® Reader can be downloaded free of charge from the Adobe Web site at http://www.adobe.com