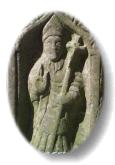 The following are among the sources to which reference has been made in the preparation of the pages linked here. Additional material or indication of sources will be gratefully received.

Archdiocese of Cashel and Emly. Pobal Ailbe: Cashel and Emly Atlas. Thurles: Cashel and Emly Diocesan Services, 1970.
Archdiocese of Cashel and Emly. Acta et Decreta Synodi Diocesanæ Cassiliensis et Imolacensis. Thurles: Tipperary Star, 1949.


Aalen, F.H.A.; Whelan, Kevin; Stout, Matthew (Editors). Atlas of the Rural Irish Landscape. Cork: Cork University Press, 1997. 1-85918-095-7.
Conlan, Patrick. Franciscan Ireland. Cork: The Mercier Press, 1978. 0-85342-514-0.
de Breffny, Brian and Mott, George. The Churches and Abbeys of Ireland. London: Thames and Hudson, 1976. 0-500-27187-9.
Harbison, Peter; Potterton, Homan; Sheey. Jeanne. Irish Art and Architecture from Prehistory to the Present. London: Thames and Hudson, 1978. 0-500-27707-9.
Harbison, Peter. Guide to National and Historic Monuments of Ireland. Dublin: Gill and Macmillan, 1992. 0-7171-1956-4.
Ó Connbhuidhe, Colmcille. The Cistercian Abbeys of County Tipperary. Dublin: Four Courts Press, 1999. 1-85182-381-6.
Ó Duáin, Odhrán, Rógaire Easpaig. Baile Átha Cliath: Foilseacháin Náisiúnta Teoranta, 1975.
Ordnance Survey Office. Map of Monastic Ireland. Dublin: Government Publications, 1979.
Ryan, Michael. The Illustrated Archaelogy of Ireland. Dublin: Country House, 1991. 0-946172-25-0.
Skehan, Walter G. Cashel and Emly Heritage. Thurles: Abbey Books, 1993.
Stalley, Roger. The Cistercian Monasteries of Ireland. New Haven: Yale University Press, 1987. 0-300-03737-8.
Golden
The photographs here are of work in progress on an archaeological investigation in Golden, County Tipperary, April 2001. Footings of 17th century buildings, including a smithy, have been uncovered. The cobbled yard of the ancient Clanwilliam Boat Club can be seen in these views. The work continues.