The Scout Troop also celebrated its 25th anniversary last year being the oldest section in the Unit. Over the years many people have given of their time freely. Bill Fitzpatrick was the first scout leader to lead the troop in the early seventies. Soon after the need to open a second section became obvious to all and so the 20th Scout section came into being under Francis Buckley, Frank McGonigle and Michael Briggs. Both sections were finding their feet at this time and numbers grew. Towards the late 70's the 17th ran into leadership problems and in this time saw many leaders going and coming, Sean Hayes and Maxi McCabe both doing a stint. Meanwhile Frank McGonigle had become leader of the 20th Scouts and this showed in young leaders staying on in the unit to a great deal of success at Scout events. Annual camps were held every year, Glenstal 1974, Glenshalane 1976, Jamborora 1977 at Melleray, Kilsheelan 1979, Kilteagan 1980, Nire Valley 1981 (will anyone forget the weather, 9 days of rain).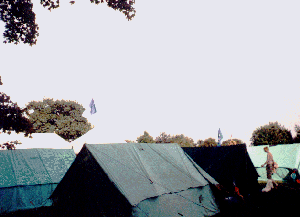 In the early 80's Tom Sutton took over as leader of the 17th Scouts and was helped by Dick Tubbritt, Frank Drohan, Tony McCabe and Tony Madigan.Tom stabilised the troop and it reaped the benefits accordingly. Success in the 1985 Melvin in Kilcully was the greatest moment in that period. The 20th Scouts now had a new leader in Brian Kennedy and he was followed by Richie Walsh. Gary Gordon became our first Chief Scout Award holder in 1985. Both troops now became very successful winning all local events at Regional level. The 17th won the Melvin four out of five years in '85, '87, '88, '89. The final victory in Melleray. Annual camps were held in Lismore 1982, this was a regional camp. 1983 saw us in Derrynane, Co. Kerry, Carne 1984, Curracloe 1985, Lough Dan 1988. The early 90's saw us run into leadership problems, both troops had now been amalgamated into one section. Pat O'Connor returned as Scout leader in October 1990. Since then we really have never looked back. Numbers have remained steady, scouting is at the top of the scale. Success had followed success. Annual camps have been held at Glenshelane '94, '95 and '97; Stradbally '93; Curracloe '94; Cappanalea '92, Fethard on Sea '96, Glenshelane '97 and Blackwell Court '98.
Scouts have achieved many individual awards, Star Scouts, National Scouts and Chief Scout Awards. Today the troop is made up of the following : Pat O'Connor S.L., Aaron Hennessy A.S.L., Eamon O'Keeffe A.S.L., Declan Kelly and Kevin Butler S.P.Ls.

Patrols
| | | |
| --- | --- | --- |
| Otter Patrol : lan Johnston, lan Allen, Aidan Burns, Keith Walsh, Brian Farrell, Darren Walsh, Alan Fitzgerald. | Lion Patrol : Claire Guilfoyle, David O'Neill, Derek Butler, Catherine Gleeson, Duane Mullen, Alan Walker, James Brennan, Barry Upton. | Wolf Patrol: Rory O'Farrell, Brian Kenny, Pat Dunphy, James Erritt, Jennifer Galgey, Robert Kelly. |

The Court of Honour (Patrol Leaders Executive Committee) run the troop with input from the leaders.The aim of Scouting is to develop the individual into a better person through spiritual and active participation in the scout programme. This programme offers a scout the opportunity to attain awards, become a member of the 'gang'. The emphasis is on participation. All the silver lining, success at events, comes from the effort that the scouts put into the troop.