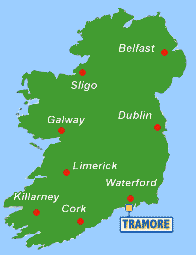 Basic Facts --: Ireland is a small independent country situated on the most westerly side of Europe. We are an island nation, which means we are surrounded by water. Ireland is divided into two parts--The Republic of Ireland and Northern Ireland. There are 26 counties in the Republic and six in the North. Dublin is the capital of the republic and Belfast the capital of the North.Ireland is called Éire in Gaelic, the native language of Ireland. English is the main language of the country but there are many pockets of the country,especially on the western seaboard where Irish is the everyday language of the people.

Population: 3,523,401
(1,752,389 Males/ 1,771,012 Females)

Total area: 70,282 km˛ (68,890 km˛ land area )

Coastline: 1,448kms

Highest point: Carrantuohill (KY) 1,038m which is in Kerry.

Birth rate: 14.21 births/1,000 population

Death rate: 8.59 deaths/1,000 population

Religions:Most of the population are Roman Catholic(93%).The other seven percent are made up of other smaller groups.

Constitution: 28 December 1937, adopted 1 July 1937.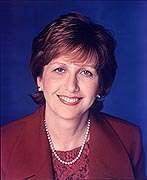 Head of State: The President is the official "Head of State" and is elected by the people for a seven year term of office. President Mary McAleese is our current President. She is the second woman president of Ireland. She resides in "Áras an Uachtarain", which is in the grounds of the Phoenix Park in Dublin. This building was designed by James Hoban, who also designed the White House in Washington DC in America. You can read about him in the Collectors section of this site, under Joint Issues.

Visit the Áras by following this link Presidential Web Site

Head of Government: An Taoiseach Mr Bertie Ahern, T.D.

Legislative Branch

Seanad Éireann (Senate) upper house

Dáil (House of Representatives) lower house

Money: Irish Pound (IEP)

Economy: Click here for latest Irish economic data

Flag


The Irish flag dates from the 1800's and it is reputed to haave been designed by Thomas Francis Meaghar from Waterford.It is based on the French flag and is known as the Tricolour.The Green represents the country's republican traditions, the Orange the Unionists tradition from Northern Ireland and the White represents Unity.

Shop opening hours: 09h - 17h--30 Mon-Sat

Most cities have at least one late night where shops are open later (eg 20h on Thursdays in Dublin). Many suburban supermarkets are open until 19h on weekdays.Most towns and cities have convenience stores which open to 22 or 23h 7 days a week.
Timezone: UTC+1 in Summer; UTC+0 in Winter

(5 hours ahead of Eastern Standard Time)

Capital: Dublin

Dublin City Population 600,000 Metro area 1M.
Other cities: Waterford (40,345) Waterford City & County (91,608)
Airports

Dublin , Cork and Shannon are the main International airports.
Local airports situated in Waterford, Sligo and other smaller locations

Other airports at: Belfast and Derry (Northern Ireland), Galway, Kerry, Knock, Waterford and Sligo




Official Languages: Irish and English. We are also a member of the European Union

Car Ferry Services

Detailed information on ferry services can be found here.

Highways

87,400 kms of highways.

Written by Sixth Class