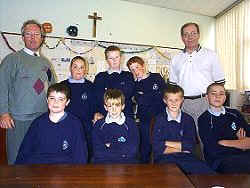 A Special Visitor--: On Monday, September 14th,1998, Br. Kieran Murphy, Principal of Vancouver College, British Columbia, Canada dropped into the school to say "Hi". Br. Kieran is a member of the Christian Brothers and is a native of St.John's, Newfoundland, Canada. He is currently on a years leave to see at first hand the work of the Edmund Rice Family in various corners of the world. His journey started, where the Christian Brothers mission began , that is in Waterford City, Ireland. Br. Murphy stayed in Mount Sion, which would be regarded as the flagship within the community and while he was here visited the places associated with the founder Blessed Edmund Rice.

Br. Murphy met up with Mr. O'Neachtain in St.John's, while he was there attending a Technology Conference "Hook, Line and Net", in Memorial University, in August 1998. Br. Kieran was so impressed by what he heard about the school at this conference that he had to come and see the school for himself, while he was in Ireland and he wasn't disappointed.

He spent about an hour in Mr. Pollard's class , who are working with Topsail Elementary, Conception Bay South, Newfoundland and answered many of the questions put to him about life and conditions in Newfoundland and about the historical, cultural and economic links between the South -East corner of Ireland and Newfoundland.. He also visited Mr. O'Neachtain's class where he talked about the whale spotting, the icebergs, the puffins and the different flora and fauna found in his corner of the world.


While he was here Br. Kieran also tried to trace his ancestors. All he knew was that his great , great grandfather came from the area known as Fidown/Piltown in County Kilkeny and that he left Ireland in the 1860's. When he called on the parish priest he was told that parish records only went back as the 1880's.

While he was in Waterford Br. Murphy also had the pleasure of hearing the Edmund Rice Choral and Musical Society in their Autumn Concert, which was held in the Large Room, City Hall, Waterford.

He enjoyed his visit to Ireland and hopes to call back again soon. We wish him well on his travels.He sends us update messages from different parts of the world.Mr. O'Neachtain also knows his sister, Ms. Elizabeth Murphy. She is also a teacher and lives in Newfoundland. she also sends us e-mails. She has her own website. You can learn a lot about where she lives by visiting it . Click here to find out more about Newfoundland.