What to do around Tramore --:













Amusement & Leisure Park --: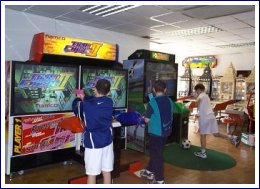 Enjoy all the fun you could want in Tramore's 50-acre amusement park. With a Roller Coaster, Boating lake, Crazy Golf, Waltzer, Bumper cars, Go-Kart Racing, Ghost Train, Slippery Slides plus Stalls & Kiddies Attractions. For all you video-game addicts there are five brill arcades full of the best new releases.

Splashworld --: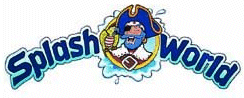 Tramore's all year round indoor leisure water leisure centre. Fun for all of the family at this 25 metre pool with slides, flumes, rapids, Kiddies pool and much more. The perfect place to go especially if the weather turns nasty. The main slides stretch outside the building and you return to find yourself splashing into a pool of water. One of the most exciting attractions in the pool is the Wave Machine which causes powerful waves to come splashing down the pool. After your swim you can relax and have a snack or a hot meal in Captain Bluebeard"s Café that overlooks the pool. With qualified lifeguards on watch you"ll be safe. I think Splashworld is great fun for having a great time but not for swimming!
Hotels & Restaurants --:
There are many hotels and restaurants in Tramore to meet the demands of local trade and the tourist.
The main hotels in Tramore are "The Grand Hotel", "The Majestic Hotel", O'Shea's Hotel, and the "Seaview." These hotels cater for the larger tour buses and are recommended by Bord Fáilte. Hotels open for meals until 9 p.m. Grills bars open until 12 midnight. There used to be a pool in the Majestic but it now is covered over. If you stroll into the main bar, this former pool is underneath you.
The main restaurants are "The Esquire " and "The Pine Rooms," where you will get good food at reasonable rates.
If you fancy something simpler there are many good pubs, like "The Seahorse" that serve very good "pub grub." For a good family run pub where you will chat to the locals, why not walk uptown and stroll into Connolly's Pub, run by Dick Kehoe and his wife Freda or Robinson's Pub run by Shay O'Hehir and his wife Sally.Both are on Main Street at the top of the town.
No matter what your needs are, you will find plenty of places in Tramore to interest you.
You can't come to Tramore without sampling "Cunninghams" famous chipper on Main Street.This family run business has been making the "Best Chip's " in town since 1947. Dressed in their modern and trendy outfits, you will find a good selection of fast food, served with a smile. Be prepared for a queue, as their chips are very good. There is a bit of a climb from the beach to their premises, but I think you will find it will be worth it. Plenty of salt & vinegar.
We also have not one but two Chinese restaurants in Tramore.My favourite is the "Welcome" Chinese Restaurant, which is situated half way up Main Street, on the left.It is mainly a take-away and does not have seating. It is painted red.
There are also two pizza's places. My favourite is NYPD, which is on the corner of Main Street ,and the Cross.

Fitzmaurices Caravan & Camping Park --:
Recommended by Bord Fáilte & R.A.C I.C.C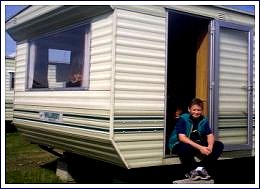 While holidaying in Tramore. Why not stay in a Luxury mobile home. All our mobile homes are fully serviced, and prices include gas and electricity. Our family run one of the largest and most modern caravan parks in the Southeast. Other facilities include --: Minimarket, groceries, newsagent, sweets and toys. Laundry-hand and machine washing facilities, as well as tumble dry and ironing facilities are also available. Resident manager always available.(usually my Dad)There is a T.V/Games room, large greens for kids to play on, toilet and shower blocks. Camper vans, Touring Caravans and tents are also very welcome. Electricity points are available throughout the park, as are waterpoints.

For more information and brochure please phone (00 353 51 381968 or 381466). Fitzmaurices Caravan Park is run by my Dad, my Mum and all my brothers & sisters.I am kept very busy all summer keeping the place tidy and making sure the place looks okay. We will try to make your holiday a memorable one so don't delay phone to-day.
You won't regret it .
Tramore is a great place to come for a holiday.
If you come ask for me. My name is Alec Fitzmaurice.
I will try and make your visit here one to remember.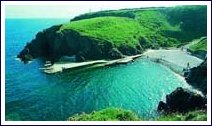 Scenic Walk --:Take a walk to the Sandhills or enjoy the Doneraile walk laid out in the 18th century. Follow the Cliff Road Walk and take the opportunity to view some of the finest coastal scenes in the area - sheltered coves and inlets including the Guillameen and Newtown cove, spots favoured by experienced swimmers.
Golf --:
Enjoy a round on Tramore's 18 hole championship Golf course. Within a 15-minute drive, you'll find other championship courses, all part of the Southeast Sunshine Circuit. Practice at Newtown Driving Range or play

pitch and putt on our local courses. I am not an expert on golf but I hear Tramore Golf Club is one of the finest in the country. The original golf club used to be down near the sand hills but a few years ago the sea flooded the course and they had to move to a new location. To-day's course is set high above the town and will certainly not get flooded by the sea.



Pitch & Putt --:There is a Pitch and Putt course outside the town, in Westown.It is a developing course and is very well managed. Mr. Barron, one of the teachers, is very good at the game.
Tramore Beach --: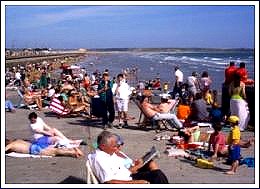 Soak up the sun; stroll along the 3-mile stretch of golden sandy beach, take a swim into the ocean waves or simply relax and take in the breathtaking views of the bay on Tramore's beautiful beach. After the beach, why not get an ice cream or a fish and chip and just relax. After all your on vacation.!
Cinema --:
There used to be a proper cinema in Tramore on the corner of Market Street and Main Street but it is closed down. It is now a newsagent run by Michael Clarke. If you want to go to the cinema you will have to travel into Waterford. The drive will take you about twenty minutes or so.
For the latest movies go to:
Waterford Regina Complex (5 screens) Tel. (051) 843399.
Fishing --:
Good fishing in the bay for Whiting, Mackerel, Sea Trout and Bass. Boats tackle and bait are available locally. Shore angling is very poplar. I go fishing myself and I think the Guillameen is the best for catching Mackerel.
Tennis --:
Tramore Lawn Club is on the outskirts of on Town. Visitors are welcome. Tramore Lawn Tennis Club has (5 courts) green fees are £10.00 for an


adult and £2.50 for a child. I think the price for the adult is too dear but it is worth if you"re a Tennis fan. The courts are purpose built Savannah courts and are flood lit. There is a lovely view from the courts of the Bay.
Surfing --: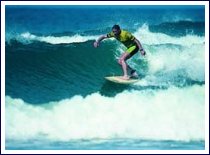 Tramore has one of the most successful surf clubs in the country. Enquire locally when you get here and you will get a real welcome. They are building a new all-purpose centre soon to meet the demand from new surfers.This state of the art building will have the latest facilities close to the beach.

Cycling --:
There"s no better way to discover the delights of Tramore's spectacular coastline and surrounding breathtaking beautiful countryside than by exploring it on bicycle. Bike hire, Rent a bike, (Flanagan Cycles, Market Street) Tel (051) 381252.
Horse Riding --:
Lake Tour Stables, Carrigavantry, Tramore Co. Waterford.
Fancy pony trekking. Fancy just letting a horse do the walking. If that is what you want head for Lake Tour Stables, situated about a mile outside the town. John Flavin is in our class.His parents run the centre. He is kept very busy with all the horses. Beginners are welcome and jumping is available too.
For bookings contact Pat and Carmel Flavin Tel. 051 381958.
Researched and written by --: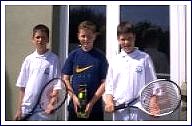 Kevin Liston, Alec Fitzmaurice and Aidan Liston.