The aims of the Longford M.A.C. are very simple, to promote the safe flying of radio controlled model aircraft in a friendly environment, to pass on skills and knowledge, to encourage and promote the hobby to other interested individuals especially the younger generation. Please take a moment to sign our guest book before you leave.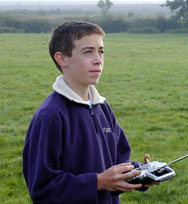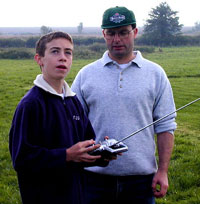 Our Secretary "David Furneaux" with "Francis" one of our promising juniors.
Francis is now achieving solo flight having completed his first take offs and landings,
his progress has been excellent in the last few weeks.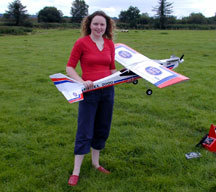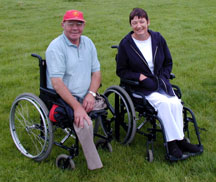 Kathy with her Irvine "Tutor" trainer and "Our George" with Anna.

We fly most Sundays, when weather permits, and on the occasional evening during the week.
Most types of models are flown in the club including trainers, fun fly, sport scale and helicopters.
We welcome newcomers to our club and offer training and assistance where required, we especially
enjoy the company of our disabled members and their friends, please contact one the clubs
officers should you require further details or assistance of any kind.
Our flying site is situated in open countryside approximately two miles from Longford town.
Membership of the club is currently available to both novice and experienced modellers.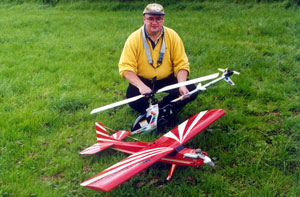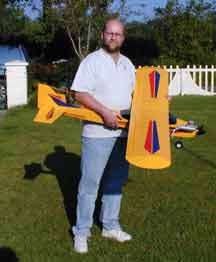 Colm Kelly.. One of our ambidextrous members! and Frank with his first trainer

We are affiliated to the Model Aeronautics Council of Ireland,
an insurance scheme is in operation through them.
Adequate insurance cover is a major consideration in our hobby.
How to find our flying site: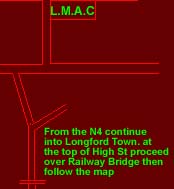 You will have to follow the one way system at the top of the High Street,
after crossing the railway bridge follow the map precisely!!
For further details contact the Secretary. E-mail
Membership of the club costs: Seniors 95 Euro per year, Juniors 40 Euro per year including insurance.
The Officers of L.M.A.C.
Chairman: David Foley.
Secretary: David Furneaux. E-mail
Treasurer: Gerry Forde.
Safety Officer: Colm Kelly

The clubs local model shop is:
Longford Models, Bracklin Road, Edgeworthstown, Co.Longford. Telephone: 043 71748.
Friendly help and advice is always available along with a range of Radio-kits-engines and accessories
for the beginner through to the more experienced modeller.
Click Here to visit the shop

Site last Updated 5th August 2003 Latest News Shop News
Next Club meeting Thursday 7th August at "John Browns" Market Square, Longford.
Please Sign our

before you leave

Please contact the Webmaster with any comments or problems with this site