Keane of Kilnamona
Thomas/Tom
Professional Career:- Meteorologist with The Irish Meteorological Service (Met Éireann), later Agricultural Meteorologist, becoming Senior Meteorologist and Head of Research and Applications Division. Retired in December, 1999.
Married:- Maureen Kielty, Culfadda, Co. Sligo June 21, 1965 (see Dr Máire Uí Chatháin below)
Children:- Damian, Fiona and Sheana.
Early Years:-
Born December 8th,1934, 7th child of Pat & Bridget Keane. Attended Kilnamona national school, 1940-'46. Due to contracting polio (then known as infant type paralysis) in November 1942, this necessitated extended hospital stays in Ennis (1942/43) & Dublin orthopaedic Hospitals (1945) (~9 months in each). Attended the Irish Christian Brothers School (CBS) in Ennis from 1946 (5th class) to Secondary level Leaving Certificate (Hons.), 1953.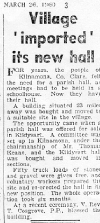 Joined the Irish Meteorological Service on March 29, 1954 as Meteorological Assistant, and posted in turn to offices in Dublin Airport (1954-'56), Valentia Observatory, Caherciveen, Co Kerry (1956-'59) and Shannon Airport (1959-'60). During the latter period, Tom participated in a home parish project as reported in the county newspaper - the 'Clare Champion' March 26, 1960 (see over). Attended University College Galway (National University of Ireland) in 1960, graduating with B. Sc. 1st Class Honours in Mathematics and Maths Physics in 1963.
Professional career:- Promoted Meteorologist, there followed a period (1963-'64) of professional training at Rosslare, Co Wexford. Served as an aviation Weather Forecaster at Shannon Airport (1964-'71) and as Meteorological Operations Research Officer in the Central Analysis and Forecast Office (CAFO), Dublin (1972-'79) (during this period, at evening time Tom lectured on aviation weather to trainee private pilots and dispatchers at Bolton St College of Technology over three academic years); became Head of the Agricultural Meteorology in 1979, Senior Meteorologist and Head of Research and Applications Division in Met Éireann, in 1995. On reaching statutory retirement age of 65, retired from Met Éireann (Irish Meteorological Service) on December 8, 1999 after 45 years and 193 days (per official entitlement statement!) in meteorology.
Publications and Broadcasts:-
During the second graduate phase of Tom's long career in meteorology, he contributed many articles and specialist chapters to various agrometeorological journals, publications, technical studies and press reports on weather and meteorology, mostly related to agriculture and the environment. Tom was General Editor of the third level textbook 'Climate, Weather and Irish Agriculture' written with colleagues in AGMET (see Affiliations below) and published by the AGMET Group in 1986 and of 'Irish Farming, Weather and Environment', published in 1992. He presented weekly farming weather forecasts on RTÉ national radio, from the early 1980's to mid-'90's. He also gave presentations on aspects of weather at a number of Conferences, scientific seminars and various meetings of farming organisations.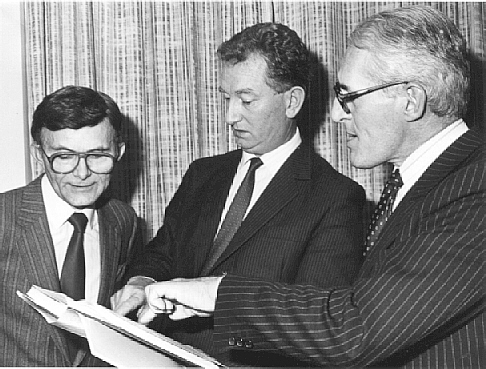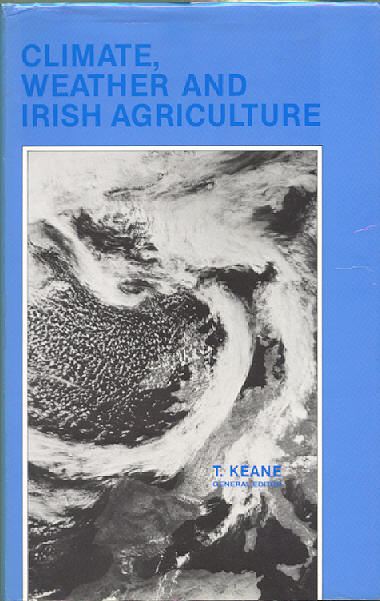 At the book launch, November 1986, are Tom Keane, General Editor, Mr Austin Deasy, Irish Government Minister for Agriculture, and Mr Oliver Maloney, Chairman of ACC Bank, book sponsors.
-
-
-
-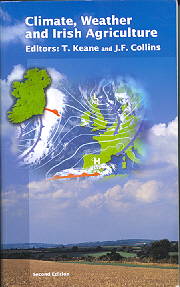 Far Left:- As Editor and contributing author: 'Irish Farming, Weather and Environment', published in 1992.
Right:- As Editor and contributor in association with Dr Jim Collins, UCD. 2nd edition of 'Climate, Weather and Irish Agriculture' was launched, May 2004 by Mr Noel Ahern, Minister at Dept. of Environment.
Affiliations:
AGMET:- Founding member (1984) and Co-ordinator to 1999 of AGMET (Joint Working Group on Agricultural Meteorology, an national scientific Group of experts drawn from Meteorology, Agriculture, Environment, Advisory and Research Centres, Institutes and University Colleges in Ireland including Northern Ireland (visit AGMET website).

CAgM:- Principal Delegate for Ireland to the Commission for Agricultural Meteorology (CAgM) of the World Meteorological Organization (WMO), 1979-1999 (CAgM Rapporteur 1982-'86). "The contribution of Tom Keane (and Ireland) to CAgM activities was noted with appreciation by many delegates." [extract from official report to Met Éireann by then Irish Delegate CAgM meeting in New Delhi, India, 2006]

SuGrAm:- Member of the Support Scientific Group in Agricultural Meteorology (SuGrAm) of the European Union JRC Space Application Institute (SAI), Italy, 1986 - 1999.

COST:- Member of the Technical Committee (TC) on Meteorology of the European COST (Co-operation in Science & Technology) programme, 1994-1999.

Other:- Various agri-environmental weather related (Irish) Government Advisory Committees (1979-'99).
Post Retirement: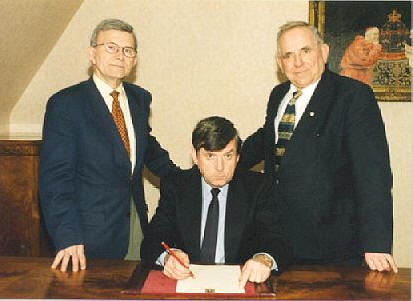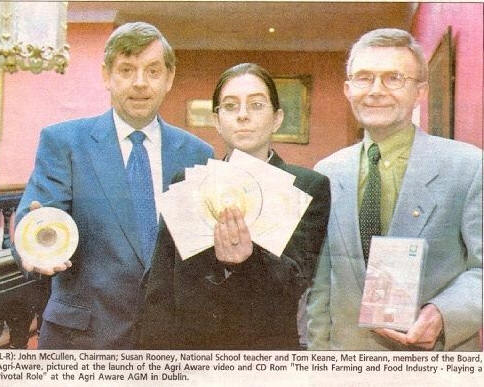 -
-
-
-
-
-
-
-
-
-
-
-
-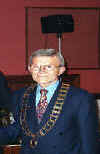 Photos Above: As a Director of AgriAware;
Right: President of Howth Sutton Lions Club
1999-2004: Director, AgriAware (Agricultural Awareness Trust)
2000-2001: President, Howth Sutton Lions Club
2005-to date: Secretary and Director (ex officio), Howth Sutton Lions Club
2000-2004: Staff Appeals Board, EUMETSAT, Darmstat, Germany
2005-to date: Church Readers Coordinator, St Fintan's parish RC church
2004- to date: Founder and member of 'Redrock' Golfers society! (Deer Park, Howth)
2004- 2014: distant member of Ballymote (Co Sligo) Golf Club.

AGMET Group/Met Éireann, In 2006 Tom was the first recipient to be awarded the Austin Bourke Silver Medal (see also here) 'For Excellence in Agricultural Meteorology' in recognition of the wide ranging contributions to agricultural meteorology and elsewhere made during the course of his career. The presentation was made before an invited audience by Professor Kees Stigter of the World Meteorological Organization, at the Royal Irish Academy, Dublin. The presentation and reception took place in the Royal Irish Aademy (RIA), Dublin on March 2nd 2006.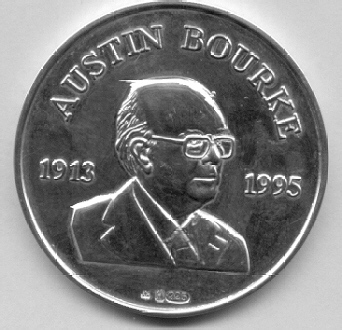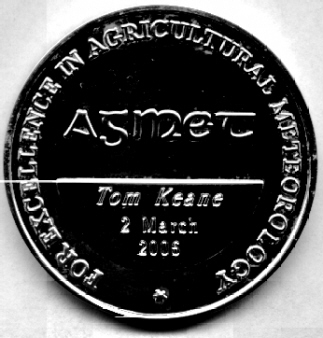 The Austin Bourke medal presented to Tom Keane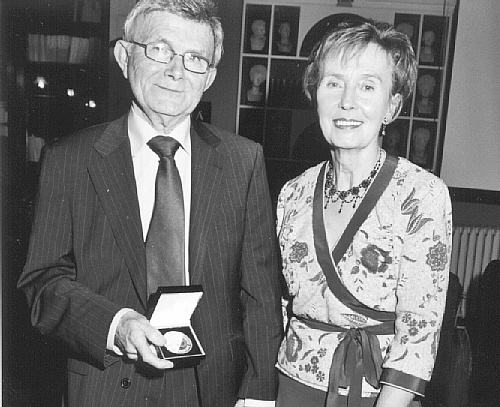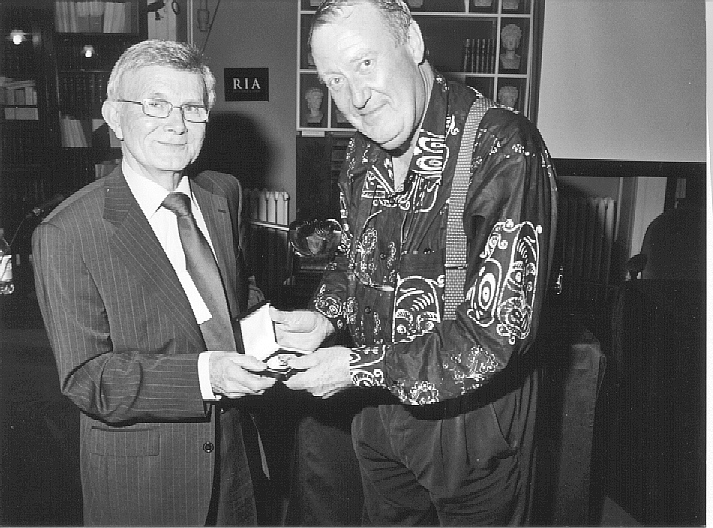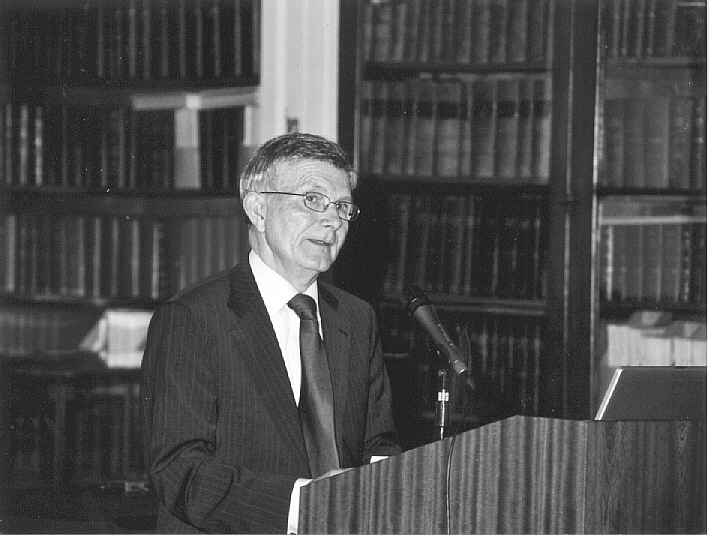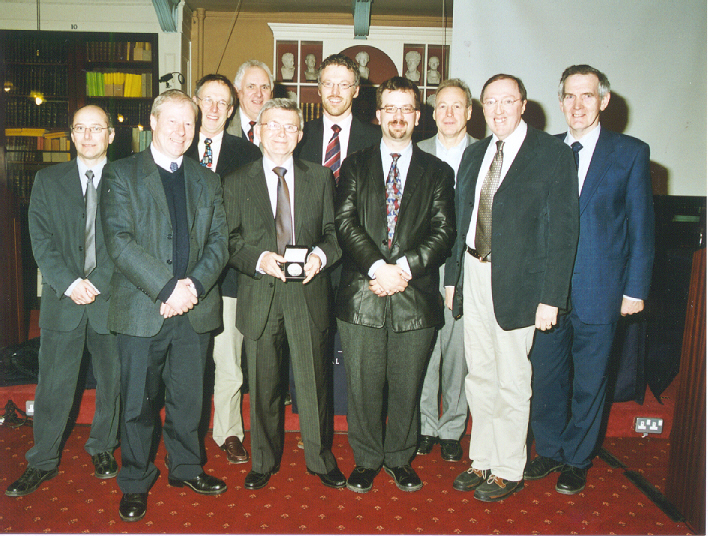 Photos from left: Tom with spouse Máire (Maureen); presentation by Professor Kees Stigter (Former President of CAgM); Tom responding to presentation; Tom and colleagues from the AGMET Group at the presentation at the Royal Irish Academy (RIA), Dublin.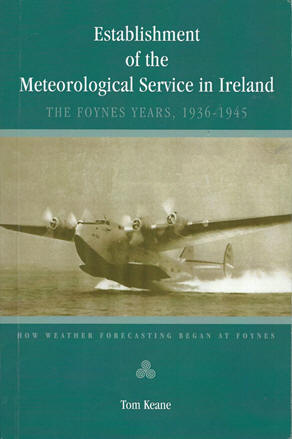 Tom Keane was researcher and author of book entitled 'Establishment of the Meteorological Service in Ireland - The Foynes Years, 1936-1945 and published in 2012. The complete work is available on the Met Éireann website.
Also by the same author 'The Weather and the First Successful non-stop East to West Trans-Atlantic Flight of 1928', published by the Meteorological Service, 1978 (to coincide with 50th anniversary of the flight) see here.
Coordinator of the Brother Keane Memorial Project
2007/2008. A multi school Coordinated Committee was established to commemorate the hundredth anniversary of Brother Thomas Munchin Keane's birth on July 17th 1908 (see Centenary Celebration). A plaque was erected in him memory in his native parish in St Joseph's Church Kilnamona on July 17th, 2008 and also a in St Joseph's School Fairview, Dublin 3 where he made a unique contribution to education. For further details visit BrThomas
- - - - - - - - - - - - - - - - - -
Dr Máire Uí Chatháin B.A. (Hons) (1963), H. Dip in Ed. (1964), M.Ed.(1975) and Ph.D. (1984)
Maureen Kielty was born at Culfadda, Ballymote, County Sligo on September 20th, 1942. She attended the local national school and received her second level education at Coláiste Muire, Ballymote. Based on her Leaving Certificate results, she was awarded a Sligo County Council University Scolarship (first such award for the school). Following graduation from University College, Galway 1959-'63 with B.A. (hons) and H.Dip. Ed., Maureen (Máire) taught at second level in Presentation Secondary School, Bagnalstown, Co Carlow (1963-64) and Rosary Hill School, Castleconnell, Co Limerick (1964-1969), where on marriage she was known as Máire Bean Uí Chatháin.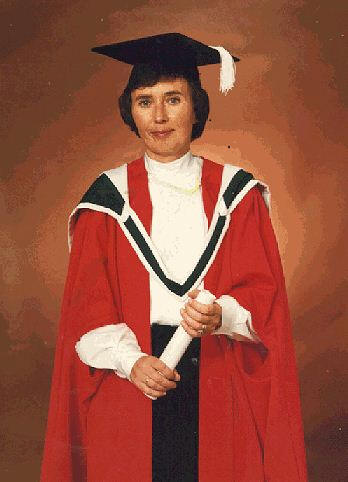 Máire's full-time teaching career was interrupted to raise young family (1969-1977). During this period, she was appointed to the part-time post of Supervisor of Teaching Practice with University College Cork (UCC, based in Mary Immaculate Training College, Limerick, 1970-'72). On family transfer to Dublin, Máire joined the Education Dept., St. Patrick's College, Maynooth in a similar posting (1972-'77) while she also undertook Master in Education (M.Ed.) studies in the College, 1973-'75.

In 1977 Máire was appointed a full-time Lecturer in Education, St. Patricks College, Maynooth (later to become National University of Ireland Maynooth, NUIM). She introduced the innovative Study of Teaching Programme employing new teaching skills and the then new technology (classroom video recording of each student teaching, classroom interaction programmes, peer group analysis) in the training of teachers. She completed a Ph. D. Thesis in 1984. Among many conference presentations and publications, Máire was co-author with Professor Sheelagh Drudy (UCD) of the book entitled 'Gender Equality in Classroom Interaction', published by Education Dept, NUIM in 1999. Máire retired in October 2002.
'- - - - - - - - - - - - -
Other Moments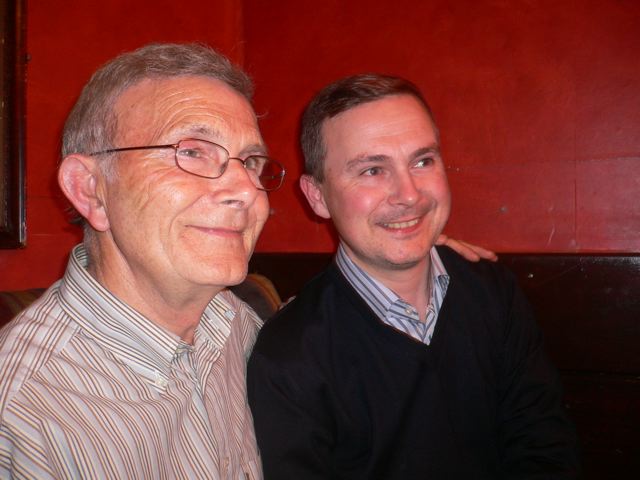 Tom and son Damian watching Ireland play France in the World Cup Rugby qualifiers, on TV in the Leeson Lounge, Dublin September 29 2007.(note: Ireland lost to France)
Photo by Sheila Pickman, San Diego, Calif, US (US distant (2nd-3rd cousin) relation)
-
-
-
-
Below:
Sheana: At the Irish Film Awards, 2009. Damian, 1980 as boy soprano singing solo at a special Christmas Concert for young People by the Young Lindsays (Dublin based choir under direction of Ethna Barror, at the piano) at the Royal Dublin Society (RDS), Dublin.-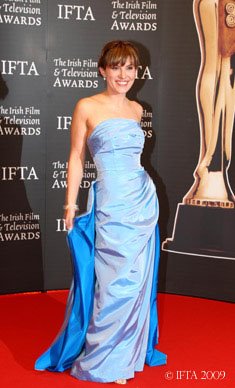 - - -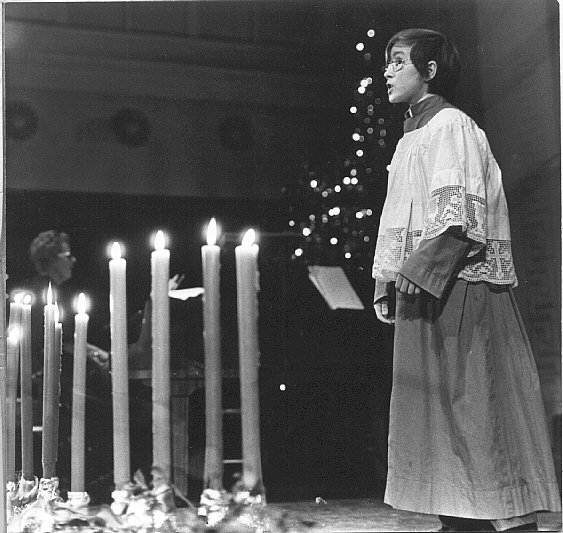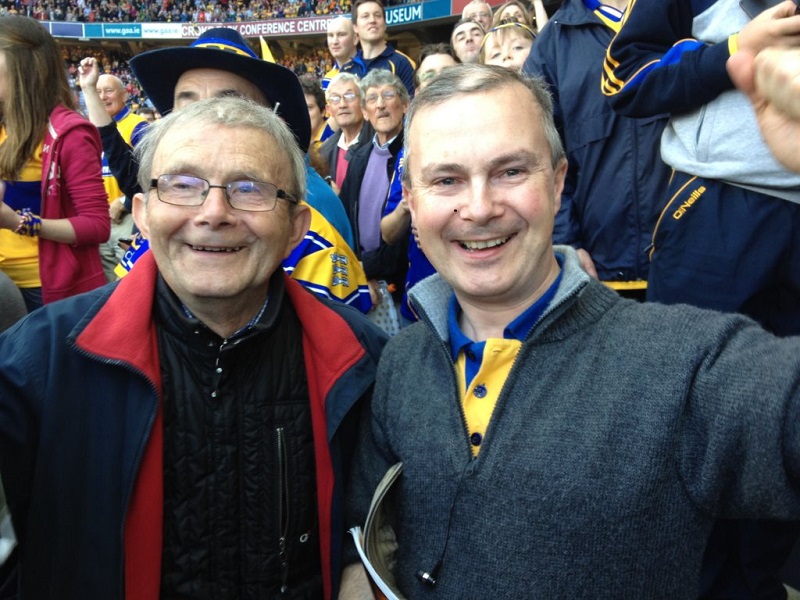 Right: Tom and Damian at Croke Park, September 28, 2013 after a Clare win over Cork at the All Ireland Hurling Final replay (following drawn match of three weeks previously).
Last updated February 24, 2014