Experiment No. 1
Balancing Clown!
Experiment: To show how lowering the centre of gravity improves balance.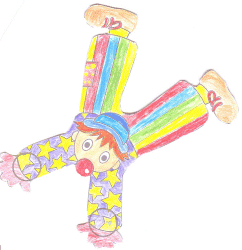 Materials:

You will need:

Thick Card
Glue
Scissors
Colouring Pencils or Markers
Coins (5c or 2c)
Blue Tack
Method:
What you have to do: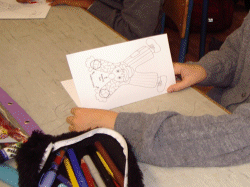 1) Get a piece of card with the picture of a clown on it.
Our card was a bit light, so we doubled it and stuck the two halves together.
2) Cut out the clown and colour it .
3) Try to balance it on the edge of a ruler or your finger. Did it balance? No?
4) Put some weight on each hand, using the blue tack and coins. Now try to balance it again.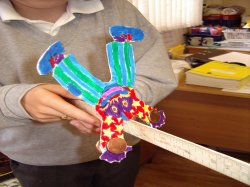 Result: The clown will balance on the edge of your ruler or finger.
Conclusion: By putting a weight on the hands of the clown, you are lowering the centre of gravity and helping your clown to balance!
Note: Knowing a little about the centre of gravity can be very important. Gravity pulls everything down - and everything has a central point of gravity where gravity exerts the most pull. By lowering this central point, as we demonstrated with the clowns, you can achieve much greater balance.
A double decker bus needs to be filled from the bottom to have a low centre of gravity. If it was only filled on the top, chances are it would topple over!!
---
Fourth Class Experiments
1. Balancing Clown | 2. Oily Divers! | 3. Flying Counters | 4. Dancing Snake | 5. Chromatography | 6. Bubbles
7. Slime | 8. Balloon Rockets | 9. Under Pressure | 10. Surface Tension 1 | 11. Surface Tension 2 | 12. Surface Tension 3
13. Find your 'Blind Spot' | 14. Two eyes are better than one! | 15. Some optical illusions
16. and 17. More Balancing | 18. Dissolve an egg in vinegar! | 19. Egg Float | 20. Some Paper Airplanes