Experiment No. 4
Twirling Snake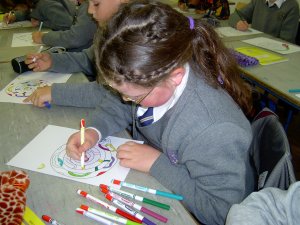 Experiment:
Materials:
You will need:

A piece of card
Colouring Pencils
Scissors
Thread
Stapler
Very hot radiator
Method: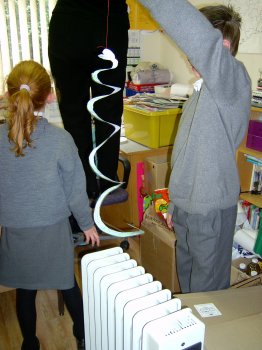 What you have to do:
1) Draw a spiral snake on a piece of card and colour it in.
2) Carefully cut it out.
3) Staple a length of thread on to the tail of the snake.
4) Now, hold your snake above a very hot radiator and watch what happens.
Result: The snake twirls around above the radiator
Conclusion: The heat off the radiator rises and therefore it causes your snake to spin.
AND NOW:
Try this: Tissue paper is very light so try placing a small piece on to a radiator and see if you can get the paper to settle. If the heater is hot enough, the tissue will not stay in place - it will literally "fly away".
---

Fourth Class Experiments

1. Balancing Clown | 2. Oily Divers! | 3. Flying Counters | 4. Dancing Snake | 5. Chromatography | 6. Bubbles

7. Slime | 8. Balloon Rockets | 9. Under Pressure | 10. Surface Tension 1 | 11. Surface Tension 2 | 12. Surface Tension 3

13. Find your 'Blind Spot' | 14. Two eyes are better than one! | 15. Some optical illusions

16. and 17. More Balancing | 18. Dissolve an egg in vinegar! | 19. Egg Float | 20. Some Paper Airplanes