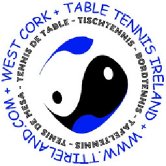 West Cork Table Tennis Assoc.
NEWS 2008-2009

2007-2008 / 2006-2007 / 2004-2006 / 2003-2004 / 2002-2003 / 2001-2002
2000-2001 / 1999-2000
Goleen Festival Table Tennis Tournament
In its third year the Goleen Festival Tournament heralds the beginning of the table tennis season and as a curtain raiser its popularity has increased. This year there were entries from as far afield as Arizona USA, London UK, Dublin, Kilkenny and Cork joining local players from Skibbereen, Bantry, Schull and Goleen. The event provided competition for two grades of players and many who took part in the West Cork Training Camp during the week leading up to the tournament displayed their skills at the tables.

West Cork No.2 Brian Crowley from Bantry was the No.1 seed with current No.1 Aisling Healy playing in the Irish Senior Classification in Dublin. Brian defeated Kilkenny's Ivan Powell in the quarter finals while Anthony Hanley beat fellow Bantry team mate Mark Lynch in the 2nd quarter final. Harris Bean from Goleen beat Daniel Lynch Bantry in the 3rd quarter final setting up an all family affair in the first of the semi finals as Aaron bean beat Joe Moore of Skibbereen. It was a straight sets win for Aaron against his father Harris in the semi final a reversal on their previous meeting. Brian Crowley lost the first set to Anthony Hanley but came back in the next with the final set going to 17/15 in favour of the older and more experienced Brian Crowley.

The final played in front of a good crowd showed good support for both players but it was Brian who went into a comfortable 2 set lead, Aaron came back to win the third. However that was the high point for Aaron as Brian comfortably took the first title of the season.

The Plate event saw a final between Bantry's Kieran Hanley and Andrew Barry from Ballincollig with Kieran Hanley taking the Plate title.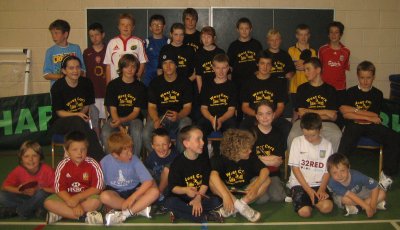 The B Grade had a number of young players and they showed a lot of promise for the future. Shane Bowen playing in his first tournament reached the final defeating Goleen's Aisling O'Driscoll while Kilkenny's Max Powell beat Otto Willheim from London in the other semi. This set up a closely fought final with Shane Bowen taking the title. Finn Moore from Skibbereen won the three way Plate final including Roisin and Cillian Grall from Dublin.

The next date on the West Cork Table Tennis calendar in 27th September when the first of the West Cork Ranking events takes place in Goleen Community Sports Centre.

Summer Training
Over 30 players took part in the West Cork Table Tennis Camp held at the Goleen Community Sports Centre. With 11 tables available and three qualified coaches the players were put through their paces with players from advanced to beginner status. At the end of the week the players were assessed and many of them were presented with their West Cork Awards.


West Cork Table Tennis Assoc.
NEWS 2008-2009



West Cork Social Over 50 members of the West Cork TTA from 4 different clubs travelled up together for the annual social trip. This year Trabolgan Holiday Park was the destination and there was swimming, crazy golf, orienteering, go karting, tennis, badminton, football trampolining and much more to keep everyone entertained. The weather held and new friends were made.

The Dunmanway, Goleen, Skibbereen and Bantry Clubs were invited to select their top 12 participation players (those who have attended the most sessions this season), to attend the social outing.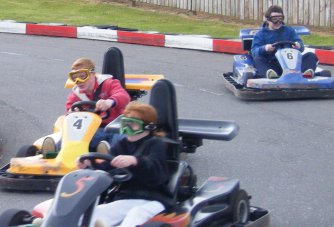 The WCTTA visited Trabolgan some years ago and there was much excitement over this visit. With so much to do there was something for all ages and with players from 8yrs - 18yrs attending. Club leaders Sarah, Alan, Richard, Vicky and Owen travelled with the players and joined in with many of the activities! The swimming and go karting proved to be the most popular as expected with the orienteering creating mayhem as groups ran around the whole of the holiday park trying to find the all the clues.

Owen scored the high score for the season in the bowling while Richard literally battled it out on the racing track everyone tried to avoid West Cork U14 Champion Aaron Bean as he bumped and spun his way round in circles, stick to the table tennis Aaron!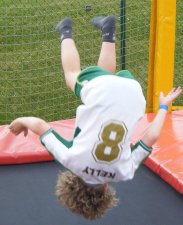 The Goleen contingent of Mair, James, Aisling and Mairéad bounced their way to the trampolines, Bantry's Michael Casey took on all comers on the tennis court and Dunmanway club leader Alan showed off his skills on the football pitch.

Special guest Wendy made an appearance and almost stormed off when Owen called her Bob. The Crazy Golf saw balls flying everywhere. Aisling Healy finally managed to hit a shuttlecock with some help from the Bantry lads.

Ruairidhri Gallagher and Paddy Watkins won the "Impossa Quiz" on the way home, no one was lost, drowned or left behind with everyone returning home exhausted but happy.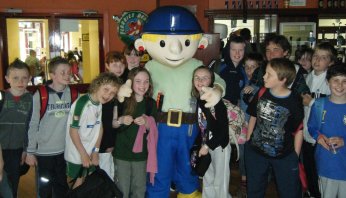 This was a great opportunity for all the players from different clubs to get together in a non competitive environment and a way of rewarding those who have put so much effort into to training this season. Any suggestions for next year's trip let me know?

Hopefully many of the players will meet up during the summer at the various summer training camps and clubs and remember the popular Goleen Summer Festival Tournament is on the 15th August. A Ping Pong Challenge event as well as family doubles are planned so if you want more info give me a ring or watch this space.....

West Cork Junior Individual Table Tennis Championships 2009 Download Results here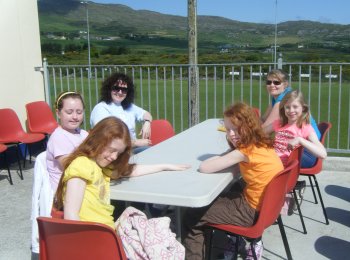 The West Cork Individual Table Tennis Championships proved to be the biggest individual tournament held in West Cork this year with over 100 entries in 10 events. With so many matches being played there was drama throughout the day as boys and girls from under 8's through to under 17's battled their way towards the converted West Cork Champion titles. The under 8 event was held for the first time with so many young player taking up the sport. The final came down to Shane Murray from Bantry against Luke Franklin also from the Bantry club. Shane is relatively new to table tennis but he did not show any lack of experience or skill as he took the very first under 8 West Cork Title. Ciaran Murray (Dunmanway) saw off Sean Daly (Skibbereen) for 3rd place. The under 8 Plate Final was an all Goleen affair with Jake Coughlan running out winner on the day over Tadgh Reidy 10/12. 11/7. 11/4. The under 8 Girls Champion was Aoibhinn Keating (Skibbereen).

The under 10 Boys event saw 20 of the best young talent in the game with Munster No.2 James Kelly (Goleen) heading the pack. Daniel Murray caused the biggest upset when he unseated No.1 Bantry under 10 Tolly Franklin in the semi-final, while James Kelly saw off James Lavin (Bantry) in the other side of the draw. The final swung both ways as Daniel continued his good form to take a set off the favourite but the result eventually went to form with James Kelly taking the West Cork Champions title. Jack McCarthy (Bantry) beat Padraig Reidy (Goleen) in the Plate Final.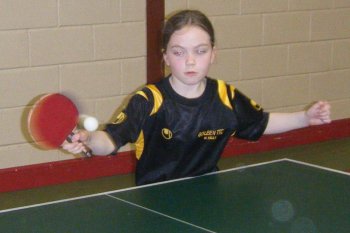 The under 10 girls were also well represented with the Skibbereen Club dominating at present. Alexandra Leib booked her place in the final overcoming Goleen's Mair Kelly in the semi-final. There she met Munster No.5 Aoife O'Regan after she beat Aoibhinn Keating (Skibbereen). Aoife went on to secure what is likely to be one of many titles for this young talent. Mair Kelly beat Aoibhinn Keating in the 3rd/4th place play-off. Gael Walsh beat her Skibbereen clubmate Emily Gallagher in the Plate Final.

The under 12 event saw the largest entry with so many national schools taking up the sport this season. However it was Cathal McCarthy from Ardscoil Phobal Bheannraí who went into the event very much as favourite after being selected for the Munster U12 team. It was not all plain sailing as Michael Casey (Bantry) found some excellent form to reach the semi-final where he lost 11/7. 12/10. 17/15. Anthony Hanley recorded a good win over the much fancied Goleen player Aaron Bean in the other semi-final. Cathal went on to win a cagey final and take the Under 12 Boys title. Mark Keohane (Bantry) beat Shane Garvey (Skibbereen) in the Plate Final.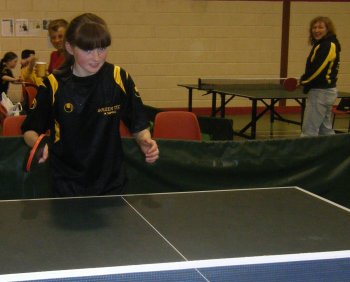 The under 12 Girls was dominated by Munster Top 10 player and local girl Mairéad Supple. Mairéad beat Under 10 finalist Alexandra Leib in the final. Mair Kelly (Goleen) beat Georgina Murray (Dunmanway) in a closely fought plate final. Mairéad was back in action again in the under 14 final but up against top Irish and Munster player Aisling Healy it was Aisling who won the all Goleen final and went on to take her second title in the U17 event.

The under 14 boys arguably had some of the most exciting table tennis of the day with no outright favourite on the day. Aaron Bean (Goleen) faced Anthony Hanley (Bantry) in the first semi-final which proved to be a titanic battle with Aaron using his defensive lob and making some amazing recovery shots, which eventually wore Anthony down. Aaron went onto win in five sets 7/11. 11/8. 9/11. 11/7. 11/8. The other side of the draw brought top Munster players Ben O'Donnell (Goleen) and Cathal McCarthy (Bantry) to the table. This match caught the interest of a large number of spectators who were swept up in the drama unfolding. Ben O'Donnell eventually secured the victory and a place in an all Goleen final. The crowd were once again treated to some long and skilful rallies and the match once again went down to the wire. When Ben O'Donnell over hit the table with his forehand the barriers came down and the crowd surged to acclaim Aaron Bean as the new West Cork Under 14 Boys Champion. 3rd and 4th play off was a repeat of the U12 final but this time Anthony Hanley took the victory over Cathal McCarthy. Stephen Hanley won the U14 Plate by beating Bantry team mate Mark Keohane in the final.

Brian Crowley was the top seed in the U17 boys and he booked his place in the final beating Bantry rival James Heap 9/11. 11/6. 11/9. 11/5. Ben O'Donnell reached his second final of the day after taking out Paddy Watkins (Skibbereen) 11/8. 12/10. 11/4. in the semi final. Brian Crowley looking for his first major West Cork Title started slowly losing the first set 9/11. But after that he took the next three sets to take the overall title. 9/11. 11/8. 11/9. 11/8. James Heap and Paddy Watkins played a close match for 3rd and 4th place with James Heap eventually winning 11/7. 10/12. 11/8. 8/11. 11/7.

A friendly "battle of the sexes," also took place after girls U17 Champion challenged the U17 boys champion to a match up. Aisling Healy held an impressive record against Brian Crowley after three straight wins in the West Cork Rankings but it was a delighted Brian Crowley who celebrated at the end of the match after taking his first victory against the West Cork Overall No.1.

This brings the competitive season in West Cork to a close with only the social trip to Trabolgan to finish off an excellent season. The WCTTA Summer Camp is already nearly fully booked with only a couple of places left. Summer training will be available in Goleen and a new summer club in Durrus is also planned. The Goleen Festival Tournament on the 15th August is open to all and proved a great success last year.

Table Tennis at School
Aghabullogue NS is a small school north of Macroom deep into hurling country. The village proudly boast the first All Ireland Title from a Cork club amongst its achievement. I invited myself and my son James to the school after they contacted me at TTIreland looking for information on table tennis and I spent a couple of hours demonstrating, coaching and playing games with the students. Padraig O Loingsigh is the resource teacher at the school and played table tennis when he was younger. Along with one table purchased from Argos and a couple of bats the school pupils have taken to the sport like ducks to water and I was impressed by the kids and the school's attitude to the sport. Table Tennis is ideally suited to a small school like Aghabullogue and with only 42 at the school they are trying to provide a wide selection of sports for all the kids. We will organise a friendly visit at the beginning of the season and I imagine we are likely to hear more about this school in the year to come.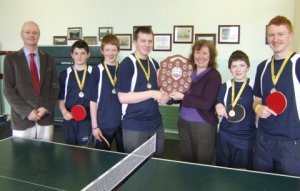 West Cork Schools League Champions 2009
Macroom De La Salle being presented with the West Cork Schools Shield by WCTTA Secretary Vicky Ridgeway. Macroom remained undefeated througout the season with Bantry Secondary School 2nd, Schull Community College 3rd, MICC 4th and Rossa College 4th.

Goleen Players at the Irish Junior National Championships 2009
Aisling Healy and James Kelly travelled up to Dublin to play in the Irish Junior Nationals over the weekend of 18th/19th April. The Goleen based players put in some terrific performances and both reached the semi final stages of their events. Aisling Healy battled against the "sea" of pimples that stood in her way but it was free hitting Irish No.1 Aisling Given who put a stop to her progress. Healy had set points in two of the sets but Given produced some superb skills and repeated the same in the final to be crowned Irish National U14 Champion. Our own Aisling went on to win a tense 3rd/4th play off. During the match the umpire's skills were tested with some unusual play! Here is what happened, work out who won the point and email me at owen@ttireland.com

1. Healy hits the ball high into the air and it lands on her opponent's side of the table, the ball then travels back over the net and lands on her side without her opponent touching it. Did Aisling Healy win the point?

2. Aisling hit the ball high into the air and it lands on her opponent's side of the table and starts to travel back to her side. Her opponent reaches over the table and smashes the ball onto Aisling's side of the table, in doing so she hits the net with her bat. Aisling fails to return the ball. Did Aisling win the point?

8 year old James Kelly also reached the Semi final Stage of the Under 10 event and lost to the eventual winner. James who won his group with some exciting 5 set battles found himself 10-2 down in the 4th set of the 3rd/4th play-offs. Down and out? Not yet James made a remarkable comeback to take the set 12-10. During one point James made a dive for a ball wide on his forehand and as he fell to the floor he played a topspin lob onto the table. Picking himself up he ran back to the table to make a backhand smash winner. The 5th set proved to be a tight affair that was lost 11-9. Both players were treated to tremendous support from the spectators that had gathered. It was hard to imagine that these were two under 10's such was the standard and entertainment that both players provided. West Cork were well represented by both of their players.

ITTA Awards
Congratulations to Connor Robinson, James Coughlan, Oisin O'Donovan and Thomas Daley from the Dunmanway Club who recently passed their ITTA 1 Star Awards.

Munster Top 8
The Munster Top 8's is a competition for the players who reach the top 8 positions in their age group through collating points from a series of 4 tournaments held throughout the season. This season 5 West Cork TTA players qualified for this event. James Kelly (Goleen) finished in 2nd place in the Under 10 Rankings and put in a good performance to finish 3rd at this event held in Cork. James took the No.1 to a five set thriller that he eventually lost 10-12. Aoife O'Regan (Skibbereen) also finished in the top 8th at 5th position. West Cork was well represented by two players in the U12 Boys event with Cathal McCarthy (Bantry) 5th and Ruaidhri Gallagher (Skibbereen) 6th. Aisling Healy (Goleen) managed to qualify for both U14 and U17 Girls. Within the U14 Girls Aisling had a good win against the current No.1 and also played well in the U17 event. The top U12s, U14s and U17s will now await the selections for the Munster Junior Interprovincial Teams.

Final West Cork Rankings 2008-2009.
Nearly 70 turned up at the Goleen Community Sports Centre for the last in the series of 4 West Cork Rankings bringing the total to 111 individual players within the rankings this season. Only one of three players could take the overall title. Goleen's Aisling Healy and Ben O'Donnell were in joint first place with both needing a win to finish top. Bantry's Brian Crowley could also take the title if he could establish a clear win at this event. These three players were joined by West Cork Number 4 James Heap and the previous event winner Cathal McCarthy also from Bantry. With Ben O'Donnell suffering at the hands of both Brian Crowley and Cathal McCarthy it came down to the match between Aisling Healy and Brian Crowley and it was the Goleen player who took the win and the overall West Cork ranking title.

With 10 other Divisions competing for ranking points was fierce. Jack McCarthy took the Division 2 Title beating fellow Bantry club mate Damien Collins, Skibbereen's Ruaidhri Gallagher was 3rd.

Division 3 went to Aaron Beane (Goleen) who fended off his dad Harris Beane in the final match of the group. Joe Moore from Skibbereen wasa 3rd.

Division 4 was a second win in a row for Dunmanway's Eoin O'Neill who topped the group ahead of Bantry's Michael Cassey and Daniel Lynch.

Division 5 was won by first time entrant Mark Keohane who topped a division made up entirely of Bantry players. Isaac Daunt was 2nd with Keith Collins 3rd.

Division 6 saw a Skibbereen top 3 with Declan Gallagher 1st, Shane McDermott 2nd and Shane Garvey 3rd.

Division 7 was made up of Under 10 Boys with another top 3 finish for the Bantry club. Tolly Franklin who recently finished 3rd in a Munster Ranking, fended off Tom Walsh and Ciaran O'Donovan.

Table Tennis is on the rise in nearby Schull and it was Jacob Harris who took the Division 8 Title ahead of team mate Olan Kelleher, Michael Healy from Bantry was 3rd.

Division 9 saw local girl Mairead Supple take her second victory of the season beating Bantry's Ronan O'Mahony into 2nd and Naoise Kennedy from Skibbereen into 3rd.

Division 10 had another newcomer Glen Gibbs top the group with Daniel Murray also from Bantry finishing 2nd, 3rd went to local boy Eoghan Sheehan.

Division 11 was won by another Goleen local in the guise of Padraig Reidy, Robyn McCarthy was 2nd and Goleen's Mair Kelly was 3rd.

The age group awards were as follows:
Under 8 Boys: Luke Franklin Bantry, Under 10 Boys: James Kelly Goleen, Under 12 Boys: Cathal McCarthy Bantry, U14 Boys: Ben O'Donnell Goleen, U16 Boys: Brian Crowley Bantry, Snr Men's: Harris Beane Goleen.

Under 10 Girls: Alexandra Leib Skibbereen, Under 12 Girls: Mairead Supple Goleen, U14 Girls: Aisling Healy Goleen.

The Final 2008-2009 Age Group Rankings are:
Under 8 Boys
1. James Kelly: Goleen
2. Sean Fin Gallagher: Skibbereen
3. Luke Franklin: Bantry

Under 8 Girls
1. Kiah Clancy Adams: Bantry
2. Caoimhe Harnedy: Skibbereen
3. Emma Robinson: Dunmanway

Under 10 Boys
1. James Kelly: Goleen
2. Finn Pyatt: Dunmanway
3. Ciaran O'Donovan: Bantry

Under 10 Girls
1. Aoife O'Regan: Skibbereen
2. Kiah Clancy Adams: Bantry
3. Louise Gallagher: Skibbereen

Under 12 Boys
1. Ruaidhri Gallagher: Skibbereen
2. Anthony Hanley: Bantry
3. Kieran Hanley: Bantry

Under 12 Girls
1. Mairead Supple: Goleen
2. Aoife O'Regan: Skibbereen
3. Sinead McKennedy: Skibbereen

Under 14 Boys
1. Ben O'Donnell: Goleen
2. James Heap: Bantry
3. Paddy Watkins: Skibbereen

Under 14 Girls
1. Aisling Healy: Goleen
2. Mairead Supple: Goleen
3. Aoife O'Regan: Skibbeeen

Under 17 Boys:
1. Brian Crowley: Bantry
2. Ben O'Donnell: Goleen
3. James Heap: Bantry

Under 17 Girls
1. Aisling Healy: Goleen
2. Mairead Supple: Goleen
3. Aoife O'Regan: Skibbeeen

Munster Ranking @ Beech Hill

The last Munster Ranking of the season was held at Beech Hill TTC in Cork. Under a West Cork participation initiative a squad of 10, U10 boys, who attended the WCTTA Talent Camp were selected to travel to this event. James Kelly was the only under 10 who had travelled before and he reached the final against Ballincollig's Eoin Reilly. Eoin was the eventual winner. Tolly Franklin from Bantry managed to reach the third place spot after beating Ballincolligs Paul Cooney in the play off. Full Squad: James Kelly (Goleen), Tolly Franklin (Bantry), Tom Walsh (Bantry), Jack McCarthy(Bantry), James Lavin(Bantry) , Ciaran O'Donovan (Bantry), Niall Shiles (Bantry), Patrick O'Riordan (Dunmanway), Finn Pyatt (Dunmanway), Ronan O'Mahony (Bantry).

Aoife O'Regan finished 3rd in the U10 Girls and Mairead Supple (Goleen) finished 7th in the U12 Girls event.

The U12 Boys saw Cathal McCarthy reach his first Munster final against Kinneigh's Brian Kelleher and Munster No.1 Cathal was delighted with his break-through and hopes to go one better next time. Ruairi Gallagher-Spencer from Skibbereen also had his highest finish when he took the 5th place spot.

Aaron Beane (Goleen) finished in 9th after surprisingly knocking out Conor Blunt the Munster No.4 in an earlier round.Under 11 Michael Cassey from Bantry put in a good performance from this young player along with Kieran Hanley another Bantry under 11. John Lavin from Bantry made up the cstrong contingent of West Cork U12s.

Aisling Healy was in top form again as she reached the U14 Girls Final and 3rd in the U17 event. Goleen Club mate Ben O'Donnell reached 7th in the U14 Boys with Cathal McCarthy finishing 9th equal along with Aaron Beane (Goleen). The Bantry trio of Michael Cassey, Kevin Murray, Kieran Hanley and Ciaran O'Regan from Skibbereen made up the rest of the West Cork Squad. Brian Crowley from Bantry was the only under 17 boys from West Cork and he won the U17 Plate event.

Bantry Boys took on All Ireland Challenge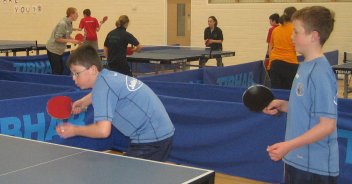 St. Finbarr's Boys National School qualified for the All Ireland Finals in the U13 Boys category. 6 players from the West Cork Primary Schools Champions travelled up to Tyrone on Monday 30th March to take the best from the other three provinces. The boys came in 4th loosing 5-3 to St. Joseph's college (Connaught) and 5-2 to Monoghan Collegiate (Ulster). The event was won by Ballyroan Boys NS (Leinster)



West Cork Table Tennis Schools Cup 2009

The West Cork Schools Cup is one of the largest schools table tennis competitions in the country and is a testament to the growing popularity of the sport. With the West Cork Table Tennis Association celebrating 20 years this year's schools cup had added significance. With 16 different competitions and 47 teams entered from all over the region this competition caters for all ages and levels of ability and even had entries from as far as Tralee.

Maria Immaculata Community College has hosted the event over the last few years proving to be centrally located and with one of the finest sports facility in the country. The National School Boys section has grown to be the most popular with primary schools around the region with 14 teams entered there were 4 Divisions of ability. The 1st Division was dominated by St. Finbarr's Boys School from Bantry with three teams entered. However it was a team from Gael Scoil, Skibbereen who met the defending champions in the final. There were some exciting matches with St. Finbarr's regaining their title with Gael Scoil in the runners up position.

Division 2 saw the long trip from Tralee prove fruitful for the Kerry contingent when they took the Division title defeating St. Finbarr's D and with Gael Scoil, Skibbereen B taking Bronze.

Division 3 had Holy Family, Tralee going for a second title but this time they were narrowly beaten on count-back by Gael Scoil, Bantry A and with St. Finbarr's U10 Boys third.

Division 4 had a second title for Gael Scoil Bantry C Team who defeated their B Team in the final with Togher Yellow and Togher Purple finishing 3rd and 4th.

The National School Girls had fewer teams but the competition was just as fierce. Gael Scoil, Skibbereen eventually beat Gael Scoil, Bantry with Togher teams finishing 3rd and 4th.

Table Tennis also provides an opportunity for mixed teams to play against each other and this often enables smaller schools to participate. There were two divisions at this year's competition with the smallest school in the competition Lissagriffin entering 2 teams and trying to regain last year's title. The final came down to a match between Lissagriffin A and Togher Orange. The first point went to Togher after Patrick O'Riordan beat Mairead Supple. Lissagriffin's James Kelly levelled the score against Finn Pyatt. Eoghan Sheehan took Lissagriffin to an important 2-1 lead and with Lissagriffin winning the doubles 12/10 in the final set Lissagriffin managed to retain their title. Togher Green went on to win the Division 2 title with Gael Scoil, Skibbereen taking Silver and Lissagriffin B with Bronze.

The Secondary School competition kicked off with 2 Divisions in the U13 Boys. The conclusion came down to a battle between Schull Community College and Ardscoil Phobal Bheanntrai. West Cork and Schull No.1 took to the table, in a strange twist of fate Ben O'Donnell recently moved from the Bantry School and was up against his ex-team mate Damien Collins. No one expected Damien to be 2 sets to 0 up at the half way point but so it proved as Ben fought back to level the scores at 2-2. It was a disappointed Ardscoil Phobal Bheanntrai as Ben O'Donnell went on to complete his come-back. However it was Bantry who were celebrating at the end of the match as they eventually won 3-1. This was the first of a remarkable triple for the Bantry School as they went on to take the U15 and U19 Boy's titles. The most remarkable victory being against Macroom De La Salle. Macroom narrowly missed out on count back in 2008 and they were out for revenge and certainly the favourites coming into the competition. But after Brian Crowley beat Shane Foley and Jack McCarthy beat Cian Holden Bantry found themselves 2-0 up. Ronan Lordan went down to Macroom's Barry Kelleher to make it 2-1 with the doubles to play. With victories already behind them in the singles Brian and Jack paired up and took the match on a score of 3-1.

Division 2 saw Schull Community College take a title finishing ahead of the 2 MICC teams.

The U13 Girls event saw a first time entry from St. Goban's Bantry, the girls went on to win all their matches and claim the U13 title. MICC were 2nd and 3rd.

Hosts MICC took the U15 Girls Title along with the U19 Mixed defeating Bandon Grammar in the final while Bandon Grammar went on to take the U15 Mixed title.

As the season draws to a close the last West Cork Table Tennis Ranking is to be held on the 29th March at the Goleen Community Sports Centre. Goleen players Ben O'Donnell and Aisling Healy will be expected to battle it out for top honours with Bantry's Brian Crowley needing a win at this stage. Cathal McCarthy from Bantry won the last event and is capable of doing it again. There are sure to be some upsets and surprises but one thing is for certain by the end of the day someone will be crowned the West Cork Number 1. Action starts at 11.00am. (More details Owen 028-35371)

West Cork Ranking in Dunmanway
The 3rd West Cork Table Tennis Ranking was held in Dunmanway on Sunday 1st March. Over 40 players from all the major club took part. Goleen were well represented with Aisling Healy looking to retain the title she won in Goleen. Aisling was beaten in the semi final by an inform Cathal McCarthy who surprised many by taking the overall title at this event. Aisling finished 3rd and moves into 2nd place overall behind Ben O'Donnell who didn't play but still has earned enough points to remain on top.

Aaron Beane representing the Goleen club took the 2nd Division title and moves into 10th position overall. James Kelly finished 2nd in Division 3 and is one place behind Aaron at 11th overall. James Kelly added to Aisling Healy's Under14 Title when he took the Under 8 Trophy as the highest placed in his age group. Mairead Supple beat the eventual Division 5 champion in the early rounds and came 4th in her division after loosing in the semi final.

Division 7 saw two Goleen West Cork Ranking debutantes with Padraig Reidy and Sam Coughlan taking to the table for the first time. Padraig won a bronze medal in his first outing with Sam finishing a creditable 5th.

Goleen Table Tennis Club will host a visit from Beech Hill Table Tennis Club from Montenotte, Cork this Friday night 6th March and all members are welcome to attend. Aaron Beane, James Kelly and Mairead Supple have been invited to attend a Munster Branch Development Camp on Saturday 7th March, this will act as ideal preparation for the West Cork Schools Cup where James, Mairead and Eoghan Sheehan hope to retain the National School Mixed Title they won last year.

U8 Winners
boys: James Kelly, Goleen
girls: Emma Robinson, Dunmanway
U10 Winners
boys: Tom Walsh, Bantry
girls: Aoife O'Regan, Skibbereen
U12 Winners
boys:Cathal McCarthy, Bantry
girls: Charli Williams, Skibbereen
U14 Winners
boys: Paddy Watkins, Skibbereen
girls: Aisling Healy, Goleen
U16 Winners
boys: Brian Crowley, Bantry

Mini Wackers in action
the West Cork U12 Boys Mini Wackers took on Team Kinneigh on the first leg of a friendly challenge match. The West Cork Team made up of Aaron Beane (Goleen), Anthony Hanley (Bantry), Cathal McCarthy (Bantry) and Ruaidhri Gallagher (Skibbereen). Brian Kelleher from Kinneigh won both his matches against Cathal McCarthy and Anthony Hanley but the Mini Wackers will take an 8-2 advantage into the next leg to be played in Goleen after Easter.

A Visit from the City
Beech Hill Table Tennis Club paid West Cork a visit when a group travelled down to a social night in Goleen Community Sports Centre. West Cork players from Goleen, Bantry, Skibbereen and Dunmanway all joined the Cork players in a series of fun games. A Knock-out tournament on the club's mini table and various team games were all topped off with a special chocolate table tennis cake made by Kate Kelly one of the Goleen Club coaches.

West Cork National School Individual Table Tennis Championships 2008
Over 50 players from 9 different National Schools from all over West Cork took part in the 2nd Annual National School Championships in Goleen on Wednesday 10th December.

Players competed in 4 different categories; under 10 boys and girls and over 10 boys and girls. Plate competitions were held for all those who lost in the first round.

The Under 10 Girls saw a top four finish with Georgina Murray from Togher NS becoming the Under 10 Girls Champion after beating fellow school mate Colleen Numan into 2nd. Local girl Mair Kelly from Lissagriffin NS finished 3rd ahead of Rena O'Rourke from Bantry Gael Scoil.

The Under 10 Boys saw another top 4 finish for a local Lissagriffin student when James Kelly took the individual title from Tolly Franklin 3-1 in the final. Patrick O'Riordan saw off St. Finbarr's Tom Walsh for the 3rd place bronze medal. Another Lissagriffin player James O'Driscoll reached the final of the plate where he was beaten by Bantry Gael Scoil's Aidan O'Sullivan.

The Over 10 Girls also featured a Lissagriffin local when Mairéad Supple reached the final after defeating 3rd place recipient Deidre O'Sullivan from Bantry Gael Scoil. Charli Williams beat Eileen Crowley from Togher NS to reach the Final. Charli Williams put in a good performance to confidently become the West Cork National School Champion 2008.

The Plate Final was an all Skibbereen Gael Scoil battle between Molly Muller and Sophie Perry with Molly taking the victory.

There was a very high standard on show in the Over 10 Boys Competition with representatives from 9 schools participating. This competition was developed in order to give players from school without enough players for the West Cork Schools Cup event a chance to represent their school. This year these schools took full advantage. Michael Casey gave Inchiclough NS their first entry into West Cork Table Tennis and managed to reach the ¼ Final stages where he was beaten by Coomhola's first representative Aaron Beane. Aaron went on to beat the No.1 seed Anthony Hanley from St. Finbarr's in Bantry in an exciting Semi Final. Skibbereen club-mates and friends Paddy Watkins from Gael Scoil and Ruaidhri Gallagher from Castlehaven NS also played out a memorable Semi Final with Ruaidhri taking the match 11/3, 11/7, 8/11, 11/13, 11/9.

This set up a nail biting finish with Castlehaven's only player facing up to Coomhola's. The first set went the way of Aaron Beane but only just with a 13/11 set. Ruaidhri fought back to level the match with an 11/8 win. However Aaron began to build in confidence as the match progressed and he took the initiative with the next two sets 11/7 and 11/6, to take the West Cork National School Individual title. Anthony Hanley beat Paddy Watkins to finish 3rd.

The Over 10 Boys Plate saw a match-up between Model School, Dunmanway players Nicholas Bryan and Ray Jennings with Nicholas proving the stronger on the day.

The event ran smoothly with the help and support of all the coaches, teachers and parents with a special thanks to coaches Richard Gostyn, Vicky Ridgeway and Kate Kelly for their help and support on the day and the Goleen and District Community Council for the use of the very modern Sports Complex and facilities as well as the shop that was much appreciated by all.

Over 10 Girls
1. Charli Williams, Gael Scoil, Skibbereen
2. Mairéad Supple, Lissagriffin NS, Goleen
3. Deidre O'Sullivan, Gael Scoil, Bantry
4. Eileen Crowley, Togher NS, Dunmanway

Plate
1. Molly Muller
2. Sophie Perry

Under 10 Girls
1. Georgina Murray, Togher NS, Dunmanway
2. Colleen Nunan, Togher NS, Dunmanway
3. Mair Kelly, Lissagriffin NS, Goleen
4. Rena O'Rourke, Gael Scoil, Bantry

Over 10 Boys
1. Aaron Beane, Coomhola NS, Bantry
2. Ruaidhri Gallagher, Castlehaven NS, Castlehaven
3. Anthony Hanley, St. Finbarr's NS, Bantry
4. Paddy Watkins, Gael Scoil, Skibbereen

Plate
1. Nicholas Bryan, Model School, Dunmanway
2. Ray Jennings, Model School, Dunmanway

Under 10 Boys
1. James Kelly, Lissagriffin NS, Goleen
2. Tolly Frankiln, Gael Scoil, Bantry
3. Patrick O'Riordan, Togher NS, Dunmanway
4. Tom Walsh, St. Finbarr's NS, Bantry

Plate
1. Aidan O'Sullivan, Gael Scoil, Bantry
2. James O'Driscoll, Lissagriffin NS, Goleen

WCTTA Players at Munster Ranking in Killarney 22-11-08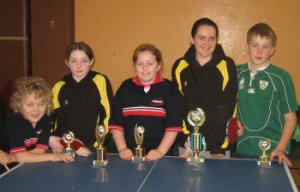 Killarney Table Tennis stepped up a gear as the 2nd Munster Ranking of the season took place in Kerry for the first time in many years. Killarney proved to be excellent hosts as they provided a decent sized hall with 12 tables in use for play. Some West Cork players were in action early on with the U14s kicking off at 9.30. Aisling Healy returned to the Munster Rankings after missing the 1st after she was selected for an Irish Squad. She put her experience to good effect as she reached the U14 Girls Final. She put in a strong performance and was rewarded with second place. On an adjoining table Aisling's Goleen team mate Mairéad Supple, made her Munster debut and reach the final of the U14 Plate event both girls were delighted with their results and Mairéad went one better when she took the U12 Girls Plate Title. Michael Casey (Bantry) also playing in his first Munster Ranking reached the final of the U12 Boys Plate.

There was West Cork interest in both under 10 events. Aoife O'Regan (Skibbereen) played in her first Munster Ranking and was well rewarded reaching the Girls Plate competition. James Kelly (Goleen) reached his second under 10 Munster final in a row and once again came up against Kinneigh's Cathal Foley. These two young players provided a nail biting final at the first event in Cork and it was close once again but this time it was Cathal Foley who proved the stronger and he took the title 2-1.

A number of clubs were well represented at this event and Bantry players James Heap, Kevin Murray, Cathal McCarthy and Ben O'Donnell all reached the second round of the U14 Boys. The U12 Boys event had players from Goleen, Dunmanway, Bantry and Skibbereen entered and three players from 3 different clubs reached the Top 8. Ruaibhri Gallagher (Skibbereen) playing at his first Munster event finished highest at 5th with Aaron Beane (Goleen), and Cathal McCarthy (Bantry) making the Top 8. James Kelly reached the second round after playing Jacob Jungwirt (Dunmanway) in his first round group.


Table Tennis proving ever more popular Download Full Results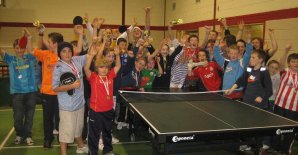 Over 60 players entered the 2nd West Cork Table Tennis Ranking in Goleen on Sunday 16th November. This increase caught the organisers unexpectedly. With such an increase in numbers the event ran on an extra hour and the club wanted to express their thanks to all the parents and coaches who helped out on the day as well as a special mention to Juliette Hanley who helped lay on a bus from Bantry. The Bantry Club was very well represented with nearly 30 players entering the event, many for the first time.

The event was divisioned into 10 leagues according to ability and some very close matches were the result. The 4th Division had 5 out of the 6 players equal on matches won and the result had to be made on count-back. Robin Smiles from Dunmanway eventually took the Gold along with the U17 Boys title. Daniel Lynch (Bantry) was 2nd and Eoin O'Neill (Dunmanway) took Bronze. The other two players on equal wins were Michael Casey (Bantry) and James Kelly (Goleen).

The 1st Division was once again a closely fought affair with Aisling Healy (Goleen) taking the overall title as well as the Girls U14 title. Aisling beat fellow Goleen Club mate and current West Cork No.1 Ben O'Donnell. Ben won the U13 Boys title. Brian Crowley who picked up the U15 Boys title finished 3rd. Skibbereen's Taidgh Williams was their highest placed finisher at No.6.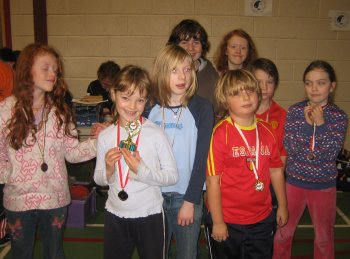 Skibbereen had an excellent event and a number of wins to celebrate. Ruaibhri Gallagher won the 2nd Division, while his younger brother Sean Fin Gallagher took the 10th Division Title. Shane Garvey also from Skibbereen took Gold in Division 8. There were further medals for Skibbereen when Shane McDermott claimed his second Gold medal in a row this time in Division 6, Sinead McKennedy finished with a Silver and the U11 Girls Title, Lisa McCarthy took Silver in Division 7, Ruairi O'Mahony took Bronze in Division 8, Florian Ward finished with a Silver in his first event in the 10th Division.

Every club had titles to celebrate and hosts Goleen along with the two top places took a further Gold with new member Aaron Beane winning the 3rd Division. James Kelly was awarded the U9 Boys title and another Kelly was celebrating as Mair Kelly took Silver in her first ever tournament.

Dunmanway who have only started their new club this season had their best performance so far. Along with Robin Smiles taking the 4th Division title, Eoin Murray took the 5th Division title with senior Kate Cypryan taking Bronze. Dunmanway also won the senior title with Dunmanway coach Vicky Ridgeway. Dunmanway claimed their third divisional title when Patrick O'Riordan fought off a very close finish on a three way count-back. Jacob Jungwirt took Silver in the 8th Division.

Bantry came away with a haul of 12 medals and 3 titles but it was James Lavin who won their only Gold in the 9th Division. Silver medals were won by Ronan Lorden (Div 2), James Oliver (Div 3), Daniel Lynch (Div 4), Martin Vitols (Div 5) and Arthur Coackley (Div 9). Bronze medals were won by Brian Crowley (Div 1), Kevin Murray (Div 2), Henry Deane (Div 3), Tomas O'Grady (Div 6), Cormac O'Mahony (Div 7)and Alfie Ryan (Div 9). Brian Crowley won the U15 Boys, Kieran Hanley won the U11 Boys and Kiah Adams won the U9 Girls.

A lot of the players will be back in Goleen on December 10th for the West Cork Table Tennis Individual Primary Schools Championships. The next West Cork Ranking event is due to take place at the end of February 2009.

Off to the Beech.
A crowd of 13 West Cork players and coaches descended on Beech Hill Table Tennis Club on Friday night. This is the second season a group from West Cork has visited the Beech Hill Club in Montenotte as part of their on-going Social Programme. This is an initiative to encourage players to meet away from the pressure of competition and to enjoy and share their common interest in the sport. Consequently a lot of fun was had by all!
The Beech Hill Club was once again tremendous hosts and lay on a formidable tea for all the players, coaches and attending parents. Players from both Goleen and Bantry travelled up with coaches Owen Kelly and Richard Gostyn. It is hoped that Beech Hill will take up the invitation from Goleen to travel into the depths of West Cork later on this season and that West Cork can provide their players with at least the same level of hospitality they have shown us.

Secondary Schools League
Bantry Secondary School played hosts to Schull Community College in their first match in the new West Cork Schools League. Schull are currently placed 2nd in the League after recording a win against MICC and losing to League leaders Macroom De La Salle. Schull came out with guns blazing as their number 1 Josh Lipitch recorded and excellent 3 set to 2 victory over Bantry's No.3 Jack McCarthy. However there was little more to celebrate for the visitors as Bantry racked up enough wins to take the Bantry School to a 6-1 lead and assure a win. Oisin O'Driscoll managed to take a second point from Kevin Murray to make it 7-2 but with Ben O'Donnell taking the final match against Josh Lipitch the Bantry team recorded their first victory of the campaign. Bantry are due to play Rossa College away in the next two weeks. MICC will also take on league favourites Macroom De La Salle before Christmas.


West Cork Bronze Awards
Congratulations to Jack McCarthy, Ronan Lordan, Henry Deane, Daniel Lynch, Mark Lynch, Brian Crowley, Cathal McCarthy, James Oliver, Kevin Murray, Martin Vitols, Tolly Franklin and James Heap from Bantry and James Kelly and Mairéad Supple from Goleen who were all presented with their WCTTA Bronze Awards by WCTTA Chairman Owen Kelly.

Goleen Training Camp
A successful open training camp for all West Cork Players took place in Goleen on Wednesday 29th, 13 players from 4 different clubs took the opportunity during half term for some extra training.

Bantry Player of the Month - October
The Toys Unlimited Trophy was presented to John Allen O'Donovan for this months player of the month award. John Allen has moved from No.26 to No.8 in the Bantry Club rankings and is the most improved player at the club. Congratulations John Allen.

Skibbereen Player of the Month - October
Aoife O'Regan was presented with the Skibbereen TTC John Keohane Player of the Month award for October. Aoife has been a member of the Skibbereen Club for 3 years and is from Castlehaven NS. Aoife was presented with the award as she has been a model student and recently won the West Cork under 10 title at the West Cork Rankings in Dunmanway.

Macroom show their strength in West Cork Schools League
The first matches of the West Cork Schools League were played at MICC on Monday 20th October. Macroom De La Salle recorded two wins without dropping a match against both Schull Community College and Rossa College Skibbereen and place themselves as firm favourites even at this early stage. Schull CC recorded a 7:3 victory against hosts Maria Immaculata Community College while Rossa's match against MICC has been postponed due to time restrictions.

1st West Cork Table Tennis Ranking 12/10/08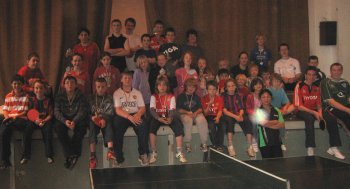 West Cork Table Tennis is celebrating its 20th Anniversary this season and got off to a great start with a large turnout for the first West Cork Table Tennis Rankings of the season in St. Patricks Hall Dunmanway. The competition which is based on ability rather than age saw 40 players playing in six divisions. The four main clubs of Bantry, Goleen, Skibbereen and hosts Dunmanway were all well represented with players from 7years to senior competing.

With girls competing alongside the boys the Division 6 saw a good mix of our young players and the top 3 places went to the under 8s. Caoimhe Harnedy (Skibbereen) took Gold while club mate Sean Fin Gallagher took Silver, Kiah Clancey Adams took Bronze. The six player division also saw good first time performances from sisters Louise, Emily and Rebecca Gallagher all from Skibbereen.

Division 5 was also won by a Skibbereen player playing in his first event Shane McDermott took the Gold with Jacob Jungwirt (Dunmanway) Silver and Shane Garvey (Skibbereen) Bronze. Declan Kilbride (Dunmanway) 4th and Jacob Clancey Adams (Bantry 5th)

Division 4 saw Mairéad Supple from Goleen take the Gold medal, the group was extremely close and left three players on equal points, the scores went to count back with Finn Pyatt (Dunmanway) taking Silver and Patrick O'Riordan taking Bronze. Aoife O'Regan (Skibbereen) fisnished 4th and Niall Shiels (Bantry) 5th.

In Division 3 all three medals went to Skibbereen players with Declan Gallagher taking Gold, Tadgh Richards Silver and Sinead McKennedy Bronze. Tomas O'Grady from Bantry was 4th and Ruairi Harnedy (Skibbereen) 5th.

Division 2 was made up of 2 groups of 4 with Finals played between the 2 groups. The final saw James Kelly (Goleen) beat Jamie Lawton (Dunmanway) with Bronze going to Eoin O'Neill after he beat Dunmanway club mate Alan Deane in the play off.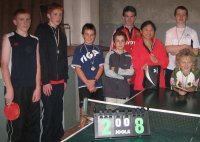 Division 1 was also played with 2 groups and semi finals leading to finals. Ben O'Donnell (Goleen) beat Catherine Harnedy (Skibbereen) to reach the final where he met Brian Crowley who beat his club mate James Heap from Bantry in the other semi final. Ben O'Donnell went on to win the overall title with Brian Crowley 2nd, Catherine Harnedy 3rd and James Heap 4th.


West Cork Secondary Schools League
In celebration of the WCTTA's 20th Anniversary a Secondary Schools League has been launched. 5 schools have agreed to take part from around the region: Bantry Secondary, Macroom De La Salle, Schull Community College, Rossa College, Skibbereen and MICC from Dunmanway. The first round of matches are due to take place on Monday 20th October at MICC.

Women In Sport
A number of Women in sport Schemes are being organised throughout the region. Goleen TTC on Mondays, Skibbereen TTC on Tuesdays, Rossa College on Thursdays and Goleen TTC on Fridays. A course is also being organised in Dunmanway. For more information and times contact Vicky Ridgeway 026-24981

Munster Junior Classification
James Heap, Ben O'Donnell, Cathal McCarthy and James Kelly all travelled up to Beech Hill in Cork to play in the first Munster event. Ben reached the semi finals of the Under 14 event and eventually finished 4th. 8 year old James Kelly reached the final of the Under 10s where he beat Cathal Foley from Kinneigh. Jack McCarthy was also due to play in the event but was selected for the Cork Football Squad and was unable to attend.

Aisling Healy selected for Irish Squad
Aisling travelled to Liverpool with the rest of the Irish Squad results to follow.

3 Goleen players enter Irish Classification
Aisling Healy, Ben O'Donnell and James Kelly made the long trip up to Dublin for the Irish Junior Classification. Aisling took 9th place in the U17s and reached the 2nd round of the U14s. Ben O'Donnell was also knocked out in the 2nd Round by eventual winner Declan O'Brien. James Kelly playing in his first Irish event finished 4th in the Under 10 Boys.