The South Cork Militia
13 July 1815 the South Cork Light Infantry (as it had been since Aug 1815) assembled at Fermoy and on First August marched for Clonmel where it was quartered along with the North Cork, the 20th Foot and West York regiments. In March 1816 the South Cork returned to Fermoy to be disembodied on St.Patrick's Day. On this stand down parade it was ascertained that the average height of the men was 5ft.11 to the last they lived up to their old nickname, the Long Corks!
In 1833 the unit was re-named the 87th South Cork Light Infantry to become in 1881 the third Bn.Royal Munster Fusiliers.
Requiem
In the old east graveyard, among many others, military and civilian, two stones recall these early days and the units that came here.
Erected by the Non-Commisioned Officers,
Drummers and Private Men of Captin Sankey's Company
1st Batt'n of his Majesty's IX Regiment of Infantry.
To the memory of James Bromlow
who depar'd this life
the IX day of Aug'st 1807
AGE 24 years.
Comrades Reflect on your eternal state.
Repent your Sins before it's too late.

Life is uncertain, as you daily see.
Death may soon summon you to follow me.
Sacred to the memory of
Richard Chapple (Private)
14th(D.Y.C.)L. Dragoons
who departed this life February 5th 1826
Aged Forty Six
This stone is erected as a tribute of
respect by the Officers Non-commissioned and Private
of the Regiment in which he served faithfully Twenty eight years.
The Soldier's Billet
Before any barracks were built in Fermoy, soldiers stationed there had to be quartered in houses round about. The duty of allocating lodgings was entrusted to an official know as the Billet-master. At the time of which we write,this was a man named Considine,a fact recalled by Sean O'Murchu, historian of CORRIN HILL, who had it from Mrs.Walton, nee Burgess, of Burgess' coachbuilders in the old coach yard at the back of the Royal Hotel.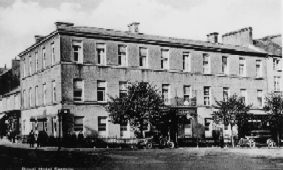 The Royal Hotel