Kiltyclogher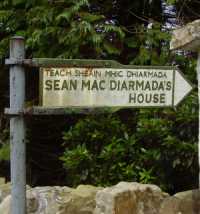 Lovely 'Kilty' isn't very big, but has its own library branch (open three days each week), a few famous long-running festivals, wonderful views on every side, and more than its share of history.
Its crossroads are watched over by its best-known native son, Sean MacDiarmada, who in spite of struggling with polio joined the martyrs of the Easter Rising and was executed with them in May 1916. He lies buried far away in Arbour Hill, Dublin, but his presence surrounds his home of Kiltyclogher, from his restored homestead nearby, to the tall-pedestaled statue which overlooks the village's single crossroad. County Leitrim's GAA stadium is named for him, in Carrick-on-Shannon, where they often shorten its official name to simply 'Pairc Sean'.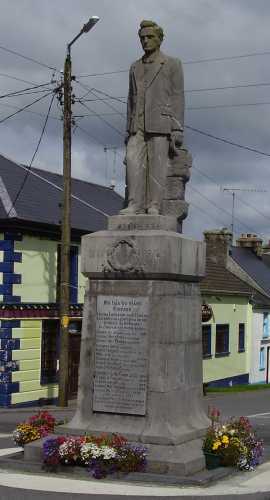 Kiltyclogher (Coillte Clochair in Irish, meaning 'stony woods') is also home to the Michael Shanley Traditional Music Festival every August, and a Drama Festival.
Because it sits nearly on the border with Northern Ireland, it benefits from cross-border projects, including the Kiltycashel Cross-Border Project, which it shares with neighbouring village Cashel, in County Fermanagh.
Our group is currently looking out for 'cross-border' carers, the family caregivers who live on a different side of the Border from someone they care for, as these carers fall through the system's cracks and receive support from neither the Republic nor the North. If you are one such carer, please get in touch!
Watch this space for links to Kilty's resources, including the Library, the Community Centre, the Health Centre, the festivals and many holiday venues in the valley, including the Leitrim Lakes Holiday Centre.
A drive through the surrounding valley is well-rewarded, with sights such as the ancient tomb of Prince Connell, which dates back to the 2nd millennium BC, so it's a shame there's no place to park the car and go see it...though of course you could simply do like the rest of us do, and park in the middle of the road for as long as you like. There's also the Black Pig's Dyke, mythical yet very real, marking the ancient border between Connaught and Ulster.
Below is the bell that stands outside Saint Patrick's Church, which was built in the 19th century and renovated in 1933. A cross outside commemorates 'the mission given to the Redemptorist Fathers in 1875'.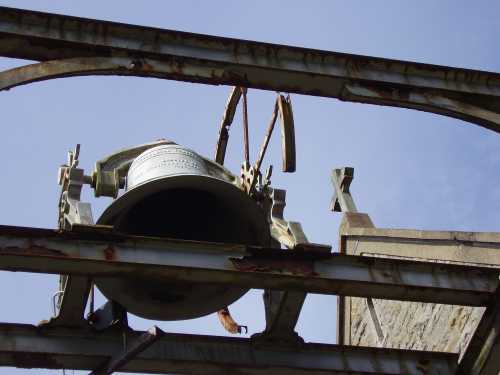 If you have any information on Kiltyclogher you'd like to share, or photos or events, send them in.