1. Symposia / Historical Safaris

3. Research

4. Surveys
Royal Irish Academy

7. Folklore

9. Contact us

11. Links
Forming a Human Landscape
The effects of the congested districts Board 1895-1900
5th Annual Clare Island Symposium - 7, 8 & 9 July 1995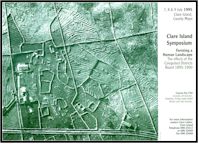 In 1895, fifty years after the onset of the Great Famine, and only nine years after its last famine, Clare Island, under the agency of the Congested Districts Board (CDB), embarked upon a series of land reforms and (to use today's terminology) development and planning policies which profoundly altered the way of life of its inhabitants.

When the CDB purchased Clare Island from its last landlord for £5,486 in 1895, a population of 692 persons occupied four-fifths of the island, the remainder left for grazing. The ruinous practice of subdivision had rendered the landholding system of rundale all but untenable.

Those aspects of the West of Ireland landscape which seem so timeless: the preponderance of stone walls, the long parallel 'stripes' of fields, the isolated cottages, are in fact remarkably recent features. During the five years the Board managed the island, rundale and its associated clachan settlements had been replaced by 77 orderly striped farms with newly built cottages. Five miles of a boundary wall, averaging 5ft6in in height, as well as some fifty miles of lesser walls and mearings reshaped the island landscape as well as providing work and income for the islanders. A herring fishery was established by the Board, improvements were made to the breeding stocks of the islands sheep and cattle. By the turn of the century, Clare Islanders were able to purchase their new holdings, as well as paying their rent arrears. By 1901, probably for the first time in its long history, Clare Island was home to a population of land-owners.

Using Clare Island as a focal point, this years Symposium aimed to explore the work of the Congested Districts Board.
Under the guidance of Ciara Cullen and Peter Gill, of the Centre for Island Studies, Dr. Seamus Caufield, archaeologist, Pat Ewen, environmental planner, Criostoir Mc Carthaigh, folklorist, Dr. Kevin Whelan, historical geographer, and the islanders themselves, the modern landscape has been explored and compared with the intricacies of rundale.
The format for the weekend was multidisciplinary, combining lectures will illustrative fieldtrips to various sites on the island to take a comprehensive look at the positive and negative effects of these changes.

Clare Island Symposium wishes to thank FAS and Clare Island Seafarms for their support.