1. Symposia / Historical Safaris

3. Research

4. Surveys
Royal Irish Academy

7. Folklore

9. Contact us

11. Links
Teach Solaís - "Teach Eolaís
4rth Annual Clare Island Symposium - 3, 4 & 5 September 1993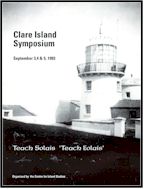 A paper on the "Placenames and Family Names of Clare Island" was read to the members of the Royal Irish Academy on January 27, 1913. The author of the paper was professor John Mac Neill. His informant on the island had been Padraic Mac Thuathail, born 1841, who had guided him on a cruise around the island. Near "an chailleach crom" ("the stooping hag") and "ail na bo" ("the cow's cliff), they observed Clare Island Lighthouse towering above them. On asking its name, Padraic Mhac Thuathail said, "Teach eolaís". Mac Neil found this an "interesting alternative (i.e. "house of Guidance" instead of the more usual "teach solaís" or "house of light")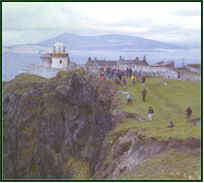 The Clare Island Symposium, 1993, explored the history and role of this "house of guidance" on Clare Island and of the influence of lighthouses in general.
Under the tutelage of David Cabot, Peter McIlwaine, Jacky O'Grady, Bill Scanlan and others, there were talks given in the Principal Keeper's quarters of Clare Island Lighthouse.
There were also field trips along the cliffs and to the lighthouse cove.
Sponsors: Allied Irish Bank, BP nutrition,Clare Island Sea Farms, Emerald Sea Farms, ESB, Keelings Fruit Co., Sean O'Connor,T&J Oil.