Cobh Town
A visitor's guide
Cobh (pronounced Cove) is a town on the south of Great Island in Cork Harbour, Ireland. Cobh is a cruise liner port of call with over 50 liners visiting each year. Having a population of around 11,000 inhabitants, it lies approximately 13 miles by road from Cork City. Cobh is served by a rail link to the city via Fota Island and Glounthaune. A car ferry crosses the River Lee from Carrigaloe in Cobh to Glenbrook. With its great natural beauty, Cobh has a centuries long maritime history and is the perfect base to visit the remarkable Spike Island. Cobh was first referred to as Cove ("The Cove of Cork") in 1750. It was renamed Queenstown in 1849 to commemorate a visit by Queen Victoria. With the foundation of the Irish Free State in 1922, the name was restored to Cobh - Google Maps. In 1831 King William IV granted the Cobh based Cork Yacht Club the privilege of using the prefix "Royal" and it became known as the Royal Cork Yacht Club - the oldest yacht club in the world, now based in Crosshaven. Leisure activities in Cobh include, tennis, golf, sailing, angling, swimming, rowing, team sports and many other clubs and groups.
For many years Cobh was the port of Cork and has always had a strong connection with Atlantic crossings. In 1838 the Sirius, the first steamship to cross the Atlantic, sailed from Cobh. The Titanic made its last stop here before its fateful journey in 1912. When the Lusitania was torpedoed off the coast of County Cork in 1915, it was to Cobh that many of the survivors were brought and the dead buried. Cobh was often the last sight of Ireland for emigrants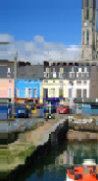 Cobh was also the emigration point for 2.5 million Irish citizens who left Ireland for the United States or Australia. The first immigrants to a new life in America started their journey in Cobh. Cobh is now a favoured port of call for cruise liner passengers because the ship is docked a two minute stroll from the centre of a town. The railway station is adjacent to the quayside with hourly connections to Cork city so that passengers have the choice to set their own itineraries.


Current Cobh Weather


LINK to this site

Visitor
Derry O'Donovan
The chilling last words of 19-year-old Jeremiah Burke from Glanmire, Co. Cork, were slipped into a bottle not read until a year after his death on the Titanic. Now, the emotional artifact is on display at Cobh Heritage Centre. Using the bottle of holy water that his mother gave to him when she saw him off in Cobh, Burke used one of his very own shoelaces to tie it up and threw the letter overboard.The letter simply reads: "From Titanic, goodbye all, Burke of Glanmire, Cork."