Sléibhte Mám Tuirc - Maamturks


Cnoc na h'Uilleann circuit

Leenaun Horseshoe

Corcóg
Na Béanna Béola - Twelve Pins


Binn Bhán

Binn Leitrí

Binn Leitrí and Binn Gabhar

Gleann Éidhneach horseshoe

Gleann Éidhneach half horseshoe

Gleann Chochán Horseshoe - "the Derry Clare horseshoe"
Ben Choonas


The Famine Road - Killary Harbour

Lough Fee to Kylemore Lough
Others

Leic Áimhréidh

Tully Mountain

Binn Gorm

Cnoc Mordain

Maol Réidh
©1997-1999 Eoin Delaney
Note from Author
This home page is a summary of some of my favourite walking routes in the Connemara mountains. The idea is to provide a sample of interesting walks with route descriptions and photographs. Estimated walking times are given for each route. These estimates are based on the average walking speed of a person with reasonable fitness and reasonable walking experience.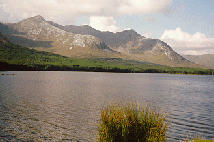 I must remind you, never to go walking in the mountains alone, and always go with an experienced hillwalker or mountaineer. A good compass, map and map reading skills are essential. Emergency food supplies, good quality clothing are also a must. I recommend, if you are planning a walking trip in this area, that you purchase a proper walking guide and a good map (OSM) from selected bookshops or adventure sport outfitters.