Keane
of
Kilnamona

Kane family, Waterbury, Connecticut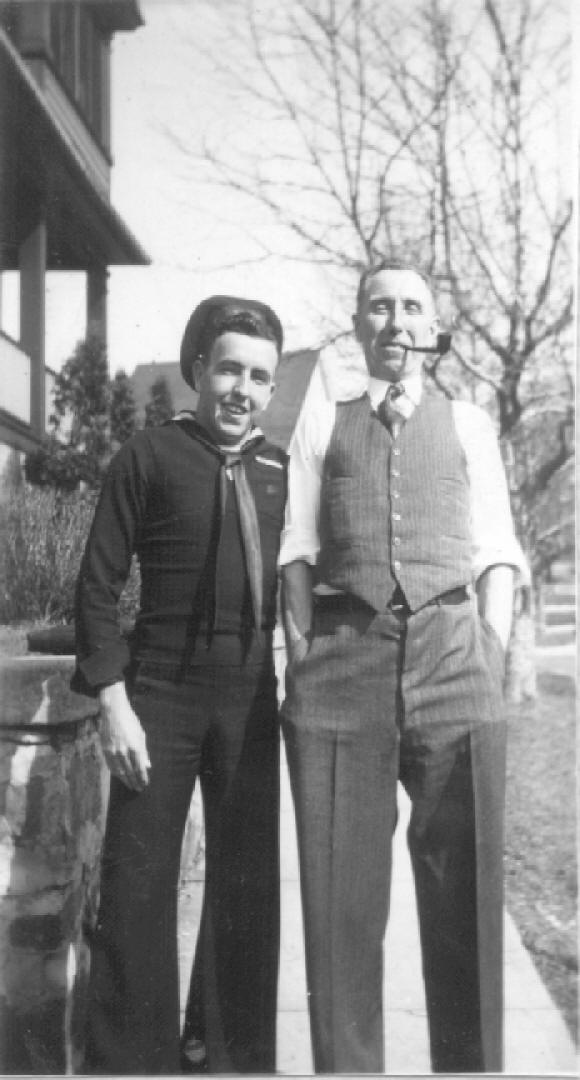 In the 1911 census Matthew (Matt) Keane, son of John and Susan (nee McMahon) Keane, Ballyashea, Kilnamona lived as a farm servant, aged 20, with the Cullinan family of Derroolagh, Dysert (now Kilnamona). Aged 23 years in 1914, he emigrated to the USA (see Ellis Island records, where his address is given as Ennis, and surname Keane). He settled in Waterbury, Connecticut.
Matt adopted the surname of Kane in the US. Matt first worked at Seth Thomas Clocks in Thomaston (probably employment secured through his aunt Katherine (see Aunt Lauriet), and in 1916* moved to McCoy's, Waterbury, Connecticut, where he was employed polishing, refinishing and otherwise restoring pianos to their original lustre . He was experienced with walnut, mahogany, fumed oak, golden oak, ebony and other finishes. Matt became an institution at McCoy's Inc. where he was employed for 42 years until his retirement in 1958. Matt was married to Mary Kennelly from County Limerick and they had five in family:- John, Donald, Catherine (Kay), Tommie and Frankie.

Above: Matt with his young son Donald about 1940
- -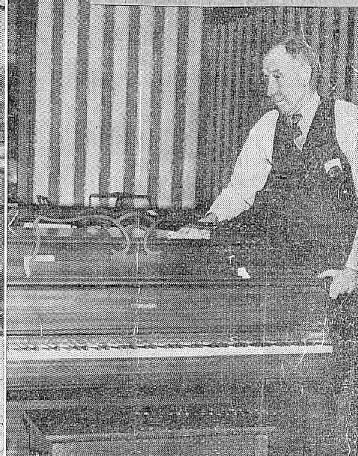 *Matt was a veteran of World War I, having served with the Army Medical Corps in France. He was a member of Disabled American Veterans (suggesting he was wounded in the war!), a member of the American Legion, Charter member of Irish American Social Club, and a member of Washington Park Community Clubs and the Earbenders. Matt died in February 20th, 1961 and Mary died in 1968; both are buried in Waterbury.

Left: Copy of Newspaper reproduction of Matt in his fourth floor workshop at McCoy's seen putting the finishing sheen on a mahogany upright piano.
- -
Kane family line:-
1st generation, 1890's - 1960's

Matt Kane and Mary Kennelly

2nd generation, 1920's/30's ®

John

Donald

Catherine

Tommie

Frankie

married (m.) Anne(1948). ret. to Vero Beach, Fl
(deceased),

Waterbury (m.) (deceased);

(Kay Stasonis):-
husband, Al;
retired to Vero
Beach, Florida.

Florida

Waterbury, (m.) Anne Fitzgerald (Kerry)

3rd generation, 1950's/70's ®

Family

Family

Family

Family

Family

Mary**, m., Prospect Conn.
Joe, m., Rhode Isl.

Mary,m. W.bury
Jay, Rhode Isl.
Eileen, m., Waterbury; Betty, Martha's Vineyard, MA

Bob1, m., Boston;
Marge*, m., Col.;
Billy, m., W.bury
Katherine, m.,
Laguna Beach, Cal

Matt, m; Waterbury
Tom, Boston;
Brian4, W.bury

Donald, Waterbury
Gary, Boston
Kerry Anne, Southington, Con.

4th generation, 1980's/00's ®

Families

Families

Families

Families

Families

?

?

Bob's family
Gary2, m. El Segundo, Calif.; Christopher, Hillary, Boston

?

Donald & Jackie
Andrew & Patrick
- - - - - - - - - - -
Gary & Pam
Atticus, Gracie
------------------
Kerry Anne & Andrew
Kitty & Emily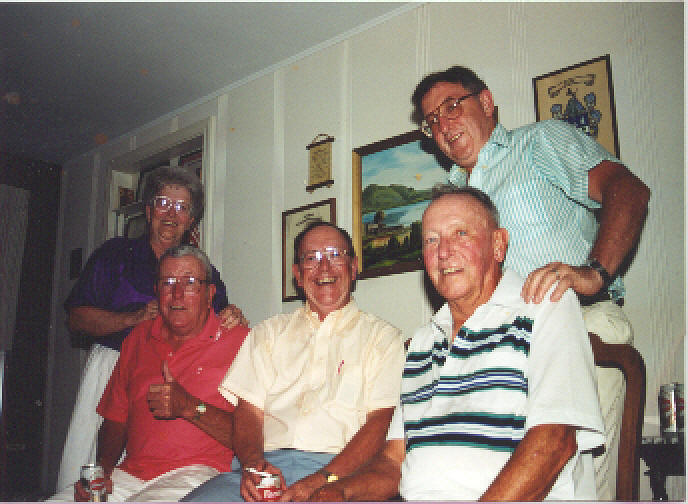 Left: Family of Matt Kane, Waterbury, Connecticut Kay (Stasonis), Don, Frank, John and Tom Kane. Photo taken in 1990!!
More on Matt's family:
John: The first child of Matt and Mary, born ~1924, John served in the US army in Germany in the 1940's following World War II. While there John visited his relations in Co Clare, Ireland. On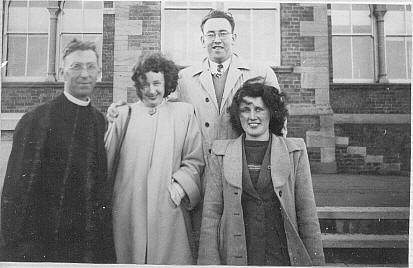 returning to the US, John resumed his work in the U.S. Post Office. Soon, in 1950 he married Ann Delaney (first generation American whose people came from Abbeyleix, Co. Laois) and they visited Ireland for the second and last time on his honeymoon. John played baseball/softball and loved sports. They had two in family, Mary (Florida) and Joe (m/b, Carolina, Rhodes Island). John and Anne retired to Vero Beach in the early 1980's, Florida where he remained until his death in 1998. Anne, who had poor health, predeceased by a number of years.
Above: John and Ann on their honeymoon in Ireland in 1950 seen here on a visit to Waterford to meet Brother Thomas and cousin Angela.

Donald: Born ~1925, Donald married Catherine McSorley who died in 1975. They had four children, Mary (nurse, married (Italian) with one boy in family), Jay (deep sea diver, married with two boys), Eileen (married (Italian) with boy and girl) and Betty (pastry chef, unmarried). Donald worked with Electric Power Company at cable spice centre. Donald played golf. He remarried in the late 1970's to Evelyn.
Kay: Kay was born in 1926. She married Alfred (Al) Stasonis (Lithuathian). They had four children, Marge, Billy and Catherine. She loved jokes and company. Kay and Al retired to Vero beach in the early 1990's. She died in 2007 at the age of 81. Al died in 2011.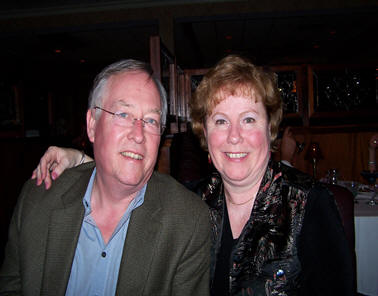 Bob and Maryln( (nee Mulligan). Bob had two son's from first marriage, Gary2, ow in Eagle Mountain, Utah. Married (to Rehna) they have three children (eldest born 2002). Chris, second son of Bob is married to Hillary ? and lives in the Boston area. Both he and his wife are involved in IT and web programming.
Over: Bob and Marlyn, 2001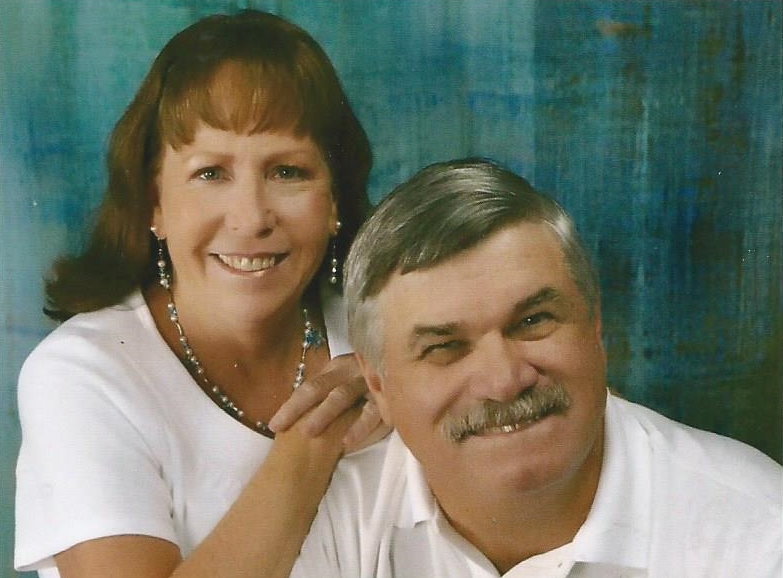 Marge is married to Leo Enderle and has moved from Colorado to live in Vero Beach, Florida, nearby to her father Al and late mother Kay. She has two in family from a previous marriage (Jennifer and Jason) who in turn are married with family.
Over: Marge and husband Leo, November, 2011
-
- -
Catherine: Cathy , married Jim Flynn. They have moved from Boston area to California and have two girls.
Tommie: Tommy married Henrietta Christiani (Italian). He worked in the Production Control Department in a factory making switched and timers. He had family, Matt (butcher,1st wife died of diabetes), Tom (Communications)and Brian (married, Boston, two in family, boy and a girl)). He has now retired to Edgewater, Florida.
Billy
is married to Jacky, Waterbury, they have two children, boy and girl.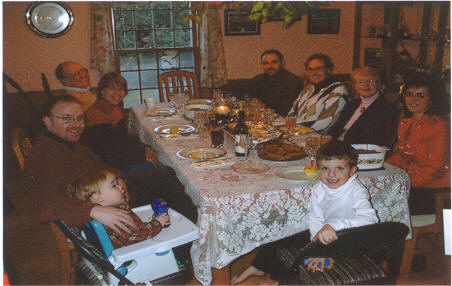 Frank: Frank married Anne Fitzgerald (from Fenit, Co Kerry) and they had three in family, Don, Garry and Kerry Anne. Frank visited Ireland thirteen times. Frank was in manufacturing production as sales and warehouse manager. Frank took up golf in later life. Frank continues to live in Waterbury. Their family :Don (Donald) , Waterbury; Gary (Architect), Boston; and Kerry Anne, Southington, Con. (married to Andrew Brush). All have family of their own.
Above: Frank Kane Family at dinner (at Don's), Christmas 2001
Above information courtesy Frank and Bobby.
Updated April 9, 2009; last updated 2014