Page created 15 September 2001
EDWARD LAW
WILLIAM HENRY CROSSLAND, ARCHITECT, 1835-1908.
Part 1.
(Introduction and his Huddersfield origins)
Foreword. This essay is the result of several years research which was written up about 1992 and has not been updated since that time.
INTRODUCTION
Something of an enigma, William Henry Crosland is remembered principally for three buildings. Architects and architectural historians have shown sporadic interest in him but have had to confine published material almost entirely to his three masterpieces. There seems to have been no determined attempt to identify his background, his personality, his family life.
Published material is limited to short articles. The most exhaustive of these in general terms is an article by William Grime which appeared in the Rochdale Observer in August 1971. Crossland designed the Rochdale Town Hall and it appears to have been the approaching centenary of the opening of that building which led to Grime's interest. His opening paragraphs summarise the extent of knowledge of Crossland at that time, or rather the lack of it:
Although a master of his profession and one of the leading architects of his day, William Henry Crossland, FRIBA, still remains something of a mystery. Neither the date and place of his birth nor when and where he died have ever been ascertained.

The statement by the late Mr James Maxim, in his book "The Rochdale Town Hall" that Crossland is believed to have died destitute in Liverpool, having found greater attraction in drink than in his art, is refuted by Sir John Betjeman, who states that his enquiries at Somerset House failed to produce a death certificate. He believes that Crossland, a much travelled man, may have died abroad, and no obituary has yet been found elsewhere.

A pupil of Mr (later Sir) George Gilbert Scott, RA, Mr Crossland became a fellow of the Royal Institute of British Architects in 1887 and disappeared from their records 30 years later, about 1895.
Having admitted the deficient knowledge of the man Grimes then provides a good general sketch of Crossland's career, listing many of the churches which Crossland built or restored as well as examples of his secular works.
John Betjeman's research, which Grime noted, was for an article in the Weekend Telegraph "Palaces from Pills", which opens:
Hidden among Surrey conifers and birches are two of the most amazing buildings in Britain. They are the result of the munificence of a patent medicine vendor, Mr Thomas Holloway (1800-1883), and the genius of his architect, Mr William Henry Crossland (1823?-1895?), a pupil of Sir Gilbert Scott. The two buildings are within a few miles of each other - the Holloway Sanatorium (1871-85), Virginia Water, and the Royal Holloway College (1883-88), Egham.

They have to be seen to be believed, and once seen they haunt the mind like a recurring and exhalting dream.
The tentative dates given for Crossland clearly show the lack of success which attended Betjeman's research even had he not later in the article recorded "Holloway's architect, Crossland, seems to have been a likeable, exhuberant person, but exactly where and when he was born and where and when he died, and whether he married and had children, I cannot discover." Although Betjeman adds virtually nothing to our knowledge of Crossland as a man the article does give an interesting resumé of the life of Thomas Holloway, the founder of the two institutions.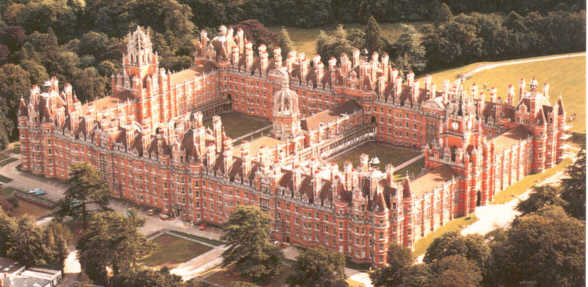 Royal Holloway College.
In October 1986 Country Life carried an article "Mr Holloway's Chateau" by J Mordaunt Crook, in commemoration of the centenary of the opening of Holloway College in 1886. The article gave a little background on Holloway but virtually nothing relating to Crossland mentioning him only as the architect of the building; the author, however, gave the correct dates for Crossland, 1835-1908.
Another article relating specifically to Royal Holloway College was An Architectural History which appeared in Surrey Archaeological Collections, again in 1986. A learned treatise which looks in depth at the design, influences and sources; the principal information on Crossland is given in the form of a note:
William Henry Crossland remains a relatively undocumented figure among Victorian architects. Although a frequent contributor to building journals and a Fellow of the RIBA, no records from any of these sources throw light on his dates of birth and death. The year of his birth has been given as 1823 both by R Dixon & S Muthesius, 1978, Victorian Architecture, 256, and by R Gradidge, 1969, Check List of Architects, compiled for the SPAB and the Victorian Society. Crossland may well have been a native of Leeds. H R Hitchcock, 1954, Early Victorian Architecture in Britain, 462, suggests that he was probably responsible for designs for Copley, the model industrial village near Halifax, while still working in G G Scott's office in the early 1850's: but the Building News of 7 February 1890, which carries the most complete list of Crossland's work (doubtless drawn up by the architect himself), fails to mention Copley while stating quite specifically that he designed Akroydon, Halifax, a second and similar project by the same benefactor (built 1861-3). He was elected FRIBA in 1867 and seems to have moved to London in about 1869. The vast majority of his works are in Yorkshire: see D Lindstrum, 1978, West Yorkshire Architects and Architecture, and N Pevsner, 1967, The Buildings of England: West Riding 2 edn. His three most important commissions were Rochdale Town Hall, 1866-71 (see J L Maxim, 1959, Rochdale Town Hall: not very helpful). The Holloway Sanatorium, 1873-85 (both of these won by competition), and the College. His last years have been the subject of conjecture in view of the fact that he disappears from the records of the RIBA after 1895. He is variously said to have gone bankrupt, to have drunk himself to death in Liverpool, and to have died abroad. Gradidge gives the year of his death as 1908, Dixon & Muthesius as 1909. It would be interesting to have more information about the man described in 1887 by the President of the RIBA as having 'led the ideal life of the architect, with a munificent patron, almost unlimited means', the pleasures of travelling with his patron, and the satisfaction of 'carrying on his work in (such an) agreeable manner' (The Builder, 2 April 1887).
It is surprising that with the.pointers to the year of Crossland's death only Betjeman appears to have pursued the obvious line of research: to obtain the Certificate of Death. He drew his limits too narrowly or would have discovered it in 1908. It may be in fact that J Mordaunt Crook followed this course, the age at death would enable computation of the year of birth, which he gave, and which is thought not to have been previously known.
Probably the first published item, other than newspaper articles, to deal with one of Crossland's works was an article The Royal Holloway College which appeared in RIBA Transactions Vol III New Series, 1887, written by W H Crossland, Fellow, Architect of the Building. Unfortunately for the historian Crossland confined himself largely to the subject and its main value lies in the fact of its authenticity.
The foregoing are the principal published works dealing with Crossland and his works. There are, or were, however, two unpublished theses, the first was prepared by S Coneron, dated 1971 and was stated to be held at Gypsy Hill College, Kingston upon Thames: it cannot now be traced. The second thesis is the most exhaustive and detailed examination of Crossland's works; it was submitted to the University of Manchester by Miss L J Whitaker in February 1984 for her M.A. It is now held at the University Library.
HUDDERSFIELD.
Crossland's origins were first noted whilst working on an essay on early Huddersfield architects. The principal source was the 'contracts' section in the classified advertisements of the local weekly papers, supplemented by news reports of stone-layings, official openings, church consecrations and such like where they could be dropped upon. In examining the Huddersfield Chronicle for 1856 an advertisement was noted at 22nd March for the opening of Cowcliffe and Netheroyd Hill Church of England School. Examination of the subsequent issue of the paper revealed a report of the opening on the previous Monday which recorded that "the plan was gratuitously furnished by Mr W H Crossland, son of Mr Henry Crossland of Longwood House and pupil of G G Scott esq., London". It was most fortuitous that the advertisement was noticed for there was no entry in the contracts section, and the report was of importance in several ways.
For readers with local knowledge it must be pointed out that Longwood House is situate not at Longwood but at Netheroyd Hill. Longwood House was a substantial house and has a history going back at least to the early seventeenth century. It was owned by the Thornhill family of Fixby Hall who rented it out: there is still a substantial house on the site. John Wesley was a visitor at the house when it was the home of John Whitacre, his first visit being in August 1781. As with many of the larger houses of the district it became adapted to the textile trade, if it had not always been so used to some extent in an area where farming and weaving were commonly joint occupations. The following advertisement appeared in the Leeds Mercury of 7th March 1818:
To merchants and manufacturers, Longwood House near Huddersfield, to be let with weaving-shops, dyehouse, dressing shops, dryhouse, tenters etc. and 50 acres. If not let will be divided for three manufacturers. Apply Mr Robert Oastler, Leeds or Mr George Crowther, Fixby Hall.
Robert Oastler was father of Richard Oastler the 'Factory King' who was later to be the Thornhill's resident agent at Fixby Hall. Longwood House had previously been let to three merchants who traded as Roberts, Green and Dyson. John Roberts, a partner, lived at Longwood House and one Sunday morning in August 1813 he "went into his garden and putting the muzzle of a gun below his ear blew out brains that had been derainged by severe mercantile losses".
The date of Henry Crossland's arrival at Longwood House is not known. That he was there in 1841 is confirmed by the census, in which he was described as a stone delver. Also in the household were his wife Ellen, sons James and William, James Wilkinson, a stone delver in his early twenties who may well have been his brother-in-law, a female servant, Sarah Halstead and a labourer, Henry Tiffany.
It is possible that Crossland's stated occupation was something of an understatement, his residence at Longwood House suggests at least a certain financial standing. In March 1845 the local agent of the Ramsden Estate, the principal land owners in Huddersfield, wrote to his superior "I have let off a quarry at Cowcliffe on pretty good terms to a respectable stone merchant". Subsequent correspondence confirms that the respectable stone merchant was Henry Crossland. We may assume that he was in a reasonable way of business and held in some esteem to be mentioned in those terms by a man whose postion might rest on such statements. The 1851 census gives confirmation that he was in a good way of business, he is noted as a farmer and quarry owner employing twenty men, and perhaps most tellingly his sixteen year old son William H was a scholar: this at a time when schooling into the teens was the exception rather than the rule.
Henry Crossland appears to have been born in Elland. In the 1851 and 1861 censuses his place of birth is stated to be Halifax, whilst in that of 1871 it is given as Elland, an ancient township within the parish of Halifax. There are noted stone quarries in the area. Elland Edge stone had been worked for centuries and across the valley the stone quarries of Cromwell Bottom were to provide stone for the building of London Bridge and the paving of Dublin.
Henry Crossland was married on 19th August 1832 at Huddersfield Parish Church to Ellen Wilkinson when both were said to be of that parish: he was able to sign the register, Ellen made her mark. One of the witnesses was a Joseph Crossland and both he and the groom spelt their surname with a double S, (Crosland being the more usual form in Huddersfield) he may well have been Henry's brother. Ellen was born in Lindley in which village Wilkinson was a common name, we have already noted a James Wilkinson living with the Crossland family in 1841; in 1861 Ellen's niece Sarah Ann Wilkinson was staying with her and it may well have been Sarah Ann's sister Mary who was a servant in William Henry's household that same year.
In the 1841 census William, and it would appear from this return and from the report of the opening of the Cowcliffe school where he is called Mr William Crossland, that he was known as William rather than Henry, was stated to be aged five; in the 1851 census to be aged sixteen, and at his death on 14th November 1908 his age was given as 73. From these three pointers we can deduce that he was born between 8th June and 14th November 1835. In all censuses from 1851 to 1881 his place of birth is given as Huddersfield. It is as well that there is no ambiguity over parentage, date or place of birth, for despite extensive searches no record can be found of his baptism, or indeed that of his brother James. Henry Crossland was several times churchwarden at St. John's, Bay Hall, in the 1850s and 1860s from which circumstance one might well have expected to find his sons baptised. It is possible that they were in fact baptised in Halifax parish which is very extensive, and if by any chance he had come to the Church of England from non-conformism his children's baptisms may have taken place in one of the multitude of chapels in the Huddersfield or Halifax areas.
Crossland's birthplace lay on an eminence overlooking what in those days would be a very rural area, despoiled more by the sandstone quarries than by mill chimnies. Close by were the woodlands of Fixby Hall and of Bradley Park, possibly the remnants of the long wood from which the house took its name. Whether Crossland enjoyed in his youth the country pursuits which would be available we do not know; in later life he undoubtedly did. He wrote with evident delight of having the Mount Lee estate at his disposal and Windsor Forest for an exercise ground and also told of hunting and fishing in Nova Scotia. Nothing is known of his education, other than that he was still receiving it at the age of sixteen. There was choice of three secondary schools in the immediate area, the old established Fartown Grammar School and two proprietory schools both of which had been established in 1838: Huddersfield College and Huddersfield Collegiate School. If Crossland went to one of the latter, and it is probable that their modern syllabuses would have appealed to a man of Henry Crossland's practical calling, it would almost certainly have been the Collegiate, for the two represented differing religious convictions. The College was founded by men of "various religious opinions", the town's nonconformists, and the Collegiate was very much Established Church.
There is another reason for supposing that Crossland may have attended the Collegiate School. The Rev. Josiah Bateman, the Vicar of Huddersfield from 1840 to 1855, was Chairman of the Govenors of the school. Josiah Bateman was the son of William Bateman and great grandson of Hester Bateman, both noted London silversmiths. His autobiography, Clerical Reminiscences, tells of a connection which may have been the making of young William Crossland. Recalling the proposal of the Starkey family to erect a new church at Longroyd Bridge, near Huddersfield, Bateman wrote "I was at once in communication with Mr (not then Sir Gilbert) Scott whose father had been my tutor, and he, a friend from his boyhood; and he sent beautiful plans for choice". [I subsequently discovered that Crossland attended Huddersfield College. In the prizegiving of that establishment in June 1851 he was awarded a silver pen, a prize awarded annually for the best penmanship.]
There is no evidence of the circumstances in which Crossland became articled to Scott but there does seem a strong possibility that it arose through the friendship which existed between Scott and the local vicar. If Bateman did not effect the introduction personally then it may well have been made on one of Scott's visits to Huddersfield in connection with the new church. If we may judge from the later practices of his pupil, Scott would make himself conversant with the local stones and may have met Henry Crossland in this regard.
Entry into Scott's office called for the payment of a substantial premium; when T G Jackson commenced in 1858 he paid 300 guineas. We have seen that Henry Crossland was in a fair way of business and the raising of the money was probably no great hardship, what might have presented greater difficulty would be to convince him that such an outlay was worthwhile. One can imagine that a provincial stone merchant whose money was earned by hard physical labour might be sceptical of the intangible future benefits which might accrue to his son from the outlay of 'good brass'. His outlay of course would not be limited to the amount of the premium, he would have to provide for lodgings and subsistence for his son whilst in London which would be a significant expense.
Whilst the premium would be one prerequisite for entry into Scott's influential practice, another would be talent; no doubt Scott could have filled any vacancies many times over. The principal expression of talent of the would-be architect is drawing and it may well have been an extraordinary ability in that sphere which gained the entrée for William Crossland. Whether Bateman learnt of that talent direct from Henry Crossland, who was churchwarden in an adjoining parish, or whilst presiding over the annual prize givings at the Collegiate school, no doubt he would voice his opinion on the prospects which such a favourable placement would open up.
As evidence of Crossland's artistic talent we need look no further than the record of Royal Academy exhibitors where he is first noted in 1855 with a view from Erasmus Chapel, Westminster Abbey. He did not exhibit again until 1869 when he had returned, or was about to return, to London, but regularly exhibited examples of his work over the next fifteen years. There is evidence that he sketched widely in the area round Huddersfield. In a report prepared in 1872 of the proposed restoration of Almondbury Parish Church, a parish adjoining Huddersfield, he wrote "Studying photographs and my own sketches some years ago, I could not make out why this Church should be so different to any other Parish Church of equal importance within a radius of twenty miles, in its lacking embattled parapets and pinnacles".
or return to Homepage