Page created 15 September 2001
EDWARD LAW
WILLIAM HENRY CROSSLAND, ARCHITECT, 1835-1908.
Part 2.
(Training in London & practice in Halifax and Leeds)
LONDON - TRAINING.
When Crossland exhibited at the Royal Academy in 1855 his address was given as 7 Albert Street; this was probably in Camden Town close to the area where he was eventually to live when practicing in the capital. We do not know the precise period of his training, he was in London in 1855 and 1856, and sometime before November 1858 had set up in practice on his own. It has been said that his first practice was in Huddersfield; whilst this would seem logical as his place of birth and upbringing, where he might be expected to have contacts of his own as well of those of his father, no evidence has been seen to support the statement. If he did practice in the town it must have been for a very short period for he was working from Halifax by 1858.
We know that Crossland was in Huddersfield in March 1851 and that he was in practice by November 1858, The maximum period of training which he could have received with Scott was seven and a half years, and it was probably something less than that. It is probable, however, that it was at least four years, which was at the time the usual period of articles for architectural pupils. There can be no doubt that Crossland had a natural aptitude for his chosen profession and Scott's office at that time must have been the ideal training ground. Scott's success dated from the early fifties and he quickly became pre-eminent in the profession. The five years from 1853 yielded more commissions for new churches and restorations than the average architect would see in a lifetime. A pupil who joined the practice shortly after Crossland's departure has left an enlightening account:
Scott's office was a very large one. Counting pupils, salaried assistants, and clerks, I think we were twenty-seven in all. I was put to work in the first-floor room at the back with six others; there were about a dozen more in two rooms on the second floor; the ground-floor front room, which served also as the waiting room, was the sanctum of Mr Burlison, the head man, who made the estimates and surveys. Scott's own room was the ground-floor back, and farther back still were the writing-clerk and the office-boys. The front room first-floor was let to a Mr Moriarty, a barrister, a mysterious person whom we never saw. Of Scott we saw but little. He was up to the eyes in engagements and it was hard to get him to look at our work. I have seen three or four men with drawings awaiting correction or approval grouped outside his door. The door flew open and out he came: 'No time to-day': the cab was at the door and he was whirled away to some cathedral where he would spend a couple of hours and then fly off again to some other great work at the other end of the kingdom. Now and then the only chance of getting instructions was to go with him in the cab to the station. I see I wrote at the time, 'What a fine thing it is to be so busy'; but looking back from my present standpoint I find nothing in such a career to envy, and much to wonder at. It need hardly be said that it is an impossibility really to direct so large a staff as Scott's; but the work had of course to be done somehow. The heads of different rooms were capable men with a good knowledge of construction; Scott had a wonderful power of making rapid expressive sketches and from these his men were able to produce work which, curiously enough, did fall into something of a consistent style that passed for Gilbert Scott's and which one can always recognize wherever one meets with it as coming from that office. There are many amusing tales which show the slight acquaintance he had with what came out of his office: how he admired a new church from the railway carriage window and was told it was one of his own; how he went into a church in process of building, sent for the clerk of works, and began finding fault with this and with that till the man said, 'You know, Mr Scott, this is not your church; this is Mr Street's, your church is farther down the road'.
From Crossland's subsequent ability we may presume that he was a valued pupil and in the fast moving environment of Scott's office he no doubt received much delegated work and responsibility. That experience must have been of great benefit in preparing him for an early entry into his own practice, when he would have to stand or fall by his own endeavours with no support from colleagues, no guidance from an experienced genius. It was with this background that, at the age of twenty-three he embarked in practice on his own account.
It is a strange coincidence that George Woodhouse, a contemporary architect, who exhibited this same early talent was born at Lindley, the native village of Crossland's mother, not two miles distant from Longwood House. Woodhouse was born c.1829 and moved to Bolton in Lancashire at the age of fifteen. He became an articled pupil, and made such a contribution to the practice that he was taken into partnership even before the expiry of his articles. By the time he was twenty-three he had dissolved the partnership to commence business for himself. When he died in 1883 it is said that he had designed more mills than any other man in Lancashire, including some for Canada and other overseas countries. He designed over thirty chapels, many of them in Lancashire but also in Yorkshire, Cheshire, Staffordshire, Oxfordshire, Northamptonshire and Warwickshire. He entered the competition for Bolton Town Hall and although the first premium was awarded to Hill of Leeds, Professor Donaldson, the judge, who was to be an arbiter in the competition for the Virginia Water Sanatorium, recommended that Woodhouse's interior plan be matched with Hill's exterior design and the two became joint architects.
HALIFAX.
It is not known what prompted Crossland to practice from Halifax. Although White's 1853 directory lists virtually the same number of architects working in Halifax as Huddersfield there may have been other factors which made Halifax the more attractive proposition at that time. Huddersfield was in a unique position in having virtually only one ground landlord; the Ramsden family owned, with two small exceptions, the whole of the land on which the town of Huddersfield stood. They had opened up new parts of the town for development in the l840s, spurred by the arrival of the railway. Significantly, in doing this they granted leases which reserved to them the right to exercise building control, with particular reference to design. They laid out the development in grid form and all proposed designs were submitted to their representative for approval. The vetting was not a mere formality, anything mean or out of harmony was rejected. The Ramsdens retained William Tite and later Edward Blore, both London architects who were to receive knighthoods, to control the elevations, and up to 1860 all the new buildings were in the classical style. We may be sure that Crossland was aware of all this, his father would be in regular contact with the builders and architects in the town and with the Ramsden estate's local agent and surveyors.
Whilst the foregoing may have influenced him against commencing in Huddersfield there may equally have been factors which worked in favour of Halifax. Crossland would know that there were in Halifax wealthy industrialists of a philanthropic nature not averse to commiting their money in beautifying the town and improving the lot of their labour force. During Crossland's period in Scott's office Scott had been commissioned by Edward Akroyd to build All Souls Church and vicarage and had also entered the competition for the design of Halifax Town Hall. It is likely that Crossland with his northern background assisted in these projects and had met Akroyd; no doubt he also knew of the model village in gothic style which the Akroyd family had already erected at Copley. Perhaps he recognised in Halifax a feeling for gothic architecture which was not evident in Huddersfield.
Whatever the reasons, Crossland was practicing in Halifax by 1858. The first known design from his office was for a church at Bradley, a village near Huddersfield close to his family home. The church was planned in 1858, though the advertisement requesting tenders for the work did not appear until September the following year, probably having to wait until such time as sufficient money had been raised to assure the promoters of achieving their object. The church suffered further delays in the building due to a strike of masons and, it is said, because the building committee wished to employ only local contractors. In fact the main contractors, the stone masons, were a Bradley firm, the subsidiary works being provided by tradesmen from Huddersfield and Halifax. It certainly seems to have been Crossland's practice in future works to place contracts locally wherever possible. The church, which had cost £2,000, was consecrated in August 1863 and in 1865 Crossland added a spire and a bell-chamber at a further cost of some £400.
On 1st October 1859 Crossland married Lavinia Cardwell Pigot at the Parish Church of St Pancras. Her father, Henry Pigot, who was then dead has not been identified but it would seem that Lavinia was from a prosperous family. Her mother, also Lavinia, was the daughter of John Cumberland, gentleman. In her will she left ten properties in the parishes of St Pancras and Islington. In 1850 she had remarried; her second husband was Robert Monach, a surgeon, who was one of the witnesses at Crossland's marriage and with whom he seems to have been on good terms. Crossland gave his residence at that time as St John's, Huddersfield, from which it would appear that although he was practicing in Halifax he was still living at Longwood House.
It is probable that the couple set up home at 6 Trinity Place, Halifax, where they are recorded in a directory of 1861, the information for which was probably assembled in the preceeding year. Crossland's office was in Harrison Road, a select area where professional offices were mixed with private residences. A short walk away was Trinity Place, an elegant parade of fifteen houses which still stands. The Crosslands' neighbours were principally people of independent means; there were several tradesmen, one solicitor and two clerics: number 15 was in fact the Parsonage for Holy Trinity Church.
On the 10th July 1860 Crossland's first child was born, a daughter, Maud Helen. The event provides one of a number of mysteries which still surround Crossland and his family: the birth does not appear to have been registered. Census returns show that she was born at Halifax, but there is no record of her registration there, nor does she appear in the indexes at the General Registration Office. A record of her baptism does not appear in the registers of either Halifax Parish Church or Holy Trinity; baptism was not obligatory and could in any event have taken place anywhere.
The 1861 census records the little family at Trinity Place. The presence in the household of two servants does not necessarily point to great prosperity, at a time when labour was cheap. It does however suggest that they were used to having servants. The two servants were both Huddersfield born, Hannah Beaumont, thirty years old and Mary Wilkinson, twelve. The latter we have already noted may have been a relative of Crossland on his mother's side
Crossland's next two known commissions were also in the Huddersfield area and one might be forgiven for thinking he had made the wrong decision in settling at Halifax. In January 1861 he advertised for tenders for two works, Nettleton's Almshouses, a row of six single-decker cottages at Almondbury, and schools at Hillhouse which were connected with St John's where his father was churchwarden. This latter is one of the very few buildings by Crossland which no longer exists. The site can be identified and there remain in fact some courses of stonework and a window.
The benefits of Crossland's choice of Halifax were soon to be reaped. Edward Akroyd had thought out a scheme to provide working men with a good standard of accomodation at a cost they could afford. He had Scott furnish plans, but those for whom the houses were intended rejected the dormer windows on the grounds that they had the appearance of almshouses. Scott probably could not well spare the time to revise his plans and Akroyd wrote "In adapting the designs I employed a local architect under the supervision of Mr Scott. Fortunately I obtained the services of Mr Crossland, formerly a pupil of Mr Scott". Akroyd published in 1862 a treatise On Improved Dwellings for the Working Classes, in which were Crossland's plans and elevations as well as a "beautiful pen and ink sketch, an architect's dream of a gothic town". Clearly he was delighted with his new architect.
The village was to be known as Akroydon. The plans had been submitted to the shareholders in June 1860, the first works were advertised to let in January 1861, building began in March and the first two blocks of eighteen houses were completed by August the following year. The project continued for several years.
It was no doubt Akroyd's high opinion of Crossland which led to his next commission, a church for the model village at Copley. It was not to be built entirely at Akroyd's expense but as the largest contributor we may suppose he exerted no little influence. The church is not on an ideal site, it stands on the bank of the river Calder and at the foot of a steep bank. This site was a second choice, it was to have been on the same side of the river as the village, but the clergyman in whose parish this fell objected. So it was that it was removed to Greetland parish where no objection was raised. The ground work began in 1861 and it was October 1865 before it was consecrated. Unfortunately the effects of water descending from the bank behind it has had its toll and there is evidence of serious settlement. Akroyd paid for the chancel and the sacristy and for the decoration. He did not stint and the interior is impressive. The original estimate for the church was £3,600; of the final cost of £9,000 a great deal would be attributed to interior decoration.
1862 saw starts on a number of Crossland's designs. The main one was Holy Trinity, a new church at Ossett, near Wakefield, which was to cost over £15,000. Christ Church at Moldgreen, near Huddersfield, was a relatively cheap building at £2,400: it was planned with a view to future enlargement by the addition of a chancel with attached tower and spire at a cost of £2,000. At Hopton, near Mirfield, a new Parsonage house was erected: it has since been demolished.
LEEDS.
At some time between September 1862 and April 1863 Crossland opened another office, at 17 Albion Street, Leeds. It appears that he ran the two offices for only a very short period, for by September 1863 he was including only the Leeds address in advertisements. It is probable that by that time he had removed his family to Leeds: he is noted in a directory of 1866 residing at Roundhay. By May 1864 he had moved his office to the New Corn Exchange where he is noted in December 1865. By the following March he had moved again, to 25 Park Square where he was to remain for several years. It was while in Leeds that he was nominated for Fellowship of the RIBA, a basic requirement of which was the completion of seven years in practice. He was elected a Fellow on 28th January 1867.
Of his works in the Leeds area few are known, his principal commission was for the church of St Chad at Far Headingley. It is said that the design was actually prepared by E B Denison, later Lord Grimthorpe, who shared the cost of the erection with his father. What is certain is that Crossland superintended the work. Edmund Beckett Denison fancied himself something of an amateur architect and G G Scott had some harsh words for his meddling interference with his restoration of St George's Church, Doncaster. In 1863 Crossland advertised for tenders for a house in Cookridge Street for Dr. Craig, now demolished, and for a block of houses at Belle Vue Road. In 1865 he designed the Rectory house at Methley. The Rector at that time was the Hon. Philip Yorke Savile, a son of the 3rd Earl of Mexborough, and the property was of a size and grandeur befitting his rank. It still stands: not suited to the needs, or pocket, of a present day cleric it is now a private residence. Crossland designed Rishworth Lodge, a shooting lodge on the Lancashire/Yorkshire border for another member of the Savile family, Henry Savile: the year of that commission is not known.
Among designs which emanated from the Leeds office were several for private residences in the Huddersfield area: the gate house for Woodfield House, home of a wealthy brewer, is a villa residence which Crossland might almost have created as an advertisement it has such a multiplicity of architectural features; Bankfield House at Taylor Hill is a much plainer, more solid, house; West Mount and Marshfield a pair of semi-detached. houses standing on an eminence at Edgerton have the appearance of a massive pile, they were built for a local solicitor.
Like Scott Crossland appears to have earned a very good name as an ecclesiastical architect. In the first fourteen years of practice he designed the same number of churches, though two were not executed. Those not already mentioned were Christ Church and vicarage at Staincliffe, near Dewsbury, St James at Flockton, St Mark at Broomhall near Sheffield, which was destroyed during the second world war, St Thomas at Sutton near Keighley, St Andrew, Huddersfield, where he also designed the school and the vicarage; the latter not apparently executed, St John the Evangelist at Newsome, near Huddersfield and St John the Evangelist at Hoylandswaine near Penistone. Like Scott he also undertook church restorations. Virtually all came to him whilst he was in practice in Leeds, even the Almondbury restoration which dates from 1872 had initially been reported upon c.1864. The only one known after his removal from Yorkshire is that at Sunninghill. His restorations, which varied from almost complete rebuilding to re-roofing, were St Chad, Middlesmoor, near Pateley Bridge; St Peter, Birstall; St Mary the Virgin, Elland; St Mary, Masham; St Chad, Rochdale; St Edmund, Kellington, and All Saints, Almondbury.
Crossland's principal work whilst at Leeds was the first of his three masterpieces, Rochdale Town Hall, which he won by competition in 1864. A report of the Council meeting which chose the winning entry shows the thoroughness with which he approached the competition, noting "in addition the architect was prepared with Bona Fide builders to undertake the work for the sum named". It goes on to state that "He was the only competitor who spoke with distinctness and confidence". We may imagine that both the thoroughness and the confidence came from his training in Scott's office, when he would have been used to meeting clients from all walks of life and stratas of society.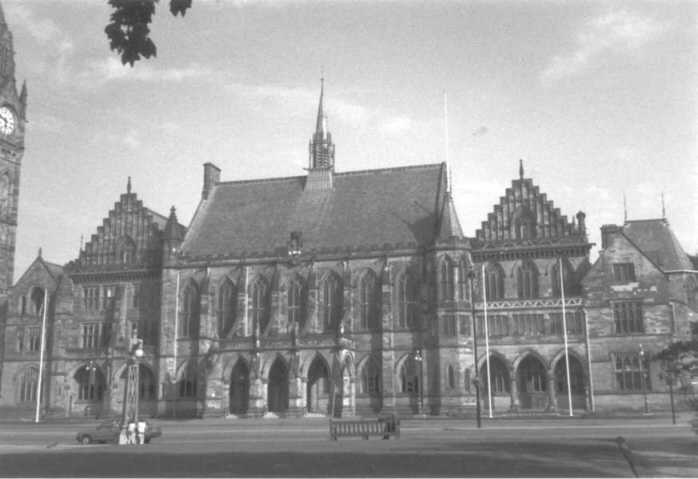 Rochdale Town Hall.
There is an illuminating letter written to the clerk of works at the Town Hall, one of the few from Crossland's pen which have survived.
25, Park Square Leeds
12 Sep 1867.
Dear Sir,
The more I reflect upon what I heard at the meeting yesterday, the more anxious I become to impress upon you the necessity of spreading a report about Rochdale contradicting the present received opinion of my character and intentions.
I look to you to do this and I feel that you will not disappoint me. Your opinion.in the future if asked for must be
1st That the works are progressing perfectly satisfactorily now.
2nd That we had some trouble at first to get Messrs Warburton to do the right thing.
3rd That we have every confidence in a satisfactory finish.
You must on no account whatever express an opinion unasked for, unless to the Chairman, beyond the above & always go to the Chairman or come to me when any difficulty arises.
I have been told that you are in the habit of telling people that the work you got at the Baths is far superior to that you are getting at the Town Hall. I do not believe it.
I should be very much annoyed if I thought you made any such remark or compared the 2 buildings in any way.
I know you have my interest at heart & beg to assure you that the report now going through Lancashire is simply ruinous to me & it must be stopped.
When the Town Hall is finished I shall I do not fear be reinstated in public favour in the meantime I trust implicitly in your acceding to my wishes.
See if the entrance gates cannot be kept locked & if necessary get Mr Ashworth to allow a Porter to be placed there.
I am
Dear Sir
Yours faithfully
W H Crossland
To
Mr James Kitchin.
A masterly letter of rebuke, but what comes through most strongly is the complete self confidence of Crossland, the sure knowledge that the beauty of the finished work would add to his standing, whatever difficulties there might be in the course of erection.
His confidence in a satisfactory outcome was fully justified which is somewhat to be wondered at considering that a building which had been planned to cost between £20,000 and £30,000 in the end cost the ratepayers of the town over £150,000! In replying to a toast to the architect at the opening banquet in September 1871 he said he felt that much more credit had been given to him than he deserved and he attributed much of the success of his work to the fact that he had under him the greatest talent in England. The actual costs on which his commission of 5% was payable was a little over £139,000; together with the premium for first place he had earned over £7,000 on the building!
His growing reputation and an increasing acceptance of the gothic style seems at this time to have brought him to the attention of Sir John William Ramsden, and in 1868 he was commissioned to design for him a block of buildings in Huddersfield, essentially to house his estate offices, but including club premises, shops and offices. Building commenced in 1868 and the final payment to the architect was made in February 1874, bringing his fees to £1,927. Closely allied to the Estate buildings was Byram Buildings a block containing shops, offices and a warehouse for which Crossland was again the architect; between November 1871 and September 1874 he received commission of £416 and travelling expenses of nearly £100 as by that time he had moved his practice to London.
or return to Homepage.