CIRCLE THE WORLD WITH PRAYER || REFLECTIONS FOR LENT || PRAYERFUL THOUGHTS || MOYTURA'S JOURNEYS || GUESTBOOK || HOME || E-MAIL
ANCESTRY & GENEALOGY || MOYTURA'S IRISH SHOP || MOYTURA'S BOOKSHOP || MOYTURA'S VIDEO STORE || MOYTURA'S MUSIC STORE || WEB DESIGN || INTERNET MARKETING
Site Map | Canada | Grosse-Île | Quebec | Cap-de-la-Madeleine | Saint Anne de Beaupré | Saint Anne's Prayer | Ontario | Home | Contact
c

...............

..........Journeys To Canada..........

...............


c
Quebec City
Quebec city and the Saint Lawrence river, in French speaking Canada, was my second stop on this trip. I had journeyed from Ontario for one purpose only - to visit the final resting place of over 6,000 Irish emigrants who had left Ireland during the famine years of 1845-1849.Grosse-Île is a tiny island lying 20 miles or so east of Quebec and, under the care of the Canadian National Parks it has been dedicated as a National Irish Memorial. While in that area I spent a lovely morning visiting
St. Anne de Beaupré and after leaving Quebec on my way homewards I stayed in Cap-de-la-Madeleine, another of Canada's famous Shrines.

Twenty five years ago I enjoyed the fictional exploits of a 17th. century French lady named Angelique and her husband, Comte Joffrey de Peyrac. They escaped France for Canada after he was allegedly burnt at the stake for sorcery - he was an alchemist trying to turn the "Philosopher's Stone" into gold.

Their escapades brought them all along the St. Lawrence River as they headed for Maine and I loved to read about their love/hate relationships with the Mohawk, Algonquin, Iroquois, Five Nations, and the Jesuit Priests. Little did I think then that over 20 years later I'd be standing on the banks of this magnificent river.


St. Lawrence River

I find the history of each place I visit of huge interest, particularly in North America where there are such strong links back to Ireland. This part of Canada, however is French through and through, and has a rich, historical tapestry to share.

Although the first known European to arrive here was French sailor Jacques Cartier in 1534 it was thought to be 1575 before the first white settler arrived to stay - one Louis Hérbert, a chemist (like my fictional Comte de Peyrac). Cartier had made several expeditions, claiming on his return to France each time that Canada was a land of gold and diamonds.

The story of Canada's development as a nation is the story of its waterways. In this land of virginal wilderness, rivers were the highways that opened up the vast interior to trade and settlement. As the trading empires unfolded, many forts and garrisons were built to protect conflicting economic interests and around these developed the great cities like Quebec and Montreal (called Ville-Marie, the holy city of Mary, by the founding missionaries of 3 centuries ago). Further inland lies Ottawa, Trois Rivieres and Toronto.
.


Samuel de Champlain

Samuel de Champlain, explorer, colonizer, cartographer and writer is recognised as the true founder of Québec and few men in Canadian history had a more adventurous and varied career than de Champlain.

The empire of New France was initially built on fur trading and the French realized that they could increase this profitable trade by penetrating deeper into the hinterland to find more Native North Americans willing to trade with them.

What is now Quebec city was started off as a relay station in 1608 by de Champlain and in 1609, Andashee, a Huron, met with Samuel de Champlain to negotiate an alliance that later became the basis of the colony of Québec.

Montreal was founded in 1642. The role of the Native North Americans, the Micmac, Huron, and Algonquin was vital in shaping New France and Canada.

De Champlain's dream of finding a western route to China never waned but he finally abandoned it in 1615 when, upon reaching Lake Huron, he discovered not the fabled western sea, but fresh water beyond which lay yet more wilderness. Despite this, his dreams of a far distant new land was never far from his mind as he dedicated his life to developing the prosperous colony, of which he was later to become first Governor.

My day in Quebec city was in wet and windy conditions but most enjoyable. I arrived here after spending most of the morning in Beaupré at the shrine of St. Anne. As I rambled up and down the narrow cobblestone streets of the old city my imagination was transported back hundreds of years. This city has some very beautiful architecture and this building, Le Chateau Frontenac, dominates the St Lawrence as it sits on Dufferin Terrace overlooking the river.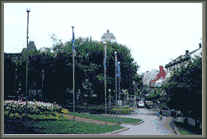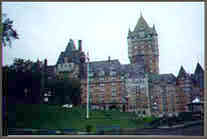 Hôtel de Ville - City Hall and Le Chateau Frontenac

.
La Rue du Trésor houses the many artists and budding artists who show and sell their beautiful works. I parted with a few dollars to bring home 4 etchings of scenes of the old city - good value I thought and they now decorate my study wall.
.
Whether in Paris or Quebec, a visit to either city would be incomplete without seeing La Basilique Notre-Dame. This was the first Catholic Parish and Cathedral in North America and it bears witness to the way people carry their faith with them to a new land and struggle to retain it.
.

The first church was built in the lower town of Quebec by the Recollet fathers in 1615.

In 1633 Samuel Champlain ordered the construction of the Chapel, Notre-Dame-de-Recouverance on the site of the current cathedral and the first Mass was celebrated in 1650.

Notre Dame Church

Monsigneur François de Laval arrived as Apostolic Vicar of New France in 1659 and in 1664 he dedicated the church to Our Lady and re-named the parish as Notre-Dame-de-l'Immaculée-Conception.

It was consecrated in 1660. Monsieur de Laval was born in the diocese of Chartres in France and was sent to organise the Catholic Church in this missionary country.

.
In 1663 he founded the first seminary for the training of priests and the following year he established the first parish of the new colony ..... Notre-Dame-de-Quebec. In 1674 it was to become a diocese with Monsieur de Laval as it's Archbishop. He died in 1708 at the age of 85 years and in 1980 Pope John Paul 11 beatified him, he is now known as Blessed François de Laval.


Basilique Notre-Dame

Over the years the Basilica was destroyed by fire 3 times and each time it was re-built from the original walls and plans. I was lucky to be in the cathedral when a Festival of Lights was taking place. This historical 3D show gave a spectacular overview of the whole history of the city and its cathedral from inception to present day. Archbishop de Laval was shown as a hologram within the pulpit preaching. Well worth seeing for anyone visiting the city.

If you have enjoyed this page please drop a comment into our Guestbook- and Don't Forget.......!




The Rest of the Journey

Our Canadian Journey starts with my drive from Hamilton to Quebec and a visit to one of Canada's famous Catholic Shrines - Saint Anne de Beaupré. We have included the Prayer to Saint Anne both in English and in French, stop in a whisper a wee prayer to her.

The main reason for my visit to Canada came about on the Wednesday and Grosse-Île, a tiny island east of Quebec City and the final resting place of over 6,000 of my country folk. It turned out to be facinating, poignant and yet enjoyable - a visit I will never forget and one I hope to repeat with some of my own family someday.

Heading for 'home' that night I got lost and somehow ended up in Cap-de-la-Madeleine, which has the most famous of Canada's Catholic Shrines - Notre Dame du Cap. What a grand day I spent there!

Finally back to Ontario and a week of relaxation, renewed friendships, joy and tranquillity before heading back home to Galway in Ireland.

For those who have just joined me on this page why not go to the beginning and see some of the earlier places in The Start of Our Journey through the West of Ireland. My Place Amongst the Stones gives the history of my company name, Moytura - a celtic heritage going back thousands of years.

Back to our Irish journey and to my own parish of Lackagh - a small village just 12 miles from Galway with a mighty big history telling a story of one of Ireland's bloodiest conflicts in the 16th century - The Battle of Knockdoe.

From there we move on to take a quick jaunt around Galway City; and then out to the heart of Connemara - with its wild and wonderful beauty.

Our journey goes south into County Clare to see The Burren - a place that has lain undisturbed since the Ice-age and of immense botanical, ecological and archaeological importance.

We visit Ireland's finest early monastic heritage centre in Clonmacnoise in County Offaly and to my favourite of all the early Christian Church locations - Clonfert, with its beautiful tiny 12th century Cathedral of Saint Brendan. Come with me around the grounds of this lovely tiny cathedral and see the 1000 year old Yew Walk. While there, you can learn a potted history of Saint Brendan the Navigator, possibly the first European to set foot in North America in the 6th. century. See how we celebrated a most historic announcement when Clonfert Cathedral was listed in the World Monuments Watch 2000 as one of the world's most endangered buildings.

Join me on my 'Famine Journey' which starts in Westport, moves to Sligo and ends up in Grosse-Île, Quebec.

Finally, come with me on my pilgrimage to a peaceful haven in a war-torn country in Medugorje in Bosnia-Hercegovinia. The other areas of my Web site can be found in the drop-down box below.
If you are interested in Irish history or anything to do with Ireland why not visit our new additions where you will find a large selection of genuine Irish goods as well as Irish reading, music & viewing material!:
Moytura's Irish Store, Moytura's Irish Bookshop, Moytura's Irish Music Store, and Moytura's Irish Video Store

I have added links pages of other places related to the places we visit, links to leisure activities in Ireland i.e. golf, fishing, horse riding, sailing in Ireland, festivals, entertainment etc. and some of my friends' home pages.

Go raith míle maith agat - thanks a million
Beannacht Dé Ort - bain taitneamh as do thuras.
God Bless and Enjoy Your 'Journey'

Oh, I nearly forgot......come and meet me and mine HERE
See some of the awards received for this site HERE.

For those of you who are interested in tracing you family ancestry these pages might help, just hit the banners to go directly to each site or check out our Trace Your Ancestry pages first where you can see some of the vast numbers of data base lists and try out an on-line search for yourself.

Every now and then people send me stories, poems, or URLs to other Home Pages that I find very touching or uplifting, they can be found at the links below. Some will make you smile, maybe even laugh, some may make you cry or a little sad - but all will leave a little bit of a mark, if only for the few minutes you spend reading or listening to them. Enjoy - I call this section:

"PRAYERFUL THOUGHTS & THOUGHTFUL PRAYERS"

CIRCLE THE WORLD WITH PRAYER

Could you DONATE just 10 minutes of your time a day?? If Yes then- GIVE IT TO GOD! Great rewards and long-term benefits! Invitation open to ANYONE, ANYWHERE, ANY RELIGION & NONE!!
Check out the WHY, WHERE, WHEN & HOW here: Circle of Prayer Then ask yourself the question - WHY NOT?!?!

Celtic Women International

Celtic Women International is a young and vibrant organisation founded by Jean Bills, a woman with Irish roots living in Milwaukee, Wisconsin. It is now in growth phase and expanding membership throughout the whole world for ANYONE (yes, even the guys!) with Celtic roots. It's purpose is to honour, celebrate and promote our Celtic Heritage. In the near future we hope to be a resource for all things Celtic with databases of other Celtic Organisations, Support Bodies, Music & the Arts etc. Membership, for only $25!!, incorporates a quarterly newsletter with the finest of articles related all things Celtic.

Our annual conference brings together some of the best advocates of Celtic Traditions as well as musicians and artists representing the recognised Celtic Nations of Ireland, Cornwall, Scotland, Wales, The Isle of Man, Brittany and Galicia and Asturia in Spain. 2002 sees the conference on the move and will be held in New Orleans, 2003 in Toronto, 2004 in Pheonix and 2005 in GALWAY, IRELAND! Please help us to grow this wonderful organisation by joining us as a member. All are very welcome and your presence can only enrich us. Learn all about us at:

c
Moytura's web site currently has 12 definite and individual sections which can be found below:.

.
WEB DESIGN & HOSTING
by Moytura

Moytura Graphic Design offers the complete Internet solution for your company or business. We design, host and market your site, regardless of how small or large it needs to be.

You can learn more about our service by following the link to:

IT'S JUST THE IRISH IN YOU!

If you are Irish or have an affinity with Ireland, Moytura also has an Irish Book Shop, Irish Video Store and Irish Music Store, stocked with all things Irish or Irish-related. Just hit the buttons below:

INTERNET MARKETING
by Moytura

Here are hints and tips about all aspects of marketing your business on the Internet.

Get your FREE Search Engines Tactics e-book when you subscribe to our monthly newsletter:
c
Get a Free Family Coat of Arms

Just hit the banner to the left.

Are You Drawing Up Your Family Tree?

Ancestry.com has the greatest databases in the world for those in North America who are trying to trace their ancestry. Hit the banner to the right to see the some of the extensive lists available and while there why not do a search from their own database search engine?
IRISH SHOPPING WITH MOYTURA
Moytura now has a brand new Irish shopping site online, so why not go and have a mooch by hitting the logo!
Here you will find a vast selection of Irish products in the following categories: Ancestry, Art, Books, Collectors items, Crafts, Crystal, Dancing, Fashion, Foodhall, Fragrances, Gifts, Heraldry, Houseware, Jewellery, Maps, Music, Names, Sportswear, Travel and Videos. All our goods are from genuine Irish suppliers.

Email addresses are used for one purpose only - to send on your newsletter.
They are given to NO OTHER third party.

HOME-BASED BUSINESS OPPORTUNITY

Moytura Graphic Design has expanded enormously since it's humble beginnings just a few years ago and has taken a new business venture which can be operated from home on a full or part-time basis. You can learn about this work-from-home opportunity here.

TELECOMMUNICATIONS INDUSTRY

The telecommunications industry goes from strength to strength world wide, especially with de-regulation opening up most countries to healthy and cost-cutting competition. The company, for which we are Independent Consultants, has been so successful since its European start-up in 1998 that it has now expanded from the UK to Ireland Belgium, and the Netherlands, with the USA opening in Feb 2002. It plans to expand even further in the very near future - to:
Australia, Brazil, Denmark, Germany, Japan, Mexico, and Poland.
If you, or anyone you know, living in any of these countries would like to start a home-based business, the opportunities are enormous as this company is only just beginning and, as Independent Consultants, everyone will be in at the very ground level. E-MAIL for details or check out the WEBPAGE.


Contact Mary Mullins, Moytura Graphic Design, Cregmore, Claregalway, Co. Galway, Ireland. Ph: +353 91 798407
© 2000 Moytura Graphic Design