I was telling you earlier that I have a theory about hillwalking. I do this quite often, and enjoy it allot. You can get fresh air, exercise, see some fantastic views, and meet nice people, and all at the same time. I would recommend it to anyone reasonably fit and equipped. But this is not my theory!

One day, while on the hills, I began to think that hillwalkers, or at least most that I have come across have a particular interest with the tops of hills. Rarely will a hillwalker go around a hill that is in his or her way. So I began to think, what is so special about the tops of hills? Is there some special reason for going to the top each time? I have not got an answer yet, but I do have a theory!

In my theory, there is a reason why the hillwalker has to go to the top. In fact, it could be any one of a number of reasons.

First, the hillwalker may be in COMPETITION with the hill which must be overcome. The hillwalker may even be in competition with other hillwalkers who are also competing with the tops of hills!


Second, the hillwalker may be on a voyage of SELF DISCOVERY to seek enlightenment, believing, for some reason, that it is to be found at the top of a hill.


Third, the hillwalker may have a feeling of INSECURITY being in continual doubt that there is a top to the hill!


Fourth, the hillwalker may have some kind of SUPER-EGO generating a drive to overcome all physical, emotional, or spiritual obstacles, particularly those represented by the tops of hills! I came up with this possibility after observing the condition of some hillwalkers in a pub after their encounters with the top of a hill


Fifth, the hillwalker may be looking for SOMEONE OR SOMETHING SPECIAL that is waiting at the top of some hill somewhere, only it is not known which hill! Or could the hillwalker be hoping someday to find something different on the top of a hill?


Sixth, the hillwalker may have surrendered to some kind of mass COMPULSION requiring that all hills have to be climbed to the very top!


Seventh, the hillwalker may be seeking wealth or a crock of gold to make his/her FORTUNE, (the end of the rainbow having failed to deliver). I've been told that money and wealth is a greater motivator, but what would I know about such things!


Eighth, the hillwalker may be in search of the FOUNTAIN OF YOUTH which he/she thinks is to be found at the top of a hill somewhere.

Continued thorough research, and extensive global investigations have led with the help of cyber friends to the development of additional theories.

I'll be interested to find out how many hillwalking 'hits', if any at all, this theory will get! Perhaps I should theorise about something else instead Suggestions?
If you want to find out more about hillwalking, hiking, or mountains generally you could start by learning some of the necessary buzz words . . . and here I have just what you need!
The O'Byrne Files © Hillwalking Slang and Jargon Dictionary!

Want to join the research?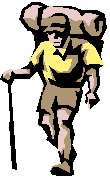 Could there be other reasons?
Could the hillwalker just be in need of constant re-assurance that the top of a hill is just that, the top!
Perhaps I need to go to the top of a hill somewhere and contemplate this one further!
---
Wayfarers Association
From time to time I'll have some information from the
Wayfarers Association
(a Dublin Based hillwalking club) here. For the moment - just The Blackstairs Walk [May 17th 2003]
---
O'Byrne Files© World
| Home | About Me | O'Byrne Genealogy | My Environment | My Humour | Computer Fun | More Humour | My Dublin | My Dublin Slang and other dictionaries | My Ireland | Hillwalking Theory | Fav Sites | My Links | Ego Promotion & Reminder | Photos | Best bits Summary | Contents

Now, a joke!
The Hillwalking Taxidermist
A guy dressed in the latest designer hillwalking gear walks into a remote bar in the Wicklow Mountains and orders a white wine. The conversation in the bar dies down and everybody sitting around the bar looks up, expecting to see some posh Dublin blow-in.

The bartender looks up and says,
"You ain't from around here, are ya??? Where ya from, boy?"

The guy says, "I'm from England."
The bartender asks, "What the heck you do in Wickla?"
The guy responds, "I'm a taxidermist."

The bartender asks,
"A taxidermist? Now just what the heck is a taxidermist?"
The guy says nervously, "I mount animals."

The bartender grins and shouts out to the whole bar, "It's okay boys, he's one of us!"

Here I have a warning from an experience of Hillwalking in Kerry. Do not assume that it will be trouble free, or that you will get help if you have trouble.
Thank you for visiting The O'Byrne Files ©- Hiking theory page. Would you like to sign my Guest-book ?
Updated: Thursday March 25, 2004