All Ireland Schools' Finals
Valley Leisure Centre, Newtownabbey. Friday 27th April 2001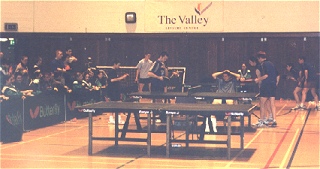 The All Ireland Finals were moved to the Valley Leisure Centre where the School's Provincial Champions met in three age categories. The previous event in 2000 had seen a complete sweep of six titles for the Cork based schools.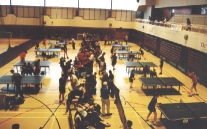 The standard of competition has increased this year and Sacred Heart from Dublin caused the first big upset when they defeated defending champions Scoil Eoin Cork. The winner of the match being the first to five Sacred Heart went into the doubles with a 4 - 2 lead. Scoil Eoin fought back to be level at 4 - 4. The result of the last doubles decided the title as the Sacred Heart pairing showed great composure to fight back and take the final set and the title.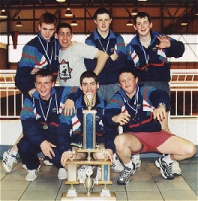 In the U13 girls the defending champions were defeated once again with a very strong performance from Wilson's Hospital School who easily defeated both Rockport and defending Champions St.Angela's to take the title for the first time.
St.Angela's Cork who had teams competing in all the girls' age groups collected their 7th U15 Girls title and they also took the U19 title without dropping one game. Colaiste Choilm Cork repeated their success of last year to take the U15 title. The last match of the tournament was the closest of the day with North Monastery gunning for their 4th U19 title in a row.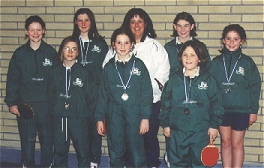 This has been done only once before by Marian College '81 - '84. The first match between Gary Noonan (N.Mon) and Robbie Becker (Gonzage College) saw some outstanding table tennis. Robbie took the first set in excellent style, with Gary equalling within the second, with neither player giving an inch the tension was palpable. At 17-16 to Gary the ball cracked and was replaced, this seemed to be the turning point with Robbie able to hold his concentration the better. He took the next the next two points to serve for the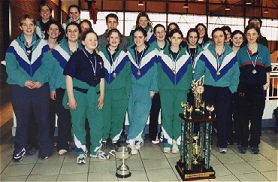 match at 18-17 and from this position Robbie Becker took the final set 21-18 and put Gonzage into a 1-0 score. Gonzage moved into a 2-0 lead when J.Spollen defeated PJ Hurley. After the singles matches were over the score was 3-3, this became 4-4 after the next two games of doubles. With an assembled crowd a nervous and tense match ensued with North Monastery finally taking the title for a record equalling 4th time. Con Higgins the North Monastery Coach was unable to attend the event for the first time in many years due to illness, it was with some relief that the combined Cork Schools teams returned to the county with four out of six titles intact. However with the Leinster teams taking both U13 titles, next year's competition could prove to be an even closer affair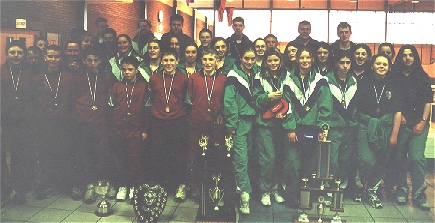 Boys U13
1st Sacred Heart BNS Dublin
2nd Fivemile High School Ulster
3rd Scoil Eoin Cork
Girls U13
1st Wilson's Hospital Mullingar
2nd Rockport, Ulster
3rd St.Angela's Cork
Boys U15
1st Colaiste Choilm Cork
2nd Fivemile High School Ulster
3rd St.Kevin's Dublin
4th St.Mary's Galway
Girls U15
1st St.Angela's Cork
2nd Fivemile High School Ulster
3rd St.Nessan's Dublin
Boys U19
1st North Monastery Cork
2nd Gonzage College, Leinster
3rd RBAI Ulster
4th St.Aloysius Athlone
Girls U19
1st St.Angela's Cork
2nd Moyne College Ballina
3rd St.Mary's Galway
4th Cookstown High School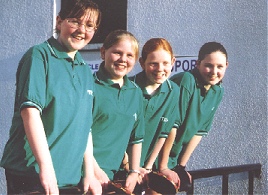 British Primary Schools, Largs, Scotland 21/04/01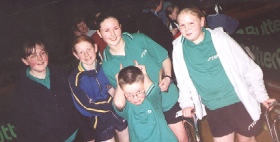 The annual Championships are played over two days with a team event on one and an individual on the second, with each country hosting the event in rotation. This year the National Training Centre in Largs hosted the teams from England, Scotland, Wales and Guernsey, as well as Ireland. Andrea Shorten (Ballymoney, W.Cork) playing for the Irish Girls remarkably remained undefeated by close on the first day. The team, which was very unlucky not to beat the Welsh loosing 7-3 after 7 matches went to nail biting third sets eventually finished third after loosing to the English 8-2 and beating Scotland 8-2 and Guernsey 10-0. The boys U12 team finished fourth after drawing 5-5 with Scotland but loosing on count-back against the other three countries. Niall McDonnell (Rathmines) put in another good performance and only lost one of his singles matches through the day. (Eng. 10-0, Wal. 9-1, Scot 5-5, Guernsey 0-10)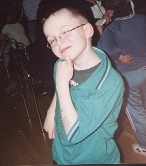 The Irish girls Fiona Mernagh (Dunboyne) and Ami Tobin (Santry) reached the quarterfinals of the Championships only to loose out to the top English girls but finishing within the Top 8. In the individual event on Sunday Andrea Shorten put in another competent performance and only narrowly missed out to Rachael Jamerson of England in the final of the Consolation loosing in 3 sets. Niall McDonnell matched his excellent form of the previous day to reach the final of the Consolation.
Boys: 4th. 0 - 10 England, 1 - 9 Wales, 5 - 5 Scotland, 10 - 0 Guernsey.
Girls: 3rd. 8 - 2 Scotland, 2 - 8 England, 10 - 0 Guernsey, 3 - 7 Wales.

All Ireland Schools Finals 11/04/01
This year's championships are scheduled to take place on Friday 27 April 2001 at Sixmile Leisure Centre, Ballyclare, Co.Antrim from 10.30 am to 4.30 pm. Final decisions on whether this date is possible will depend on the progress of the Foot and Mouth restrictions placed on schools, especially in Northern Ireland.

The Primary Schools Home Countries to be held in Largs on April 21/22 2001
Boys Team : Daniel Keenan,Patrick Guy,Niall McDonnell,Gavin Maguire NPC: Tommy Fitzgerald
Girls Team : Fiona Mernagh, Amy Tobin, Andrea Shorten, Fiona Downey NPC: John O'Donoghue

Team Results for the British Schools Invitation International on the Isle of Man.30 June - 2nd July
Under 14 Boys: IRE A: 5th. IRE B: 7th
Under 14 Girls: IRE A: 5th
Under 16 Boys: IRE A: 4th. IRE B: 7th
Under 16 Girls: IRE A: 3rd
Under 18 Girls: IRE A: 3rd
Under 18 Boys: IRE A: 2nd. IRE B: 6th
Full Team Results
Full Individual Results.

Selections for the British Schools Invitation International on the Isle of Man.30 June - 2nd July
Under 14 Girls A: Rachael O' Connor, Rebecca Lord. NPCpt: Theresa Delvaney
Under 14 Boys A: Jonathan McCarthy, Conor Nolan. NPCpt: John O'Donoghue
Under 14 Boys B: Andrew Boland, Sean Givernaud. NPCpt: John O'Donoghue
Under 16 Boys A: Gary Noonan, David McNeill. NPCpt: Peter Neilsson
Under 16 Boys B: Colin Byrne, Dane Smith, Paul Twomey. NPCpt: Peter Neilsson
Under 16 Girls A: Linda O' Sullivan, Sabrina Conway. NPCpt: Owen Kelly
Under 18 Girls A: Noelle Lennon, Louise Long. NPCpt: Owen Kelly
Under 18 Boys A: Eoin Byrne, Mark White. NPCpt: Con Higgins
Under 18 Boys B: David O'Rourke, Thomas Conroy. NPCpt: Con Higgins

British Primary Schools Championship, At the Welsh Institute of Sport, Cardiff
Girls Team Results.
Girls Individual Results.

All Ireland Schools Finals
The All Ireland Finals were played at Rochestown College, Co.Cork. St.Angelas dominated the girls events and took all three titles. Colaiste Choilm won the U13 Boys titles while North Mon. collected the U15 and U19 titles making it a clean sweep for the Cork based school.

ISF WORLD SCHOOLS, BEUVRY, FRANCE APRIL 2000
St.Angelas College and North Monastery, Cork, represented Ireland in the Girls and Boys Events.
Girls:
Ireland Vs Greece 0-7
Ireland Vs Slovakia 1-6
Ireland Vs Israel 4-3
Ireland Vs England 2-4
Final Placing 10th.

International Schools, Dublin 1999
Team Event
Boys U14 1st:England. 2nd: Ireland A. 3rd:Scotland.
Girls U14 1st:England. 2nd:Ireland. 3rd:Wales.
Boys U16 1st:England. 2nd:Wales.3rd:Ireland A.
Girls U16 1st:England. 2nd:Wales. 3rd:Scotland.
Boys U18 1st:England. 2nd:Ireland A.3rd:Scotland.
Girls U18 1st:Ireland. 2nd:England. 3rd:Wales.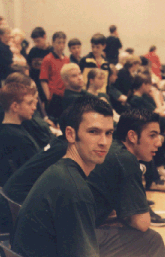 Individual Event
Boys U14 1st Dominic Hall (Eng). 2nd Craig Bryant(Eng). 3rd Jon McCarthy(Ire) & Gavin Rumgay(Scot)
Girls U14 1st Georgina Walker(Eng) 2nd Natalie Bawden(Eng) 3rd Lisa Calcutt(Eng) & Kate Steward (Eng)
Boys U16 1st Adam Robertson (Wal) 2nd Craig Gascoigne (Eng) 3rd Chris Jamieson(Eng) Louis Rosenthal (Eng)
Girls U16 1st Aparna Narendran(Eng) 2nd Hayley Thomas(Wal) 3rd Emily Dearing(Eng) & Alison Parke(IRE)
Boys U18 1st Eoin Byrne(Ire) 2nd Alan Monks(Ire) 3rd James Whiteman(Eng) & Justin Dodd(Eng)


Girls U18 1st Linda Mountjoy(Ire) 2nd Brioni Lane(Ire) 3rd Siwan Davis(Wal) & Hannah Yardy(Eng)
Doubles Event
Girls U14 1st Natalie Bawden/Georgina Walker(Eng) 2nd Kate Steward/Grace Brown(Eng)
Boys U14 1st Dominic Hall/Peter Cleminson(Eng) 2nd Colin Byrne/Jonathan McCarthy(Ire)
Girls U16 1st Charlotte Avery/Hayley Thomas(Wal) 2nd Emily Dearing/Aparna Narendran(Eng)
Boys U16 1st Adam Robertson/Owen Griffiths(Wal) 2nd Chris Gascoigne(Eng)
Girls U18 1st Noelle Lennon/Linda Mountjoy(Ire) 2nd Hannah Yardy/Suzy Robinson(Eng)
Boys U18 1st Alan Monks/Eoin Byrne(Ire) 2nd Justin Dodds/James Whiteman(Eng)
Consolation Event
Boys U14 1st David Atkins(Wal) 2nd Conor Fahy(Ire) Girls U14 1st Naomi Owen(Wal)
Boys U16 1st John Callow(IOM) 2nd Paul Twomey(Ire) Girls U16 1st C.Gibbs(Eng) 2nd K.Morton(Scot)
Boys U18 1st Paddy Sheehan(Ire) 2nd Jim Conroy(Ire) Girls U18 1st Suzanne Monnelly(Ire) 2nd Fallon Thompson(Wal)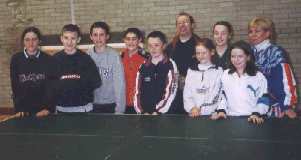 Emma Jane Helen & Eoin Hegarty selected from Munster.

5 Nations Primary Schools Isle of Man 10-11/4/99
Girls: 1st England. 2nd Scotland. 3rd Ireland. 4th Wales.
Boys: 1st England, 2nd Ireland