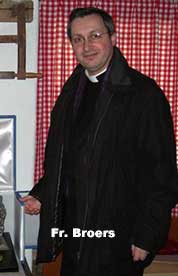 The Accident and Getting the Documents to the Vatican.
After the healing of mr. Dormans Father Harrie Broers, the parish priest of Munstergeleen, and Fr Joachim van der Heijden cp pastor of Munstergeleen, talked things over, spoke with the surgeons and decided to ask the Bishop to establish a tribunal to investigate this presumed miracle. The Bishop was positive and the members were given on oath on November 6th, 2002.
On February 19", 2003 theywent back to the Bishop to have the final session of the tribunal and had the documents placed under the episcopal seal. Then on February 20th theywent to the Papal Nuncio who would take all the documents to the Vatican. So that day, in the early morning, they departed: Fr. Joachim van der Heijden cp, the Delegate of the Bishop for this Tribunal, Prof. Dr. Stefaan van Calster and Fr. Harrie Broers. Prof. Van Calster drove the car and Fr. Broers was sitting in the front. All went well until they approached Utrecht where they encountered a traffic jam. All the traffic slowed down: 70 km..., 50 km... At the moment that all the cars stopped, they were hit from behind by a huge Mercedes-van which, ignoring all signs, drove at high speed and hit them and the car in front and in additional three more cars.
Fr. Joachim was in the back of the car and was bleeding and showing no signs of signs of life. Fr. Broers climbed out over the steering-wheel and climbed into the back to get to him and gave him general absolution. As hewas holding him he started moving again and Fr. Broers had to try to keep him calm. He was in terrible pain. Soon an ambulance arrived and brought him to the nearest hospital. Because the situation was so hectic, They could not accompany him on his trip to the hospital. We followed later.
Meanwhile Prof. Van Calster was collecting the packages of the documents and X-rays which were strewn all over the highway. As they arrived at the hospital they were told that Fr. Joachim was in very critical condition. He was sedated. He had 7 broken ribs, punctured lungs, a broken pelvis and cheek-bone, and was connected to a respirator. He continued in this highly critical condition until March 25th, but did not open his eyes until April 13th. For the people in the parish it was a period of fear and faith: Blessed Charles won't let him die! So they started to pray a novena every evening at 6:00 PM in the Shrine, until he awoke from the coma. The Shrine was completely filled every evening with not only people of the village, but also from the wider area. It was incredible! The surgeons' diagnosis of Fr. Joachim was very pessimistic: if he survives, what will the prognosis be?