Public Consistory to announce Canonisations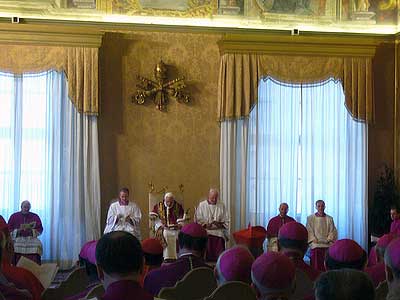 At 11 a.m. on Friday, February 23, 2007 in the Consistory Hall of the Vatican Apostolic Palace, an Ordinary Public Consistory was held for the canonisation of the following Blesseds:
- George Preca, Maltese, priest, founder of the "Societas Doctrinae Christianae" (M.U.S.E.U.M.).
- Szymon of Lipnica, Polish, priest of the Order of Friars Minor.
- Charles of St. Andrew (ne Johannes Andreas Houben), Dutch, priest of the Congregation of the Passion of Our Lord Jesus Christ.
- Antonio de Santa Ana (ne Antonio Galvao de Franca), Brazilian, priest of the Order of Alcantarine or Discalced Friars Minor, and founder of the Convent of Conceptionist Sisters "Recolhimento da luz."
- Marie Eugenie de Jesus (nee Anne-Eugenie Milleret de Brou), French, foundress of the Institute of Sisters of the Assumption of the Virgin Mary.
When Pope Benedict XVI had joined the assembled Cardinals and those associated with the various Blesseds Midday Prayer was celebrated. Then the Cardinal Prefect read short accounts of the life of each Blessed and petitioned the Holy Father to canonise them. The assembled Cardinals were asked if they had any objections. After a short silence the Holy Father declared that all would be canonised giving the dates for the canonisations.
Antonio de Santa Ana would be canonised on the 11th May 2007 and the other four, including Blessed Charles of Mount Argus would be canonised on the 3rd June 2007 in the Vatican.