We have finalised our timetables for the Cruise.
We will have to be in Dublin Airport at approx. 0900hrs but one suggestion that you might like to consider is a stay at the Day Airport Hotel the night before we fly to Venice. They have offered us a rate of €55 per room per night. I have 18 rooms held for those interested. We are also offered a special price for 3-course dinner for €19. If you would like breakfast before you depart in the morning they offer a full Irish Breakfast for €9.
If you want to park your car at the Hotel it is free for the nights you stay and a special rate of €5 per day until you return from your trip.
We will depart Dublin on Thursday 17th September 2009 at 1100hrs on Aer Lingus Flight EI416 to Bologne. A coach will collect us and take us approx. 100km to the Plaza Hotel in Venice Mestra which is a little outside Venice but across the road from the railway station which will take us into central Venice for approx €10, this is a 24 hour ticket and covers you to travel on the canal buses free with this ticket. We stay 2 nights at the Plaza 4 star Hotel.
Never be.. afraid of Flying ...........
Friday is a free day to enjoy Venice.
On the Friday night we will kick off with a party night i.e. dinner at the hotel and a good night before we cruise. I am looking to see what little extra we can have on the night. (all included in the cruise cost)

See our Menu for the evening...
Sat 19th Sept. The coach will again collect us and take us to the boarding area for the Royal Caribbean Cruise Liner "Splendour of the Seas" which departs Venice at 1700hrs. While on the Cruise all meals are included and we have opted for the first sitting for evening dinner leaving plenty of time to enjoy the evening entertainment. Royal Caribbean have arranged a private cocktail reception for the Naval Association for Monday at 1600hrs followed by a Black Tie Dinner so we will come prepared and Dress for the occassion.. Here again is the Cruise Plan
19th Board "Splendour of the Seas" for Cruise
20-Sep Split, Croatia 7:00 AM 3:00 PM Tendered
21-Sep Corfu, Greece 7:00 AM 3:00 PM Docked
22-Sep Piraeus (Athens), 12:00 PM 8:00 PM Docked First Excursion
23-Sep Mykonos, Greece 7:00 AM 6:00 PM Docked
24-Sep Katakolon, Greece 8:00 AM 6:00 PM Docked 2nd Excursion
25-Sep Cruising
26-Sep Venice, Italy 5:00 AM Depart for Bologna and Flight Home
22nd Sept. Chauffeur Greece will collect us from our Cruise Ship when we dock in Athens and take us on a day excursion of Piraeus.
24th Sept. Chauffeur Greece will again be waiting when we dock in Katakalon (Greece) and take us on an excursion. On both of these excursions we will have an English Speaking Guide (not the driver)
26th Sept. Laguna Coaches will collect us and take us to Bologna for our flight back to Dublin EI417 at 1520 arriving Dublin 1710hrs.
Thomas Cook are advertising today to fly Heathrow direct to Venice and board the Cruise Ship, staying on the same deck as we are, Deck 6 and the same Oceanview Cabins. Thomas Cooke offer a discounted price of st£1234 per person or €1456. Our price Dublin Aer Lingus Flight to Bologna, Coach to Venice, 2 nights Hotel Stay with Breakfast, Hotel Dinner on Friday, and two Excursions for our total price of €1385 per person.
The third person sharing a cabin is €975 total. The Infant travelling with us is €375 Total.
Please note included in your cost is an allowance of 20kg baggage per person.
I can also arranged Travel Insurance for this trip, which is available at €20.13 all up to 89 years. Please let me know if there is anyone over 89 years travelling with us. For anyone under 17 years it will be €16.
See Cabin Allocations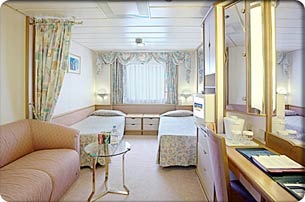 Category: Oceanview Deck 6 (Unrestricted outside cabins)
Large Oceanview Stateroom
Occupancy: Up to 3 guests. (reductions for 3rd guest in the cabin)
Amenities: Two twin beds (can convert into queen-size), sitting area with sofa, vanity area and a private bathroom. (154 sq. ft.)
Large Oceanview Window (not portholes)
We now have a confirmed 58 (including one infant) in catagory "F" cabins on Deck six without balcony.
We have also booked for the early sitting for meals.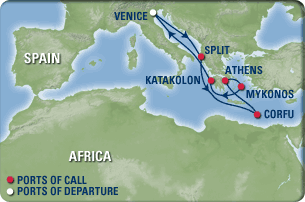 Venice is a beautiful City and Italy is a lovely place to visit. Within one hour from Venice you have Lake Garda,or Verona, and 2 hours to Milan.
Perhaps you may wish to make your own flight arrangements and tour North Italy meeting up with us at the Ship on the Saturday. Some might like to spend a few extra days in Italy. Fly to Rome for a few days, Hire a car and drive to Milan, Florence, Pisa, Florence, Verona, Lake Garda and last Venice.
Click this ..Link.. for details of last cruise with Island Star. (this was 8 nights)
The Ship
Thousands of windows showcase the world's most memorable coastlines and ports. Whether you're cruising the Inside Passage or docked in Cozumel, you'll never lose sight of the reason you came aboard. This magnificent cruise ship has a seven-story lobby, an 18-hole miniature golf course and a stunning indoor/outdoor pool in a unique Solarium.
Splendour Of The Seas Facts
Maiden Voyage: March 31, 1996
Passenger Capacity: 2,076
Godmother: Lisa Wilhelmsen
Gross Tonnage: 70,000
Length: 867'
Max Beam: 105'
Draft: 24'
Cruising Speed: 24 knots
Activities
Miniature 18-hole golf course, Splendour of the Greens
Extensive aerobics, cardio machines, saunas and other spa treatments
A retractable glass canopy over The Solarium spa and pool area
Conference Center
Card Room
Library Club Ocean
Children's Room
Optix Teen Center
Sauna and Massage
Boutiques of Centrum
Photo Gallery
One Indoor/Outdoor Pool with Crystal Canopy
4 Whirlpools
Pool Bars
Beauty Salon and Barber Shop
Jogging Track
Video Gameroom
Stargazing Area
Dining

Main Dining Room

Our elegant main dining rooms are a great place to start the morning off right or finish off a fabulous day with a five-course meal.

Windjammer

Enjoy spectacular buffets and incredible views. The casual convenience of the Windjammer Cafe and the wide variety of meals and snacks available make this restaurant a guest favorite.

Entertainment

While the younger cruiser are fast asleep, the adult cruisers are enjoying their late night entertainment options. After a long day of spectacular activities and mind blowing cuisines, you're probably in the mood to unwind and enjoy a bit of thrill-seeking fun. It doesn't matter if you're plans are to test your luck at a hand of blackjack or soak in the atmosphere in the lounge of your choice, you'll find exactly what you're looking for.

Top Hat Lounge
Schooner Bar
Champagne Bar
Champagne Terrace
Casino
I have arranged Insurance for the following
McManus Tracey
McManus Darryl
McManus Lynn
McManus Ian David
McManus Joan
Power John
Power Pauline
Meleady John
Meleady Brigid
Cummins Terence
Cummins Margaret
Kirwin May
Smyth Noleen
Long George
Angela Angela
Cahill Patrick
Sheridan Henry
Lyons William
Lyons Brenda
Byron John
Byron Moya
Cahill Anne
Barden James
Barden Charles
Smith Dylan
O'Raw Daniel
Murphy James
Murphy Margaret
Finnegan Ann
Lane Francis
Lane Roseleen
Lane Vincent


Return to main page click.... Here....