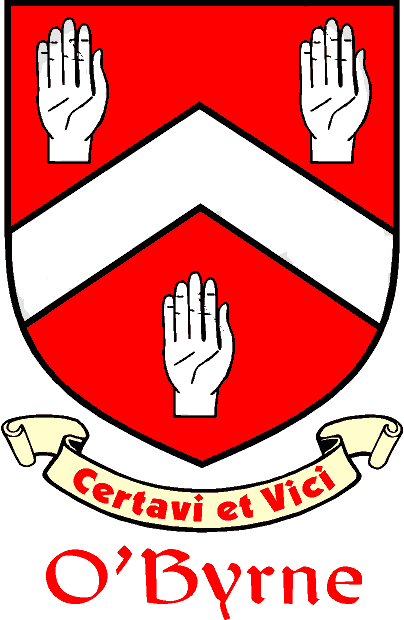 Motto: "Certavi et Vici"
I have fought and conquered.

THE BYRNES OF BALLYMANUS
by
CONOR O'BRIEN


Conor O'Brien, retired from a career in the pharmaceutical industry, devotes some of his spare time to the study of Irish antiquities and aspects of the history of Co. Wicklow.
---
St Kevin, St Laurence O'Toole, Feagh McHugh O'Byrne, Billy and Garrett Byrne of Ballymanus, Michael Dwyer and Charles Stewart Parnell are the names synonymous in the popular mind with the history of County Wicklow. But whereas there are biographical works relating to Dwyer, Parnell and the two saints, nothing concrete is available about the two most renowned O'Byrne families other than passing references in accounts of the Elizabethan conquest of the country and the 1798 rebellion. The essay that follows is based on the primary documentary sources relating to the Byrnes of Ballymanus with the objective of elucidating who they were and what became of them.'
The surname O'Byrne is derived from Bran Mac Maolmordha, a king of Leinster who was deposed in 1018 and who died in 1052. In pre Norman times the O'Byrnes and the O'Tooles, then known as the Ul FhaelIin and Uí Muireadaig septs respectively, inhabited the rich Kildare plains.' With the progress of the Anglo-Norman conquest these septs were compelled to migrate to the poorer lands and the mountainous country eastwards, in due course appropriating the lands of the ancient tribes who occupied this region, later to be denominated as the county of Wicklow. By the early 1200s the O'Tooles are to be found well entrenched in the northern part of this territory with the remainder mainly under the control of the O'Byrnes, apart from small pockets such as the towns of Arklow and Wicklow. The paucity of records from the period does not permit a comprehensive assessment of how the territory was ruled. However, by the beginning of the fourteenth century a division of the clan into two principal branches was apparent. The senior branch, usually described as the Crioch Branach, ruled the district east of the Avonmore from Delgany to the outskirts of Arklow. The semi-autonomous junior branch held the mountainous country east of Imaal between Glendalough and Shillelagh and was called the Gabhal Raghnall, the name deriving from Raghnall O Broin, a scion of the family placed ninth in the line of descent from Bran in the ancient genealogies.
Its territory, centred around the chiefs principal residence at Ballinacor at the mouth of Glemalure, became known by various anglicised versions of this name such as Colralnell or the Ranelagh. The relative strengths of the two branches may be inferred from an English document of about 1480 enumerating the armed forces maintained by the Gaelic chiefs. A 'batayle' of 60 to 80 galloglasses, a further 60 horsemen and 88 kern, each category with its complement of servants to carry armoury, are attributed to 'O Brin Lord of ybranaght' while 'Redmond McShane Lord of Gowllranel' is listed with the rather smaller force of 8 horsemen and 40 kern. That situation altered with the accession of Hugh McShane O'Byrne, grandson of Redmond, as chief of the sept around the middle of the sixteenth century. While the Crioch Branach apparently submitted to the lord deputy's rule, the Gabhal Raghnall aggressively pursued a policy of resistance to Anglicisation until the final collapse of the old Gaelic order at the battle of Kinsale. Under Hugh McShane's leadership the Gabhal Raghnall became a formidable force, regularly carrying out raids and expeditions against the contiguous English settlements. When Hugh died in 1579 his son Feagh (Fiacha) was chosen to succeed him as chief of Gabhal Raghnall.
Feagh's reputation as a redoubtable opponent of the Dublin regime continued until 'unwieldy and spent with years,' as Lord Deputy Russell had described him in 1596, he and four guards were cornered by the lord deputy's armies in Glenmalure and slain in the vicinity of Feagh's residence at Ballinacor on the morning of Sunday, 8 May 1597. On his return to Rathdrum from the victorious expedition the exultant lord deputy bestowed knighthoods on three of his company commanders in front of the heavily fortified church in Rathdrum and despatched news of his achievement to the privy council in London. Feagh's pickled head was then sent by messenger to Queen Elizabeth. She, however, was not impressed and 'was much troubled with the late knights that were made' and displeased that 'the head of such a base Robin Hood is brought so solemnly into England', concluding that 'if it be true his son be still out, his youth will better his father's age'.' This son, Phelim, Feagh's successor as chief, and Raymond, the other surviving son, maintained the war against the Pale for a few more years.
An inquisition held in Ballinacor on 16 January 1606 to determine his estate concluded that when Feagh was killed he was seized in fee of several named townlands in the Ranelagh and also some tracts of land in territory formerly held by the Crioch Branach in the baronies of Arklow and Newcastle and the district known as Cosha - essentially the basin of the Derry Water, comprising the parishes of Kilcommon, Kilpipe, Preban and part of Moyne - which Feagh had acquired through mortgage. The estate, deemed forfeit to the Crown, was divided by royal grant some months later between Phelim and Raymond, while disposal of the remainder of the clan lands was left undecided. This sparked off a rapacious campaign by influential persons aligned to the government to oust the O'Byrnes. Their machinations were aptly described by John O'Donovan, as affording an appalling picture of human depravity and perfidy in those murderous times'.')
In response to his insecure situation Phelim pursued a temporising policy with the government while maintaining de facts possession of his territory until his death in 1631. In his will there are several references to 'my son and heir, Bryan McPhelim'. Since there are no specific bequests to Bryan it was apparently believed that his nomination as chief of the clan would suffice for an inheritance. Phelim divided amongst his other sons, Hugh, Garrett, James, Turlough, Cahir and Art, what he regarded as his personal estate held under English law, since the townlands listed were much the same as specified in the royal grant of 1606. The Down Survey shows that the disposals made by Phelim in his will were generally held by his sons in 1641, and that his brother Raymond and the latter's son, Luke, were deemed also to be in possession of various lands. Tenure of all these holdings came to an end following the forfeitures in the wake of the 1641 rebellion and when the Books of Survey and Distribution were compiled later in the century no member of either Phelim's or Raymond's families is shown in possession of any land at all in the county."
Little is known of what became of these families. Bryan McPhelim is mentioned circa 1648 as being in command of the Gabhal Raghnall troops in the Catholic Confederacy in which Bryan's son, Seán, also served with the rank of colonel. Hugh McPhelim, addressed as a lieutenant-general of the Confederate Catholics, was appointed governor of County Wicklow in 1648. According to the writer of the contemporary polemic, An Apborsmicall Discovery, Bryan afterwards went to Ulster and thence to Inisbofin, while Hugh went into exile in Spain. Another brother, Fr Laurence Byrne, is mentioned by that writer as being guardian of the Franciscan Friary at Ballinabarnev. Phelim's other sons, Garrett, James, Turlough, Cahir and Art are, along with Hugh, listed in the outlawries of 1641-47, and likewise Raymond McFeagh and his sons Luke, Phelim and Shane. Presumably they all fled into exile. With the exception of Cahir's children, one of whom, Don Arturo O'Bruin, became a general in the Spanish navy and a Knight of the Order of Calatrava, the fate of this generation of the Gabhal Raghnaill has not been elucidated.
According to the genealogist O'Hart, the Ballymanus Byrnes were descended from Raymond McFeagh. O'Hart is at odds with the more distinguished genealogist John O'Donovan, who notes in his edition of the Annals of the Four Masters that, according to tradition in the country, Garrett was not descended from Feagh but a branch of Feagh's sept who became spies and informers to ruin the great Ballinacor family. O'Donovan concluded that the tradition pointed to Cahir McHugh Duffe O'Byme of the rival Knockrath branch who was closely associated with Lord Esmond in a scheme aimed at having Phelim's sons convicted of murder and their lands confiscated.
There would seem to be more substance in the tradition recorded by O'Donovan than in the ancestry outlined by O'Hart. The source of O'Hart's information seems to have been a genealogical table constructed by Edward Joseph Colclough Byrne of Rathmines, a grandson of Edward Byrne of Ballymanus, brother to Garrett and Billy of 1798 fame. As a twenty-two year old temporary employee in the excise branch of the Inland Revenue he conceived the idea that he might have been heir to the Ballymanus estates and spent much of his free time during the summer months of 1867 researching his family history with the objective of establishing a claim to the ancestral lands. He kept a diary and this along with several items of correspondence relating to his ancestry are fortunately extant. Amongst the correspondence is a letter somehow acquired from the papers of Luke Cullen, the Carmelite monk of Clondalkin and well-known authority on 1798. It appears to be a reply written to Brother Cullen in 1855 by Mary Ann Byrne of Kilcullen on behalf of her ninety year old father, Garrett Byrne of Ballycapple. In it the old man asserted that the Ballymanus family and other branches of the O'Byrnes were descended from Feagh's son, Raymond.
Edward refers to this letter in his diary and tells of an evening spent discussing these matters with Father C.P.Meehan of Saints Michael and John's parish. Meehan, a writer on historical topics with an established reputation, had mentioned that he and the late John O'Donovan had had long discussions on the pedigree of the Ballymanus Byrnes but had been unable to establish any connection between the family and Feagh McHugh. Undaunted by the failure of such eminent scholars, Edward asserted that John Byrne of Kiltimon was a son of Raymond, Feagh's son, and 'having purchased Ballymanus about 1620 removed the family seat thence from Kiltimon". Nothing in Edward's papers indicates how he formed this idea and no documentary evidence supporting the contention has come to light. Young Edward died in 1870 but some time before his death he had become acquainted with Reverend John Edge, the incumbent of Calary, who had planned to publish a history of the Byrne families. Edward provided his pedigree to Mr Edge for this purpose but in the event it was not used. Only one part of Edge's history appeared in print and this consisted largely of extracts relating to the O'Byrnes from O'Donovan's Annals of the Four Masters. Edge remarked that O'Donovan had been misled by tradition in regard to some families and that this would be rectified with respect to the Byrnes of Ballymanus. However, since the first issue of the history met with disappointing support, another was not published. O'Hart's pedigree bears such close resemblance to that prepared by Edward that it seems very probable that it was supplied to O'Hart by Ed e, thereby leading to the repetition of the errors.
Apart from the unsupported assertion that the family descended from Raymond McFeagh O'Byrne, Edward's researches were otherwise painstaking and productive. His discovery in the Registry of Deeds of conveyances executed in 1817 and 1821 by his granduncle, Garrett Byrne of Ballymanus, to which his own grandfather and his grandaunts, Frances and Eleanor Byrne were parties, put paid to his hopes of a title to the Ballymanus property. One of these deeds of sale cited the original conveyance of the lands of Ballymanus, Macreddin and Clohernagh to Garrett Byrne of Ballymanus by Sir Laurence Esmond of Clonegal on 13 January 1700 for ever at a yearly rent of £12.11 The granting of a lease in perpetuity to the Catholic Byrne family before the passing of the notorious 1704 Act 'to prevent the further growth of popery' enabled them to hold on to the estate during the period of the penal code.
It seems not improbable that Garrett's ancestors were tenants on these lands long before the lease referred to was obtained from Sir Laurence Esmond, then under some financial pressures. After an abortive effort by Esmond's great grandfather to secure Ballymanus along with numerous other townlands in the county by grant from James I in 1622, his ambition was better satisfied in 1628 by King Charles I with a grant of nearly 5,000 statute acres in the territory of Ranelagh, the lands to be called the manor of Castle Laurence. Since Ballymanus was never named in the numerous commissions of inquiry on land ownership as having been in the possession of Feagh McHugh or his sons, the troublesome question of dispossessing influential tenants would not have arisen. It is likely that Esmond, by then raised to the peerage as Baron Esmond of Limerick, regranted the townland to the sitting tenant whose descendants remained in possession for the next two centuries.
The appearance in the records of the Ballymanus Byrnes as a family of some standing first occurs towards the end of the seventeenth century when Hugh Byrne Esq. was elected as MP for the Borough of Carysfort (i.e. Macreddin) in the short-lived parliament convened by James II in 1689. He is no doubt the same Hugh Byrne esquire of Ballymanus who was listed amongst the persons subsequently outlawed for treason by William III. These lists also include a 'Gerald Byrne, Ballymanus, gent', most likely the Capt. Garrett Byrne, gent, listed among the adjudications on 4 July 1694 under the articles of Limerick and Galway. This implies that he had been pardoned by the Irish Privy Council and allowed to keep his property intact. Garrett was Hugh's son and heir. A further indication that Hugh was a person of substance is revealed by the list of claims under the Act of Resumption of 1700. Included in this list are claims for the rectorial tithes of Kilpipe, Kiltegan and Killinor, described as formerly the property of Hugh Byrne esquire by virtue of leases executed in 1687 but who had forfeited it 'being attainted of High Treason'. Assuming that Hugh Byrne of Ballymanus was head of a family long established on these lands the question arises of where he and his forebears had lived.
On the Ordnance Survey map of 1840 the presumed site of Castle Laurence is shown about 200 yards west of Ballymanus House. It is traditionally thought to have been built by Laurence Esmond, the grantee of these lands in 1628. Esmond died in 1646 and, because his son and heir, Sir Thomas, had fought with the Confederate Catholics in 1641, difficulties were encountered in establishing title to his father's estate and lengthy litigation ensued before the Esmonds regained possession. However, there is no record of the family having resided at any time in Ballymanus and if the castle was ever completed it seems likely that it suffered the same fate as many other castles Arklow, Kilconunon, Knockrath, Ballinacor and Killaveny - in this part of the county during the wars of the 1640s. The Down Survey recorded a church in ruins' on the lands of Ballymanus but there is no other evidence of a church ever having existed in Ballymanus. Petty's surveyors, working in hazardous conditions in hostile country, had either mistaken the castle ruins for a church or else confused the location with the church ruins in nearby Rosahane which are not shown on Petty's maps. The remaining archival source that might lead to information about the Byrne family's abode is the Hearth Money Roll of 1668-69 for the county but, unfortunately, it leaves the question unsettled. Neither castle nor house befitting a Gentleman of property is indicated in Ballymanus. Indeed in the whole district comprising Ballymanus and the adjoining townlands of Askakeagh, Cappagh, Coolballentaggart and Kiladuff only five of the thirty-six habitations in this district possessed hearths and of the sixteen householders named Byrne only one, John Byrne of Coolballentaggart, aspired to such comfort.
It is possible that the Byrnes resided outside Ballymanus and that the house there was not built until late in the 1600s. A residence in the vicinity of Rosahane is suggested by the fact that it was their traditional burial ground. Garrett Byrne of Ballymanus who died in 1714 requested in his will that lie be buried with his ancestors in Rosahane. This implies that his connection with the place went further back than his father's generation. A Mary Byrne of Rosahane died intestate in 1685. Further information about her was lost in the Four Courts fire in 1922 but the fact of her estate requiring legal proceedings suggests a woman of substantial property residing in Rosahane. She may have been the mother of Hugh.
Complete copies of the wills of both Hugh Byrne and his son Garrett perished in 1922 but fortunately some scholars had previously transcribed essential particulars. An abridged version of Hugh's will, preserved in the Genealogical Office, shows that it was made on 1 March 1696 and proved in 1707. He left his interest in the farm of Ballymanus and Macreddin to his son Garrett, he to pay for the schooling of testator's two little boys Simon and Hugh'. To his son Edward he left the benefit of the lease of Cappagh 'after Mr Thady Byrne's debt is paid'. Cows were left to his wife Mary and ten sheep to 'Joan Talbott or her mother'. The guardian and friars of Wicklow were left 20 shillings but if Hugh recovered his tithes they were to receive £10 per annum out of the benefits of the lease while he held it. Likewise his wife was to receive £10 per annum should the lease be recovered. The convent of Arklow was given 10 shillings; Fr Charles Byrne got 10 shillings and Fr Edward Byrne 20 shillings, (presumably for masses). Charles Byrne was parish priest of Rathdrum at the time while Edward is probably the then parish priest of St Nicholas Without in Dublin who succeeded as archbishop of Dublin in 1707; he may have been related to Hugh.
Before its destruction in 1922, Garrett Byrne's will had been synopsised by Dr Stanley Lane-Poole, an historian and orientalist who settled for some years earlier in the century in Dunganstown, County Wicklow, and planned to write a history of the county. His notes indicated that the ";will was made on 21 February 1714 and proved about six weeks later, Garrett devising the lease of Ballymanus and Clohernagh to his eldest son and namesake (whom we shall refer to as Garrett Byrne II). Unspecified references were made to his wife Catherine, his second son, Thomas, and his daughter Joan. His brother Hugh was given two cows. Instructions were issued for the woods in Ballymanus and Glenmalure to be sold. The executors appointed were his brother, Charles Byrne of Clone, and Walter Byrne of Killouchter who was described as his cousin. Particulars from the will had also been abstracted by Sir William Betham, Ulster King of Arms, who had made a copy of the devices apparently used on Garrett's seal. This shows a shield bearing a chevron between three right hands as is usually associated with the Clan O'Byrne but with the difference that the crest surmounting the shield consists of the head of a hound rather than the customary representation of a mermaid holding a mirror in her right hand and a comb in her left.
An unabridged copy of the will of Garrett's brother, Charles of Clone, survives and is of considerable interest because it reveals contemporary practices and values." Made on 18 April 1728 and admitted to probate a few weeks later, it provides at the outset for the appointment of three neighbouring gentry, Thomas Brownrigg, Thomas Pyers and Francis Hatton, as advisers to his wife and young children. They were asked to arrange the sale of his livestock and corn, the proceeds to be divided equally between his wife Ellinor and his six children, Mary, Frances, Elizabeth, John, William, and Ambrose, 'share and share alike'. Special provision was made for another daughter, Catherine (presumably a natural daughter), to be put out to a trade by leaving £10 for the purpose with another £10 to be paid by the family when her apprenticeship had been served. The main bequest was his 'right title and interest in and to the farms of Clone and Tomenerin and to the lease made to me by Thos. Bunbury Esq.' to his sons John and William along with the residue of all cash, notes, bills, bonds and debts due to him. The Bunbury lease, dated 20 November 1723, comprised two thirds of the rectorial tithes of the parishes of Kilpipe and Kiltegan in County Wicklow, and Killinor in County Wexford. Out of this income John and William were to pay £10 per annum to Ambrose during the continuance of the lease. In addition to his cash disbursement Ambrose was left a mare and foal. Charles's daughter Mary, who seems to have been his eldest child, was bequeathed the profits of his malt house and mill until John had reached the age of twenty-one or until the time of her marriage if earlier.
A bequest surely fraught with the possibility of domestic tensions was Charles's disposal of the family home. To his wife he left the large room upstairs with the furniture thereof,; to his sons John and William 'the parlor, blew room and the furniture thereof equally between them, together with all my plate except my plate spurs which I leave to my said son John as also my new boots, my watch, black britches and my new wigg' with William being left 'my new hat, saddle and bridle'. Complicating the allocations in the house at Clone was the bequest to his widowed sister, Ann Byrne, of £4 along with 'lodging and dyett in the dwelling house at Clone until my son John shall be of age'. Charles's brother Francis was also provided with food and lodging in Clone until John's majority along with 'my new black coat and waistcoat, my double breasted coat and black waste coat, with my new black and white britches'. Some family retainers were catered for too: to Terrence or Turlough Byrne my old boots, wig, hat and one shirt' and to John Ugan my black and white sarge coat and vest. His spiritual bequest had a somewhat ironic touch: to Father Philip Furlong he bequeathed the rectorial tithes of Curraghlawn townland in Kilpipe parish during the minority of his son John, together with one barrel of malt.' A further direction given was 'that the some of twenty or thirty pounds whatsoever it be that was left to my said wife by her father be divided equally between my said wife and my daughter Frances'. All of the bequests to his children were governed by the stipulation that none of them was to marry without the approval of their mother and two of the three family advisers, while if his wife remarried during the minority of Ambrose she was to forfeit all legacies except that left to her by her father. Charles appointed his wife and daughter Mary in trust as executors until his son John had become of age, he then becoming sole executor.
An unusual feature of the will was Charles's division of the main part of his estate equally between his two sons, John and William, with John being named as if he were the principal of the two. A possible explanation may be that Charles felt William had not long to live. William's name does not feature as co-heir in any surviving documents concerning the estate. John himself came of age in 1735. However, he does not seem to have made a success of his inheritance. A deed dated 18 May 1747 concerning the disposal of Thomas Bunbury's estate and naming Ambrose and John Byrne as parties reveals that Ambrose had sold the annuity charged on the Bunbury tithes to John and that John in turn had assigned the lease to his cousin Garrett Byrne of Ballymanus for £100.-" Rather significantly, however, the domicile of both John and Ambrose is now given as Tomcoyle rather than Clone. The townland of Tomcoyle comprised part of the Wentworth estates in the county inherited by the marquess of Rockingham, and the head tenant at the time was Jacob Coates. John presumably had by then lost Clone and become an under tenant to Jacob Coates. Further deterioration in Johns fortunes emerges from a deed poll he executed on 4 October 1766 providing for the transfer of all his rights and property to his brother Ambrose in return for food and lodgings and the other necessities of his remaining lifetime. His domicile at that time is given as Killalisk, County Wicklow. Finally, the intestacy of Ambrose Byrne of Knockboly, County Wicklow, in 1776, is the last reference noted to this once relatively well-off family.
It is convenient at this juncture to note the associations between the Coates and Byrne properties. Jacob Coates died sometime before 1763, his son George taking over the remaining period of the lease of Tomcoyle. However, George failed to obtain a renewal of the lease in 1763. The principal objection to him, as expressed in Rockingham's agent's correspondence, was that 'Jacob Coates marrying a Papist wife had issue by her the said George Coates and two other boys and two girls who are brought up rigid Papists'. Given that rank and social status were important considerations in marriage choices at the time and that the Byrnes were one of the few if not the only Catholic family of rank in the district it is not inconceivable that Jacob Coates had married one of the Ballymanus family.
Jacob's kinsman, Charles Coates, had acquired the lease of the neighbouring townland of Rednagh on the Rockingham estate on the death of his father in 1751. Three years later he acquired the lease of the estate formerly held by Charles Byrne. The deed, dated 29 May 1754, refers to 'the lands of Cloan and Timonering now in the possession of said Charles Coates and his undertenants except that part of Timonering which is in the possession of Mick Carey'. In 1785 he brought back Tomcoyle into the Coates family, with whom it remained until recent times. Tankersley House in Tomcoyle.is synonymous the Coates family and probably attests to Yorkshire origins but Clone House was where Charles Coates lived. It was here that Billy Byrne of Ballymanus was given refuge one night in 1798 when escaping from the Hacketstown yeomen. Clone House was later burnt by the rebels and Coates family tradition has it that Charles's elderly wife refused to leave her bed whereupon Billy Byrne had her carried down carefully in her bed and deposited on the lawn.
Garrett Byrne of Ballymanus inherited the Ballymanus estate from his father Hugh. In June 1713 he added the lease of Ballymorris, a property of around 420 statute acres, obtaining it for thirty-one years at £33 per annum from Robert Johnson of Kirktown, County Down. Johnson was the husband of Lucy Magill, eldest daughter and devisee of Capt. Hugh Magill who is listed in the Books of Survey and Distribution as the person to whom Ballymorris was disposed following its confiscation from Raymond McFeagh McHuch O'Byrne, its proprietor in 1641.
In Garrett's will of 1714 his second son, Thomas, is named. While nothing definite is known about the provisions made for Thomas he may well have secured a lease of the interest and title to the lordship of 51 The Glendalough and Strangeen and the lands of Drummin in 1747. The deeds of conveyance recite that a judgement had been obtained in the court of exchequer by Garrett Byrne, gent (address not given) against Thomas Sherwood and that on foot thereof the sheriff of County Wicklow had sold Sherwood's interest in the Glendalough and Drummin estate to John Hetherington of Callan, County Kilkenny, 'for the use of Thos. Byrne of Larah, Co Wicklow, gent.' Witnesses to the transactions include Thomas Hugo but perhaps more significantly 'Ally Byrne sister to Garrett Byrne of Ballymanus gent'. Her involvement would suggest a close family association with the beneficiary and points to her brother as the instigator of the suit to secure the Drummin estate. Thomas Byrne died a few years later and appears to have been childless. The Betham abstract of his will names John, Simon and Thomas Hugo as his nephews, and Jane Hetherington, Margaret Robinson and Sarah Simpson as nieces, all presumably legatees." Thomas Hugo was appointed executor. Sometime subsequently he became proprietor of Drummin. Hugo's son Thomas developed a close friendship with Billy Byrne of Ballymanus later in the century which may have originated from this family connection. The friendship soured, however, and Thomas Hugo became one of the chief state witnesses against Billy at his treason trial in 1799.
The little information we have on Garrett Byrne II is derived primarily from the diary of Edward Byrne. In June 1867 he travelled on a rail excursion to Wicklow and visited Fr Molony of Kilbride who had been recommended to him by Fr Meehan. Fr Molony suggested that he should call on Colclough Byrne of Ballycapple. The ensuing discussion at Ballycapple led to the discovery that he and Colclough had a common ancestor in Garrett Byrne II, Colclough's father, Garrett, being a son of John Byrne, second son of Garrett II, while Edward's grandfather was a son of the same forebear's eldest son, Garrett III. Another interesting discovery for Edward was that Colclough had in his possession in Ballycapple the will of Garrett II. Edward noted in his diary that the will was dated from Hacketstown on 17 January 1767 and that the names mentioned included Garrett, the eldest son, who was described as having been provided for by his marriage articles, two other sons, John and Colclough, a daughter Margaret, a cousin Luke Masterson and his wife Frances, and a Jemmy Kavanagh whom Edward assumed to have been a natural son. The only detail of legacies that Edward noted at the time was one that particularly fascinated him - a feather bed.
In the genealogical table for the family compiled by Edward he ascribes a 'Miss Colclough of Tintern, aunt to Caesar Colclough' as being the wife of Garrett II. Efforts to locate documentary evidence substantiating this have been unsuccessful but the assertion if valid would account for the adoption of Colclough as a forename in subsequent generations. It is tentatively suggested that she was Katherine Colclough, a sister of Dudley Colclough of Duffrey Hall who married Mary Barnewall in 1691 and whose eldest son, Caesar, born in 1696, inherited Tintern Abbey in 1723. 'He is usually known as 'The Great Caesar'. Katherine Colclough had another brother, Adam of Boley, who married Margaret Masterson of Monaseed, County Wexford, in 1701. Margaret's brother, John, was the father of Luke Masterson who is described in the will of Garrett Byrne II as his cousin. The term cousin was used rather loosely in former times and Luke Masterson might more accurately be described as Garrett's wife's sister-in-law's nephew. The friendship was close in any event. Luke Masterson was one of the trustees to the marriage settlement of Garrett's eldest son, Garrett III , in 1755 while both Garrett and Luke acted as arbitrators in May 1746 in the settlement of a dispute between Patrick Colclough of Duffrey and the 'Great Caesar'.58 Both the Mastersons and the Ballymanus Byrnes had social links with the wealthy Juliana, countess of Anglesey, whose seat was at Camolin, County Wexford, and who in her will dated 12 December 1776 left small bequests to four of Luke Masterson's daughters and the unnamed 'eldest daughter of Garrett Byrne of Ballymanus Esq.'.
The possibility of a second marriage for Garrett II is suggested by the name and description of a witness to a deed of settlement executed on the occasion of the marriage of Garrett III in 1757. References to the two Garret's, father and son, occur in the document but there is also mention of a third Byrne of that name, described as 'Garrett Byrne ye Elder now of Ballymanus aforesaid Gentleman Uncle to the said Garrett Byrne ye Son'. While this could suggest that a sister of Garrett II had married his namesake it could also mean that a second wife to Garrett had a brother of the same name living in Ballymanus.
Garrett Byrne II had three sons. The two younger, John and Colclough, apparently moved from Ballymanus to Hacketstown with their father at the time of their brother Garrett's marriage in 1755. Both signed his marriage articles, giving Hacketstown as their address. John Byrne was, as discovered by Edward on his visit to Ballycapple, the progenitor of that particular branch of the Ballymanus family, which still flourishes. The details of John's descendants compiled by O'Hart in 1887 are likely to be accurate since they Would in all probability have been supplied by reliable family sources. John's younger brother, Colclough, settled some time later in Drumquin, near Hacketstown. According to Edward's genealogical researches, Colclough married a Miss Gaiwey of Cork, a sister of Lady Esmond and a great grandniece of James, first duke of Ormond. Edward's urge to record Such a remote connection with a titled person reveals the abiding interest in even the most tenuous aristocratic links.
In 1774 Colclough is recorded as mortgaging for £239 the remainder of a twenty-one year lease he had obtained on 25 March 1770 of the lands of Killacloran and Balleeshal (townlands adjoining Aughrim) to John Tate of Fananierin. However, he lost the opportunity to redeem the lease as the property was sold to Tate in March 1778 by the high sheriff of the county on foot of a court decree Sometime after that Colclough went to reside in London where he subsequently died. He had two sons, Garrett and William Michael. Garrett lived for a while in Kilkenny and then returned to Carlow, residing in Inch Cottage where he died in 1839 aged sixty-eight. William Michael lived in Park Hill, Glen of the Downs. He was deeply involved in the preparations for the '98 rebellion and attended the United Irishmen county foundation meeting held at Annacurra in the house of his cousin John Loftus. He was arrested at a provincial committee meeting of the United Irishmen in Oliver Bond's house in Dublin on 12 March 1798, convicted of high treason and hanged outside the Courthouse in Green Street on Wednesday, 25 July. The dignified manner in which he faced his execution left a lasting impression. The Dublin Magazine reporting on his trial said he 'met his fate with a degree of courage perhaps unequalled'. He was survived by his wife, mother and young daughter. It is probable that John Loftus of Annacurra was a son of one of the two daughters of Garrett II listed by Edward Byrne on his genealogical chart. An unnamed one was noted merely as marrying 'Graham' and the other as Bridget Loftus 'from whom descends Tom Doyle'. The precise links between those mentioned have not been established.
Garrett Byrne III, the eldest son of that particular Ballymanus generation, is often referred to in the literature of the '98 rebellion as 'Old Garrett' to distinguish him from his better known namesake son. He married, in 1755, Christian Jans, daughter of a Dublin surgeon, John Jans. For her marriage portion her father provided the sum of £1,200 in consideration of Garrett's father providing them with an annuity of £200 along with a lease of Ballymanus at the low rent of £22 per annum. The couple had five sons, Garrett, John, Colclough, Edward and William, and two daughters, Eleanor and Frances. Garrett seems to have been a hard-living rumbustious type of country squire. Miles Byrne tells of Garrett's dexterity with arms and of how Miles' father had often seen Garrett shoot swallows from his hall door with a pistol ball. The story of his horsewhipping Hunter Gowan of Mount Nebo for some perceived offence on the hunting, field is recounted by Miles Byrne and is repeated by Mrs O'Toole, a native of Ballymanus, who in her eighty-fifth year in 1934 recorded on an Ediphone instrument accounts heard in her childhood from relatives who were alive in 1798.' Her version of the incident tells of Garrett's pack of hounds getting mixed up with Gowans: in the ensuing confusion separating the hounds Gowan was discovered beating one of the Ballymanus pack with his whip, an action which provoked Garrett to deal reciprocally with Gowan. She related that Garrett lived in high and kept only forty acres around the house for breeding horses and dogs. He did not farm the estate himself and depended on tenants for his income. Heavy gambling was another of his pastimes. It is likely ;that Mrs O'Toole met Edward Byrne the diarist, for it was surely this descendant of the Byrnes who 'had a good position in the Castle whom she remembered calling to her father's house one Christmas day 'to inquire about his ancestral home and about how the title stood'. Garrett was predeceased by his wife Christian - presuming it is she who was the 'Mrs Byrne, lady of Garrett Byrne of Ballymanus, Co Wicklow, Esq.' whose death on 22 January 1778 is listed in Walker's Hibernian Magazine. This would indicate that several of the Byrne children were quite young when their mother died. Garrett himself died in Arklow between 18 July 1793, the date of his will, and 20 February 1798, the date it was admitted to probate.
It was probably around the time of his eldest son's marriage that Old Garrett consigned the bulk of what remained of his dwindling inheritance to his eldest son and heir and moved from Ballymanus with his two daughters to live in Arklow. The original lease from Sir Laurence Esmond in 1700 comprised the townlands of Ballymanus, Macreddin and Clohernagh. However, it had now been reduced to the townland of Ballymanus, Garrett having mortgaged Macreddin and Clohernagh to the Reverend Edward Bayley who foreclosed on the mortgage in the court of chancery in 1774The loss of this part of the estate rankled with the family for many years to come. As late as 1867 a story was in circulation which probably had its genesis in this incident. Edward Byrne, to whom it was told by Matt Kavanagh, an old man in Ballymanus who had known the family early in the century, noted in his diary: 'Matt's father ', Andy Kavanagh was sent by Garrett my great grandfather to Symes Bailey of Ballyarthur for a loan of some money on land (not known where) who sent back a paper supposed to be a mortgage for old Garrett to sign which he then refused to sign and never did.' There are other indications of Garrett's mismanagement of his affairs and extravagant lifestyle. A mortgage deed dated 29 May 1765 reveals that he then held the lease of Kiladuff, a property of 345 acres adjoining Ballymanus which should have yielded him a substantial profit rent. The absence of further references to this property in the Ballymanus name would suggest that Garrett had failed to retain it.
Rosahane looms large in diverse Byrne sources and it is surprising to find this burial place highlighted so much when many important biographical details concerning the family went unrecorded. Both Garrett III and his wife are buried there though, strangely, not in the same tomb. Fr Redmond, the parish priest of Arklow, writing circa 1850 to Madden, the historian of the United Irishmen, reported that Garrett 'died in Arklow" and was buried in the vault in Rosehane. His wife was buried also in Rosehane but not in the vault but by the side of it ,with a priest of the name of Fr Brennan from Rathdrum parish Corroborating this is a note in the Rathdrum parochial records to the effect that the Rev Laurence Brennan, parish priest of Rathdrum (c. 1771-81) was 'buried in Roschane near the Byrnes of Ballymanus'.--, Edward Byrne also mentions it. In his diary account of an excursion he made to Ballymanus on 29 June 1867 with Matt Lambert, a local companion, Edward wrote that Lambert's mother thought she had seen many years previously 'a flag covering the entrance to the Byrnes' vault at Rosehane on which were some inscriptions, one of them giving the name of the first of the Byrnes who had been interred there; says that no one was buried there since my great grandfather in 1795, that some of the Loftus family who were intermarried with the Byrnes are buried in the vault'. Though her recollections may have been slightly confused, the octogenarian Mrs O'Toole had also something to say about it: 'there is (sic) fourteen skulls in it belonging to the family. They were all over six-foot men. Garrett (i.e. Garrett III) was married to Lady Folkes of King's County and she was called Lady Madame Byrne. She is buried outside the vault'."
Rosahane burial ground lies on top of a flat hill overlooking the valley through which the river Ow flows on its passage to Aughrim, parallel to the modern road from Aghavannagh. About one mile below Rosahane on the south side of the Ow valley is Ballymanus House. The burial ground is today surrounded by forest which makes it a particularly peaceful and picturesque last resting place. The vestiges of what is possibly a twelfth- or thirteenth-century Romanesque church are visible but little concrete information is known about its history. The three ancient dioceses of Ferns, Glendalough and Leighlin meet in this district but there is evidence to Suggest that their precise boundaries varied over the centuries. Ballymanus, placed in the Down Survey in the parish of Kilpipe and hence in the diocese of Ferns, may have earlier belonged to Rathdrum parish in Glendalough diocese, as did Rosahane. This may account for the Ballymanus-based family's allegiance to Rosahane rather than a parish church in Ferns though the Byrnes may have resided closer to Rosahane before Ballymanus House was built. Sadly there is no trace now visible of the Byrne family vault.
Finally we come to deal with Old Garrett's family of two daughters and five sons. Both daughters, Eleanor and Frances, were described as spinsters on a deed dated 1821 conveying their interest in their deceased brother William's farm to Daniel Tighe. On Edwards genealogical chart, however, Eleanor is denoted as having married Anderson'. Both died in 1831 and are buried at Golden Bridge.
John, the second son, died in 1800. Like his brother Colclough, the third son, he had been a member of the Carlow Militia. There is sonic mystery about his activities at the time. In a letter written by Garret Byrne on 11 April 1800 from exile in Hamburg to his sister Frances in Dublin he refers to the 'situation of my poor unfortunate brother john' and remarks that it may be a 'rather fortunate circumstance for himself and Family that he is no more. There is no indication given of what Garrett was referring to. William, who had been hanged some months previously, had apparently left fifty pounds to John and it was decided by Garrett that the sum should be appropriated to pay john's and William's debts. Captain Thomas King of Rathdrum, a most resolute discoverer of real and imagined rebel activities, and watchdog for the authorities in Dublin Castle, was confused by the brothers. In a letter written in 1803 to the Castle he refers to 'John Byrne now of Baltinglass, late a Lieut'n in the Carlow Militia' as being then engaged in seditious activities, probably confusing John with Colclough.78 Colclough was commissioned a lieutenant in the Carlow Militia on 10 February 1796. He is said to have resigned his commission on William's being condemned to death.79He died aged thirty-six at Harold's Cross and was interred in the cemetery attached to St Michan's in Church Street on 5 July 1807. He is not known to have married.
The fourth son of Garrett III was Edward, the diarist's grandfather. Prior to the rebellion he had a good business house in Tinahely but lost all his property during one of the yeomanry rampages in the town. In the immediate years after the rebellion he is reported by Thomas King of Rathdrum as working as a clerk in a distillery in Patrick Street, Dublin, and married to a sister of another Edward Byrne, a Rathdrum shopkeeper and prominent United Irishman. She died around this time and he re-married on 17 February 1802 Maria Kavanagh of Ballyscarton, County Wexford, with whom he had his four sons and two daughters. For a period (1813-17) he owned an hotel in Athy. He died there in 1824. Of his four sons, only Edward, married to Joanne Kennedy, is known to have had children. Edward was employed as a clerk- in the Collector's Office of the Inland Revenue. He died on 19 July 1864 and was survived by his wife, his second son - our diarist Edward Joseph Colclough Byrne and four daughters. Edward Ill is therefore the last known descendant in the direct male line of Old Garrett Byrne of Ballymanus.
Garrett's youngest son was William, or Billy as he is more commonly known in ballad and book. Much of what has been written about Billy, as in the case of his brother Garrett, is inaccurate.' It is, however, outside the scope of this essay to deal with the details of their involvement in the 1798 rebellion. Well after the rebellion had subsided William was arrested in Francis Street, Dublin, on 14 May 1799 and conveyed to Wicklow to be tried before a court martial. The trial commenced on 24 June and continued by adjournment to 2 July. The report of the trial proceedings would suggest that William had had a falling-out with his brother Garrett about 1795 and had gone to live with Thomas Hugo in Drummin.. He joined the Wicklow Yeomanry Cavalry, of which Hugo was lieutenant, during the latter part of 1797. In February 1798 he and three other Catholic members of the corps took exception to the wording of a test oath they had been asked to swear and were consequently expelled. William then returned to Ballymanus and joined in the preparations for the rebellion, subsequently taking part in various engagements. He was acquitted of the charge that being a member of a yeomanry corps he deserted to the rebels. He was likewise acquitted of having participated in several murders during the rebellion. However, the court convicted him of acting as a captain or principal rebel leader at the battles of Arklow, Vinegar Hill and other places, and sentenced him to death. While William undoubtedly acted in the capacity of an officer or person of rank on these occasions the testimony appeared insufficient to credibly establish that he was a principal leader, justifying the capital sentence which shocked many of the ordinary populace at the time.
Efforts to obtain a pardon were then set in train. His sisters presented a petition to the lord lieutenant, in a desperate attempt to impress him even resorting to the tactic of claiming a spurious relationship with the marchioness of Buckingham. In response to the petition, a report was prepared for Cornwallis, the lord lieutenant, by the commanding officer of the militia in Wicklow which revealed that revenge for the burning of Hugo's house and property, allegedly by William, and the burning of the Rev. Edward Bayley's house at Lamberton on the day of the battle of Arklow, influenced the death sentence. It was even suggested in the report that the motive for burning Bayley's house was that Bayley had some years previously purchased part of Billy's father's estate under a decree of the court of chancery. The sentence of death was affirmed by Cornwallis on 21 September 1799 and despite last minute efforts by his sisters . William was executed on 26 September.
William was unmarried and aged about twenty-four at the time of his death, according to his nephew, Edward Byrne, who, in response to a questionnaire sent to him by Madden, the historian, replied that 'He was of very superior personal appearance and his character for humanity, integrity and industry the very best'. The execution took place 'nearly a mile from the prison of Wicklow which distance he had to walk through the town'. Edward also noted that 'Rev Mr O'Toole attended him as spiritual director at his executions Edward's' knowledge of the family was scant so he referred Madden to Bridegt Loftus as one who 'would know a great deal of all the family and of Billy's trial etc'. Bridget Loftus had given evidence at the trial and had said they were related, her father and Billy's being first cousins. Ironically we turn to Miss C.M. Doyle, a great granddaughter of Bridget Loftus's mother, who in an article published in The Wicklow Star in the '98 centenary year best dealt with the mystery concerning Billy's burial place: 'some people have asserted that his body was cast into the sea; others that he was removed from Wicklow Abbey to Rosehane by night. But I think, all things considered, that we may safely believe he was buried in the Abbey and left there.'88
Many others who paid the supreme penalty and had played more prominent roles in the rebellion are now virtually unknown but Billy Byrne's fame as a heroic figure has endured for two centuries. To some extent it is due to the ballad, inspired by the great esteem in which he was popularly held and the revulsion felt at his execution, which commemorates him. Father C.R Meehan, who was a curate in Rathdrum for eighteen months after his ordination in 1834, took a special interest in the recollections of the local people about the Ballymanus family. He has relayed some of these in the preface to a semi-fictional history of the O'Toole clan which he wrote under a pseudonym and published some thirty years after his transfer from Rathdrum parish. He quotes Father Grant, the parish priest of Wicklow, as recalling Billy as 'one of the finest men I ever saw. He stood more than six feet in his vamps, and was the best man in the county after the hounds ...Billy, poor fellow, ...was sacrificed to placate the Orange faction in this county ....Ah, poor Billy, I'll never forget the day I saw you marching handcuffed, with a priest at your side, past the Old Franciscan friary of the town of Wicklow to the gallows hill. Meehan attributes a similar comment about Billy's wide popularity to an old man the historian met in Glenmalure while visiting the ruins of Crutchley's mansion, burnt by the rebels, as well as the information that Billy was courting one of Crutchley's daughters before the rising, and that she then never married. Charles Dickson relates the remark passed by one of Billy's companions in arms: 'I wonder how any young lady could look on him without being in love with him. Dickson suggests that Billy may have frequented Hugos of Drummin because of the beauty and engaging manners of one of Hugo's daughters and that when he transferred his attention to Betty Crutchley of Ballvboy this led to a coolness with the Hugo family. Miles Byrne also comments on Billy's popularity: 'He was amiable and simple in his manners; handsome, powerfully strong and well-proportioned; six feet six inches in height, about twenty-four years of age.
Father Meehan was very attracted to the plaintive air of the ballad about Billy, the words of which he attributes to a hedge schoolmaster, Peter McCabe, who lived in Glenmalure. He implies too that Peter had compiled a manuscript abounding in songs and stories about the rebellion in which he had been an active participant. Meehan subsequently bought this from the late bard's brother, Driscol McCabe, for ten sovereigns. Fearing that some of its revelations would bring down vengeance on a number of the people implicated, a condition of the sale was that the manuscript should not be published for many years. Meehan's intention that it should be published posthumously with his own memoirs was never realised and it is not known if the manuscript still exists.
William's heroic reputation was publicised in the United States by an eccentric clansman, one Oliver Byrne, who was born in Leyden, Holland, about 1810. He subsequently acquired some eminence in England as a teacher and writer of numerous innovative works on mathematics, engineering and military science. Byrne toured the United States in the 1850s and published from Boston in 1853 a treatise entitled Freedom to Ireland which advocated revolt from Britain and provided lessons in the use of small arms, field fortifications, pike exercises and street fighting. The book was dedicated 'To the memory of William Byrne, Esq., of Ballymanus, County Wicklow, Ireland', and to the fulsome list of qualities attributed to the dedicatee was the rather dubious claim that Billy 'by the dextrous use of the Pike destroyed two thousand of his country's enemy; and out of twenty-seven engagements in the open field, won twenty-one.
The only member of the Ballymanus family who seems to have been a registered member of the United Irishmen was Garrett IV, the eldest son and heir to the estate. According to Luke Cullen, Garrett was born about 1762. For part of his early education he was sent to France where, exposed to a new political philosophy, he became aware of the necessity for radical changes in the government of his own country. His first cousin was William Michael Byrne of Parkhill who was deeply involved in the councils of the United Irishmen while another 'near relation', as Billy described him at his trial, was Esmond Kyan, one of the Wexford leaders, whose family operated the copper mines in nearby Ballymurtagh."
In either 1786 or 1788 Garrett married Mary Sparling, an adoptive child and niece of James Cullen, a wealthy Distiller in Hacketstown. Luke Cullen mentions that the marriage disappointed Garrett's family because she hadn't much, if any, of a fortune. At all events, it did not prove to be a successful union, to judge by a deed of trust dated 9 April 1795 reciting that several disputes and differences had between James Cullen and Garrett relating to Mary's marriage portion and the title to certain lands at Hacketstown.' The outcome was that Walter Byrne, a merchant of Abbey Street, Dublin, was appointed a trustee of the settlement terms. As Walter also held property in Killoughter, County Wicklow, and was involved with the Catholic Committee and the United Irishmen it is likely that he was well known to Garrett. Sir Richard Musgrave, albeit a virulently hostile reporter of rebel activities, relays what was no doubt gossip circulating about the marriage at the time. In his account of the rebel attack on Hacketstown on 25 June 1798 led by Garrett Byrne and Edward Fitzgerald, Musgrave in reference to a house commanding the main street noted that: 'The family of Mr McGhee, all the protestant women of the town, and even the wife of General Byrne, (whom, it is said, he wished to get rid of), took refuge in it.
According to the Madden manuscripts, Garrett Byrne's house at Ballymanus was first sacked by the Tinahely Yeoman infantry on 8 May 1798 when 'his mother had gone to relatives at Hacketstown, never to return. His sisters went to Dublin and Garrett was with his sisters in Dublin when the insurrection broke out, when he left to join the insurrection.' The reference to Garrett's mother is almost certainly a mistake for his wife. According to Luke Cullen, the house was built about 1650' by Garrett Byrne, great grandfather of William and Garrett, the family residing there until 1798 when 4the fine baronial house was burnt by the loyalists',99 Mrs O'Toole with her customary astonishing mix of fact and fancy recorded in 1934: 'the house itself was a four storey house and was burned in '99 (sic) on 8th May by the Tinahely yeomen. Then a landlord named Tadhg (sic) of Roseanna bought it from Colclough. He bought Ballymanus and Macreddin and Clorthna in Glenmalure and a townland named Bettyfield in Kildare. Tadhgh had no right title as Colclough could not sell it, so he sold it to Col. Bayley, and he sold it to Guinness the Brewer in Dublin, and if anyone could make a title for it he could'. While Luke Cullen is clearly wrong about the date of building of the house it was evidently a substantial edifice as it features prominently as a landmark on the Taylor and Skinner road maps of 1778.
Garrett's involvement in the rebellion concluded on 20 July with his surrender to General Moore in the Glen of Imaal. The terms required him to go into exile for ever. Towards the end of the year he and his close friend, Edward Fitzgerald of Newpark, the Wexford leader, were transported to Bristol where they remained until 22 March 1799 when they were removed to London and thence to Hamburg. Describing their arrest in Bristol the Freeman' Journal said: 'They each appear to be between thirty and forty years of age; Fitzgerald, a remarkably ill-looking man, of rough manners; Burne with rather a pleasing countenance, and of manners apparently mild ,and gentle. The interval between their surrender and departure from Ireland was used to arrange their affairs. Garrett made provision for his two spinster sisters, Eleanor and Frances, transferring to them by deed poll the 'dwelling house, out offices and gardens in the town of Arklow wherein the said Eleanor and Frances there lately dwelt.. Presumably this was the house to which his father had retired. The sisters had by then moved to Dublin and were residing at No. 20 Bishop Street at the time of Billy's execution and it was to this address that Garrett directed two letters, which survive among Edward Byrne's papers, from Hamburg to Frances in April and May 1800. They poignantly convey a sense of the lonely and depressing situation in which Garrett and Edward found themselves, with occasional glimpses of humour and fortitude. Ballymanus and family affairs were uppermost in Garrett's mind:
Edward also wishes me to send him an acknowledgement of all money transactions between William and me. I will also do that soon, as I have providentially one acknowledgement book left which will enable me to do it and have nothing to prevent me from sending it now but an unquiet mind. It is a task I am not equal to at present. I believe in my soul that all Edward's tenants and mine would be gratified in hearing of our being starved here a circumstance they must suppose will be the case if they don't pay us. For what can we do in a country where we don't even understand the language.
A second letter, dated 30 May 1800, suggests the problems inherent in conducting family business from afar - it also conveys the special symbolic significance of the oak woods of Ballymanus to the Byrne family:
I have sent the leases signed to Edward by Captain Craw-ford of the sloop William, who has witnessed them. He sailed from here last Sunday morning so I suppose he will arrive in Dublin as soon as this. Let Edward enquire for him at -Mr George Casson., No. 9 Fleet Street, who is the owner of the vessel. He ought to sign them in the presence of Captain Crawford and keep the one that has the receipt for 5s on the back of it. Let them give the other copy to you to keep. Captain Crawford said he would return to Hamburg in-immediately. If he does I would wish Edward would get me half a dozen handsome oak hand sticks from the neighbourhood of Ballymanus and send them by him. I fear they have made free enough with my wood in cutting sticks. Let him mind that I don't mean to give a sanction to any person to cut them for me, only to get them from some of the people who already has them [see appendix B].
Luke Cullen (and Charles Dickson) states that Garrett Byrne died an exile in Hamburg.. It has not been possible during the course of the present study to establish exactly where Garrett died but it is highly unlikely to have been Hamburg in any event. While his banishment from Ireland may have been permanent, his period of exile in Hamburg seems only to have lasted a few years. This is apparent from a lease of part of the Ballymanus lands dated 21 October 1806, wherein Garrett's abode is designated as the City of London. Another one of four years later gives his complete address in Camberwell. From London he seems to have moved to the south-west of England, since two conveyances, one dated 4 October 1817 and the other 14 March 1821, give his abode as Sidmouth in Devonshire.' The outcome of these various transactions was that virtually the whole of the Ballymanus estate, comprising in the region of 1,600 statute acres, passed to the Tighe family of Woodstock, County Kilkenny, and Glenealy, County Wicklow. An idea of the value of these lands may be gleaned from the sale under a court of chancery decree made on 10 August 1805 of a part of Ballymanus known as Creerna and amounting to nearly 690 statute acres whereby the solicitor acting for William Tighe of Woodstock purchased the lands for £3,31 0.
The date as well as the location of Garrett's death is also a matter of considerable confusion. The writer of a somewhat inflammatory review of Memoirs of Miles Byrne in The Nation in 1863 stated that Garrett was shot soon after surrendering in Glenmalure under promise of pardon. This assertion prompted the then rather youthful Edward Byrne, our diarist, to pen responses under the pseudonym 'The Last of the Byrnes of Ballymanus' denying that his granduncle had been shot, that he had instead quit Ireland and resided for some time in Belgium, afterwards settling in Bath from which address he had written to his sisters Ellen and Frances as late as 1823. Edward admitted that there was no information within the family as to Garrett's death. Another unlikely assertion was published in the Wicklow, Star centenary article referred to earlier. In this, Miss Doyle, his kinswoman, relates that Garrett chose Caen in Normandy as the home of his adoption and died there in 1830. The credibility of this account is impaired by the writer's rather tall tale that the gentleman who had carried the terms of the 'treaty' between Garrett and Sir John Moore in Imaal in 1798 had on a subsequent occasion been touring through Normandy. Seeking directions one day he had called quite fortuitously to the very cottage where Garrett was ending his days and they both recognised each other!
A further unsubstantiated account of Garret's death is given in Crone's Dictionary of Irish Biography The version here is that Garrett was born in Ballymanus in 1774 (making him a youthful twenty-four year old eldest son of a large family at the time of the rebellion) and that he was allowed retire to France after his surrender, dying in Paris and being interred in Montparnasse in 1832. The same biographical detail is recounted by the writer of an historical novel, The Green Bougb of Libetly, published in 1979. This is a fictionalised account of the life of Edward Byrne, Garrett's brother. The author, one David Rees, claimed that Garrett was his great-great-great grandfather. Whatever about the veracity of that claim, it is not beyond the bounds of probability that Garrett had natural offspring during his life in exile though no evidence for this has hitherto been noted."' The assertion by both Crone and Rees that Garrett was buried in Paris in 1832 seems to have its origin in a note from a correspondent in Paris in 1856, preserved in Dr Madden's papers, informing Madden that there was a tomb in the cemetery of Vaugirard in Paris bearing the inscription: 'The Grave of my poor friend and brother Gerard Byrne. He was born in Ireland 1776 and died at Paris 1832. May he rest in peace. Amen'. Nothing here provides justification for the assumption that this was the grave of Garrett Byrne of Ballymanus.
Though spared the supreme penalty, Garrett Byrne paid dearly for his part in the '98 rebellion. Miles Byrne wrote that Garrett had been' brought up with high notions of what he owed to his ancestors'. The loss of his patrimony must therefore have wounded him deeply. However, it was possibly inevitable in any event. C.P. Meehan best summed up the family's problems in one of the fictional remarks he attributed to Fr Grant: 'Go visit Ballymanus and you will see the remains of the now solitary house where they lived, I fear very riotously, and beyond their means."
See also: Research Paper 8 Gabhal Raghnall connection to Ballymanus
---
| | |
| --- | --- |
| O'Byrne Files Copyright © 2002 N. O'Byrne | Most recent revision: Thursday, 25 March 2004 |
---
---
O'Byrne Files World
Home Page | About Me | My Environment | My Humour | Computer Fun | More Humour | My Dublin | Dublin Slang | My Ireland | Hilwalking Theory | Fav Sites | My Links | Ego Promotion & Reminder | Photos | Best bits Summary | Contents

Would you like to sign my Guest-book ?