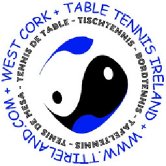 West Cork Table Tennis Assoc.
NEWS 2009-2010

2009-2010 / 2008-2009 / 2007-2008 / 2006-2007 / 2004-2006 / 2003-2004 / 2002-2003 / 2001-2002 2000-2001 / 1999-2000
West Cork Individual Table Tennis Championships 2010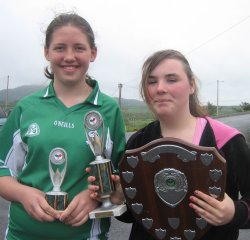 The season came to a tremendous close with the Individual Championships played in the Goleen Community Sports centre with 12 events in 6 age categories. Around 70players participated from clubs all over West Cork showing the continuing growth of the sport in the region.

With so many events it is hard to pick out the highlights but there was a terrific performance by Tom Walsh of Bantry in the under 10 boys that must be highlighted. Tom has been under the shadow of Munster No.1 James Kelly for most of the season but here in his last U10 event as he moves up an age group next year he took a well deserved victory against James in the final of the boys event. The 3rd/4th play off also showed the strength in depth that West Cork has produced this season with a fine display between Shane Murray and Zico McSweeney Oliveira who will both likely feature at this age group again next season.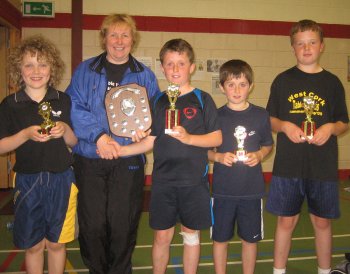 The U12 Boys also threw up a few surprises as Daniel Murray defeated No.2 seed James Kelly and home favourite in the U12 event in the semi final. The No.1 Kieran Hanley was pushed close by Shane Murray but prevented the two brothers from playing the final. Kieran started well against Daniel but as the game progressed Daniel's consistent defence and fast offense gradually moved him ahead and it was Daniel who started unseeded who made it a 1,2,3 beating all the top 3 seeds on his way to the West Cork title.

The under 14 Boys title saw the two main protagonists meet once again. Ruaidhri Gallagher-Spencer had beaten James Heap on the three last occasions they had met but this time when the title was at stake it was James Heap who came out on top. Ruaidhri's club mates from Skibbereen Darragh Calahane and Donal O'Donovan took the 3rd and 4th places.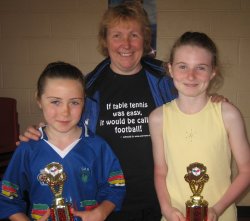 The hosts Goleen had to wait until the U12 girls event before they could celebrate their first title and this was assured when Mair Kelly and Mairéad Supple both reached the final. These friends and close rivals had a tense final with each taking advantage through out the match but it was Mair Kelly who finally came through to add this title to her West Cork Primary School's title earlier in the year. Briana Daly and Eleanor O'Donovan once again put Skibbereen near the top of the classas they took 3rd and 4th.

Skibbereen captured two titles this year. Sean took the U8 title, defeating Dunmanway's Jason O'Sullivan with Goleen's Jake Coughlan in 3rd and another Dunmanway player Kevin Coughlan in 4th. There was one clear winner in the U8 girls event with Loise O'Donnell from Bantry once again showing her future potential.

Sean's older sister Briana reached the final of the U10 title where she was defeated by club mate Katie Cronin in a well balanced final. It was an all club affair in the final of the U17 girls this year with Megan Healy defeating Anooshi Ghol in the final 11/5, 12/14, 11/6,11/7.


Niamh Cotter who has surprised many this season did so once again in the girls under 14 defeating Mairéad Supple in the final after she had ousted Mair Kelly, Megan Healy had to settle for 3rd.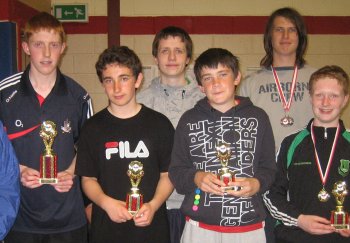 The Boys U17 event is one of the hardest events to win with a tough entry from all of the clubs. The favourite and No.1 seed brain Crowley was trying to make it two in a row and had expected to meet club mate James Heap in the final but he was defeated in the semi final by Ruaidhri Gallagher-Spencer who reversed the result in the earlier U14 final. Brian a hard hitting left hander took on the challenge and was not to be thwarted with some stunning rallies that left Ruaidhri sprawled on the floor on one occasion he dominated the game and became the first player to retain this title. Darragh Calahane recorded a notable victory to take the 3rd place over James Heap.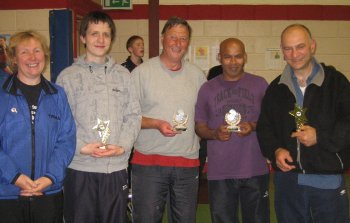 This is the first year a senior event has been included and this brought a number of enthusiastic parents to the table some for the first time in a West cork tournament. The men's favourite was Carlos Oliveira who used his experience to overcome all his competitors, coach Richard Gostyn came in 2nd with Clive Spencer taking 3rd over Eoin O'Neill from Dunmanway, Tommy Walsh was 5th. Dunamnway coach Vicky Ridgeway who has done tremendous work with the Women in Sport Programme won the senior ladies event with Lynette O'Donnell from Bantry 2nd, Cammy Harley from Bantry 3rd and Pauline Daly from Skibbereen 4th.

Plate Winners:
U8 Boys: Matthew Harley, U10 Boys: John Enderson, U12 Boys: Ciaran O'Donovan, U14 Boys: Jack McCarthy, U17 Boys: Donal O'Donovan and U12 Girls: Alexandra Leib

With 12 titles available it was Bantry who took half of them with wins for Louise O'Donnell U8, Tom Walsh U10, Daniel Murray U12, James Heap U14, Niamh Cotter U14 and Brian Crowley U17. The hosts Goleen took 2 in the guise of Mair Kelly U12 and Carlos Oliveira Senior, Dunmanway also took two with brother and sister Sean Daly U8 and Briana Daly U10 and Dunmanway also shared on two with Megan Healy U17 and Vicky Ridgeway Senior.

West Cork Schools League 2010
The 3 top teams in the league came together in Goleen for one of the last matches of the season. Macroom last year's champions went into the event once again as favourites but with both Ardscoil Phobal Bheanntraí and St. Fachnas De La Salle reaching the Munster All Ireland U15 Schools play offs this year there were high hopes from the challengers.

The toss was made and Ardscoil Phobal Bheanntraí met with Macroom first. Bantry were disappointed with the draw and with Macroom racing away to a 4-0 win after the first set of singles they were despondent. However James Heap had put in a good performance against Brian Kelleher taking him to 5 sets and Kevin Murray had put up a good fight against Shane Foley 3-1. James Heap and Brian Crowley picked up the first Bantry points when they took the doubles against Stephen and Brian Kelleher and once again the combination of Damien Collins and Kevin Murray put up a 3-1 battle against Barry Kelleher and Shane Foley but with Macroom securing the 5th point they also took the match. Brian Crowely took the only other point for the Bantry team beating Brian Kelleher and Kevin Murray showing some good late season form pushed Barry Kelleher to the fifth set. However Macroom were dominant overall and won 8-2.

The second match against St. Fachnas was a more one sided affair with Macroom well warmed up and hitting their stride. Stephen Kelleher ripped through Ruaidhri Gallagher Spencer as did Shane Foley against Michael Hurley. Donal O'Donovan put up a brave fight taking a set off both Barry Kelleher and taking Shane Foley to 12-14 in the 3rd and Ruaidhri took a set of Brian Kelleher but these were the highlights for the Skibbereen School who lost out 10-0 and have to settle for the third spot. Maria Immaculata, Dunmanway will face Macroom next week with Macroom only needing to win or to take 2 games to take the title it looks likely that Macroom will take the title for the second year in a row.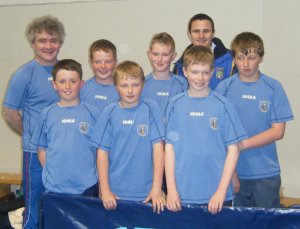 All Ireland Schools Finals
St. Finbarr's Boys NS Bantry reached the All Ireland U13 Boys Finals for the second season in a row. They beat the Connaught team to reach the final against Leinster where they lost 5-3 to collect Silver. Congratulations to the whole squad and the parents and teachers who gave such tremendous support.

The All Ireland Schools Munster U13 Boys Qualifier 2010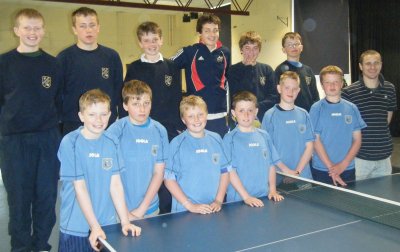 St. Finbarr's Boys National School played host to St. Goban's College Bantry in the first ever meeting of these two schools and it was also the first time St. Finbarr's have hosted an inter school match. The St. Goban's team were made up of 5 past pupils of the National School and went into the event as favourites. However it was the home side who took the early advantage when Tom Walsh beat John Lavin 3-1 and Kieran Hanley took a point against Stephen Hanley in the second of the matches. Daniel Murray caused the biggest upset when he took a very tight and tense match against Michael Casey 7-11, 11-9, 11-7, 7-11 & 11-6. This gave St. Finbarr's a surprising 3-0 lead. Anthony Hanley put St. Goban's first point of the match on the board when he overcame Jack McCarthy in 3 straight sets. James Lavin took St. Finbarr's into a 4-1 lead after beating Padraig McSweeney 3-0. With St. Finbarr's only needing 1 more point to secure their place in the All Ireland Finals for the second year in a row it came down to St. Goban's Captain Bryan Murphy to keep the challengers in the match. Robbie Walsh played extremely well but Bryan came out the eventual winner 3-1.

St. Goban's needed to win each of the 3 doubles matches and got off to a very nervous start as Jack McCarthy and Robbie Walsh pushed St. Goban's top doubles pair Anthony Hanley and Michael Casey to the 5th set eventually losing out 9-11, 11-9, 11-7, 7-11, 8-11.

The second doubles match was also tight as Kieran Hanley and Daniel Murray for St. Finbarr's took an early lead winning the first set 11-7. But Stephen Hanley and John Lavin brought the sides level winning 11-9, 11-7 & 12-10.

With the match evenly balance St. Finbarr's pairing of Tom Walsh and James Lavin came out with a blistering series of attacking play to take the final match 11-5, 11-5 & 11-4 and secure their place in next week's final. This will take place in Ballincollig on Tuesday 27th April.

Final Munster Rankings Sunday 21st March Enniskeane.
A squad of dedicated West Cork players made the trip to Enniskeane for the final Munster Ranking of the season on Sunday the third event in 4 days for many of the players!

In the under 14's both James Heap and Darragh Calahane came out of a tough group after each of the players scored one victory, Ballincollig's James O'Reilly was the unfortunate looser on this occasion. James Heap then had to play Ruaidhri Gallagher-Spencer for the third time in two days and once again it was Ruaidhri who won leaving him a match with Munster No.1 Michael Lagan from Killarney, Michael playing some of the best table tennis of his life swept Ruaidhri aside and went on to win the title. Later on in the very long day Ruaidhri Gallagher-Spencer met Darragh Calahane in the U17 plate final and was rewarded with the plate Trophy.

James Kelly once again met Karl Walsh (Ballincollig) in the Final of the under 10's. He won the first set and after losing out to a disputed call at 11 all in the second he went on to win the third set comfortably and to ensure his undisputed No.1 status in Munster. Zico McSweeney-Oliveira and Sena Finn Gallagher also put in good performances in the Under 10 boys event.

Mair Kelly had her best ever result in the under 12 Girls after winning in the first and second round and eventually progressing into the ¼ finals for the first time. Here she met Munster No.1 Sarah Cooney who won easily in the first. Mair caused a major surprise as she recovered in the second to win 11-8. The third and fourth sets went close but she was unable to repeat her winning form. Mair eventually finished 8th. Club mate Mairéad Supple had a tough group in the first round but played very well she eventually finished 10th.

Aisling Healy had a terrific start to the U17 Girls competition playing some brilliant table tennis and defeating Munster No.3 Niamh Buttimer in the opening round. She eventually lost in the semi finals and once again had to play Niamh in the 3rd/4th play off with the result reversed on this occasion.

Kieran Hanley put in some great performances in the U12 Boys event where he made it through to the ¼ finals eventually finishing 6th. Brian Crowley, Aaron Bean, Michael Casey and Nicholas O'Donnell represented the West Cork clubs well in their events and their results will be posted as soon as the complete Munster results are published.

The event ran from 9am to 8pm and many of the players and coaches showed tremendous stamina to last the day. Special thanks to Owen Kelly, Richard Gostyn, Carlos Oliveira, Vicky Ridgeway, Michael Healy & Clive Spenser for looking after all the players.

Final West Cork Table Tennis Rankings, Goleen Saturday 20th March
The final West Cork Ranking in the series of 4 was held on Saturday 20th March. Many of the players who had participated in the West Cork Schools Cup were eager for more of the same as they descended on the Goleen Community Sports Centre. This final ranking saw players competing for Division titles and places in the overall rankings for the season.

Division 1 had a couple of notable absentees as players also prepared for the final Munster Ranking the following day in Enniskeane. With both Aisling Healy and Brian Crowley out of the running James Heap came into the event as favourite after his win in Dunmanway. However the in-form Ruaidhri Gallagher-Spencer from Skibbereen defeated him in the group stages to reach a semi final against Anthony Hanley. James Heap had to battle his way into the final by beating Carlos Oliveira which he managed. Once again however Ruaidhri won the overall title putting him back again with another exciting victory in the final Carlos beat Anthony Hanley for the 3rd place spot.

Division 2 saw Darragh Cahalane (Skibbereen) move up the rankings once again after missing the first tow event. Darragh has only been playing around 4 months and has shown remarkable improvement in that time. Kevin Murray had to settle for 2nd with Aaron Bean beating Tom Walsh in 5 sets to take 3rd.

Division 3 had 9 year old local James Kelly win after defeating Kieran Hanley in 3 straight sets in the final, James Lavin finished 3rd.

Division 4 Dan Rowell (Goleen) beat newcomer Liam Hayes (Skibbereen) in the final while Nicholas beat his mother Lynette O'Donnell to take 3rd place.

Division 5 had another up and coming youngster 9 year old Shane Murray from Bantry beat Shane O'Mahany from Skibbereen in the final with Bantry team mate Russell Barry taking 3rd.

Division 6 Robyn McCarthy topped the group after remaining undefeated in this division while Mair Kelly came second. Anna Lenz Lipitch from Schull playing in her first event came 3rd.

Division 7 once again saw a young 9 year old top a group as Kevin Coakley saw off the challenge of Anoshi Gohl and Megan Healy from Dunmanway.

Division 8 saw a local Goleen final between James O'Driscoll and Padraig Reidy with James O'Driscoll winning out. Brother and Sister Sean and Brian Daly played off for 3rd and 4th with 7 year old Sean taking the third spot.

Division 9 Murrough O'Donovan from Skibbereen topped the group with Colin Farr of Dunmanway taking 2nd. Another debutant Ben Tinkhof took third over John Murphy.

Division 10 under 8 Louise O'Donnell has been playing well this season and she took the title over under 9 Katie Cronin with John Supple from Goleen in 3rd and the youngest competitor with 6 year old Michael O'Driscoll (Goleen) taking 4th place.

With all the points added up, Goleen duo Aisling Healy takes the overall title in the West Cork Rankings with Carlos Oliveira 2nd. Bantry take 3rd and 4th with Brian Crowley and James Heap and Skibbereen's Ruaidhri Gallagher-Spencer finishing on a high takes 5th. The future of West Cork Table Tennis looks to be very strong with so many young players coming through and with an increase in both girls and adults playing in the competition.

Attention will now turn to the West Cork Individual Championships to be played after Easter along with the Munster Top 8's which will be held in Goleen on the 10th April. This will be the first time the club has hosted this event and will give many the opportunity to see the best juniors in Munster in action.

WEST CORK TABLE TENNIS SCHOOL CUP 2010 Results
Table Tennis has really taken off over the last couple of years and this year was the biggest schools event ever held in West Cork and the also the biggest in Ireland, with over 70 teams from 20 different schools competing in 20 separate competitions, the organisation was pushed to the limit. Maria Immaculata Community College was the venue and with 18 tables available the matches and action came thick and fast.

The National School Boys 1st Division Final was one of the many highlights with St. Finbarr's from Bantry defending their title against a strong Tarelton team. The first match went to Tarelton as Trevor Tobin beat Tom Walsh 10-12, 11-9, 13-11, 12-10. Kieran Hanley struck back for St. Finbarr's in a 5 set battle against Jamie McCarthy 7-11, 11-9, 7-11, 12-10, 11-8. St. Finbarr's pulled ahead in the last match of singles when Daniel Murray beat Alan McCarthy 11-8, 9-11, 12-10, 11-2 18-16. There was virtually nothing between these teams and it was all square after the doubles when Jamie and Trevor took the point against Tom and Kieran 11-9, 9-11, 11-3, 8-11, 11-8. With the two teams tied it went to super doubles with Alan and Trevor from Tarelton taking on Daniel and Kieran. After some breathtaking rallies the Bantry School took their 3rd title in three years 9-11, 11-7, 11-3, 11-7.

St. Finbarr's also secured the Division 2 title with their "D" Team over Togher NS, Aghabullogue finishing third. Division 3 went to the Gael Scoil in Bantry with Schull NS winning their first ever title in the 4th Division over Lissigriffin NS.

The National School Girls event came down to a match between last year's champions Gael Scoil Skibbereen and the girls from Castlehaven NS playing in their first Schools Cup it was the debutants who took the overall title. Aghabullogue playing in their first West Cork Schools Cup won the 2nd Division and show great promise for the future. Schull NS also playing for the first time secured the Bronze Medal. The Girls 3rd Division went to Gael Scoil Bantry defeating Lissigriffin in the final.

The smallest school in the completion Lissigriffin NS was going for their third title in a row in the 1st Division Mixed and managed this feat after beating Schull NS in a closely fought final. The 2nd Division went to a very young team from Castlehaven after beating Abbeystrewry in the final.

In the Secondary School events Macroom De La Salle dominated the U19 Boys competition with their team of Stephen Kelleher, Shane Foley and Barry Kelleher they swept aside all opposition with Schull Community College taking 2nd. The hosts MICC beat Macroom Youth Reach playing for the first time in the 2nd division final. The U19 Girls saw Bandon Grammar defeat Ardscoil Phobal Bheanntraí in the final and MICC won a second title in the U19 mixed competition.

The U15 Boys Division 1 has always been a closely fought competition and this year was no exception. Ardscoil Phobal Bheanntraí managed to secure this title for the second year running seeing off St. Fachnas De La Salle and Schull Community College. St. Fachnas hit back in the 2nd Division taking the title over MICC and Rossa College.

The U15 Girls saw St. Gobans take their only title defeating MICC in the final. Ardscoil Phobal Bheanntraí took their second of 3 titles when the U15 Mixed Team beat MICC in the U15 Mixed event.

St. Fachnas De La Salle took both the U13 Boys Division 1 and Division 2 Titles defeating Ardscoil Phobal Bheanntraí in both finals. While the Ardscoil Phobal Bheanntraí U13 Mixed team saw off a strong Schull Community College team in their final.

The event started at 9.30am and was finished by 3.30pm with nearly 260 matches completed. Special thanks must go to all the parents and teachers who helped out on the day and a number of students from MICC who gave of their time as well as the teachers and staff of Maria immaculate Community College who made it all possible. The event organisers would also like to thank Celtic Table Tennis from Dublin who supplied all the balls and provided a very popular addition of a table tennis equipment shop on the day. Next year the event will have to be split over 2 days with separate days for Primary and Post Primary Schools.

West Cork Secondary Schools League 15/3/10 Report
A number of matches were completed at the League Blitz held at MICC on Thursday 11th. St. Fachnas De La Salle, Bantry Secondary, Bandon Grammar and MICC all took part. Schull CC unfortunately had to withdraw.

2nd Division
Bantry were looking to finish on top of the 2nd Division with 4 out of 4 wins going into the competition. They played Bandon Grammar in the first encounter Bandon won their first singles with Scott S taking a 3-1 victory to secure early points but it wasn't until the final singles match that he scored Bandon's second point. Bantry's Mark Keohane, Niamh Cotter, John Allen O'Donovan and Shaun Flynn went on to win 8-2. Bantry took their winning form into the next match when they defeated the hosts MICC 10-0 and with 6 out of 6 wins they have taken the top spot and Division title. The race for 2nd is close with Schull CC, St. Fachnas and Rossa College all capable of taking points in their last matches.

1st Division
St. Fachnas De La Salle from Skibbereen had to catch up on some matches and they were able to do this with matches against both Bandon Grammar and MICC. The first against Bandon Grammar was the closest fought out of the day. Aaron Bean took Ruaidhrí Gallagher-Spencer to a 5 set thriller in the very first match and it was Ruaidhrí from Skibbereen who secured the points 11/9, 12/14, 7/11, 11/4, 11/9. Michael Hurley and Didi Von Bher from Bandon also went head to head with another 5 setter going the way of Skibbereen with Michael winning 7/11, 11/6, 5/11, 12/10, 11/6. St Fachnas also went on to win the next 2 singles to take a 4-0 lead into the doubles. However Bandon teamed up well and after the turn round Bandon had pulled back to 5-2 with a draw still a possibility. Nick Fleming then put Bandon right back in the match with a straight set victory over Michael Hurley and then Didi Von Bher took the first 5 setter to go in the Grammar School's way, 11/8, 8/11, 7/11, 11/8, 11/3. This lead into the final match between Darragh Cahalane and Aaron Bean. Aaron playing his distinctive back from the table defensive style fought back hard in the second set after Darragh took the lead 11/8. Aaron squared the match winning the second 11/5 and then took the lead frustrating the less experienced player. Darragh controlled his offensive well and started moving the ball around in the 4th taking it 11/8. With all the other matches complete this was a high pressure set and with St. Fachnas disappointed with their draw against St. Goban's previously, Darragh pulled out all the stops with some hard hitting attacks against some spectacular defence from Aaron, to take the final set 11-9 and with that all 3 points on a score line of 6-4. St. Fachnas collected 3 more points defeating MICC 10-0. This moves St. Fachnas up to 2nd place in the table with 3 wins and 1 draw and defeat to the current leaders Bantry Secondary.

West Cork School League 9/2/10
Bantry Secondary School hosted the visit of Division 2 leaders Schull Community College in this important top of the table fixture. Bantry started off well with a straight sets win from both Niamh Cotter and Shaun Flynn against Andrew McNeilaghe and Finn O'Driscoll but Schull struck back immediately with wins for Jacob Harris over Nicholas O'Sullivan 3-1 and another 4 set win for Olan Kelleher against debutante Evaldas Mineikis.

The doubles were crucial with 2 sets all and Bantry reserve strengthened the bottom pairing as Mark Keohane partnered Shaun Flynn to a straight sets win against Fin and Jacob. In the top half things were very tight as Niamh and Evaldes took on Andrew and Olan the Bantry pair took the point after 4 sets. Shaun Flynn secured at least a draw for the home side taking out Jacob Harris in straight sets. However Niamh and Olan played the match of the tie when Olan went into a two sets lead by the narrowest of margins 13/11 and 12/10. Niamh made a tremendous comeback playing a good tactical match reducing Olan's strong forehand attack and capitalising on her own. She levelled the score after an 11/5, 11/4 score line in the 3rd and 4th game. All to play for in the fifth it was Niamh who took early advantage and held this to record another point for the Bantry team to lead 6-3. Andrew McNeighlaghe and Evaldas Mineikis played out the last match to 5 sets with Andrew recording a late victory for Schull. 9/11, 11/9, 9/11, 11/5 & 11/7.

This gives Bantry the all important 3 points and moves them to top of the 2nd Division. Schull have now completed all their matches. With MICC on 9 points and Bantry on 12 this tie to be played at the West Cork Blitz (Thursday 11th March), with MICC having home advantage might well decide the leagues final result.

West Cork Table Tennis Schools Cup 2010, 18th March
This is the Premier event of the WCTTA calendar and one of the biggest school competitions in Ireland. Last year saw an increase in numbers once again and due to its ever growing popularity within the schools this might be the last time this event is run with the current format with Primary and Secondary Schools playing on the same day. Every attempt is made to cater for schools of ALL standards from the small 20 student school with 1 team to the very biggest in the region. Events are divisioned according to ability giving every school an opportunity to compete at their own standard. Last year there were 4 Divisions in the National School Boys competition and there may well be more this season.

At the highest level the U15 Competition will be once again hotly contested with current champions Ardscoil Phobal Bheanntrai taking on the likes of Macroom De La Salle, Schull CC, Bandon Grammar and St. Fachnas De La Salle Skibbereen. St Gobans are the current Munster U13 Champions and will be looking to take their first West Cork Boys Title this season.

Lissagriffin NS will be attempting to take their 3rd National School Mixed title but with two new players on the team. St. Finbarr's Boys School Bantry will also be attempting a hat trick of wins in the boys Division 1 but with a possible challenge from a very strong Tarelton NS team waiting in the wings. Gael Scoil Skibbereen won their first Primary School Girls title last year and could face tough opposition from Togher NS and Gael School Bheanntrai. Schull NS will enter for the first time and they could also spring a surprise result or two.

Ardscoil Phobal Bheanntrai dominated the first division of the Secondary Schools events last year recording a record U13, U15 and U19 Boys sweep while hosts MICC took 2 titles at U15 Girls and U19 mixed.

MICC provide the very best facilities and excellent hospitality and this year Celtic Table Tennis will be providing a shop for all your table tennis needs. This really is the highlight for most of the players and a great social occasion and over the years has been played in the very best spirit. One visit to the West Cork Schools Cup and you will be asking is table tennis really only a minority sport!

3rd The West Cork Rankings, Dunmanway 14/2/10
Top of the Heap
The 3rd West Cork Ranking is the penultimate event in this popular series of 4. With over 80 players participating so far it is keenly contested within all 10 Divisions. The 1st Division has been consistently held by the Goleen Club over the last two years and there was always the threat from Bantry in the shape of Brian Crowley who has finished 2nd a number of times. On this occasion it was the closest result we have had with three players sharing the top spot after a 5 way Round Robin. Currently West Cork No.1 Aisling Healy fell to some tremendous match play from her Bantry rivals Brian Crowley and James Heap and when Carlos Oliveira also took a 3-0 victory in the final match she slipped to 4th in the group. Kevin Murray (Bantry) also struggled after being promoted from the 2nd Division at the last event. This left a final match between Brian and James. Brian needing just to win and James Heap needing to hold Brian to a minimum 3-1 score line. It was James Heap who came out of the blocks taking both the opening sets 11/5 and 11/8. Brian fought back to take the 3rd 11/9 and in a tense fourth set both players put in their all reaching deuce. James Heap pulled ahead 12/11 and finally won the set 13/11 and secured his first ever 1st Division Title.

The 2nd Division was another closely fought affair but in hind sight was settled by the first match between Anthony Hanley and Richard Gostyn. Richard was unable to adjust to the conditions quickly and Anthony Hanley too full advantage over the Goleen player to secure a 3-0 victory. Richard went on to win his other 2 matches against Goleen team mate Aaron Bean. Anthony over turned his poor showing against Aaron in the last Munster Rankings securing a straight sets victory 12/10, 16/14 and 11/7. He was almost given a shock when Mark Lynch went to a 2-0 lead in his final match but Anthony managed to turn the tables and dominated the final three sets, 11/2, 11/3, 11/1. And this secured him the Division 2 title and promotion to Division 1 for the last event.

Division 3 saw two groups of evenly matched players. Bantry's Stephen Hanley defeated all comers to secure a semi final place while debutant Donal O'Donovan from Skibbereen took the second place. In the other group Donal's club mate Darragh Calahane took the top spot with Paul Kingston from Dunmanway securing his place in the semi-final. The final saw a match up once again between Stephen Hanley and Donal O'Donovan but this time the long pimpled wielding Skibbereen player took the match to secure the Division 3 Title. Darragh Calahane finished with a Bronze.

Division 4 was an all Bantry division with all the players very familiar with each other's styles. Daniel Murray and Tom Walsh had one of the closest battles with one set going to 21/19 in favour of tom and after winning the remaining sets Tom finished 2nd with John Lavin going through as group leader to face Jack McCarthy in the semi final. This was a very one sided affair. Tom Walsh had a tougher battle against the younger of the Lavin brothers eventually winning in the final set. So once again John Lavin took on Tom Walsh and once again is the was the player who lost in the first encounter who came through to take the title as Tom took the final 7/11, 11/6, 11/9.

Division 5 saw three seniors taking on Dunmanway's leading junior Eoin O'Neill and newly promoted Bantry youngster Thomas O'Grady. Tommy Walsh had not played competitively since the 1970's but found some of his old form as won his opening encounters. The match of the group turned out to be his encounter with Eoin O'Neill that went the full five sets but it was the youngster who took the match 11/9, 10/12, 13/11, 8/11, 11/9 and the title.

Division 6 saw an inform Tolly Franklin from Goleen defeat Nicholas O'Donnell from Bantry with Ronan O'Mahony playing in his first event reaching third. Division 7 saw more close matches with under 10 Shane Murray (Bantry) winning the group and Patrick O'Riordan (Dunmanway) taking 2nd and Mair Kelly and Mairéad Supple from Goleen 3rd and 4th respectively.

Division 8 was a 5 player round robin dominated by Russell Barry (Bantry) who won all his matches. Zico Oliveira McSweeney from Goleen continues his promotion when he took 2nd and Fin Pyatt Dunmanway finished 3rd. Division 9 saw two local Dunmanway girls claim promotion as Anoshi Ghoul won the group and Megan Healy took 2nd, Daniel O'Sullivan made it a Dunmanway clean sweep taking 3rd.

Division 10 is as keenly fought as Division 1 and it was Sam Coughlan from Goleen playing in his first West Cork Ranking event who took the final title from Sean Daly Skibbereen and Kevin Coughlan Dunmanway. Ronan Collins also playing for the first time secured 4th place for the Skibbereen club.

Bantry Community Games 2010
The 1st qualifying tournament for the Community Games was held at Gael Scoil Bantry on Thursday 4th February for U13 Boys and Girls. The event was very well attended with over 30 players participating. Each team has 5 players on the squad and the tournament was organised to give everyone an opportunity to try out for the team. Due to the larger than expected entry the final play-offs for the team will take place on Thursday 11th February.

7 players have reached the play-off stages, Kieran Hanley, Michael Casey, Tom Walsh, James Lavin, Jack McCarthy, Daniel Murray and Shane Murray. The competition for places will be tough and will be eagerly anticipated by the players.

In the U13 Girls Bantry will be represented by tournament winner Louise O'Donnell, Emma O'Sullivan, Kiah Clancy Adams and Mary O'Donovan. This is a very young squad of players and the event will provide them with tremendous experience for the future.

The U13 Plate competition for players who are knocked out in the first round was very competitive and the final between Mark Kingston (Carrigboy NS) and John Enderson (St. Finbarr's NS) was a closely fought affair with Mark Kingston finally taking the victory in the final set.

The U16 Boys and Girls qualifying event will take place starting at 5pm on Wednesday 10th February at the Gael Scoil all players 15 yrs and younger on August 1st 2010 are invited to take part, entry €2.

West Cork Schools League: "The Battle of the Saints!"
St. Fachnas De La Salle played hosts to St. Goban's Bantry in the latest West Cork Secondary Schools League match. This was always going to be a close and tightly fought affair and it certainly lived up to its billing. St. Fachnas started off precedings with Michael Hurley taking on Bryan Murphy and with the first set going to 16-14 in favour of the visitors the stage was set for a tense battle between these two league debutants. Michael hurley battled through winning the 5th deciding set 11-4 and recording a point for the Skibbereen school. Anthony Hanley evened up the score defeating Darragh Cahalane 11-9, 11-6, 14-12. Stephen Hanley took St. Gobans into a 1 point lead when he took down Paddy Watkins in 4 sets but it was all even before the doubles when Skibbereen's no.1 Ruaidhri Gallagher Spencer defeated John Lavin 11-4, 11-6, 14-12.

St. Goban's once again went into a 1 point lead as Bryan Murphy and Stephen Hanley took a 3 straight sets victory over Michael Hurley and Paddy Watkins but with some outstanding offensive play by Darragh Cahalane he teamed up with Ruaidhri Gallagher Spencer to take a straight sets victory and equal the scores between the two teams. Once again St. Goban's went into a 1 point lead when Stephen Hanley beat Michael Hurley 6-11, 11-7, 11-7, 14-12 but order was once again restored as Darragh Calahane beat John Lavin 11-7, 6-11, 12-10, 13-11.

With each team looking for a win in the final two matches it was Paddy Watkins playing some excellent attacking strokes who took St. Fachnas to a 5-4 lead with one match to play after defeating Bryan Murphy 8-11, 15-13, 11-9 & 12-10. Both players were distracted however as the two No.1's went head to head on the adjoining table. St. Fachnas appeared over the line as Ruaidhri Gallagher Spencer took a 2 – 0 lead 11-7, 11-8 but Anthony Hanley dug deep to restore the balance 11-8, 11-4. The final set was a nervous affair with both players pushing for position and when it reach 10-10 both teams shared in the tension. Anthony Hanley however held his nerve and took the final point to end the match 5-5 and a draw. All the players deserved credit for their performances and a shared point was the fairest reflection of their efforts.

This moves both teams into 3rd place with St. Goban's just ahead on matches won but St. Fachnas have matches in hand and with good results in these they look likely for a top 3 finish but could well be put under pressure from Schull Community College who also have a number of matches in hand. The stakes for the match between these two schools have now been raised.

Ballincollig Open 2010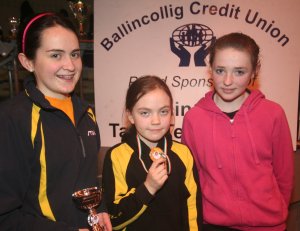 West Cork players were out in force for the Ballincollig Open the 3rd in the 4 stage Munster Junior Rankings. It is difficult to pick out the highlights as there were so many and it was satisfying to see so many keen young players participating. The WCTTA have been working hard on encouraging more girls to participate and to that end there were 5 girls who made the trip up to Cork. The three girls from Goleen were joined by debutant Louise O'Donnell from Bantry and a welcome return for Jennifer Lawton from Dunmanway. Louise had a terrific day and finished 4th in the under 10 event. Aisling Healy put in another sound performance to finish 3rd in the U17 event. Mairéad Supple reached the U12 ¼ finals where she was beaten by Ballincollig Open Champion and Munster No.1 Sarah Conney, Mairéad eventually finished 8th. Mair Kelly took the U12 Plate Title and recorded her best finish in the top 10.

James Lavin had his best ever event and reached the top 8 in the U12 Boys and Jack McCarthy and Nicholas O'Donnell also deserved credit. James Kelly took the U10 title to stand alone as the current Munster No.1, while Tom Walsh also finished in the top 4 at Under 10. Sean Fin Gallagher-Spencer and Zico Oliveira McSweeney reached the 2nd round of the under 10 boys. Brian Crowley, James Heap, Ruaidhri Gallagher-Spencer, Kevin Murray, Robbie Walsh, Patrick O'Riordan, Eoin O'Neill Kieran and Anthony Hanley and Aaron Bean also warrant a mention. But with so many playing and performing well it is difficult to single out individuals. Congratulation to all those who travelled and represented West Cork Table Tennis in such an excellent manner. A special thank you also goes to Carlos Oliveira who helped and supported many of the players throughout the day.

Bantry make a move in division 2 Ardscoil Phobal Bheannraí B Team move to within 1 point of the leaders Schull community College with 2 matches in hand over the leaders. The Bantry secondary school team of Niamh Cotter, Mark Keohane, Stephen O'Sullivan and Nicholas O'Sullivan recorded a fine 9-1 win over league strugglers Rossa College B. The 9-1 score line however does not show how well the Rossa College team battled against tough opposition and now league favourites. Jack O'Hea proved to be the strongest of the Skibbereen players and he recorded their only win after taking Stephen O'Sullivan to 5 sets in the first match. He won the first comfortably 11-3 but Stephen hit back 11-6 in the second and 11-7 in the 3rd. However Jack returned with a narrow 15-13 victory in the fourth and it was very tense in the fifth with Stephen finally taking the match 12-10. Isaac O'Shea also put Nicholas O'Sullivan under pressure in his first match but the Bantry side proved too strong at this stage of the season. Bantry's 1st Team will be in action after midterm when they play hosts to St. Fachnas De La Salle.

Unique Munster Open Double for Goleen
After an extra ordinary weekend of table tennis Goleen Table Tennis Club were celebrating not one but 2 Munster Open titles. The Munster Open is the premier event played in Cork with all the top players from around the country competing. 9 year old James Kelly reached the final of the U10 Event beating West Cork Team mate Tom Walsh and top Munster under 10 Karl Walsh from Ballincollig in a very tight second round group. He beat Ulster Open Champion Martin Williams from Connaught in an exciting and very competitive final, great credit goes to both players. Before the day was out Aisling Healy also made her way to the winner's podium after securing a victory in the Ladies Senior Doubles. There was great celebration by the club and all those concerned and there has been a surge in new players attending the regular training sessions since.

Munster Schools Cup Results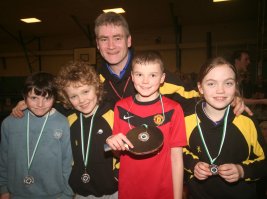 U19 Boys: 1st Coláiste Choilm, 2nd Bantry Secondary School, 3rd Bandon Grammar, 4th Schull CC
U19 Girls: 1st Colaiste Choilm, 2nd St. Angelas A
U15 Boys: 1st St Gobans Bantry A, 2nd Bantry Secondary School, 3rd St Gobans Bantry B, 4th Scoil Eoin
U13 Girls: 1st St. Angelas A, 2nd St. Angelas B, 3rd St. Angelas C
U13 Mixed: 1st Bandon Grammar, 2nd Schull CC
Primary School Boys:
1st Division
1st Scoil Eoin, 2nd Tarelton NS, 3rd St Olivers Killarney, 4th St Finbarrs Bantry NS
2nd Division
1st St Finbarrs Bantry NS, 2nd Scoil Eoin, 3rd Beaumont B, 4th Beaumont A
3rd Division
1st St Olivers Killarney C, 2nd St Olivers Killarney B, 3rd Beaumont C, 4th Gaelscoil Bheanntraí, 5th Beaumont D
Primary School Girls
1st St Olivers Killarney A, 2nd St Olivers Killarney B, 3rd Beaumont, 4th Gaelscoil Skibbereen.
Primary School Mixed
Division 1
1st Aghabullogue A, 2nd Lissigriffin NS Goleen, 3rd Aghabullogue B, 4th Tarelton NS
Division 2
1st Aghabullogue NS, 2nd Aghabullogue NS, 3rd Aghabullogue NS, 4th Aghabullogue NS, 5th Aghabullogue NS 6th Aghabullogue NS.

West Cork Secondary Schools League Report 10/12/09
What a Blitz! Bandon Grammar, Bantry Secondary, St. Goban's, Schull C.C. Rossa College and MICC met up for a clash, with MICC's 2nd Divsion Team racking up 4 matches during the day. Bandon Grammar, St. Goban's and MICC supplied the 1st Division action, while Schull Rossa and MICC tackled their 2nd Division fixtures.

Bantry Secondary School took on hosts MICC in the first leg, the first match was the best performance for the hosts in the shape of Daniel Daly who has been showing good form in the West Cork Rankings for Dunmanway. He took Bantry's Mark Lynch to four cliffhanger sets 11-8, 10-12, 10-12 and 11-13. But this was as close as MICC got to challenging a very strong Bantry team. (Bantry, Brian Crowley, James Heap. Jack McCarthy & Mark Lynch. MICC: Daniel Daly, Eoin Murray, Eoin O'Neill & Paul Kingston.

St. Goban's took on Bandon Grammar team without the inclusion of Aaron Bean and Dan Rowell. This was a close enough affair with a strong start by Bandon's Didi Von Bher but when Anthony Hanley pulled back an early deficit to take the first set 12-10 Anthony went on to win the next 11-7, 11-9. Michael Casey showed a strong fitting spirit as he and Bandon's Nick Leeming went toe to toe over 5 sets. (10-12, 11-7, 11-3, 7-11, 11-6). The top half doubles also went close with Casey and Hanley winning 12-10 in the 5th set. Both Nick Leeming and Didi Von Bher took the reverse singles but with John Lavin and Bryan Murphy winning the bottom half for St. Goban's against Brian Shorten and Chris Pringle it was the Bantry team who ran out winners 8-2.

The local Derby between Bantry Secondary and the "Tec," (St. Goban's) was always likely to be a win for the older more experienced Secondary school players, but the Tec lads put up a tough fight. John Lavin was the only one who took a game off the Secondary but it was still a sweet victory for the improving left hander. Michael Casey battled against the odds against two of the league's top seeds Brian Crowley and James Heap taking a set of each and almost causing a major upset. Anthony Hanley also pushed hard against Mark Lynch but was only rewarded with a five set defeat. Jack McCarthy was in fine form and was a welcome addition to Bantry's armoury. With 3 matches and 3 wins it looks like the match we are all waiting for will be when Bantry take on the holders Macroom De La Salle.

The 2nd Division saw some very close matches MICC went into a 3-0 lead over Schull C.C. but with Jacob Harris steadying the ship registering Schull's first point against Alan Dean the match moved back into Schull's control winning both doubles matches one of them going to 12-10 in the fifth and then Andrew McNeilage took the points against Kevin Hall, Fin O'Driscoll against Alan Dean and Jacob Harris against Robin Smiles. Jamie Lawton produced a double when he beat Olan Kelleher to gain another point for MICC but the match fell to Schull on a 6/4 score line.

MICC had better luck in their Bandon Grammar encounter in this all girl match. Jennifer and Anna took all their singles matches and their doubles against Bandon's Rach Warner and Lorraine Anderson. Nicola Jennings won both her singles and along with Alison Jennings the doubles, Alison Jennings also defeated Anoshi Gohl to take Bandon's 4th point but it wasn't enough with Megan Healy taking a 5 set victory against Ali Jennings, MICC won 6-4.

MICC recorded a second victory when they took down Rossa College B team 8-2. There were 2 wins for Isaac O'Shea against Anna and Anoshi Gohl but Aileen and Patricia Murray proved too strong winning the top half of the draw.

MICC picked up their third win of the day but by a closer margin against Rossa College A. Ciaran O'Regan and Liam Hayes took 3 points from a possible 5 in the top half loosing the doubles and Kevin Hall took an important point from Rossa No.1 Ciaran O'Regan. Idris Riqbi played well against Alan Dean to take Rossa's 4th point but with Robin Smiles taking the double and Alan Dean beating Daniel O'Donoghue it was MICC who were celebrating the 6-4 score.

Bandon came up against an in form Schull side that had woken up from a slow start in the morning. Alison Jennings put in one of the best performances for her side and Lorraine Anderson came close against Jacob Harris but it was a one sided affair with Schull taking maximum points from the tie.

A late result and a match I didn't watch myself was between Bandon Grammar and MICC in the 1st Division. I could imagine this would be quite close and it must have been as MICC took the 3 points on a 6-4 score line.

WEST CORK TABLE TENNIS NEWS: DECEMBER 2009
What a weekend of table tennis! On Friday we held the West Cork Individual Primary School Championships with 9 schools competing. On Saturday I was up early to make the trip to Cork for the Munster Special Olympic Table Tennis Championships and on Sunday it was another early start as West Cork took 5 teams up to Killarney for an Invitational Junior Triad Team competition. With a major West Cork Secondary Schools League blitz on this Thursday in MICC and Richard's Christmas Party to look forward to it feels like we must be at the peak of activity, but we are hardly halfway through the season! The clubs are full, the schools are active and the coaches and players are all well motivated. If only it would stop raining! Reports on all 3 events are available here:

WEST CORK INDIVIDUAL PRIMARY SCHOOL CHAMPIONSHIPS 2009
It was thrills galore at the Goleen Community Sports Centre on Friday 4th December. Nine National Schools from all over West Cork were well represented by their Under 10 and Over 10 Boys and Girls. This has proved to be a popular event on the busy West Cork calendar and this year the kids were well prepared and the action was intense.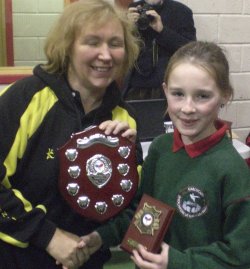 In the Under 10 girls section 9 year old Aoibhinn Keating started as favourite and earned the right to that tag as she made her way into the final against Demelza Knight also heralding from Gael Scoil Skibbereen. With an all Skibbereen final it was an exciting match but Aoibhinn pulled off the winning combination to take her first ever West Cork Schools Title. Isis Hammer from Togher NS defeated local girl Caoimhe Reidy (Lissigriffin NS) for 3rd and 4th. Another of the Lissigriffin girls Maria Sheehan took the Plate title from Louise O'Donnell of Bantry Gael Scoil. Ellen O'Driscoll (Lissigriffin NS) and Lauren Cull (Togher NS) also put in good performances in their first even tournament.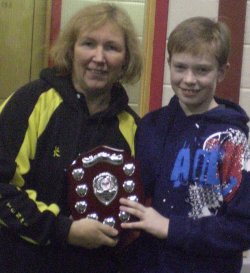 The Over 10 Boys Title is one of the toughest on the Junior West Cork circuit and is fiercely fought for. St. Finbarr's of Bantry have an excellent record in table tennis but missed out on making the final last year. With this in mind they had one of their strongest squads on display for this event. With 3 of the top seeds and 8 players entered the odds were on for an all Bantry final. Tolly Franklin of Schull NS was the only fly in their ointment as he moved into the semi final stage defeating Robbie Walsh of St. Finbarr's in the quarters. No.4 seed James Lavin was in fine form coming into this event and he showed more of that ability as he took his place in the final from Tolly Franklin and the favourite Kieran Hanley disposed of Jack McCarthy in the other side of the draw. Kieran and James took the full five sets to sort out the top spot and with a score line of 15/13 in favour of Kieran in the first set it was as close as you can get between the two of them. James hit back in the second 9/11 and the third went in favour of Kieran 11/9. The fourth went to deuce again but in favour of James and when James Lavin took the final set 11/7 he had climbed the mountain and planted the flag and become West Cork Primary Schools Champion.

The Plate event also saw out a battle between two St. Finbarr's boys with Ronan O'Mahony taking the victory over Thomas O'Grady.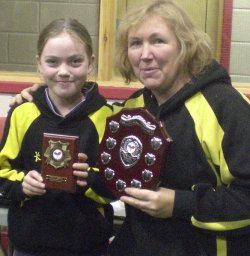 The Over 10 Girls and the Under 10 Boys saw a unique double title win for local school Lissigriffin NS all the more remarkable as it was performed by a brother and sister act. Mair Kelly has shown remarkable improvement in a short time this season and went into the event with unknown confidence. The semi final stage saw her meet Alexandra Leib an experienced player from Gael Scoil Skibbereen. The other semi final saw a match-up between school mates Colleen Noonan and Georgina Murray from Togher NS. Collen took the win and met Mair Kelly in the final. Without dropping a set in the competition Mair went on to win her first ever title. Orlaith Keating from Gael Scoil Skibbereen won the Plate title beating Catherine Sheehan of Lissigriffin NS.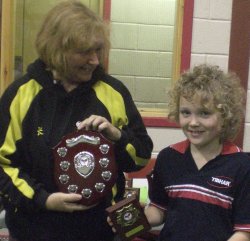 Younger brother of Mair, James Kelly from Lissigriffin NS went into the competition as clear favourite, with current Top 10 Irish ranking at under 12 and No.1 in Munster at Under 10's he has built a formidable reputation within the sport this season. Only Tom Walsh from St. Finbarr's Bantry realistically stood in his way. However the threat was very real as Tom had recorded a significant win against James at the first Munster Rankings of the season when defeating him in the ¼ final stages of the under 10 event. When Tom beat Shane Murray also from St. Finbarr's to reach the final, the stage was set. Tom battled hard and well but James's superior fire power proved too strong. This was James Kelly's second under 10 West Cork Primary Schools title.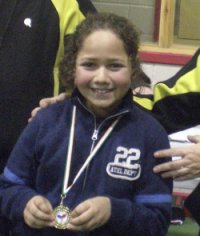 The under 10 Plate event saw another Lissigriffin player reach the final in the guise of Sam Coughlan where he faced the exotically named Zico McSweeney-Oliviera. Zico only started playing table tennis this season and has caught many a coaches' eye with his speedy development and he put this into play in his first West Cork Schools event representing Kilcoe NS to beat Sam Coughlan over 4 sets to become the Under 10 Plate Champion.

There were many public and personal triumphs during the event and every one of the participants deserves a mention for all the hard work they are currently putting into training from young Finn Moore from Lisheen NS to Guy Pickett from St. Patrick's Skibbereen who managed an excellent 4th place finish in the U10 boys. Also there have to be dedicated coaches, parents and teachers because without their help an event like this would not be organised. The kids represent both their schools and communities and I am sure we can all be proud of what the students learn, experience and achieve.

Munster Special Olympics
The Munster Regional Table Tennis Games were held at Cope's John Bingham centre in Cork on Saturday 5th December. Players from all over Munster gathered for this annual event. West Cork Coach Owen Kelly is Head Coach for Munster Special Olympics and has close association with the Co Action centre in Bantry. St. Finbarr's Boys NS hosted a special training event for the players in preparation for this event. The players included Emily Meagher who is the assistant coach for the Gael Scoil in Bantry and Michael O'Grady who along with Emily won a Gold Medal in the World Games held in Dublin. They were joined by Julie Collins and Timo Zuhl. The players all put in good performances and Emily and Michael teamed up once again to win the Munster Gold in the Mixed Doubles. Special thanks to coaches Richard Gostyn and Vicky Ridgeway who provided their expertise on the day.

Killarney Junior Team Invitational
This was the first time that any West Cork team has been invited to Killarney and it was with delight that the WCTTA sent 5 junior teams, two under 14 Boys, one U12 Boys and U12 Girls and an under 14 Girls team. The teams had a good mix of Bantry, Dunmanway, Goleen and Skibbereen players. Each team also had a Non Playing Captain travelling with them. The convoy of cars made its way over the mountains early on Sunday (6/12/09) morning. The hosts Killarney Table Tennis Club provided an excellent facility in the guise of St. Mary's Parish Hall. The triangle of clubs included Kinneigh, Killarney and West Cork. The competition was held on the same lines as the Interprovincial Championships and gave each of the players a chance to experience this kind of format, a number of them for the first time. All the players enjoyed having the opportunity to play together as a team many of them playing together for the first time. The atmosphere was perfect with a suitable balance of relaxed but competitive and many of the players responded well to this. Killarney provided free refreshments for all the players and there was action on the tables all day. The West Cork U12 Boys team took first place in their event and the U14 A Team finished 2nd and were presented with medals. However everyone was a winner when it came to handing out a Christmas fun pack to all the players and even a couple of coaches! Kinneigh U14 boys were supreme with Shane Foley, Brian Kelleher and Barry Kelleher. The lads are likely to be back in action, this time playing for Macroom De La Salle in their next West Cork Secondary Schools encounter this coming Thursday against MICC at the pre Christmas blitz.

The U12 Girls Team have rechristened themselves the Tigers as three of them are born in the Year of the Tiger and the fourth is a bit of a Tiger anyway! The Black and Yellow stripes of the West Cork colours also lend a hand. The U14 Girls team are all from Dunmanway and will benefit greatly for an event like this along with their Coach for the day Aisling Healy. This was Aisling's first encounter with Team Coaching as she is better known as West Cork's leading Junior player, Aisling enjoyed the experience and was surprised how tiring it can be not playing! This was Carlos Oliviera's first experience as a Non Playing Captain and if the performance of his team counts for anything he is a quick learner!

Teams:
U14 Boys A: James Heap, Ben O'Donnell and Ruaidhri Gallagher- Spencer. NPC Carlos Oliviera
U14 Boys B: Cathal McCarthy, John Lavin and Bryan Murphy. NPC Richard Gostyn
U12 Boys: James Kelly, Kieran Hanley and Michael Casey: NPC Owen Kelly
U14 Girls: Anooshi Ghol, Megan Healy and Patricia Murray: NPC Aisling Healy
U12 Girls: Mairead Supple, Aoife O'Regan, Alexandra Leib and Mair Kelly. NPC Vicky Ridgeway

Bantry Player of the Month
Mark Lynch was presented with this month's player of the month award at the Bantry Club. Mark has been playing for some years now and is currently a student at Ardscoil Phobal Bheannraí. Mark has improved well this season and has reached No.3 in the club, he is a valued member of the club training at the elite session where he has also been helping his fellow students with their awards. He often helps out with putting away tables and clearing the hall. Congratulations Mark well deserved.

WCTTA Awards
Congratulations to all those who recently passed their 1 Star WCTTA Awards.
Maria Sheehan, Caoimhe Reidy, Katie O'Sullivan & John Supple from Goleen,
Sean Daly, Katie Cronin, Eleanor O'Donovan, Guy Pickett, Rachael Stephens, Enya Breen and Demelza Knight from Skibbereen.
Connor Lancaster, Evaldas Mineikis, Padraig O'Connor, Shaun Flynn, Stephen O'Sullivan and Mati Illipe. Bantry Secondary School
3 Star: John Allen O'Donovan Bantry TTC
WCTTA Bronze Award: Andrew McNeilaghe Schull CC.

RICHARD'S CHRISTMAS PARTY
This could be the event of the year! Richard (and the Goleen Club) invites you to celebrate Christmas "Ping Pong" style @ the Goleen Sports Centre on Friday 18th December, starting 7pm through to 9 pm. Usual club fee applies (€3 members)

2nd West Cork Rankings, Dunmanway 29/11/09
I am sorry it has taken me so much time to make this report but there appears to be so much on at the moment that I haven't been able to draw breathe. With 59 competitors this was the largest ranking this season and held on just 8 tables! As ever the competition was close in all divisions with many sets going to 5. We did manage to finish at the 3.30 deadline and thanks a special thanks to Vicky Ridgeway and the Dunmanway Club for putting on such a good event.

The 1st Division saw the defending champion Aisling Healy (Goleen) move into the final against Vet Carlos Oliviera (Goleen). Carlos had previously finished 3rd but has been training more regularly in Skibbereen and Goleen over the weeks leading up to this event and he recorded a great win over Brian Crowley 10-12, 19-17, 13-11, 7-11, 11-9. The match against Aisling was also was tight and it was Carlos who came out on top with Brian Crowley (Bantry) and Ruaidhri Gallagher- Spencer (Skibbereen) who took 3rd and 4th respectively. It was not all good news for Goleen as both Richard Gostyn and Aaron Bean were relegated.

Division 2 saw a top three finish from the Bantry players with James Heap and Kevin Murray moving up and Anthony Hanley finishing 3rd. Goleen's Ben O'Donnell retired with a bad back but finished 4th overall. Kieran Hanley (Bantry) and Ciaran O'Regan (Skibbereen) were relegated.

Division 3 was the battle of the "Daniels." This was a 4 way round robin division with Dan Rowell (Goleen) the eventual winner over Mark Lynch (Bantry). Daniel Daly (Dunmanway) and Daniel Lynch (Bantry) were relegated.

Division 4 had yet another Goleen player come out on top when youngster James Kelly won all his matches and was delighted to be promoted after putting in a poor performance in the previous event. Paul Kingston of Dunmanway will also be promoted, while Eoin O'Neil (Dunmanway) disappointingly slips down another division along with Declan Gallagher (Skibbereen).

In Division 5 there was another top 3 finish for Bantry as the inform and new Over 10 Primary Schools Champion James Lavin topped the group after club mate Tom Walsh had to retire with a knee injury. Thomas O'Grady finished 3rd and Vicky Ridgeway (Dunmanway) 4th. Tolly Franklin (Goleen) and Jacob Jungwirt (Dunmanway) will move down.

Division 6 was wide open as both seniors Severin McCollagh (Dunmanway) and parent Lynette O'Donnovan (Bantry) took to the table. Severin topped the group with Lynette finishing 2nd. Shane Garvey (Skibbereen) finished 3rd. Shane Murray (Bantry) and Thomas Maxon (Skibbereen) are relegated.

Division 7 saw Nicholas O'Donovan (Bantry) emulate his mother Lynette in managing promotion but it will have to be yet another event before they can meet each other. The rest of the division is made up of Skibbereen players while Daniel O'Regan won out against the rest it is Cain Twomey and Romain Legoupil who will drop into the 8th Division.

Local under 12 Patrick O'Riordan won division 8 with Mair Kelly and Aoife O'Regan only separated by Mair's win against Aoife. Sean Fin Gallagher (Skibbereen) and Anoshi Gohl (Dunmanway) move down.

Division 9 was won by Guy Pickett who has shown good improvement recently he saw off another up and coming under 10 in the guise of Zico Oliviera-McSweeney to win the group. Daniel O'Sullivan (Dunmanway) was 3rd and Jacob Good (Skibbereen) 4th. Sean Daly (Skibbereen) and Connor Price (Bantry) move down.

The 10th Division in played on an eight way round robin, with one set up to 11. The highest point scorer wins. Megan Healy (Dunmanway) will be glad to be restored to the 9th Division next event as she topped the scores with 77 points. In 2nd place with 72 was Briana Daly (Skibbereen). Kevin Coughlan from Dunmanway was third on 65 points with Brian O'Sullivan just one point behind on 64. Ronan Daly score a good 60 points for 5th with both Denis O'Sullivan and Josh McGuiness equal on 59 points and in 8th was Colin Farr just 2 points behind on 57.

The next rankings will be in Goleen in 2010 and the action will be closely fought once again.

West Cork Secondary Schools League: 1st Division 20-11-09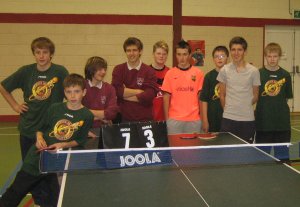 Schull Community College took on the first years of St. Goban's College Bantry at the Goleen Sports Complex. This is the first time these two schools have met but the players have competed against each other in the ranking events.

This was always going to be a tense affair with Schull CC heading in as favourites. However it was St. Gobans who struck first with a five set marathon between Declan Gallagher (Schull) and Anthony Hanley (St. Gobans). The first set went to the in form Schull player who took it 12/10. Hanley fought back to take the 2nd set easily but this was then reversed by an easy win for Gallagher. The two final sets went to Anthony Hanley 11/9, 11/9.

On the other side of the draw Josh Lens Lipitch took a relatively easy win against Michael Casey the younger player showing some good play but the experience of Josh was too much for him to overcome. With the score at 1 all the team battled out another 5 setter with Joe Moore (Schull) taking on Stephen Hanley (St. Gobans) This again swung one way and then the other but at 8 all it was Joe Moore who served and took the score to 10/8 and the final point was taken off Hanley's service. On the other table former Irish Schools player Ben O'Donnell and Schull No.1 took on St. Goban's number 4 John Lavin. John Lavin playing in his first competitive league match showed some good play and took the third set but it was O'Donnell who secured the points for Schull and a 3-1 lead.

With St. Gobans needing both doubles matches to stand a realistic chance of winning the two Hanley's took on Gallagher and Moore. Showing some exciting doubles play the match once again went into the 5th set and St. Gobans secured the crucial point to keep the match alive. However Schull took their 4th point with the pairing of O'Donnell and Lens Lipitch against Casey and Lavin.

Another 5 setter went the way of Schull in the form of Gallagher against Stephen Hanley. Anthony Hanley secured St. Goban's 3rd point of the match against Joe Moore but with Lipitch and O'Donnell taking their last singles matches it was Schull C.C. who took the 3 points on a 7-3 score line.



West Cork PINGIS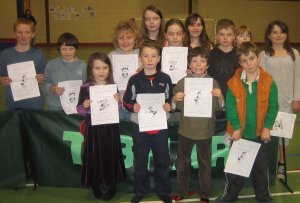 Goleen and Skibbereen players have been taking part in the West Cork PINGIS Skills event. This event is open to all under 12 players in West Cork and concentrates on a series of off the table co-ordination exercises James Kelly from Goleen tops the overall scores with 281, closely followed by Padraig Reidy with 235. Daniel O'Regan has the high score from Skibbereen with 263 with Alexandra Leib in 2nd with 249. The highest improvement score was Caoimhe Reidy from Goleen who increased her score by 81 points while Aoife O'Regan was highest from Skibbereen with an increase of 65. Other notable scores were Jack O'Driscoll (Goleen) with an increase of 72, Sam Coughlan +56, Ellen O'Driscoll +49 and Fionntán McGiven (Skibbereen) +26

West Cork Seconday Schools League 1st Division

| | | | | | | |
| --- | --- | --- | --- | --- | --- | --- |
| | W | L | D | Total | Pts | Place |
| Macroom De La Salle | 2 | 0 | 0 | 19 | 6 | 1 |
| Ardscoil Phobal Bheannraí | 1 | 0 | 0 | 9 | 3 | 2 |
| Bandon Grammar | 0 | 2 | 0 | 2 | 0 | 3 |
| Schull C.C. | 0 | 0 | 0 | 0 | 0 | |
| St. Fachtnas De La Salle | 0 | 0 | 0 | 0 | 0 | |
| St. Gobans College | 0 | 1 | 0 | 0 | 0 | |
| MICC | 0 | 0 | 0 | 0 | 0 | |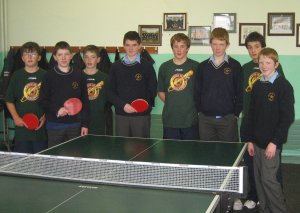 West Cork Secondary Schools Table Tennis League
St. Goban's College from Bantry travelled up to face the reigning League Champions Macroom De La Salle. St. Goban's are a young team of 1st years and it was a daunting task to take on the experience of Macroom De La Salle. Macroom fielded their top 4 players with Stephen Kelleher, Brian Kelleher, Shane Foley and Barry Kelleher. St. Goban's made up of Anthony Hanley, Stephen Hanley, Michael Casye and Bryan Murphy put in a very respectable performance but were unable to take a point from Macroom. This gives Macroom maximum points after their earlier victory against Bandon Grammar.

Ardscoil Phobal Bheannraí made the trip to Bandon Grammar for their first match of the league. Bantry finished runners up last season and were looking to have a good start. Unfortunately there was a late withdraw of Cathal McCarthy and his replacement was Damien Collins. It was Damien who met Bandon's No.1 Aaron Bean in the first match. Damien surprised his team mate with the first set against current West Cork U14 Champion but Aaron fought back to take the 2nd. However Damien became stronger as the match went on and delivered an excellent victory and Bantry's first points. Bandon played well and nearly took the doubles match between Aaron Bean and Didi Von Behr against Damien Collins and Kevin Murray but just lost out in the fifth and final set.

Brian Shorten and Dan Rowell also put in good performances for Bandon but the Bantry duo of Brian Crowley and James Heap proved too strong. It was up to Aaron Bean to take Bandon's first point and that he made certain of when he took Kevin Murray 3-1 in the final singles match of the day. Ardscoil Phobal returned to Bantry with a 9-1 victory and 3 points in the bag.

West Cork Seconday Schools League 2nd Division

Secondary Schools 2nd Divis
P
W
L
D
Total
Pts
1
Rossa College A
4
2
1
1
23
7
2
Ardscoil Phobal Bheannraí

 

2
2
0
0
17
6
3
Schull C.C.
2
1
0
1
13
4
4
St. Fachtnas De La Salle
3
1
2
0
14
3
5
Rossa College B
3
0
3
0
3
0
5
MICC
0
0
0
0
0
0
5
Bandon Grammar
0
0
0
0
0
0
<![if supportMisalignedColumns]> <![endif]>

WEST CORK SECONDARY SCHOOLS LEAGUE REPORT 21/10/09
2nd Division:
Rossa College A Vs Rossa College B
4 matches were played this week in the West Cork Secondary Schools League. The match between Rossa College Skibbereen A and B sides was finished off with a 9-1 result in favour of the A Team.

Rossa College A Vs Schull Community College
Rossa College A were also in action against visitors Schull Community College. Rossa's No.1 Ciaran O'Regan took first blood in this tie recording a straight 3 set victory over Olan Kelleher and this was followed by a tight match between Idris Rqibi of Rossa and Finn O'Driscoll of Schull. With the two players swopping sets in came down to the fifth and final set which was won by Idris to take Rossa to a 2-0 lead. Jacob Harris fought back for Schull against Liam Hayes and Andrew McNeilaghe drew the sides level. The doubles were shared to leave the match still all square at 3-3. Ciaran O'Regan once again delivered the goods for the home side and Idris Rqibi took Rossa to a 5-3 lead with just one more match needed for victory. However Schull fought back with Olan Kelleher beating Liam Hayes and Finn O'Driscoll recording his first victory to leave the sides all square at 5-5. This gives both sides 1 point and moves Rossa A to the top of the current table.

Schull Community College Vs Rossa College B
Schull Community College fielded a different team against Rossa B with Andrew McNeilaghe being joined by Cain Twomey, Thomas Maxon and Noise Kennedy. Rossa got off to a winning start as Jordan Johnson beat Andrew McNeilaghe 3-1. Jordan also won his second match against Cain Twomey 3-0. However those were the only points Rossa B managed to score as Cathal Collins, Isaac O'Shea and Sean Hickey lost their respective matches to leave an 8-2 score line in favour of the Schull based players.

Rossa College A Vs St. Fachnas De La Salle
Rossa College A played their fourth match of the league against St. Fachnas De La Salle looking for the 3 points that would move them to the top of the table. Ciaran O'Regan once again delivered the goods for the Rossa team as he won both his matches however he was pushed to the limit by Donal O'Donovan who finally succumbed 13-11 in the final set. (9-11, 8-11, 11-9, 17-15, 13-11). Liam Hayes matched his Rossa team mates win after defeating Jack Breen 3-1. Idris Rqibi also took 5 sets to take a third point for Rossa the 4th set going to a marathon 18-20 score line. Diarmuid O'Neill put St Fachnas on the score board with a straight sets win against Daniel O'Donoghue. Ciaran O'Regan and Liam Hayes combined against Jack Breen and Donal O'donovan to take their doubles match once again in five sets. With Rossa winning the second doubles this moved them to 5-1. Donal O'Donovan picked up a point for St Fachnas and Diarmuid O'Callaghan did the same against Daniel O'Donoghue but with Ciaran O'Regan and Idris Rqibi taking their matches in 3 sets it was Rossa College A who recorded their second victory and with the 3 points for a win move to the top of the 2nd Division table.

West Cork Table Tennis Secondary Schools League 2009 – 2010 14/10/09
The West Cork Schools' League kicked off with a four way tie in the 2nd Division at Skibbereen Sports Centre. In the first two matches of the event Ardscoil Phobal Bheannraí met Rossa College A while newcomers St. Fachtnas De La Salle took on their local rivals Rossa College B.

Ardscoil Phobal Bheannraí have established themselves as one of the top schools for table tennis in the region and have developed a strong interest in the sport with so much depth to call upon it was Ronan Lordan who took on Rossa's No.1 player Ciaran O'Regan in the first match. This was unfortunate for Rossa as Ciaran would have been favourite to record a victory against any one of the other Bantry players but with the luck behind them Bantry went into a 1 – 0 win after a three set victory for the Bantry side. This was then followed in succession with wins for Martin Vitols against Liam Hayes, John Allen O'Donovan against Adriss Rqibi and Mark Keohane established a 4-0 lead over Daniel O'Donoghue. Rossa College put their first points on the board with the doubles combination of Ciaran O'Regan and Liam Hayes who beat Ronan Lordan and Martin Vitols 3-1. This was quickly followed by another victory for the home side as Ciaran O'Regan beat Martin Vitols 3-0, the 2nd set going to 20/18 in favour of the Skibbereen side. However this was the high point for Rossa as the remaining matches went to Bantry who finished off the match with an 8-2 victory.

St. Fachtnas De La Salle's form before this event was unknown but with Donal O'Donovan, Jack Breen, Diarmuid O'Callaghan and Diarmuid O'Neill the team dominated their first match against Rossa College B. Donal O'Donovan was particularly impressive and may well be considered a candidate for their first team in future. Rossa College B made up of Jordan Johnson, Cathal Collins, Isaac O'Shea and Sean Hickey found the going a bit too tough and St. Fachtnas De La Salle walked away with a 10-0 victory.

The two winning teams then took on each other Ardscoil Phobal Bheannraí and St. Fachtnas De La Salle who have not played each other at table tennis before. Bantry went into an early lead as Ronan Lorden took on Donal O'Donovan and Martin Vitols beat Jack Breen. John Allen O'Donovan faced a tough battle against Diarmuid O'Callaghan eventually winning out 8-11, 11-9, 14-12 & 13-11. Mark Keohane took Bantry to a 4-0 lead and with straight set wins in the doubles this was extended to an unbeatable 6-0 lead. Donal O'Donovan put Rossa's first points on the board after a titanic battle with Martin Vitols winning in 5 sets, 12-10, 10-12, 11-5, 12-14, 11-8. This proved to be the only win for St. Fachtnas De La Salle who eventually lost 9-1. The match between Rossa A and Rossa B was only half completed with the A side establishing a 4-0 lead, the remaining matches being played on Monday 19th, when Schull Community College will travel to Skibbereen to launch its first foray in the 2nd Division.

Skibbereen Player of the Month
The Player of the Month was awarded to Alexandra Leib. Alexandra is an U11 and has been a member of the club since 2005. Recently Alexandra entered the Munster Rankings where she finished 11th at U12 and played at the West Cork Rankings where she finished 6th in Division 7. Alexandra is an excellent example of a polite and helpful member of the club who always gives of her best and this presentation is a fitting reward for all her effort. We wish her the best of luck for the rest of the season.

West Cork Secondary Schools League 2009 – 2010
The Secondary Schools League proved to be a popular addition to the West Cork Table Tennis Calendar in 2008. This season the league has been expanded to accommodate the extra interest and 14 teams have entered from 8 schools. Last year's winners Macroom De La Salle will once again be favourites for the 1st Division title but will face new opposition in the shape of St. Goban's College from Bantry, St. Fachnas De La Salle from Skibbereen and Bandon Grammar School. Bandon have a long tradition of table tennis and may well prove to be a dark horse with Aaron Bean and Dan Rowell expected to provide stiff opposition. St. Fachnas have a young side with both Ruaidhri Gallagher and Paddy Watkins from the Skibbereen TTC both moving into the 1st year of the school. Ardscoil Phobal Bheannraí finished 2nd last year and even managed to beat Macroom in the West Cork Schools Cup. Schull Community College team has been strengthened with some new 1st years but they are likely to draw from the experienced talent of Ben O'Donnell, Josh Lenz-Lipitch and Joe Moore. Maria Immaculata Community College from Dunmanway have a number of active players from the West Cork Rankings and with good performances from both Eoin O'Neill and Daniel Daly at the last event they are sure to cause some problems for any opposition.

The 2nd Division is wide open and will be a new experience for many. Ardscoil Phobal Bheannraí have a lot of depth at the moment but Rossa College, Schull CC, MICC and St. Fachnas will all be in a position to field tough teams.

The action will kick off with a 4 way match in the 2nd Divsion next Wednesday 14th October at Skibbereen Sports Centre when Ardscoil Phobal Bheannraí, St Fachnas De La Salle and Rossa A & B meet. TTIreland will keep everyone up to date with the results with many exciting matches expected.

1st West Cork Table Tennis Rankings 2009-2010


60 players from the 4 major West Cork Clubs took part in the 1st West Cork Table Tennis Rankings of the season at the Goleen Community Sports Centre. With players as young as 7yrs alongside Seniors and Veterans all taking part at the West Cork Rankings it is truly a unique family event. There were many close and exciting matches as well as an opportunity for many players to meet up after the summer and renew friendships from across the whole of West Cork.

Aisling Healy (Goleen) beat Ruaidhri Gallagher (Skibbereen)3-0 to reach the final of the 1st Division. In the other side of the draw Brian Crowley (Bantry) came up against Carlos Oliviera who he beat 3-1 to face Aisling Healy in her first major final of the season. Aisling who has been showing reasonable form so far this season both at Munster and Irish levels dominated the match which she went on to win in 3 straight sets.

Richard Gostyn (Goleen) reached the final of the 2nd Division accounting for Anthony Hanley (Bantry). Aaron Bean set up and all Goleen final for the hosts when he beat Kevin Murray from Bantry in a nail biting 5 set marathon (11-9, 9-11, 11-9, 6-11, 11-9). The final was every bit as close and Gostyn drew on his greater experience to take his first title of the season and win promotion into the 1st Division.

Division 3 played in a group format threw up a number of close finishes and both 1st, 2nd, 3rd and 4th had to be decided on count back. Joe Moore (Skibbereen) recorded the highest ratio to take the title from Stephen Hanley (Bantry) while Mark Lynch (Bantry) took 3rd, Eoin O'Neill (Dunmanway) 4th and James Kelly (Goleen) 5th.

Goleen picked up their third title in the 4th Division Dan Rowell has shown marked progress during summer training and he topped the group with Daniel Daly (Dunmanway) took 2nd while Declan Gallagher (Skibbereen) took 3rd.

Martin Vitols and John Lavin produced one of the closest finals in the 5th Division. Both players from Bantry went to the 5th set with the match evenly balanced, however it was Martin Vitols who made the break in the final set and he remained ahead to take the title. Robbie Walsh took 3rd from the younger Lavin James in the play off.

Bantry were to the fore in the 6th Division with Thomas O'Grady reaching the final against Jacob Jungwirt (Dunmanway), O'Grady took the final in 3 sets. While another Thomas, Maxon from Skibbereen beat Mairead Supple (Goleen) for 3rd place.

Division 7 had a lot of young talent and it was an all Bantry final between Robyn McCarthy and Alfie Ryan with Robyn taking the title. Daniel O'Regan defeated Skibbereen club mate Romain Legoupil for 3rd place.


Division 8: Finn Pyatt (Dunmanway) defeated debutant Nicholas O'Donnell from the Bantry Gael Scoil, but it was a close match reaching 14-12 in the final set. Patrick O'Riordan (Dunmanway) beat Sean Fin Gallagher (Skibbereen) for the 3rd place spot.

Division 9 had some of the young girls' talent on show from Goleen and Dunmanway. Anoshi Gohl (Dunmanway) took 4 victories to take the No 1 position while Mair Kelly (Goleen) finished 2nd and Aisling O'Driscoll also from Goleen took 3rd.

The 10th Division is always hard to predict with many players taking to the tables for the first time. This event was won by Zico McSweeney a 9 year old from Skibbereen. He was closely followed by Guy Pickett who is also from Skibbereen. Brian O'Sullivan from Dunmanway finished 3rd. Josh McGuiness (Bantry) 4th, Fin Moore (Skibbereen) 5th and John Supple (Goleen) 6th.

Special thanks to Michael Healy and Clive Spencer who helped out on the day and to the Goleen Community Council workers who laid on the food and helped us with all the many jobs that are needed at an event like this.

1st Munster Table Tennis Rankings 2009, Beech Hill, Cork.
The 1st Munster Junior Rankings saw the largest single entry from the combined West Cork clubs, Bantry, Goleen and Skibbereen were all well represented with entries in all but 1 event. Starting with youngest age group the under 10s Sean Fin Gallagher from Skibbereen played the No.1 Seed James Kelly from Goleen in the opening group. With James taking the expected win he moved into the ¼ finals against Tom Walsh from Bantry. Tom caused one of the upsets of the day when he defeated James in a titanic battle. Tom played his very best and went on to secure a superb third place finish. James Kelly won his 5 to 8 play offs to finish 5th with Sean Fin claiming a very creditable 7th place over all. Skibbereen were also very well represented in the Under 10 girls with Aoibhann Keating and Demelza Knight who both finished in the top 8 with Aoibhann taking the U10 girl's Plate title.

The U12 Girls saw three Skibbereen girls in action, Aoife O'Regan playing in her first under 12 event reached the ¼ final stages recording a fine 7th place finish. Both Orláith Keating and Alexandra Lieb reached the semi final stages of the Under 12 Plate.

West Cork had a very strong contingent playing in the Under 12 Boys event. 5 Boys represented Bantry and two from Goleen. 9 year old James Kelly fresh from his disappointment at under 10 took first place in his group followed by a win against Karl Walsh from Ballincollig who had earlier gone onto take the under 10 Munster title. James Kelly beat the new title holder in a 5 set thriller coming back from 2 sets to 0 down. James then beat Michael Casey from Bantry to reach the semi final stages. Once again at 2 sets to 0 down James made an impressive comeback and at 10-9 in the fifth set had match point to reach his first under 12 final. However the more experienced Roman Pudtkalis (Killarney) managed to restore his lead and went on to take the match13-11 and 3 games to 2. James lost the 3rd/4th play off against Alan Walsh to finish a surprising 4th overall. Michael Casey went on to beat fellow Bantry club mate Kieran Hanley in the 5th / 6th play off. With none of the players seeded before the event there was cause for celebration that at this early stage in the season 3 out of the top 6 under 12s in Munster are from the West Cork clubs.

In the under 12 plate Tom Walsh took another top spot when he beat Bantry team mate James Lavin in the final. Congratulations to Tolly Franklin (Goleen) and Robyn McCarthy (Bantry) for their debut performances in the U12 Rankings.

With 3 of the under 12s entering the U14 event West Cork clubs had 9 players entered in this event. The outstanding performance went to James Heap who beat ...... in the first round and went on to play some of his finest match play so far. James was delighted to reach the ¼ final stages and finished 8th overall. Local rivals Ruaidhri Gallagher (Skibbereen) and Cathal McCarthy (Bantry) were in action against each other in the early stages of the event and it was Ruaidhri who eventually pulled through to reach the latter stages. Ruaidhri finished 7th after beating James Heap in the 7th / 8th play off. Michael Casey took the Plate title. There were good performances from Bantry players John Lavin, Kieran Hanley, Padraig McSweeney, Anthony Hanley and Goleen players Aaron Bean and Tolly Franklin.

The U17 girls also saw a top 8 finish with Aisling Healy recording a creditable 5th place result. Brian Crowley put in the best performance from the U17 boys beating Skibbereen's Joe Moore and Kinneigh's Barry Kelleher and being only narrowly beaten by Andrew Reck and Alex Cooney both top 4 Munster players. However it was Kevin Murray of Bantry who returned with the only reward as he took the U17 plate title. A special thanks to all those parents who helped with transport and supervision and to the coaches Owen Kelly, Richard Gostyn and Michael Healy for looking after all the kids on the day.

Table Tennis in West Cork has been growing at a rapid rate of the last few years with many new clubs and schools joining the growing ranks; with more players participating the standard is moving rapidly upwards. With still a number of West Cork's top players to take on the challenge of the Munster Rankings the future potential for this sport has been fuelled with the mainy successes over this weekend. Next weekend (Sunday 4th October) sees the first in the series of West Cork Rankings. Over 100 players took part in this event last season and a large turnout is expected at the Goleen Community Sports Centre, registration takes place at 11am and the event is open to all ages and levels of ability.

The West Cork Secondary Schools League will be starting in October with a number of new schools entered news and results will be published in our next report.