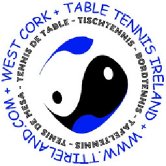 West Cork Table Tennis Assoc.
NEWS 2010-2011

2009-2010 / 2008-2009 / 2007-2008 / 2006-2007 / 2004-2006 / 2003-2004 / 2002-2003 / 2001-2002 2000-2001 / 1999-2000
West Cork Table Tennis Championships 2011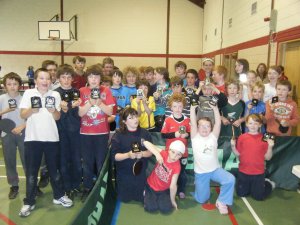 The final curtain came down on one of the longest West Cork Table Tennis seasons on record. Due to the bad weather early in the season a number of events were postponed and the back log was finally completed with the running of the West Cork Championships. It appears that the number of entries suffered from the late running but there was no effect on the quality of play that was on show as most of the top seeds were in attendance and the competition for titles was fierce.

The West Cork Championships is the only event where there is an Under 8 event and there was a good entry for this event especially within the boys. Tadgh Reidy from Goleen went in as favourite and he confirmed this seeding as he overcame Adam Sheehan (Goleen), Michael Jenner (Skibbereen) and Erik Olsson (Goleen) in the first round group stages and secured himself a place in the final after beating Matthew Sheehan (Goleen) 11/4, 15/17, 11/9 in the semi final. On the other side of the draw Jacob Coughlan (Goleen) overcame Michael O'Driscoll and Matthew Sheehan but failed to reach the final after being beaten by Erik Olsson 5/11, 11/7, 9/11. This set up a final between Tadgh Reidy and Erik Olsson. A resurgence of form and some powerful forehand strokes from Erik Olsson who had lost in the group stage to Tadgh saw Erik take his first Championship win on a score 11/9, 16/14. Jacob Coughlan took 3rd with Matthew Sheehan 4th. The Plate event was won by Adam Sheehan.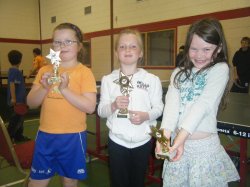 A three way final in the Under 8 girls event had Aine Keating from Skibbereen playing some excellent stroke play against Aoife Sheehan and Jasmine Kelly from Goleen winning both her matches in straight sets. Aoife Sheehan overcame Jasmine Kelly to take second place.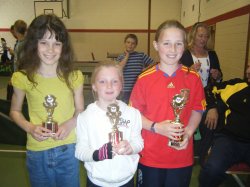 Aine Keating was back in action in the Under 10 Girls event and reached the three way final but was up against her older sister and top Munster Under 10 Aoibhinn Keating who ran away winner beating both Aine and Mary Jenner also from Skibbereen. However Aine did manage to take second place and the future of West Cork Girls table tennis looks to be very bright in Skibbereen.

The Under 10 Boys saw Shane Murray in dominant form as he was all his matches without dropping a set. John Enderson also from Bantry finished in a fine second place with Michael O'Sullivan from Skibbereen in third. Niall O'Driscoll and Jack O'Driscoll from Goleen finished in 4th and 5th respectively.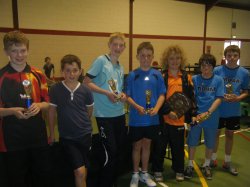 The U12 Boys event lived up to its expectations as a very closely fought affair. James Kelly (Goleen) went in as clear favourite after one of the main seeds Tom Walsh had to withdraw due to family commitments. However the very strong field included last year's defending Champion Daniel Murray as well as James Lavin and Jack McCarthy from Bantry and Munster Top 8 player Sam Coughlan. Jack McCarthy caused the first upset as he defeated Daniel Murray 11/7, 5/11, 11/7, 11/8 in the opening round group stages. James Lavin defeated Sam Coughlan in 3 straight sets but Sam went on to beat Tolly Frankin who made a welcome return to the game after a year's absence. In the second round groups it was James Lavin who reached the final after beating the newly crowned U10 Champion Shane Murray and Jack McCarthy 12/10, 10/12, 11/9, 11/9. This set up a meeting with James Kelly in the final. This was one of the most exciting matches of the day and showed tremendous talent from both players and with contrasting styles. Kelly predominantly using his spin game against the counter hitting and block control of Lavin there were some amazing rallies and the first set went to Lavin 16/14. Kelly fought back in the second and won 11/5. However the third again went to deuce with a score line of 12/10 in Kelly's favour. The next set saw Lavin with set point at 10/8 but once again the other player fought back to level and then eventually win the set 12/10. There was little to choose in the fourth set but this proved to be the final set as Kelly eventually overcame Lavin 11/9 to take the title. Daniel Murray reversed his earlier defeat to Jack McCarthy in the 3rd/4th play off. Padraig Reidy won the Plate event from Tolly Franklin and Niall O'Driscoll.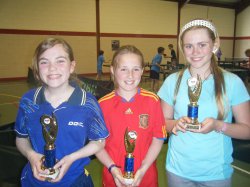 The U12 Girls had the new U10 Champion Aoibhinn Keating back in action in a three way final with top Munster player Mair Kelly and local girl Katie O'Sullivan. The final was dominated by the more experienced Mair Kelly with Aoibhinn taking second and Katie third.

As West Cork Ranked joint No.1 Ruaidhri Gallagher-Spencer went into the U14 Boys event as clear favourite and he lived up to his reputation as he swept all challenges aside without dropping a set. An expected challenge from the new U12 Champion James Kelly never materialised as Ruaidhri swept him aside 11/4, 11/5, 11/6. Kelly managed to hang on to second place with Jack McCarthy 3rd Padraig Reidy 4th, Thomas O'Grady 5th, James O'Driscoll 6th and Tolly Frankiln 7th.

The U14 Girls was an open event with Mair Kelly, Mairead Supple and Anoshi Gohl all expected to feature. Mairead Supple delighted the local crowd after defeating Anoshi Gohl from Dunmanway in her opening group match 6/11, 11/7, 11/8, 11/8. Mairead also went on to beat club rival Aisling O'Driscoll and Katie O'Sullivan. Mair Kelly put herself in the running for a double title win after taking the match 12/10, 11/6, 11/4 and after beating Anoshi in her penultimate group game she achieved this with Mairead Supple 2nd, Anoshi 3rd. Katie O'Sullivan surprised many with a confident win over Aisling O'Driscoll 5/11, 11/7, 13/11, 12/10 to take 4th place.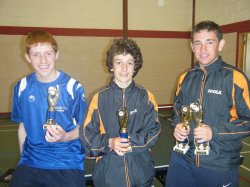 The U17 Boys event brought together the joint West Cork No.1's James Heap and the new U14 Champion Ruaidhri Gallagher in a three way final with Brian Crowley looking to take his third West Cork title in a row in his final year. The players decided to play the international format with the matches decided on a best of 7 basis. Heap dominated the first match against Crowley who had taken a break from the game this season to concentrate on his leaving certificate and his lack of match practice showed as Heap took the match 11/9, 11/2, 11/4, 11/5. However Crowley looked to be regaining some of his previous form as he took on Ruaidhri in the second match of the series. Ruaidhri took the first 2 sets 11/6, 11/4 but Crowley fought back in the 3rd and 4th 11/7, 11/6. Ruaidhri proved too strong in the final set which went the way of the Skibbereen player 11/6.

The final match started with a shock when Ruaidhri Gallagher-Spencer took the first set 11/1 and James Heap looked to be really struggling and lost the second set 11/8 and then the third 11/7. Heap eventually managed to retaliate taking the 4th 11/6 and then added the 5th 11/8. However the 6th proved to be the final set as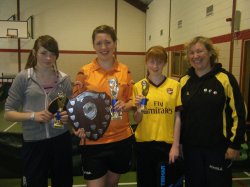 Ruaidhri became the third player to take a double Title at this year's Championships 11/6.

The U17 Girls was another 3 way final with Anoshi Gohl (Dunmanway) and Mairead Supple and Aisling O'Driscoll from Goleen. Aisling took on Anoshi in the first match with Anoshi taking the first set 11/7, Aisling levelled the match on a score of 12/10, Anoshi took the lead again 11/5 and ran out winner in the 4th 12/10. Aisling and Mairead battled it out in the second match with it going to fifth set, Mairead eventually succeeding 11/4, 11/8, 3/11, 8/11, 11/8. This gave Anoshi an opportunity to overturn the result in the U14 event which she took 6/11, 11/9, 11/5, 11/4 to return the U17 title back to Dunmanway as had Megan Healy in 2010.

ITTA Level 1 Coaching Course
Goleen Community Sports Complex hosted an ITTA Level 1 Coaching Course on 13th/14th/15th May. Course Tutor Owen Kelly delivered the course to 13 student coaches. the course was well received and it is hoped that this new group of coaches will become active during next season.

Irish Senior Champion Visit
John Murphy was the guest of the WCTTA at a recent weekend training camp. Over 25 students took the opportunity to train with one of the best players Ireland has produced. All the players and coaches were impressed with his skill at coaching. It is hoped that he will return again for the WCTTA Summer Training Camp in August.

Lissagriffin NS represent Munster At the All Ireland Primary Schools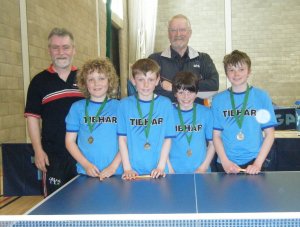 Lissagriffin one of the smallest schools represented in West Cork with only 27 children in the school have gained a strong reputation for table tennis within West Cork and at the Munster Schools Cup. With two players in the top 10 in Ireland within their age group, an Irish National Champion and another within the top 10 in Munster. This year Lissagriffin sent a team of 4 boys to Banbridge in Co. Down for the All Ireland Primary Schools Championships. The team of James Kelly, Sam Coughlan, Padraig Reidy and James O'Driscoll performed really well and finshed 3rd beating the Ulster Boys Team. Special thanks to the Lissagriffin Parent Assoc. Nottages Restaurant, Goleen TTC and Celtic Table Tennis the WCTTA sponsors.

St. Finbarr's Boys NS win All Ireland Schools U13 Title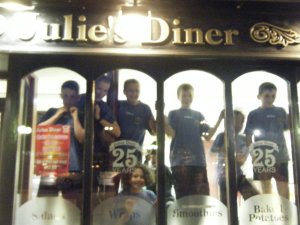 The Boys from St. Finbarr's BNS brought back the All Ireland U13 Boys title from Co. Mayo. the team of seven boys, James Lavin, Tom Walsh, Daniel Murray, Shane Murray, Leon Murkajee, Jack McCarthy and Zico McSweeney-Oliveira beat the Leinster favourites in the semi final and went on to win the final 6-0. The lads were in jubelant form when they returned and were welcomed by a large crowd of well wishers and given a garda escort around the town they were then treated to a meal by Julie's Diner the team sponsors. this was the third attempt at this event for the school who previously won bronze, silver and now gold. Congratulations to all the teachers and parents who worked so hard and supported the team so well.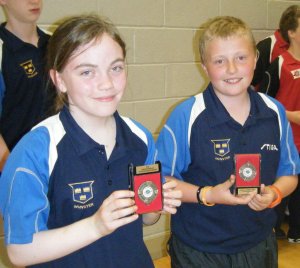 West Cork well represented at Junior Interpros
Two West Cork players made the trip to Killarney for the Junior Interpros. Mair Kelly from Goleen who has improved remarkably during the season was selected for the U12 Girls who swept all before them to win the Gold Medal. Tom Walsh from Bantry became only the second player from the town to represent Munster was also selected at the U12 age group. The team played extremely well but were beaten into third place on count back. With other teams also putting in strong performances Munster finished second overall. Congratulations to the whole squad and our West Cork players.


West Cork Social
Around 50 players, coaches and parents made the trip to Trabolgan for the annual West Cork TT Social. The weather was fantastic and everyone was able to enjoy all the various activities laid on. With Quad Biking, Go Karting, Swimming, Orienteering, Crazy Golf and the girls chose to go Zip Wiring as well! A social trip like this is extremely important with representatives from the four West Cork Coaching Schemes getting a chance to hang out together in a non-competitive environment. A good deal of ice cream was consumed and a mammoth football match took place on the Astroturf. We got back late and tired and we didn't manage to lose anyone, so a great success all round!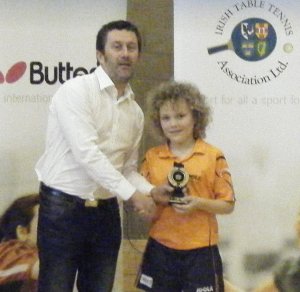 Irish National Champion
James Kelly became the first West Cork player to win an Irish National Title when he won the Under 10 title at the Irish National Championships. James has remained undefeated at the U10 category since September 2010. He has collected the Ulster, Connaught and retained the Munster Open titles this season along with the Yorkshire Open Title. Within Munster he has also remained undefeated and also achieved a remarkable double winning the Munster Top 8 U10 and U12 titles and finished No.2 U12 for the season. James Kelly has delighted his sponsor Joola and Celtic Table Tennis with his consistent performances and is well supported by the Goleen & District Community Council.


West Cork Players at the Top 8's
9 West Cork players reached the finals of the Munster Top 8's this season. James Kelly won both the U10 and U12 titles, while Aoibheann Keating finished 2nd in the U10 girls category. Players who qualified: James Kelly, Mair Kelly, Tom Walsh, Sam Coughlan, Ruaidhri Gallagher Spenser, James Heap, Aoibheann Keating, Anoshi Ghol and Megan Healy

West Cork Rankings
After the last tournament in Goleen the Final West Cork Rankings have been posted, we have a joint top spot this year for the first time. RANKINGS

West Cork Schools Cup 2011
The West Cork School Cup is the Premier event for Table Tennis within the region and one of the largest school table tennis events in the county with 60 Teams participating in 2010. This year the WCTTA has decided due to these large numbers to run the Primary event on a separate day. The intention being that the schools will be able to play more matches during the day as there will be more tables available.

This event will be held at Maria Immaculata Community College Dunmanway on TUESDAY, March 8th from 9.30 a.m. until 3 p.m. The closing date for receipt of entries is March 1st.

Irish Rankings
James Kelly heads up the U10 Boys with 2 wins out of 3 and is currently 11th at U12. Mair Kelly has moved into the No.10 position in U12's and 20th in U14. Tom Walsh is 15th in the U12's with Ruaidhri Gallagher Spenser ranked 15th at U14. Anoshi gohl and Megan Healy are equal 27th.

Munster Open 2011
James Kelly won the Munster Open U10 title for the second year in a row. The first time this has been achieved. Ruaidhri Gallagher Spenser finished 13th in the U14 event, James Heap finished 24th in the U17s, James Kelly and Tom Walsh finished joint 10th in the U12 event, Anoshi Gohl and Megan Healy finished joint 18th in the U14 Girls, Mair Kelly finished 10th in the U12s. Jakob Jungwirt also played in his first Irish Ranking at U14.

Irish Squad
Congratulations to James Kelly who has been selected for the Irish U12 Training Camp in Dublin on the 5th February.



A Treat from Tralee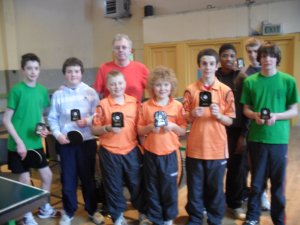 The West Cork Team Challenge brought teams from Goleen, Bantry, Skibbereen, Dunmanway and four teams from Tralee together for a fun filled family day. The teams were divisioned into three divisions. The first Division was made up of the team of James "Hammer" Heap, James "jimini" Kelly and Tom "Where's Wally" Walsh, collectively known as Mi Wadii. The Biblical Beasts and Tralee Treasures along with the SOR Losers made up the rest of the top flight. Mi Wadii came out strong from the start taking down the Treasures 4-0 in the first encounter. The Biblical Beasts also started in winning fashion taking out SOR Losers 3-1. After Wi Madii took SOR Losers on a scoreline of 3-1 with James Heap losing his only match of the day against Owen Kelly one more win would secure them with the title.

The Biblical Beasts were fancied against Tralee Treasures but the Treasures pulled off a narrow 3-2 win, Andrew O'Callaghan and Padraig Hobbart taking the 2 points for the Beasts. The Treasures needed the Beasts to do them the favour of beating Mi Wadii on the last match and they came pretty close to it after Andrew O'Callaghan took James Heap to 5 sets and Akeem Gooden took James Kelly to the same margin but it was Mi Wadii who finished top with the Treasures having to settle for 2nd.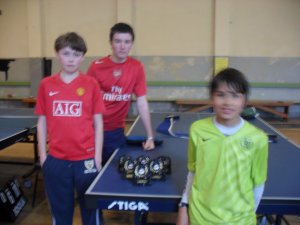 The 2nd Division saw "The Guys who are gonna win," Kevin Murray, Nicholas O'Donnell and Leon Mukerjee move through their group losing only one point to the Kingdom with Tom Russell beating Leon Mukerjee. The ETTF, Mair Kelly, Sam Coughlan and Thomas O'Grady, found the going harder in the second group but still reached the top after an exciting 3-2 win over the Gladiators, Ger O'Reilly, Sean Higgins and Michael Creagh with Kelly and O'Grady beating O'Reilly and Creagh 11/9 in the fifth set of the super doubles.

This set up the final between "The Guys who are gonna win" and the "ETTF." The Guys came out strong with wins for Kevin Murray and Nicholas O'Donnell and with the ETTF needing one point to take the match to doubles Thomas O'Grady was narrowly beaten by Leon Mukerjee 11/9, 8/11, 6/11, 13/11, 12/14. Third place went to Gladiators as they saw off the challenge from Kingdom. The Fockers, Anoshi Gohl, Megan Healy and Jacob Jungwirt finished joint 5th with Sponge Bob Square Pants, Shane Garvey, Mairéad Supple and Vicky Ridgeway.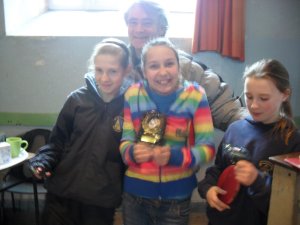 Division 3 saw a three way group involving the Coffee Muffins of Alexandra Leib, Demelza Knight and Aoibhinn Keating the girls from Skibbereen, The Bosses of Colin Farr, Severin McCollagh and Aaron McCollagh from Dunmanway and another Dunmanway selection The Big Bad Bulls of Cullen Barry, Stephen Daly, Cian Hurley and Diarmuíd Hayes. The Coffee Muffins played the Bosses in the first match and this set the tone for the rest of the event with Keating and Knight winning the final tie-breaker doubles in the 5th set. The Bosses and the Big Bad Bulls were also separated by a tie-breaker doubles match with McCollagh and Farr eventually winning out. With the Coffee Muffins winning their last match 3-1 they were victorious with the Bosses taking 2nd.

This was a great fun event with lots of competition between players from all over. The next club team event will be the Smiles Cup after Easter which will once again see teams of three but this time they must have at least one female player.

JOOLA Sponsors the WCTTA Performance Squad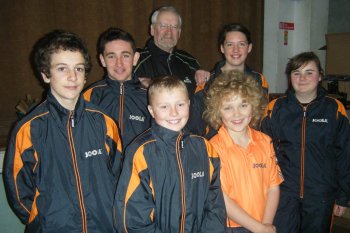 JOOLA one of the World's largest table tennis equipment suppliers has agreed to sponsor the new WCTTA Performance squad for this year. JOOLA who also sponsor the English Table Tennis Association are based in Germany and sponsor the European Championships 2011 and JOOLA table were used in the World Junior Championships.

6 WCTTA players have been selected for this prestigious sponsorship including James Kelly from the Goleen Club who recently added the Ulster Junior Open U10 title to his Munster Open 2010 U10 title and Yorkshire open U10 title. Tom Walsh from Bantry recently reached the Munster No.1 U12 position and as an U11 shows tremendous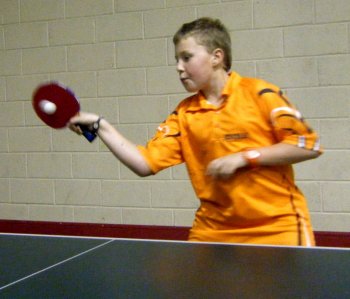 potential as a young player. Ruaidhri Gallagher-Spencer from the Skibbereen Club is West Cork's currently No.1 player and is hoping to gain a place on the Munster U14 Interprovincial Team. James Heap is West Cork's No.1 U17 and has a further 2 years to make his mark on the Provincial and National scene. Megan Healy and Anoshi Gohl from the Dunmanway are West Cork's leading U14 Girls and role models for the women's' game in the region showing increasing potential since joining the new performance squad.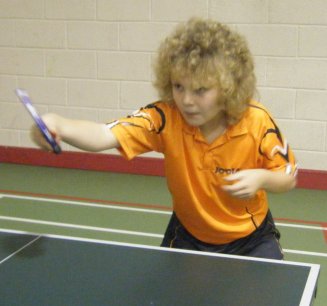 The WCTTA was founded 22 years ago and is very involved in developing both club and school involvement in the sport with over 25 schools participating in the West Cork Schools Cup the sport has continued to thrive, especially at participation level. It is hoped that the new performance squad will contribute to increasing the general standard of play throughout the region and the WCTTA hopes to continue to develop and grow.

Celtic Table Tennis is one of Ireland's leading specialist table tennis retailers and has had a close association with the WCTTA over many years. Celtic Table Tennis is the agent for JOOLA within Ireland and their help and support has been instrumental to the success of the sport in the region. Owner Ted Bollard has always had close connections with Cork and provides an important mail order equipment service for the WCTTA players. This season Celtic Table Tennis has also provided a stall at the many West Cork events and the benefit of a quality equipment supplier to all the players is apparent.

3rd West Cork Table Tennis Rankings, Dunmanway 16/1/11
The WCTTA Rankings reached the penultimate stage in Dunmanway over the weekend. The series has seen around 70 players participate this season and the divisions have become very close with no easy promotions available and relegations for the bottom finishing players. The event is well supported by the top 4 West Cork Clubs, Bantry, Skibbereen, Goleen and this month's hosts Dunmanway. The event is also supported by Celtic Table Tennis, Ireland's leading table tennis specialist suppliers.
Division 1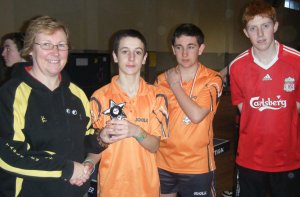 Ruaidhri Gallagher-Spencer from Skibbereen went into this event hoping for a hat-trick after winning the last two events and started well defeating Goleen's James Kelly and Skibbereen's Darragh Cahalane in the group stages. On the other side of the draw the match-up between West Cork No.2 James Heap and the returning Brian Crowley drew the attention of the on lookers. Brian Crowley who twice finished second last season had not played this season and his form was being questioned. This was emphatically answered as he ran out group winner defeating James Heap 11/6, 6/11, 11/8, 11/5. This left a semi final match-up between James Kelly who defeated Darragh Cahalane in the groups and James Heap and Ruaidhri Gallagher-Spencer in the other. Brian Crowley lost the first set to Kelly 11/7, but was able to turn the game around to eventually take the match 11/7, 11/5, 11/8. The other semi final saw one of the tensest matches of the day as Ruaidhri took the first 13/11, Heap fought back to take the next two sets, 11/6, 11/4 but Ruaidhri rallied to take the fourth 11/6 the final set went to James Heap who booked his place in the final against Brian Crowley. After winning the first match up Crowley went into the final as favourite but lost the first set 11/7. He recovered to take the second by the same margin. The third set went to Heap 13/11 and he eventually took the title winning the 4th set 11/9. Dunmanway has proved to be a good hunting ground for the Bantry player as he won this event again upsetting the form book last year against the same opponent. Ruaidhri, Heap and Kelly will all be back in action at the most prestigious tournament in the region the Munster Open next weekend, where James Kelly will be trying to defend his U10 Title from last season.

Division 2
Things are tight in this Division with players battling to gain a place in the top Division. Daniel Murray had been relegated at the last event and his match against team mate Tom Walsh from Bantry proved to be the crucial result. These two U12s have an intense rivalry both within the club and school tournaments. Tom's hard hitting forehand is always a danger but Daniel has the most remarkable ability to keep the ball in play and it was this that saw him through to the top spot and a place in the first division for the last ranking event. Nicholas O'Donnell also from Bantry played well to reach third with John Allen O'Donovan eventually seeing off Skibbereen's Liam Hayes in a close 5 set encounter.

Division 3
This Division once again saw Mair Kelly from Goleen take on her close rival Thomas O'Grady from Bantry. The 2 players have had some very close encounters this season and they had to battle it out twice in this event as they were match up in both the group stages and eventually in the final itself. Within the group Mair ran out the winner 9/11, 11/6, 8/11, 11/4 & 12/10. With both players' beat Sam Coughlan (Goleen), Mair in 4 sets and Thomas needing the full 5 sets. On the other side of the draw Shane Murray emerged winner with Severin McCollagh (Dunmanway) in second. Vicky Ridgeway was suffering from a bad back and finally had to withdraw. Mair had a titanic battle with Severin which eventually saw her win through with the last set going to 22/20 with Severin defending back from the table and Mair unleashing her forehand offense. Thomas had nearly as tough a challenge as his match with Shane Murray went to the full 5 sets. 8/11, 12/10, 14/12, 5/11 11/6. Mair surprisingly beat Thomas in 3 straight sets in the final with Severin winning the 3rd place 3-1.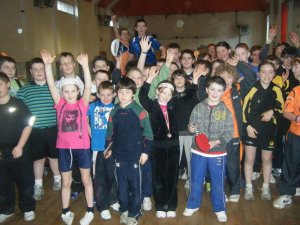 Division 4
Another strong West Cork U12 from Bantry made a welcome return to the rankings, Jack McCarthy moved comfortably into the final against Eoin McElhinney (Bantry) and took the match in 3 straight sets. Anoshi Gohl from Dunmanway has shown good form this season and is one of West Cork's top U14 Girls sponsored by Joola/Celtic Table Tennis and she did not disappoint as she took the Bronze medal defeating Stephen O'Sullivan from Bantry also in 3 sets.

Division 5
This was a very close division with 6 matches going the full distance and the semi final places had to be decided on count back. James O'Driscoll (Goleen) came out the winner in one group and was matched up with Jacob Jungwirt (Dunmanway) in the first semi final which he went on to win. The other semi final saw a match-up between to school friends Shane Lyne and Ciaran O'Sullivan from Bantry. This was yet another 5 set match that eventually saw Ciaran move through to the final where once again after 5 sets he took the title from James O'Driscoll. Shane Lyne took third.

Division 6
Another Division Title went the way of Dunmanway as Joola sponsored player Megan Healy took the title without dropping a set. This was a much better performance from the West Cork U14 who was disappointed with her performance at the last event. Gary Butler (Bantry) reached 2nd in his first event with Jason O'Sullivan (Dunmanway) taking third.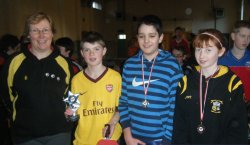 Division 7
James O'Sullivan from Dunmanway had moved up from Div 8 in the last event and once again gained promotion as he ran out winner after defeating fellow club mate Daniel O'Sullivan by the narrowest of margins. Daniel took the first 2 sets in their head to head match but James fought back to take the last 3 sets 11/6, 12/10 & 11/8. Goleen's Aisling O'Driscoll finished third.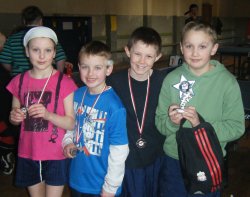 Division 8
Dunmanway took full advantage of home ground as Stephen Daly (U8) took their third title of the day as he defeated a fast improving Louise O'Donnell (U9) from Bantry in the Division Final. Cathal Daly also from the home side took third after first beating Skibbereen's Demelza Knight in 5 sets and then club mate Colin Farr (U9) in the 3rd/4th play off.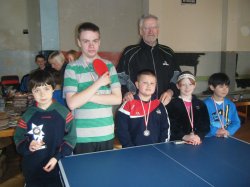 Division 9
This division is always unpredictable as this would be the first outing for many of these young players. Darragh McElhinney from Bantry was the surprise package in Dunmanway and he ran away with the Division title winning all his matches. TJ Sullivan from Bantry also a newcomer took second with Leanne Keohane taking her first ever top 3 medal. Greg Singleton and Ian Quinn from Dunmanway played well but were unable to make an impact against these three tough players.

Congratulations to all who took part and especially to Vicky Ridgeway from the Dunmanway TTC. Training in Dunmanway is on Thursday evenings. The next and last WCTTA Ranking is due to be held in Goleen on March 13th. While the next Munster Ranking is due on February 5th.

2nd West Cork Ranking 2010, Goleen
Ruaidhri Gallagher-Spencer took his second Division 1 title of the season as he battled his way to the top of the rankings. James Heap consolidated 2nd at this event while Kevin Murray moves into 3rd challenging James Kelly. Daniel Murray will be the unlucky player to be relegated after moving up from the 2nd Division at the last event.

Darragh Cahalane will have the opportunity to move into the top echelons of the rankings as he secured a Division 2 win over Tom Walsh and James Lavin in 3rd. Mair Kelly will move back into the 3rd Division after her promotion at the first event.

Eoin O'Neill won the 3rd Division in his first event over top senior Bill Paterson from Drimoleague. Shane Murray was 3rd and Anoshi Gohl will move back to Division 4. Sam Coughlan has made a steady rise in the rankings securing a 4th Division win over club mate Mairéad Supple. Senior Steve Brennan stays in the 4th with Jacob Jungwirt moving down to the 5th.

The 5th saw another Goleen player on the rise as Padraig Reidy moves into the 4th Division after taking the top spot from club mate James O'Driscoll. Dunmanway's Megan Healy moves into the 6th.

Bantry's Shane Lyne took first place over Sean Fin Gallagher-Spencer in the 6th Division, Aisling O'Driscoll will move back to the 7th Division. A second top win for Guy Pickett of Skibbereen sees him move into the 6th Division while Kevin Coughlan moves to the 8th.

James O'Sullivan of Dunmanway took the Division 8 title from Demelza Knight. With 3 Goleen players making up the next three spaces including U8 Tadgh Reidy in his first event. Catherine Sheehan looses out and will move into the 9th Division.

Jack Robin O'Sullivan-Long took a Division 9 title at his first event with up and coming U9 Charlie Lavin and U8 Jake Coughlan retaining their Division 9 places. Gregory Singleton moves down while Michael Sheehan will replace him in Division 9 as he wins the Division 10 Title.

West Cork Secondary Schools League 2010-2011
The draw for the West Cork Schools League took place this week. Macroom De La Salle will once again start as favourites in Division 1 with Ardscoil Phobal Bantry hot on their heels. The Bantry school will have two teams this season as their second team won Division 2 last season. They will be joined by neighbours St. Goban's and St. Fachnas De La Salle from Skibbereen.

Division 2 will see a number of second teams with St. Fachnas De La Salle and St. Goban's drawn together once more, they will be joined by 1st years from Ardscoil Phobal Bantry and teams from Rossa College and Maria Immaculata Community College (MICC).

This season another Division has been added and this will consist of Rossa College, MICC, a third team from St. Fachnas De La Salle and a girls' team from Schull Community College.

West Cork Individual Primary Schools Championships
The West Cork Individual Primary Schools Championships is a unique event in Munster. National School players from all over West Cork compete at two age groups, the Under 10s and the Over 10s. Over 15 different schools have been represented since the initial event in 2008 with small and large schools participating on an equal footing. The initial event was to enable kids from schools that were not able to compete at the very popular schools cup as there were too few players to make up a team. The event has gone from strength to strength over the last couple of years and has proved very popular with the players. This year James Kelly from Lissagriffin NS will be aiming for his second U10 Title having first started competing at the age of 8yrs where he reached the ¼ final stages. St. Finbarr's Shane Murray who was 3rd last year and Sean Finn Gallagher from Castlehaven who recently finished 7th at the Ulster Junior Open will be strong challengers at this age level.

Gael Scoil Skibbereen's Aoibhinn Keating will be hoping to make it a double after winning the U10 event in 2009 she is likely to face tough competition from St. Joseph's Caoimhe Harnedy, Briana Daly from Castlehaven and Louise O'Donnell from Gael Scoil Bantry.

St. Finbarr's Boys National School in Bantry have a very strong tradition of table tennis and James Lavin will be hoping to repeat his Over 10 title winning performance from last year, he will be facing very strong challenges from school mates Jack McCarthy and current U12 West Cork Champion Daniel Murray as well as Munster No.3 U12 and last years' U10 finalist Tom Walsh. However Gael Scoil Bantry players Nicholas O'Donnell and Ciaran O'Sullivan have both made major strides since last years' event as have a number of other players, so it looks to be wide open.

The Over 10 Girls will see last years' champion Mair Kelly from Lissagriffin defending her title against last years' U10 finalist Demelza Knight from Gael Scoil Skibbereen as well as a number of other Lissagriffin players including Katie O'Sullivan and Catherine and Maria Sheehan. Lissagriffin will have a number of new entries this season especially at the U10 Boys event and along with the entries from Togher NS, St Bridget's Ballydehob, St. Patrick's NS and Abbeystrewry NS Skibbereen, it will be difficult to predict the outcome of any of the events. Tolly Franklin from Schull NS surprised many reaching the semi finals of the Over 10 Boys last season and there could be another surprise in any one of the events due to start at 10.30am on Monday 13th December at the Goleen Community Sports Centre.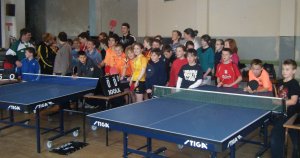 1st West Cork Ranking 2010-2011 7/11/10
More photos can be found on our Facebook Page: Facebook
The 1st West Cork Table Tennis Ranking took place at St. Patrick's Hall in Dunmanway on Sunday 7th November. Around 50 players took part in 9 Divisions. As ever there were some very closely contested matches with a number requiring countback to decide the final result. The 1st Division had a three way tie between James Heap, James Kelly and Ruaidhri Gallagher-Spencer with Heap beating Kelly, Kelly beating Ruaidhri and Ruaidhri beating Heap. It was finally decided on sets with the result going to the Skibbereen player Ruaidhri Gallagher-Spencer, 2nd to Bantry's James Heap and 3rd to Goleen's James Kelly. Tom Walsh and James Lavin from Bantry finished 4th and 5th.

The 2nd Division was won by Bantry's Daniel Murray who overcame his closest rivals Mark Keohane and Nicholas O'Donnel also from Bantry, Skibbereen's Liam Hayes took 4th with Dunmanway Coach Vicky Ridgeway finishing 5th.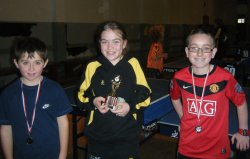 West Cork's highest finishing junior girl was the fast improving Mair Kelly from Goleen who saw off Thomas O'Grady and Shane Murray to take the Division 3 title. Division 4 was another close encounter with the final countback result favouring Dunmanway's Anoshi Ghol over Goleen's Mairéad Supple with Aidan O'Sullivan finishing third. There was drama once again in Division 5 with a three way tie for second place with Sam Coughlan the clear winner. The countback saw Skibbereen's Daniel O'Regan oust Ciaran O'Sullivan from Bantry with James O'Driscoll from Goleen 4th.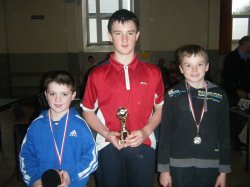 Division 6 was one by Bantry debutant Sean McCarthy over Goleen's Padraig Reidy with Dunmanway's Jason O'Sullivan in third. Goleen took their third title of the day in Division 7 when Aisling O'Driscoll recovered from a first set loss to Bantry's Shane Lyne to take the title with Jacob Good from Skibbereen in third. Skibbereen picked up their second title in Division 8 with Guy Pickett top the group Kevin Coughlan from the hosts Dunmanway in second and Demelza Knight from Skibbereen in third. As always Division 9 produced some excellent competition with Dunmanway's James O'Sullivan emerging victorious beating Louise O'Donnell from Bantry in the final and Dunmanway's Colin Barry collecting third. Also a special mention for the youngest competitor of the day Michael O'Driscoll from Goleen who at only 6 years old showed some excellent skills at the table.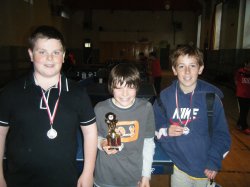 The event would not run so well if it was not for all the help that is provided on the day and the WCTTA would especially like to thank both Clive Spencer and Lynette O'Donnell who helped with the younger less experienced players. Also a big thank you to Ted Bollard for all his support for West Cork Table Tennis, who travelled down from Dublin and provided the rare treat of a specialist equipment shop for all the players on the day.

The next rankings take place in Goleen on Sunday 28th November.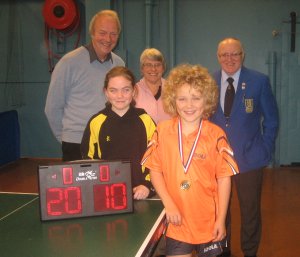 Yorkshire Junior Open
James Kelly and Mair Kelly travelled over to Halifax to play in the Yorkshire Junior Open over the half term. This was the first trip abroad for a competition for both players and a further opportunity to gain experience. James played in the U11 and U13 events where he played with his new Joola equipment for the first time. James has been awarded a sponsorship by this leading German table tennis company and he once again proved that he has tremendous talent for such a young player. He comfortably won the U11 title and also reached the quarter finals of the U13 event where he eventually lost to James Rule 11/7, 14/16, 12/14, 6/11. Mair played in both the U13 and U15 event with 12 very competitive matches. She was delighted to finish 3rd in the U15 and 5th in the U13s. Both players will be in action once again with the West Cork Rankings in Dunmanway on the 7th and the Belfast Open on the weekend of the 13th-14th.

WOMEN'S TABLE TENNIS TRAINING SESSION SUNDAY 17TH OCTOBER Female athletes from 3 West Cork Clubs took part in the first Womens Training Camp this season. The session accommodated players of all ages from U10s to Senior players. The camp focused on bringing these players together to highlight the importance of the womens game in West Cork. A special thanks to the Dunmanway Club and to Vicky Ridgeway for the use of their excellent facilities. Plans for another camp are already underway.

Munster Junior Ranking 2010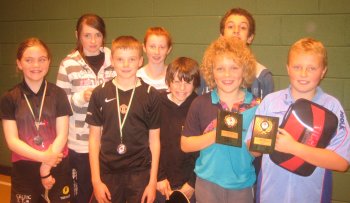 3rd October 2010 Beech Hill Table Tennis Club, Cork
14 West Cork players attended the Munster Rankings at Beech Hill, Cork on Sunday 3rd October. There were some great performances from all the players. James Kelly once again took the U10 title and reached the final of the U12s to confirm his 2nd place ranking at the age group, Tom Walsh had his best ever finish when he defeat Ballincollig's Paul Cooney to take 3rd place in the U12s. Aoibhinn Keating finished 2nd in the U10 Girls with Caoimhe Harnedy 3rd. Kevin Coughlan claimed his first ever Munster Medal in the U10 Boys Plate. Mair Kelly also had her best ever finish reaching 6th in the U12 Girls. Padraig Reidy played well to reach the U12 Plate to take 2nd with Sam Coughlan finishing 3rd. Mairéad Supple defeated both Aisling O'Driscoll in the semi final and Mair Kelly in the Final to win the U14 Plate. While Anoshi Gohl and Megan Healy reached the 2nd round of the U14 Girls. Ruaidhri Gallagher-Spencer played well in the U14s but was unable to reproduces his 4th place finish in Killarney, he raised his game in the U17s but lost in the 5th to James O'Reilly who also saw off James Heap in the same event. Congratulations to all those who took part.

Munster classifaction Event Killarney 12/09/10
Competition start times – decided as follows
• All U10s (Boys & Girls) – 9.00am

• Under 14s - (Division 2) – 9.00am

• Under 14s – (Division 1) – 10.00am

• Under 12s – (Division 2) – 1.00pm

• Under 12s – Division 1) – 2.00pm

• Under 17s – (Division 2) – 1.00pm
•
Under 17s – (Division 1) – 2.00pm

Under 10's
1 James Kelly
2 Paul Cooney
3 Niall Brown
4 Sean Finn Gallagher
5 Zico McSweeney-Olivera
6 Shane Murray
7 Devon Brady
8 Nykyta Pudtkalis
9 Matthew Pop
10 Aoibhinn Keating

Under 12's
1 Gearoid O'Donoghue
2 Valentina Pudtkalyte
3 James Kelly
4 Paul Cooney
5 James Barry
6 Niall Brown
7 Daniel Murray
8 James Lavin
9 Tom Walsh
10 Kerry O' Mahoney

Div 2
11 Brielle Brady
12 Mair Kelly
13 Chloe O'Halloran
14 Shane Murray
15 Zico McSweeney-Olivera
16 Samuel Coughlan
17 Padraig Reidy
18 James O Driscoll
19 Courtney Drummond
20 Siobhan Burns
21 Devon Brady
22 Alexandra Leib

U14's
1 Colm Murphy
2 Brian Kelleher
3 Roman Pudtkalis
4 Ruaidhri Gallagher – Spencer
5 James O'Reilly
6 Jamie McCarthy
7 Sarah Cooney
8 Trevor Tobin
9 Lynn O'Shea
10 Aaron Bean
11 Valentina Pudtkalyte
12 John Lavin
13 James Barry
14 Conor Blunt

Div: 2
15 Gearoid O'Donoghue
16 James Lavin
17 Tom Walsh
18 Chloe Brown
19 Kerry O' Mahoney
20 Brielle Brady
21 Mair Kelly
22 Chloe O'Halloran
23 Bogdan Pop
24 Eoin Foran
25 Mairead Supple
26 Alexandra Leib
27 Courtney Drummond
28 Daniel Murray
29 Samuel Coughlan
30 Padraig Reidy
31 James O Driscoll
32 Aisling O Driscoll
33 Ross Busher
34 Siobhan Burns
35 Ernest Lopez

U17's
1 Declan O'Brien
2 Michael Lagan
3 Edel O'Reilly
4 Stephen Kelleher
5 Deirdre Murphy
6 Colm Murphy
7 Shane Foley
8 Donitas Jakovlevas
9 Shane O'Connor
10 Brian Kelleher
11 Eoin Murphy
12 Niamh Buttimer
13 Damien Tobin
14 Barry Kelleher

Div 2:
15 Aisling Healy
16 Aaron Bean
17 James Heap
18 John Lavin
19 Ruaidhri Gallagher – Spencer
20 James O'Reilly
21 Emily Burns
22 Roman Pudtkalis
23 Trevor Tobin
24 Sarah Cooney
25 Jamie McCarthy
26 Lynn O'Shea
27 Alan Tobin
28 Emily O'Reilly
29 Conor Blunt
30 Bogdan Pop
31 Chloe Brown
32 Eoin Foran
33 Aisling O Driscoll
34 Ernest Lopez
35 Ross Busher