"Little Nellie of Holy God"
By Orla Fitzgerald
Waterford Today, Tuesday 27th June 2000
Nellie Organ, better known as "Little Nellie of Holy God" was born in the Artillery Barracks in Waterford on August 24th, 1903 and was baptised in the Old Ballybricken Church. This saintly child was the daughter of humble Catholic parents, whose only inheritance was a sterling Irish faith. She was the fourth child of William Organ of Dungarvan - her mother being Mary Aherne of Portlaw.
In 1905, her father, being a member of the Royal Artillery, was transferred with his family to Spike Island in Cork, and it was here that her mother's health quickly deteriorated and she died from tuberculosis in January, of 1907. Due to his duties as a soldier her father was unable to care for his young children, and so they were placed in orphanages - Nellie and her sister being put in the care of the Good Shepherd Sisters at their Industrial School in Sunday's Well, Cork.
It was soon discovered that the child was suffering from lung tuberculosis and curvature of the spine, and as her frail little body wasted away her heart and soul opened to the love of God and to the illumination of His grace to an extraordinary degree. This little angel had a remarkable intuition concerning the Real Presence, and her progress in religious knowledge and growth in holiness, truly amazed the good Sisters. In fact there were many extraordinarily spiritual facts attested by the Sisters who witnessed them. The long hours she spent in "talking to Holy God", and the secrets He revealed to her, convinced those who came in contact with her of her unusual sanctity.
She lived continuously in the presence of the "Holy God", and her hunger to receive Him in Holy Communion was so intense that the Bishop of Cork permitted her to make her Holy Communion at the tender age of four and a half a permission which was most unusual at that time.
She was taken to her heavenly home on February 2nd 1908 and was laid to rest in the public cemetery of St. Joseph, where her grave became a shrine at which it was rumoured that many found peace and consolation. About a year and a half after her death, her body was transferred from St. Joseph's to the Convent Cemetery at Sunday's Well. At the disinterment her remains were found to he intact, the fingers quite flexible and her clothing exactly as it was on the day of her death.
Pope Pius the Tenth (now St. Pius) named Little Nellie as the Model of the Child Communicant which influenced his decision to encourage early and frequent Communion. Ellen Organ, "Little Nellie of Holy God", had secured a place in the history of the church despite the fact that her life span measured only four years, six months and eight days.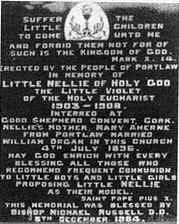 This plaque was erected by the people of Portlaw and blessed by Bishop Russell in 1984. It is located at St.Patrick's Church, Portlaw